For this post, I have put together a collection of the best packing cubes. See my top picks for all the best suitcases.
Our Top Picks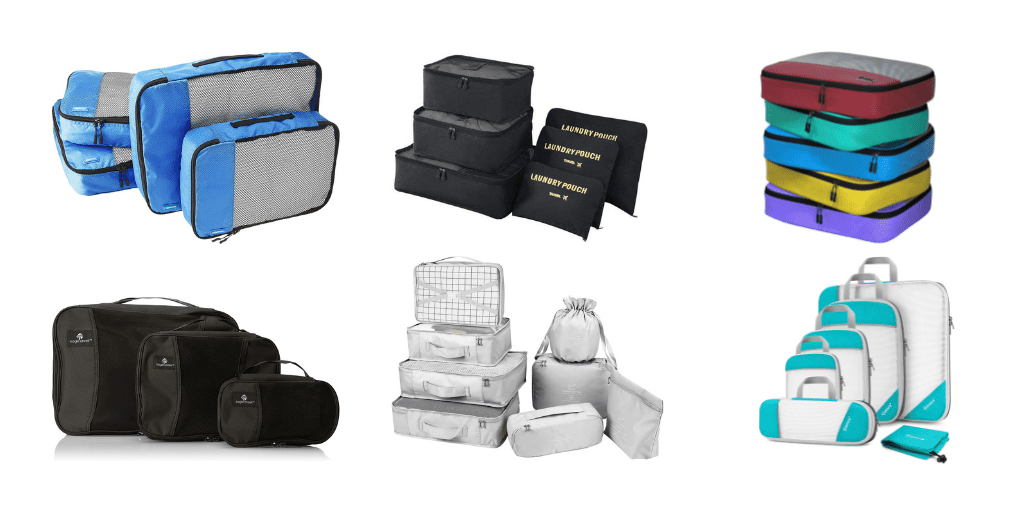 ---
If you want to keep your holiday wardrobe organised, then packing cubes help to make packing and unpacking your suitcase much easier.
Whether you prefer to roll or flat pack your clothes, packing cubes are great for separating everything into different sections. So, you can put underwear in one, tops in another and so on.
When you get to your destination you can take the filled cubes out of your suitcase and put them straight into the hotel drawers if you like; a great time-saver!
We've searched the market to find the best packing cubes. All of our recommendations have excellent buyers reviews and 4-5/5 star ratings.
On the lookout for luggage accessories? See our buyers guides to the best suitcase covers and suitcase straps.
So here is my list of the best packing cubes.
Vicloon Travel Packing Cubes 6 PCS
Set includes three packing cubes in small, medium and large plus three compression pouches which will save space when packing and can also be used to put dirty laundry on your return trip.
All made of high quality waterproof nylon which is easy to keep clean. The packing cubes have mesh zippered covers, so it's easy to see what is in each one.
Available in colours including black, pink, blue and grey.
Multiple buyers mention they are good value for money.
Fantastic reviews. From 4,586 ratings 86% of buyers gave this 5/5 stars.
Amazon Basics Packing Cubes 4 PCS
This four-piece set of two large and two medium packing cubes is ideal for everyday wear and over-sized or bulky items.
You could use the medium packing cubes for tops, bottoms, t-shirts and the large packing cubes for jackets, jeans, hoodies, or sweaters.
Made of durable yet lightweight nylon fabric with finished interior seams, so they won't add much weight to your luggage.
The mesh top panels offer ventilation and at-a-glance viewing for easily identifying what's inside.
Available in colours including red, blue, black grey and green.
Great reviews. From 648 ratings 76% of buyers gave this 5/5 stars.
Eagle Creek Pack It Cube Set 3 PCS
A set of three cubes in small, medium and large, which will compress your clothing and make the most of your suitcase space.
They have handy handles so you can easily carry them from case to wardrobe.
Made of nylon with mesh top panels.
Available in black, red and blue.
Excellent reviews. From 1,127 ratings 83% of buyers gave this 5/5 stars.
Osprey Ultralight Packing Cubes 3 PCS
These high quality rectangular luggage cubes come in small, medium and large.
The siliconised nylon material means will let you slide them in and out of your suitcase easily and the wide opening zip means you can fill them to full capacity.
Available in blue, grey and shadow grey.
Very good reviews. From 95 ratings 72% of buyers gave this 5/5 stars.
Betllemory Luggage Organisers 8 PCS
A value for money set of luggage organisers which includes four mesh packing cubes, drawstring bag, cloth bag, shoe bag and pouch.
Made of polyester which is durable and the carry handles on the packing cubes make it easy to carry them from suitcase to wardrobe.
Available in a range of colours including purple, yellow, grey and pink.
Very good reviews. From 1,101 ratings 70% of buyers gave this 5/5 stars.
Gonex Compression Packing Cubes 6 PCS
This set includes one large, one medium, one small, one smallest and one slim packing cubes which can be used as bags when compressed plus a laundry bag.
The handles are easy to carry and the bags are made of durable, lightweight, soft and washable nylon fabric with mesh panel tops so you can see what's inside.
Great reviews. From 1,685 ratings 75% of buyers gave this 5/5 stars.
Amazon Eono Compression Packing Cubes 4 PCS
These compression packing cubes are made of high quality nylon for durability.
Each packing cube has a lightweight and durable design with a compression zipper that compresses the space while keeping clothes neat and organised.
There is also a grab handle for easy carrying.
They are great as you can actually save up to 60% space by using them when packing.
Available in plenty of colour options including burgundy and beige.
Very good reviews. From 2,972 ratings 71% of buyers gave this 5/5 stars.
Dot&Dot Large Travel Packing Cubes 5 PCS
These large packing cubes come in a pack of five, each a different colour.
With a handy mesh top panel you can easily see what belongings you have inside.
Great reviews. From 170 ratings 73% of buyers gave this 5/5 stars.
---
Cheap Packing Cubes & Today's Bestsellers
I hope this list of packing cubes was helpful.
If you think I left any out that should be included or have a suggestion for a future article, let me know in the comments below.
Nicola
Suitcase Buying Guides