For this post, I have put together a collection of the best medium suitcases. See my top picks for all the best suitcases.
Our Top Picks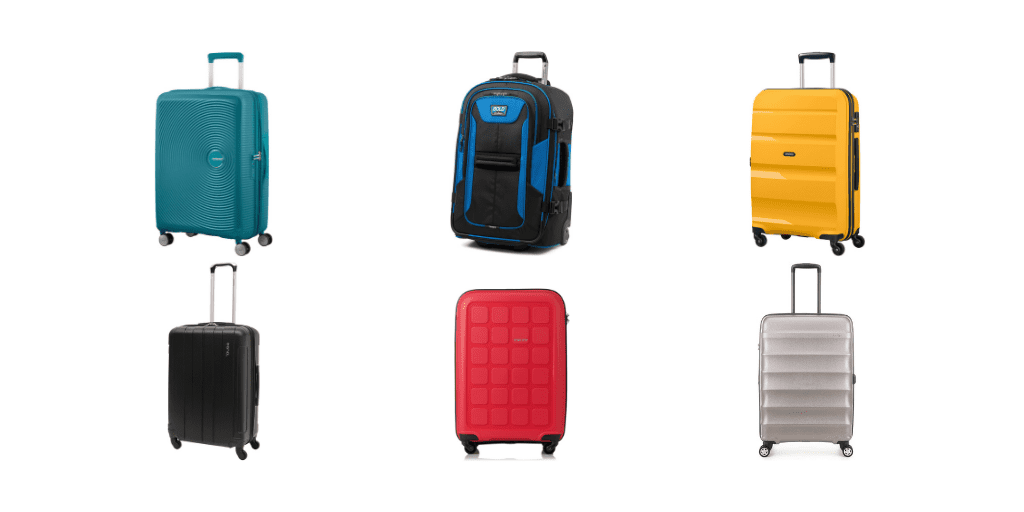 ---
Planning on a week away? A medium suitcase is the perfect sized case for travellers wanting a smaller, lightweight luggage option to check in.
Offering around double the capacity of hand luggage, these suitcases are in the 60-69cm range, giving you a good packing capacity yet still fairly compact in size.
We've searched the market to find the best medium suitcases. All of our recommendations have excellent buyers reviews and 5/5 star ratings.
On the lookout for different sized luggage? See our buyers guides to the best cabin suitcases and large suitcases.
So here is my list of the best medium suitcases.
American Tourister Bon Air Spinner Medium Suitcase
Discount - Save £14.00
This suitcase has handles on the side and top, 360 degree multidirectional spinner wheels and a 3-digit TSA Lock.
It has a zipped divider interior pad with two mesh pockets to store liquids, in the top compartment.
The bottom compartment has one zipped side pocket and ribbons to secure packed items and reduce wrinkling.
It delivers super lightness and extreme strength.
Size: 66 cm
Capacity: 57.5L
Weight: 3.4kg
Great reviews. From 7,302 ratings 73% of buyers gave this 5/5 stars.
Eono Medium ABS Hard Shell Travel Trolley
No products found.
Good value option if you're looking for a small, durable hardshell cabin case.
Available in two colours: rose gold and black.
Size: 26.5 x 47.5 x 71.5 cm
Capacity: 76L
Weight: 3.85kg

No products found.

. From 265 ratings 80% of buyers gave this 5/5 stars.
it Luggage World's Lightest New York 8 Wheel Super Lightweight Suitcase
Light case with large capacity.
8 wheel spinner for easy manoeuvring.
Plenty of room for all your belongings.
Comfortable handles with cushioned design.
Durable enough but not as sturdy as some options.
Comes with 10 year warranty.
Size: 22.86 x 40.89 x 70.1 cm
Capacity: 56 litres
Weight: 2.5kg
Great reviews. From 690 ratings 75% of buyers gave this 5/5 stars.
Antler Portobello Medium Hard Shell Suitcase
A stylish hard shell, lightweight sculpted travel case with an aluminium polished look.
With with TSA approved locks for added security.
360 double spinner wheels carry handles and more.
Size: 68 x 46 x 28 cm
Capacity: 70L
Weight: 3.2kg
Great reviews. From 299 ratings 80% of buyers gave this 5/5 stars.
American Tourister Soundbox Medium Expandable Suitcase
Discount - Save £35.05
Brightly coloured case with a cool circular pattern.
Fixed three digit recessed TSA Lock
Lightweight and durable.
Double wheels for smooth rolling comfort.
Choose from a number of bright colours including spring green and cantaloupe.
Size: 67 cm
Capacity: 81L
Weight: 3.7 kg
Great reviews. From 3,053 ratings 83% of buyers gave this 5/5 stars.
Samsonite Neopulse Spinner M Suitcase
Lightweight polycarbonate luggage.
Stylish 4-wheel luggage.
With integrated 3-digit TSA combination lock.
Double tube pull handle for easy grip.
Available in a range of deep, metallic colours including intense blue and sand.
Size: 46 x 27 x 69 cm
Capacity: 74L
Weight: 3kg
Great reviews. From 2,325 ratings 77% of buyers gave this 5/5 stars.
Travelpro Bold-Softside Expandable Rollaboard Upright Luggage
Soft-side suitcase made from polyester, so it's durable.
Lightweight.
A high-strength expandable zip maximises storage space.
Telescoping handle is height adjustable.
Size: 25.4 x 41.91 x 66.04 cm
Weight: 4.09kg
Great reviews. From 130 ratings 84% of buyers gave this 5/5 stars.
Tripp Watermelon Holiday 6 Medium 4 Wheel Suitcase
This bright red case is ideal if you want it to stand out from the crowd.
With 4 wheels.
Lightweight for a hard shell case.
Integrated TSA Lock.
Size: 26 x 45 x 66 cm
Capacity: 66L
Weight: 3.2 KG
Great reviews. From 125 ratings 79% of buyers gave this 5/5 stars.
---
Cheap Medium Suitcases & Today's Bestsellers
I hope this list of medium suitcases was helpful.
If you think I left any out that should be included or have a suggestion for a future article, let me know in the comments below.
Nicola
Suitcase Buying Guides