For this post, I have put together a collection of the best suitcase covers. See my top picks for all the best suitcases.
Our Top Picks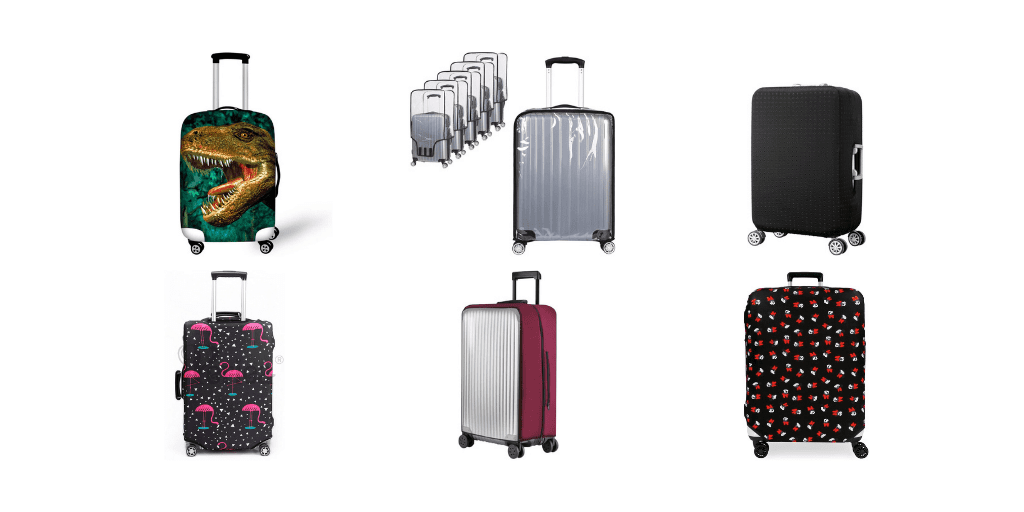 ---
Suitcase covers help to protect your luggage from the scratches and bumps which can happen during transit or keep the dust off that can accumulate during storage. They can also make it easier to spot your suitcase on the conveyor belt.
We've searched the market to find the best suitcase covers. All of our recommendations have excellent buyers reviews and 4-5/5 star ratings.
On the lookout for luggage accessories? See our buyers guides to the best travel wallets and luggage tags.
So here is my list of the best suitcase covers.
7-Mi Water Resistant Protective Suitcase Cover
A stretchy suitcase cover which is very durable and easy to fit.
Made of water resistant and washable material so you can keep it and your suitcase clean.
Also comes with a luggage tag.
Available in sizes: S/M/L/XL.
Great reviews. From 292 ratings 83% of buyers gave this 4-5/5 stars.
Periea Suitcase Protector
Your suitcase will really stand out with one of these suitcase covers.
Available in 38 different bold prints and colours including flowers, flamingos, camouflage and more.
Available in sizes: S/M/L.
Excellent reviews. From 294 ratings 84% of buyers gave this 4-5/5 stars.
Vicloon Clear PVC Suitcase Protectors
These PVC suitcase protectors are reusable and lightweight and will help to prevent scratches during transit.
They can easily be wiped down.
They are also waterproof so will protect your suitcases in the rain.
Available in sizes: 20″-30″.
Very good reviews. From 728 ratings 68% of buyers gave this 4-5/5 stars.
Zhuhaixmy PVC Waterproof Suitcase Cover
No products found.
This cover is designed so that you can keep it on the suitcase even when you open suitcase due to the zippers design.
Made of anti-scratch, dust-proof and washable material which is water resistant.
Available in black, burgundy, green and grey.
Available in sizes: 20″-30″.
Disney Minnie Mouse Suitcase Cover
If you like Disney, this range of suitcase covers includes designs with Minnie and Mickey Mouse on.
Made of neoprene, the covers are durable and protect suitcases from dirt and scratches.
Available for medium and cabin cases.
Good reviews. From 4 ratings 74% of buyers gave this 3-5/5 stars.
Chaqlin Green Dinosaur Luggage Cover
With its range of bold designs and colours these suitcase covers will be hard to miss at the airport.
Made from 15% spandex+85% polyester, the cover is durable, thick, and stretchy.
Available in sizes: S/M/L.
Great reviews. From 22 ratings 76% of buyers gave this 4-5/5 stars.
---
Cheap Suitcase Covers & Today's Bestsellers
I hope this list of suitcase covers was helpful.
If you think I left any out that should be included or have a suggestion for a future article, let me know in the comments below.
Nicola
Suitcase Buying Guides