For this post, I have put together a collection of the best kids' suitcases currently available. See my top picks for all the best suitcases.
Our Top Picks
Show Today's Top Deals
These are today's top deals and bestsellers for kids' suitcases.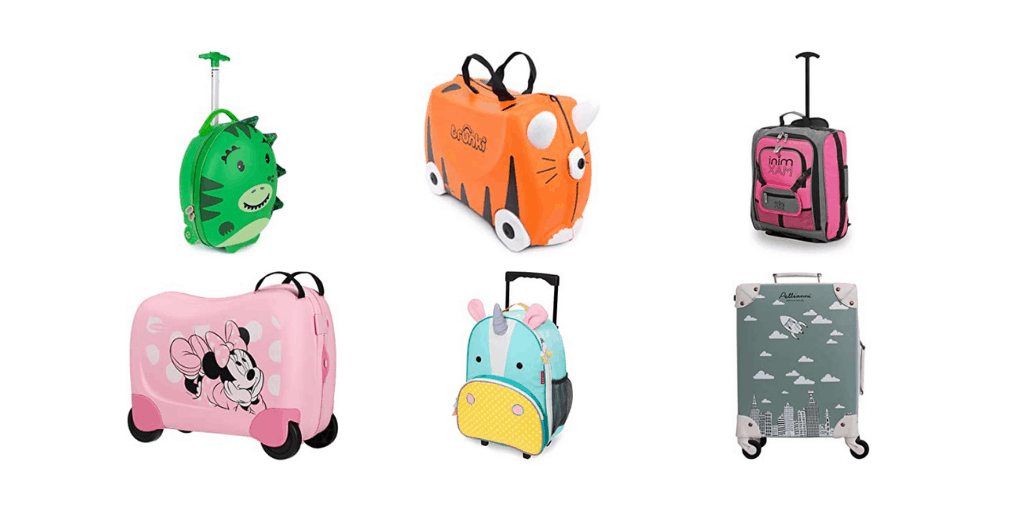 A family holiday starts with the journey! Kids love to be involved in everything and that's why getting them their own suitcase can really make them feel like they are part of the adventure. From packing it themselves to pulling it along at the airport, a kids suitcase can make travel much more fun and easier for everyone.
When it comes to kids' luggage, there are plenty of options on the market. From soft shell to hard shell suitcases, ride-on to scooter cases, girly or boyish, there is something out there to suit all tastes as well as being practical.
Read More:
Here are our top picks of the best kids' suitcases.
Trunki Children's Ride-On Suitcase: Tipu Tiger
Size: 47 x 32 x 21 cm
The Trunki was created to beat the boredom for travelling toddlers.
The size means this suitcase can be used as hand luggage.
Tow strap doubles as shoulder strap when you're in a rush.
It has easy to open yet lockable catches, comfy sculpted saddle for kids (of up to 50kg) to ride on, secret compartments, teddy bear seatbelts, horn grips for easy steering and an integrated soft rubber trim to protect little fingers when the case is closing.
Ideal for holidays, weekend breaks, sleepovers at the grandparents and more.
Excellent reviews. From 834 ratings 89% of buyers gave this 5/5 stars.
Aerolite Minimax Trolley Bag
Size: 45 x 35 x 20 cm
This is a lightweight trolley bag on rolling wheels with retractable telescopic handle.
It also has an optional backpack feature with adjustable straps.
Airline approved.
The front pouch is perfect for your child's favourite cuddly toy.
Very good reviews. From 500 ratings 77% of buyers gave this 5/5 stars.
Boppi Tiny Trekker Kids Luggage
Size: 42cm x 30cm x 22cm
A lightweight, secure, colourful cabin friendly case.
Come in an array of cute designs which kids will love.
With elasticated packing straps so all their bits and bobs stay in place.
2-height extendable walk along handle makes transport easy and suitable for children of varying ages and heights.
Available in 11 different designs including dog, penguin, strawberry, dinosaur and more.
Great reviews. From 826 ratings 76% of buyers gave this 5/5 stars.
Samsonite Dream Rider Disney Children's Luggage
Discount - Save £3.97
Size: 51 x 22 x 37 cm
Little ones will love this ride-on suitcase with pink and white polka dots and a glittery Minnie bow.
The durable case has been designed so that kids can ride-on it if they choose to with handy hold on handles.
Suitable for 3-8 year olds.
Available in 14 of your kids favourite Disney character designs.
Brilliant reviews. From 1,038 ratings 83% of buyers gave this 5/5 stars.
CarGoSeat Booster And Suitcase
Size: 39.5 x 40.6 x 14.8 cm
Clever car booster seat which also turns into a lightweight wheeled case with pull-along handle.
The washable seat pad and fully plastic body makes it easy to keep clean.
Perfect for flights, holidays, sleep-overs and days out.
Skip Hop Zoo Kids Luggage With Wheels
Discount - Save £3.17
Size: 30.1 x 13.9 x 41.0 cm
Made of sturdy poly-canvas fabric, this pull-along luggage has a cute face which kids will love.
With a handy front zip pocket with divider to keep snacks and toys in.
Comes with a retractable handle and a write-on name tag.
The elastic mesh bottle pocket is handy for keeping a drink on-the-go for your child.
Available in; Monkey, Fox, Owl, Giraffe, Unicorn, Ladybug & Butterfly.
Fab reviews. From 923 ratings 84% of buyers gave this 5/5 stars.
Flyte Midi Scooter Suitcase
Size: 26 x 33 x 48 cm
A unique case scooter, which combines fun and travel at the same time.
The pull-along case has its own flip out deck so your child has their own scooter on-the-go!
The case can also be pulled along or carried.
Suitable for 4-8 year olds.
Soft yet sturdy case.
Available in 11 cute designs including Unicorn, Llama, Dinosaur and more.
Very good reviews. From 275 ratings 74% of buyers gave this 5/5 stars.
American Tourister Disney Legends Spinner Suitcase
Discount - Save £33.00
Size: Small: 40 x 20 x 55 cm Medium: 45.5 x 27.5 x 65 cm Large: 52.5 x 31 x 75 cm.
Hard shell kids suitcase with fixed 3-digit combination lock for security.
Features unique Disney prints in various designs on lightweight luggage.
Excellent reviews. From 433 ratings 89% of buyers gave this 5/5 stars.
Stephen Joseph Kids Classic Rolling Luggage
Size: 14.5″x 18″x 6.5″
Soft shell luggage available in plenty of kid-friendly designs.
With multiple pockets and plenty of space to pack.
With an extendable handle so it's easy to pull along.
Number 1 bestseller on Amazon in Kids Luggage.
Available in 19 designs including football, mermaids, horses, dinosaurs and more.
Very good reviews. From 3,787 ratings 82% of buyers gave this 5/5 stars.
Pelliani Suitcase
Size: 40 x 30 x 17 cm
A vintange style but super modern case made of vegan material.
The padded reinforced corners make it extra durable.
The interior has dividers on both sides and a small fabric compartment.
The wheels are on castors so they swivel and there is a telescopic handle with two height adjustments.
Zip is smooth and easy for children to unzip.
Ideal for 3 years and up.
American Tourister Kids' Disney Softside Upright Suitcase
Size: 19.48″ x 13.18″ x 7.87″
Pink Disney Princesses suitcase for little girls.
Upright hard-side suitcase made from lightweight materials.
With single spinner wheels making it easy to pull along.
The tube pull handle is ergonomically designed.
The interior is fully lined and has straps to hold clothing in place plus a zip around divider that creates two separate packing compartments.
Great reviews. From 2,086 ratings 87% of buyers gave this 5/5 stars.
Rockland Safari Hardside Spinner Wheel Luggage
Size: 22″ x 13.5″ x 9″
This adult cabin sized hard shell case could be used by slightly older kids, who want to take their own luggage.
The funky, bright animal print designs look grown up but are also young and fresh at the same time.
With multi-directional double spinner wheels.
Telescoping handles.
Excellent reviews. From 1,181 ratings 84% of buyers gave this 5/5 stars.
Kids Suitcase Deals & Today's Bestsellers
What To Consider When Buying A Kids Suitcase
Is the suitcase light enough for your child to pull along? You want something suitable to their age range.
Do the wheels roll and turn easily? This will make your travel experience so much easier.
Does it have enough space for their toys/clothes etc?
Is it durable? Look at reviews to see what other buyer's think of the product.
Is it multi-purpose? i.e. Can it be used as a scooter, booster seat, ride-on etc.
Does it have handy compartments? Are there interior or exterior pockets, which are ideal for books or toys.
Is it comfortable for kids to carry/ pull? Are the straps padded? Is the handle moulded for comfort.
Suitcase Buying Guides