For this post, I have put together a collection of the best luggage tags. See all my top picks for the best suitcases.
Our Top Picks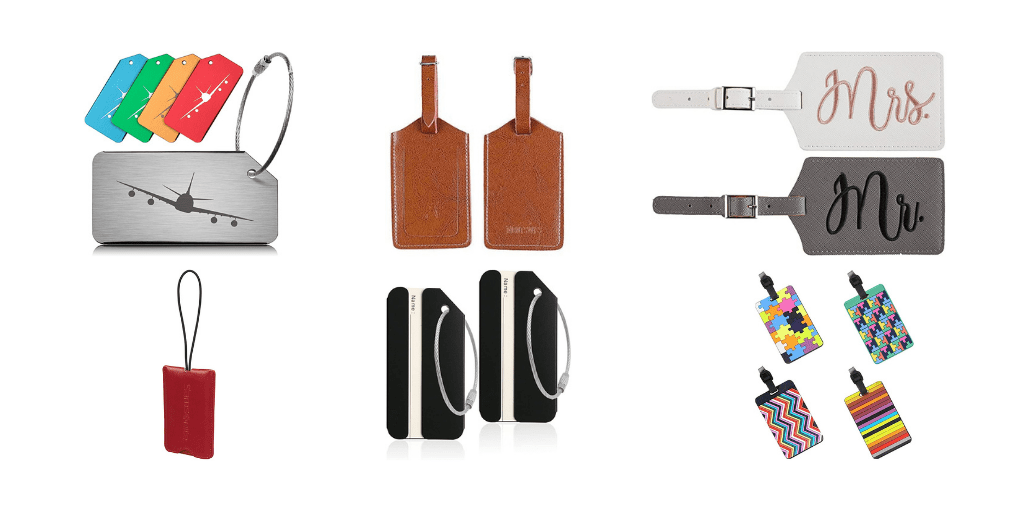 ---
Want to be able to spot your luggage on the baggage belt right away and get on with your trip?
A luggage tag can make it easier to see which suitcase is yours in a sea of other cases.
It's also a good idea to have your personal details added to your luggage tag so it can be returned to you in the event of your suitcase getting lost.
All of our recommendations have excellent customer reviews and 4-5/5 star ratings.
For a customised look, see our selection of personalised luggage tags.
Looking for the best luggage? See our picks of the best medium suitcases and best cabin suitcases.
So here is my list of the best luggage tags.
Dynotag Web Enabled QR Smart Aluminum Convertible Luggage Tag
A waterproof aluminium smart luggage tag which is web powered. With a QR code, it has its own unique web address which you can track your luggage from and get notification on tag view.
The braided stainless steel loop means you can securely attach to any luggage.
Colours available; Blue, orange, black, silver, red.
Excellent reviews. From 343 ratings 70% of buyers gave this 5/5 stars.
EQLEF® Set Of 4 Luggage Tags
Bright, funky luggage tags with colourful geometric patterns which will stand out on the luggage belt.
With a large ID card to write your personal information on.
Also appealing for kids school bags.
Comes as a set of 4.
Good reviews. From 860 ratings 87% of buyers gave this 4-5/5 stars.
FIBOUND Luggage Tags with Name ID Card
These Mr. and Mrs. luggage tags are ideal for newlyweds jetting off on their honeymoon.
Made of faux leather they are durable.
The privacy flap will hide any personal information and the buckle strap securely attaches to your suitcases.
Excellent reviews. From 16 ratings 90% of buyers gave this 5/5 stars.
AMERICAN TOURISTER Kids' Disney Luggage Tag
Discount - Save £2.59
These cute rubber moulded ID tags in a Minnie Mouse design are ideal for the kids suitcases.
For a matching set, have a peek at our Disney suitcases.
With ID insert on back and a durable strap to hold tag in place while travelling.
Very good reviews. From 394 ratings 86% of buyers gave this 5/5 stars.
OCTiLUX Aluminium Luggage Tags
These strong, secure and confidential aluminium luggage tags have a screw connector cable which will keep them firmly in place.
The tag will not come off your case during travel unless the screw connector is unlocked.
Bright colours make your luggage easy to spot on a conveyor belt.
Designed to only display your name when attached to your suitcase. To view your additional personal details, the screw connector must be unlocked and removed from the tag.
Available in a wide variety of colours including red, green, black, blue, silver and gold.
Excellent reviews. From 1,381 ratings 76% of buyers gave this 5/5 stars.
MontSwiss Genuine Leather Luggage Tags
Made of soft genuine leather, these luggage tags have a classic look to them.
Privacy flap and flap button closure hides personal information.
Covered with advanced frosted moisture-proof transparent plastic film which is waterproof.
Available in brown leather.
Good reviews. From 56 ratings 85% of buyers gave this 4-5/5 stars.
Sass & Belle Vintage World Map Luggage Tag
A vintage world map luggage tag in bright colours which will stand out on a conveyor belt.
With a slogan 'Time to go… Explore, Discover, Dream'.
Really good reviews. From 287 ratings 70% of buyers gave this 5/5 stars.
Samsonite Global Travel Accessories Secure Luggage Tag
These polyurethane luggage tags have a pocket protective system for privacy.
The bright colours will stand out.
Available in colours black, blue, red and yellow.
Good reviews. From 96 ratings 70% of buyers gave this 4-5/5 stars.
Ovener Aluminum Luggage Tag
These luggage tags have an Aluminum alloy case and stainless steel string for security.
Available in a range of colours including black, green, silver and blue.
Very good reviews. From 291 ratings 84% of buyers gave this 4-5/5 stars.
CJDesignssUK Personalised Luggage Tags (Etsy)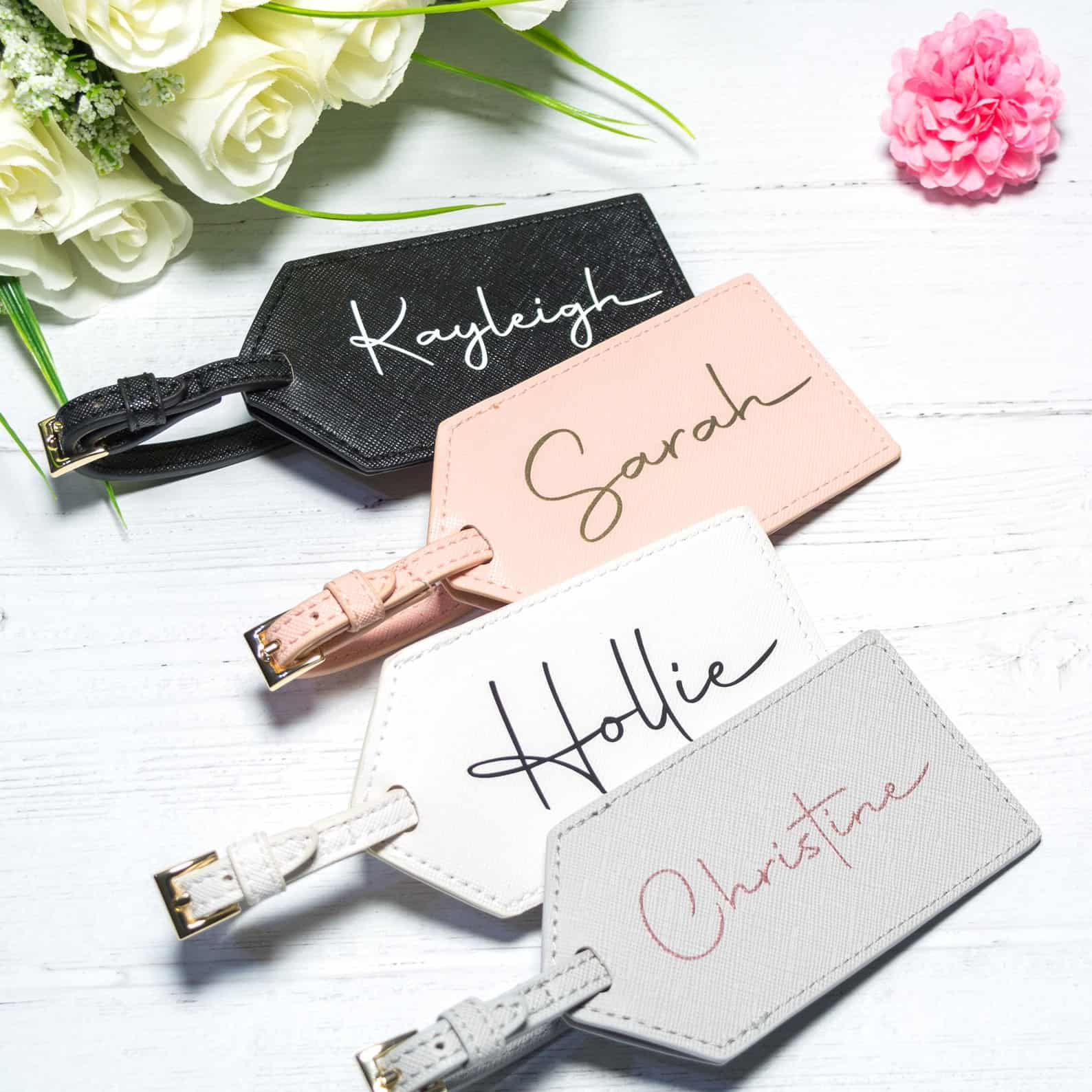 These luggage tags with buckle and name and address card inside can be personalised with any names.
100% leather look PU.
Available in white, pink, grey or black with print in various colour options.
These would make lovely customised gifts.
Excellent 5/5 star customer ratings based on 66 reviews.
Available to buy from Etsy.
---
FAQs Luggage Tags
Should you put a tag on your luggage?
A luggage tag can help to reunite an owner with their suitcase in the unfortunate event of it going missing.
What information should you include on a luggage tag?
The owner's name, email address, and a phone number. There is no need to add a home address for privacy reasons.
What makes a good luggage tag?
It should be easily legible, easy to recognise, and securely attached to your baggage.
Where is the best place to put your luggage tag?
Each of your checked items should have two luggage tags on them; one on the outside, and one on the inside of your luggage. If the one on the outside of the suitcase goes missing for any reason, there will still be a way of finding out who the case belongs to, if you look inside.
Cheap Luggage Tags & Today's Bestsellers
I hope this list of the best luggage tags was helpful.
If you think I left any out that should be included or have a suggestion for a future article, let me know in the comments below.
Nicola
Suitcase Buying Guides