For this post, I have put together a collection of the best extra large suitcases. See my top picks for all the best suitcases.
Our Top Picks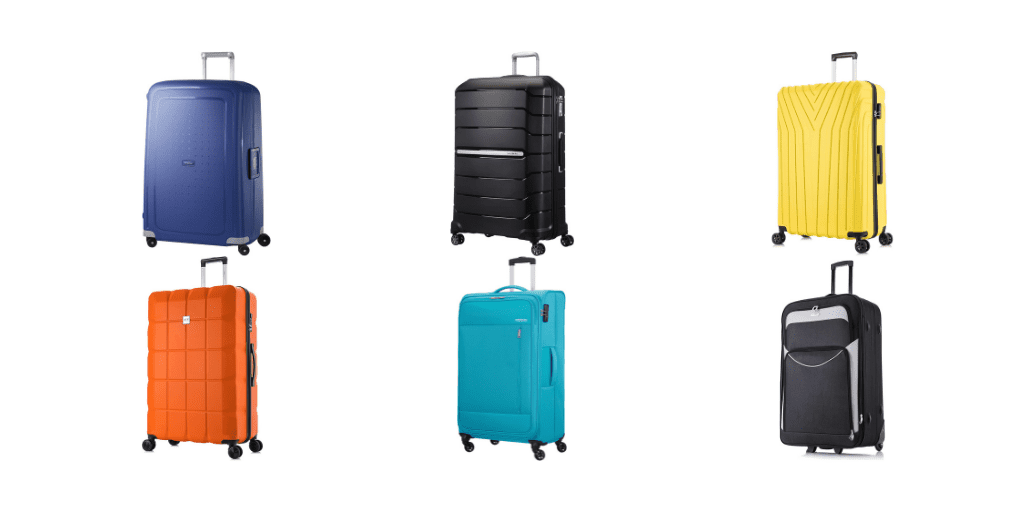 ---
Extra large suitcases are useful if you are going on a long trip, say over two weeks, packing for more than one person, moving overseas or planning on carrying bulky items like ski-wear.
We've searched the market to find the best extra large suitcases. All of our recommendations have excellent buyers reviews and 5/5 star ratings.
On the lookout for different sized luggage? See our buyers guides to the best medium suitcases and large suitcases.
So here is my list of the best extra large suitcases.
Samsonite S'Cure Spinner XL Suitcase
Discount - Save £25.59
Made of the lightest polypropylene this extra large case is really durable and lightweight, so you can use it time and time again.
With three-point locking for extra security.
The interior has lowered cross ribbons, zipped divider pad and large side pocket so you can keep your items organised.
Available in a number of colours including brights and neutrals.
Dimensions: 55 x 35 x 81 cm.
Capacity: 138 Litre.
Weight: 5 kg.
Fabulous reviews. From 8,705 ratings 82% of buyers gave this 5/5 stars.
DK Luggage Extra Large 32″ Hard Shell Suitcase
No products found.
This ABS hard shell case is durable and sturdy.
The unique design will stand out on the luggage belt.
It has multi-directional 4 'spinner' wheels and a push button telescopic handle so it's easy to manoeuvre.
With an internal zipped divider compartment to keep your items organised.
Dimensions: H85 x W55 x D34cm.
Capacity: 148L.
Weight: 4.7 kg.

No products found.

. From 102 ratings 77% of buyers gave this 5/5 stars.
Flymax 32″ Extra Large Suitcase
This extra large case has a combination lock for security.
Made from 600D polyester it is a soft side case which is expandable by 25L should you need that extra space.
With two additional front pockets for easy access.
Dimensions: 85 x 50 x 30 cm.
Capacity: 120 Litre Expandable to 145 Litre.
Good reviews. From 364 ratings 70% of buyers gave this 5/5 stars.
ATX Luggage 32″ Extra Large Suitcase
A case made from super lightweight ABS material in matte finishing and a front panel with stylish squares design, makes this appealing for the trendy traveller.
With 3 digit TSA combination lock for added security.
360° rolling wheels for a smooth ride and good manoeuvrability.
Dimensions: H:86cm x W:56cm D:31cm.
Capacity: 132L.
Weight: 5.2 kg.
Great reviews. From 730 ratings 72% of buyers gave this 5/5 stars.
American Tourister Heat Wave Spinner XL Suitcase
This suitcase is made of durable polyester fabric and comes in fresh colours such as sporty blue and magenta.
With a 3-digit combination lock so you can travel without worries.
Interior includes elastic cross ribbons and mesh pocket for organisations and there is also a large zippered front pocket for easy access.
Dimensions: 47 x 29 x 80 cm.
Capacity: 92 L.
Weight: 3.60 kg
Very good reviews. From 125 ratings 78% of buyers gave this 5/5 stars.
Samsonite Flux Spinner XL Expandable Suitcase
Discount - Save £69.90
This clever suitcase offers hidden expandability, should you need it.
With smooth rolling double wheels and double tube wheel handle.
It has a zipped divider pad, large hinge pocket, elastic cross ribbons for easy and organised packing.
Available in colours black, blue, red and white.
Dimensions: 55 x 40 x 81 cm.
Capacity: 145 litres.
Weight: 4.45 kg.
Excellent reviews. From 1,506 ratings 74% of buyers gave this 5/5 stars.
---
FAQs Extra Large Suitcases
What is the biggest size suitcase you can buy?
The largest suitcase size is 32″ usually measuring between 31-32" including wheels and handles.
Is a 32″ suitcase too large?
Anything over 28″ is considered oversized when it comes to checked baggage, so unless you have a real need for an extra-large suitcase, you are better off opting for a standard large 28″ suitcase.
Cheap Extra Large Suitcases & Today's Bestsellers
I hope this list of extra large suitcases was helpful.
If you think I left any out that should be included or have a suggestion for a future article, let me know in the comments below.
Nicola
Suitcase Buying Guides