For this post, I have put together a collection of the best personalised suitcases, plus the best customised luggage tags, straps and suitcase stickers. See all my guides on how to buy suitcases.
Our Top Picks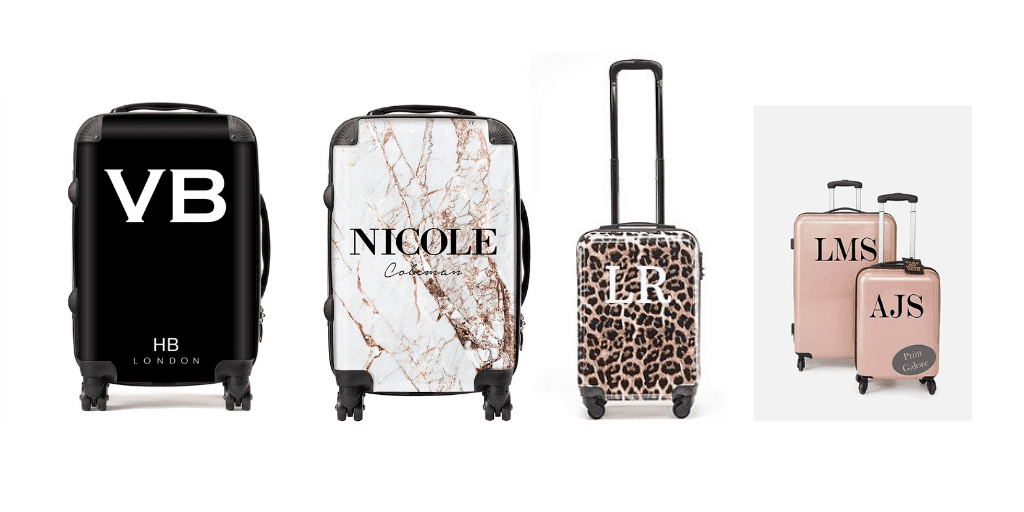 ---
Want a suitcase that stands out from the crowd? Personalised luggage with your name, initials or even a photo will give you that unique edge.
Don't fancy investing in a brand new personalised suitcase. You can even add personalised luggage tags, luggage straps or suitcase stickers to existing suitcases so your luggage is instantly recognisable on the airport conveyor belt.
We've searched the market to find the best personalised suitcases and accessories. All of our recommendations have excellent buyers reviews and 4-5/5 star ratings.
On the lookout for luggage? See our buyers guides to the best hard shell suitcases and lightweight suitcases.
So here is my list of the best personalised suitcases.
Personalised Photo Suitcase
This is a small and lightweight hard shell cabin case which can be personalised with any image of your choice and text. You can even have your own face on it if you desire!
With side-mounted TSA locks and top and side carry handles plus 360 degree wheels for easy manoeuvering.
Dimensions: 58 x 34 x 23cm
Great reviews. From 8 ratings 79% of buyers gave this 5/5 stars.
Live X Maintain Personalised Marble Finish Suitcase
This suitcase can be customised with your initials, your name or any text.
The marble effect finish gives it a luxury look and it's available in a number of different finishes including black marble, cotton candy marble, cracked marble, ocean marble and more.
With TSA Locks and 360 degree wheels.
Available in 4 sizes; Kids, Cabin/Hand Luggage, Medium and Large.
Excellent reviews. From 7 ratings 100% of buyers gave this 5/5 stars.
Print Galore Personalised Suitcase Stickers
If you don't want to splash out on a new suitcase, you can get a similar personalised look using these matt black vinyl sticker initial decals on your current case.
Each set of initials will be sized to 20cm wide.
Excellent reviews. From 20 ratings 84% of buyers gave this 5/5 stars.
The JetRest® Personalised Combination Luggage Strap
These funky personalised combination luggage straps will look great wrapped around your cases. Just simply add the text that you want on the strap when you order.
Available in stripes, mixed colours, neon and more.
Check out our top picks for luggage straps.
Available in packs of 1, 2 or 4.
Dimensions: 180cm length x 5cm width -fully adjustable to fit a wide variety of suitcase sizes.
Very good reviews. From 348 ratings 86% of buyers gave this 4-5/5 stars.
The Supreme Gift Company PU Personalised Leather Luggage Tag
A PU leather luggage tag which can be personalised with your name and initial in a pretty floral design.
Here are more top picks for more personalised luggage tags.
Dimensions: 10cm x 7cm x 0.5cm
Great reviews. From 36 ratings 92% of buyers gave this 4-5/5 stars.
HB London Original Personalised Initials Suitcase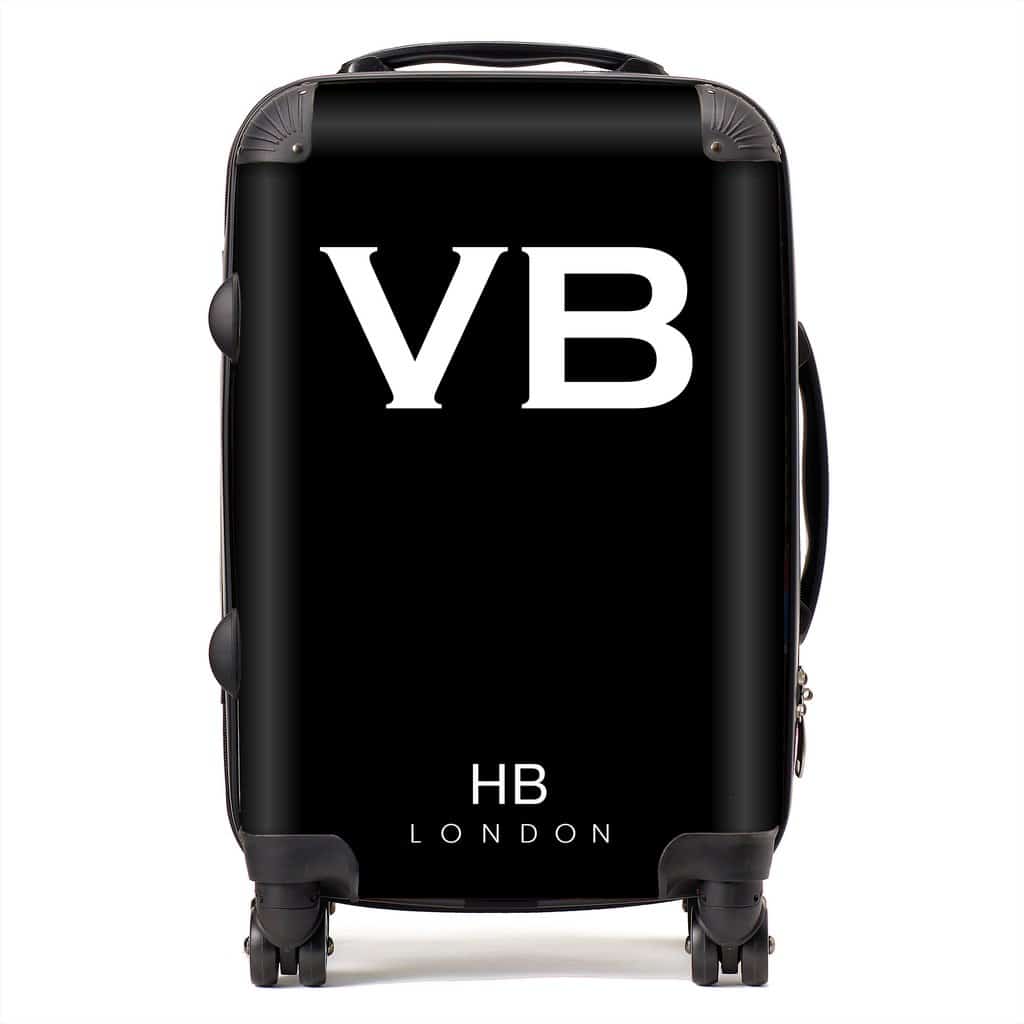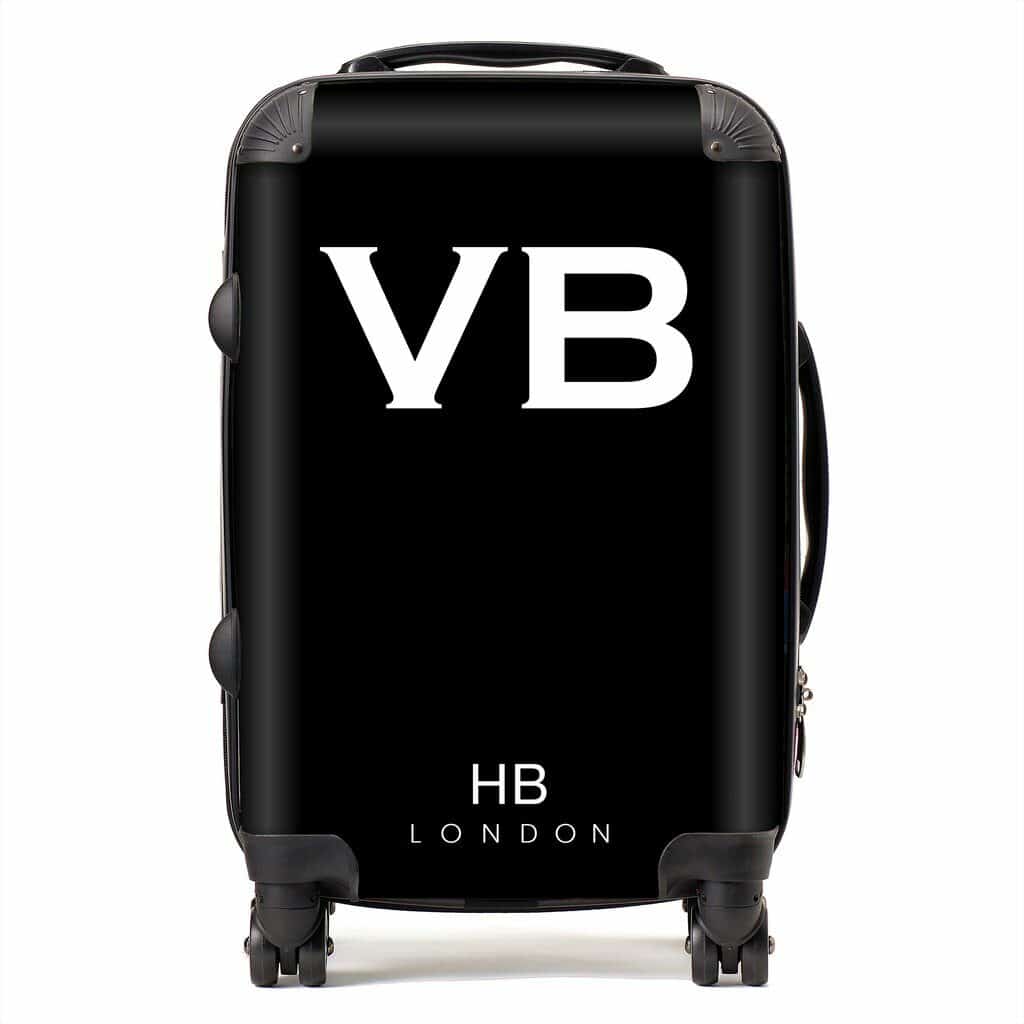 This personalised smart initial suitcase will make a statement. Apparently Victoria Beckham herself owns one.
Glossy finish for a premium look.
Eight swivel wheels allowing the suitcase to be rolled in any direction.
With an extendable handle.
Dimensions: SMALL – Size: 56cm x 36cm x 23cm/ MEDIUM – Size: 66cm x 44cm x 26cm/ LARGE – Size: 78cm x 52cm x 28/32cm/ BUSINESS | OVERNIGHT – Size: 42cm x 46cm x 22cm/ KIDS – Size: 43cm x 29cm x 20cm.
Available to buy from HB London.
Official Love Island Personalised Cabin Suitcase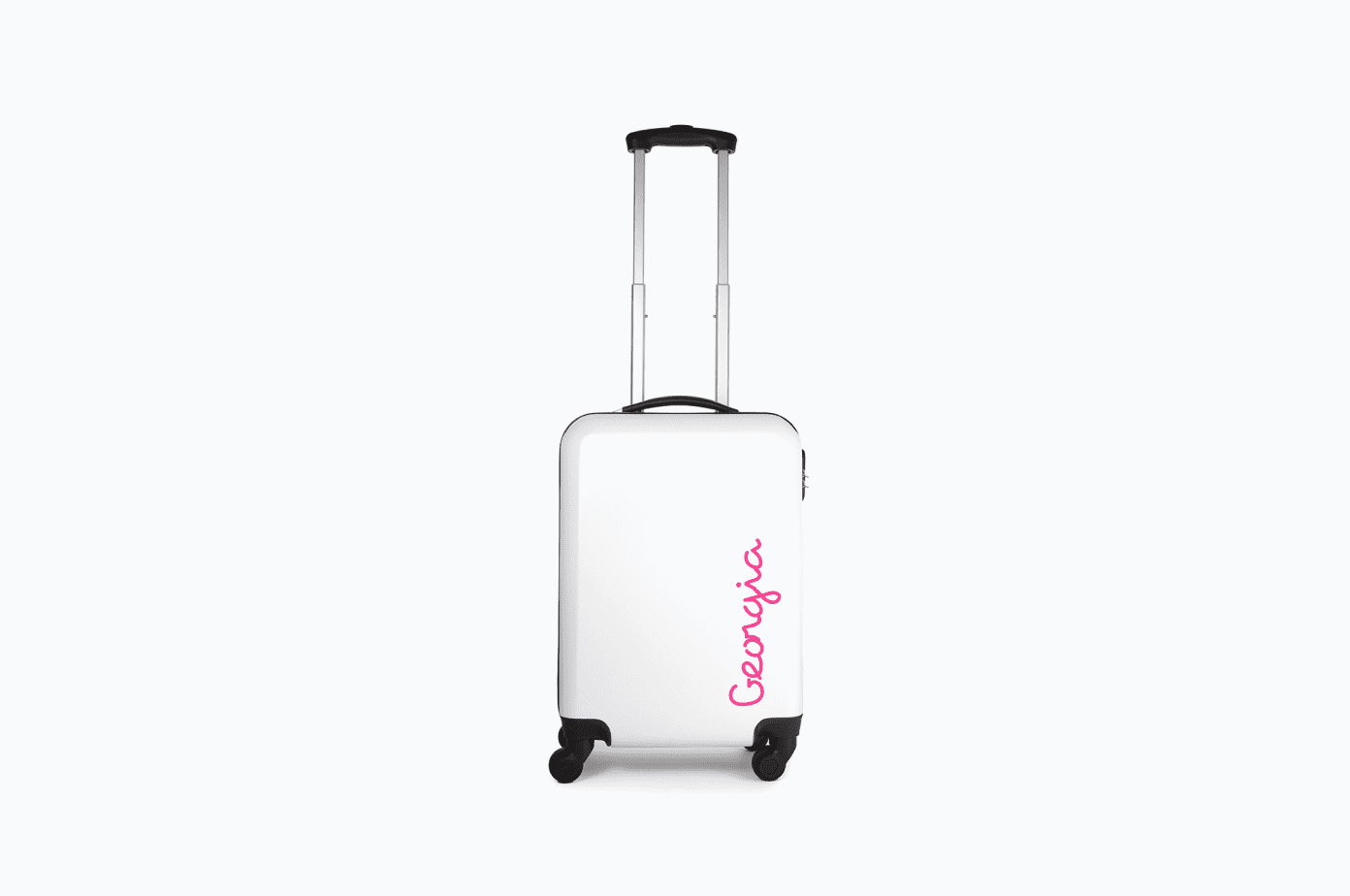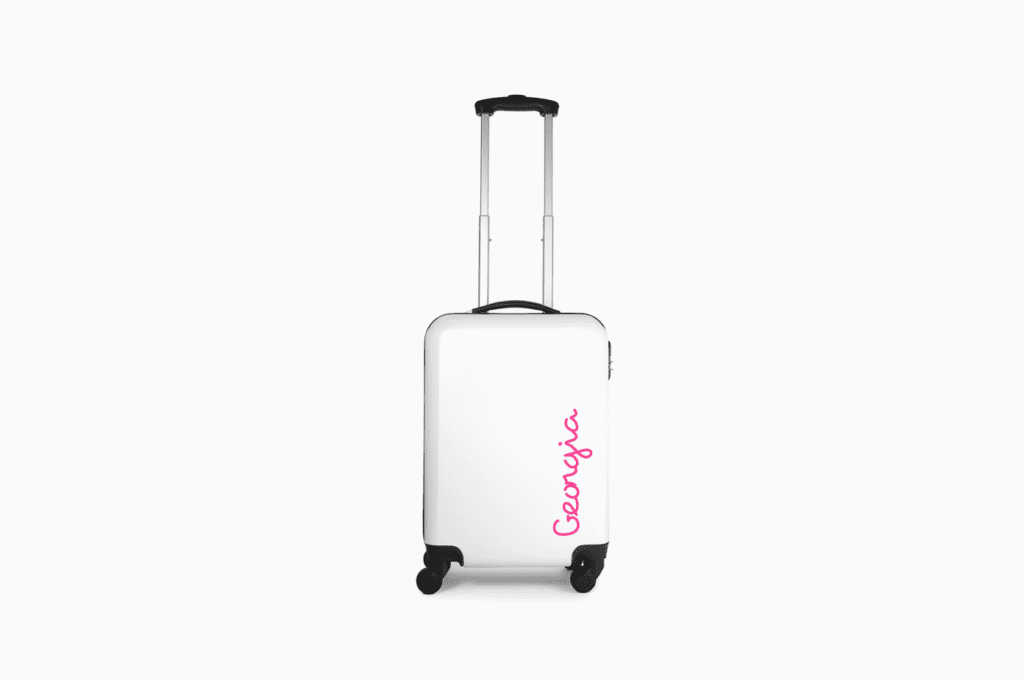 You can look like you've just walked out of 'the villa' with this official Love Island personalised cabin case.
Name can be printed in bright pink, blue or orange.
Dimensions: 22 x 37 x 55cm
Available to buy from The Official Love Island Store.
Personalised Leopard Print ABS Suitcase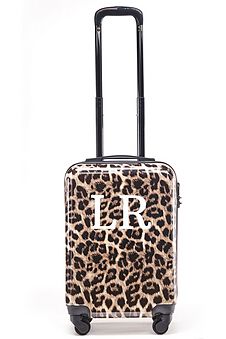 This funky leopard print case can be personalised with 2 initials.
Complete with a combination lock, 4 wheels and retractable handle.
Good value for money.
Dimensions: Cabin; 35 x 20 x 55cm and Large; 51 x 30 x 78cm.
Good 3.9/5 star ratings based on 15 buyers reviews.
Available to buy from Studio.
---
Cheap Personalised Suitcases & Today's Bestsellers
I hope this list of the best personalised suitcases was helpful.
If you think I left any out that should be included or have a suggestion for a future article, let me know in the comments below.
Nicola
Suitcase Buying Guides