Choosing a suitcase in the right size can save you time and money and help you become a more organised traveller.
In this guide, we'll tell you all you need to know about different suitcase sizes, which ones to go for when travelling for different amounts of time and what the luggage limits are for the major airlines. See our top picks for all the best suitcases.
Our Top Picks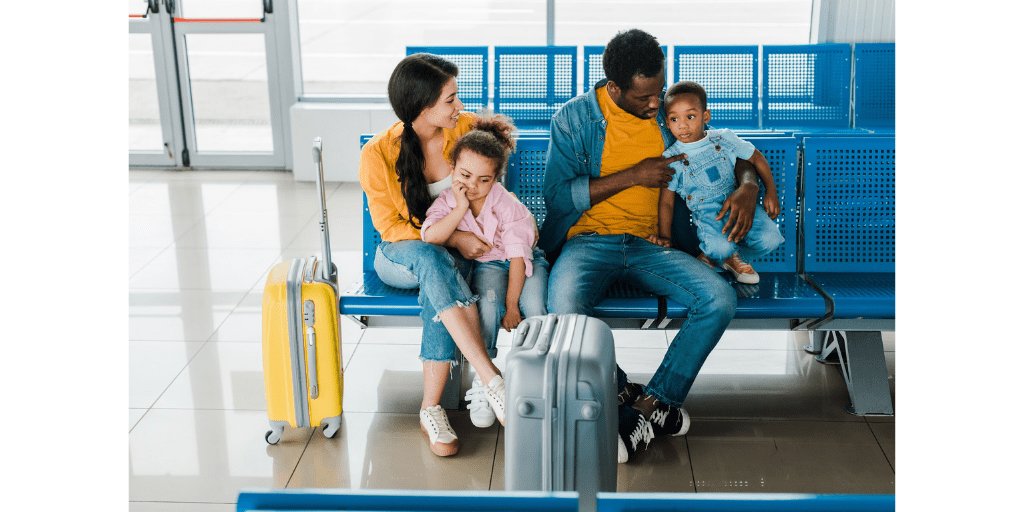 ---
What Are The Standard Suitcase Sizes?
| | | |
| --- | --- | --- |
| Size | Height | Width |
| Cabin Suitcase | 56cm / 22″ | 38cm / 15″ |
| Medium Suitcase | 60cm / 24″ | 43cm / 17″ |
| Large Suitcase | 69cm / 27″ | 69cm / 27″ |
| X-Large Suitcase | 81cm / 32″ | 55.8cm / 22″ |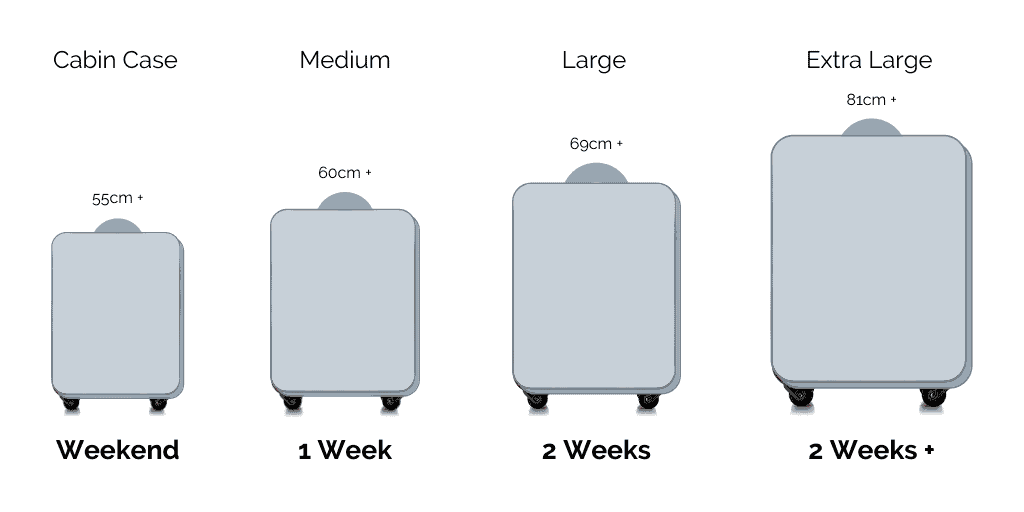 ---
Choosing A Suitcase Size
Cabin Suitcase
Cabin suitcases can be carried onto a plane with you as long as they meet the size requirements of the airline you are travelling with.
A cabin case is lightweight and easy to manoeuvre with the added benefit of not having to check it in, so you don't have to wait for it at the baggage belt when you land.
You will be limited for space, so a cabin suitcase is only really suitable for a long weekend or a light traveller, or as additional luggage on top of your checked case.
Get our guide to the best cabin suitcases.
Size & Weight Limits For Cabin Cases
Every airline has their own guide to size restrictions for cabin luggage so checking beforehand can save you time at the airport and make it easier to choose the right sized luggage.
See the latest size and weight limits below. We aim to keep these up-to-date, but please check with your airline to make sure nothing's changed.
American Airlines
Size: 56 x 36 x 23 cm
Weight: 23kg
British Airways
Size: 56 x 45 x 25 cm
Weight: 23kg
EasyJet
Size: 56 x 45 x 25 cm
No weight limit
Emirates
Size: 55 x 38 x 20 cm
Weight: 7kg
Etihad
Size: 50 x 40 x 25 cm
Weight: 7kg
KLM
Size: 55 x 35 x 25 cm
Weight: 12kg
Lufthansa
Size: 55 x 40 x 23 cm
Weight: 8kg
Ryanair
Size: 55 x 40 x 20 cm
Weight: 10kg
Thomas Cook
Size: 55 x 40 x 20 cm
Weight: 6kg
Virgin
Size: 56 x 36 x 23 cm
Weight: 10kg
Wizz Air
Size: 40 x 30 x 20 cm
Weight: 10kg
---
Suitcases To Check In
Before you travel, it's important to ensure you have packed in line with your airline's baggage allowance and restrictions, to avoid fees at the airport.
As a general rule suitcases should not exceed a total linear dimension of 140cm and may weigh between 15kg to 32kg for each piece of luggage in Economy Class. First and Business Class are generally allowed extra pieces. Suitcases that weigh over the limit may be subject to an additional fee.
Medium Suitcase
Going on a 1 week trip? The perfect sized case for travellers wanting a smaller, lightweight luggage option to check in.
Offering around double the capacity of hand luggage, these suitcases are in the 60-69cm range, giving you a good packing capacity yet still fairly compact in size.
Whether you are going away for a week or 10 day holiday, or you are packing one bag between two of you for a week or less, a medium suitcase is a good size option.
Get our guide to the best hard shell suitcases.
Large Suitcase
Going away for a fortnight? You may need more clothes and accessories so a larger case will be a good option.
The most commonly bought size suitcase, it is perfect for multiple travellers, families and those that travel with children.
This size is good for a 2 week family holiday.
Large suitcases are 70 to 79 cm or 27 to 31 inches in height. They have a capacity of 55 L up to 140 L.
A large suitcase is also a good idea if you are planning on shopping while you are away. More room to pack your purchases!
Get our guide to the best large suitcases.
Extra Large Suitcase
The best case to pick if you're travelling with a large family or going away for an extended period of time.
The largest suitcases are up to 86cm and provide 144 litres of volume, perfect for 3 weeks or more travelling.
Also handy when moving house or overseas.
Get our guide to the best suitcase sets.
---
How To Measure A Suitcase
If your suitcase has an expandable width, expand it before measuring so you know its maximum size.
Pack your case before measuring as the contents can bulk it out over the allowed depth measurements.
Height measurements are for the case stood 'upright'.
Measure the height from the wheels to the top of the retracted handle.
Depth needs to be measured from the back of the suitcase to the side that opens.
Width is measured across from one wheel edge to another, including any side handles.
Don't forget to check weight allowance too.
---
Top Tips For Choosing A Suitcase Size
Always opt for the smallest suitcase you can use.
Don't buy a big suitcase if you don't really need to.
Don't overpack or pack things you really won't need. You can always buy when you're there.
If you're travelling with someone else, consider sharing a suitcase.
If you are travelling in the winter, buy a bigger suitcase to fit jumpers, coats, boot in.
If you know you have access to a washing machine on holiday, you don't need to pack that many clothes.
If your airline ticket doesn't include a checked bag, consider just taking a carry on cabin case if possible.
If you're travelling alone buy a small suitcase.
---
FAQ's Suitcase Sizes
Do the same size suitcases have the same capacity?
No, not always, as they are made from different materials and the internal compartments may be laid out differently.
What's the best suitcase size for 20-23kg?
A suitcase with maximum dimensions of 56cm x 45cm x 25cm, including handles, pockets, and wheels.
How much can I fit into a suitcase?
As a rough guide, you'll be able to fit the following items into cases with these capacities (credit: GoPlaces.co.uk):-
35-40 Litres:
4 Shirts
1 Toiletry bags
2 Pairs of shoes
2 Trousers
1 Coats
70-80 Litres:
14 Shirts
2 Toiletry bags
4 Pairs of shoes
4 Trousers
1 Coat
80-100 Litres:
20 Shirts
2 Toiletry bags
6 Pairs of shoes
6 Trousers
2 Coats
100-120 Litres:
20 Shirts
2 Toiletry bags
6 Pairs of shoes
6 Trousers
2 Coats
110-120 Litres:
24 Shirts
2 Toiletry bags
6 Pairs of shoes
8 Trousers
2 Coats
130-140 Litres:
30 Shirts
2 Toiletry bags
7 Pairs of shoes
10 Trousers
2 Coats
Cheap Suitcases & Today's Bestsellers
I hope this guide to suitcase sizes was helpful.
Nicola
Suitcase Buying Guides