For this post, I have put together a collection of the best astronaut costumes currently available. Also check out my top recommendations for more kids fancy dress.
Our Top Picks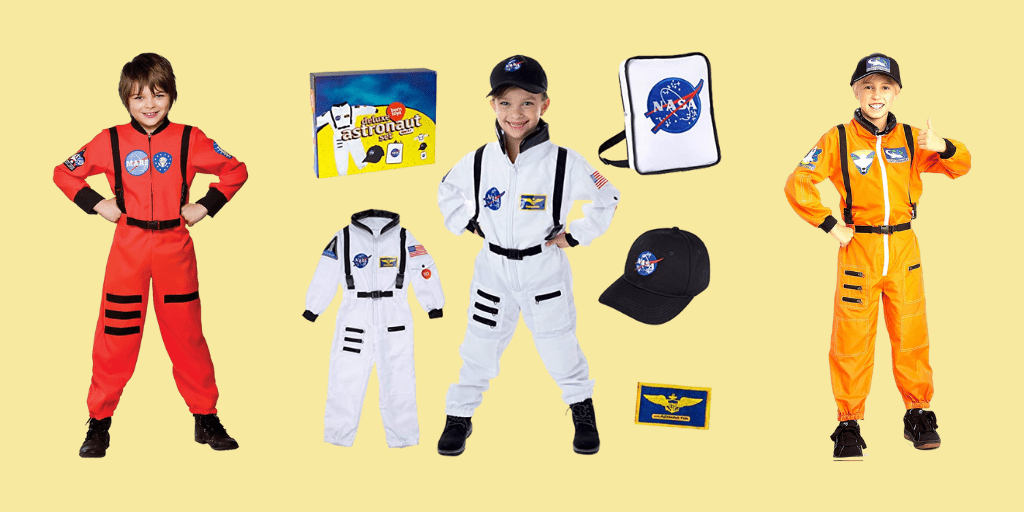 Do you know a budding astronaut?
There are plenty of fancy dress costumes to kit your little one out as a super spaceman but where do you begin?
How We Selected
We've searched high and low to find our favourite astronaut costumes and to save you the time.
From reading lots of reviews and speaking to parents, we've gathered the ones we believe are the best in quality and style.
All of our recommendations have excellent buyers feedback and 4-5/5 star ratings.
See my guides to more kids costumes including the best Batman costume, Elsa Dress and Dinosaur costume.
For the benefits of playing dress-up see the Healthline website.
So here is my list of the the best astronaut costumes.
Melissa & Doug Astronaut Role Play Costume
Includes an astronaut's jumpsuit, gloves, shiny helmet and reusable name tag.
Machine-washable for easy cleanup
The reusable name tag also wipes clean, so another astronaut can take a turn.
Suitable for kids aged 3 to 6 years.
Pros: Includes the helmet and gloves with suit, it is washable, affordable.
Cons: No boots included in set.
Consumer score: A convincing 89% gave this 5 stars.
Born Toys Premium Deluxe Astronaut Costume
This set includes Full Body NASA Suit, NASA Cap, NASA Bag and Personalised name tag.
For children aged 4-8 years old.
Pros: The NASA branding and full set which includes the cool bag and more.
Cons: Price.
Consumer score: Buyers comment on the fantastic quality and how much their children love it. 83% of parents give this outfit 5 stars out of 5.
H&M Astronaut Costume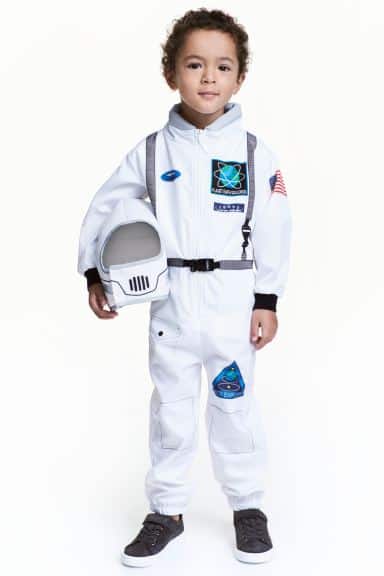 Astronaut costume with a matching soft helmet.
Features embroidered appliqués, decorative pockets, plastic buckles, a lightly padded collar and a zip down the front.
Lightly padded helmet with a hook and loop fastening at the front.
Available in various sizes from 1½-10 years.
Pros: Helmet included, good price.
Cons: Only available online, not in-store.
Wicked Moon Mission Astronaut Costume
Includes all-in-one Astronaught Flightsuit.
Available in three sizes: Small 3-4 years, Medium 5-7 years, Large 8-10 years.
Pros: Cheap.
Cons: No helmet included.
Consumer score: 76% of buyers give it 5 stars.
Mission To Mars Astronaut Costume
Includes Astronaut Flight-suit only.
For ages 5 – 7 years old. Also available in other sizes 8-10 years.
Pros: Cheap.
Cons: No helmet included.
Consumer score: 70% of parents give this 5 stars.
Rubie's Astronaut Child Costume
Includes Jumpsuit and Cap.
Available in small, medium and large sizes.
Pros: A cap is included, bold colours so it stands out.
Cons: Comes up small in size.
Consumer score: This suit gets very good reviews scoring an average of .
Aeromax Youth Astronaut Helmet with Movable Visor
Available in white and pink.
Recommended age from 3 – 10 years..
Lots of detail including a moving visor, NASA logo and appealing decorations.
Pros: A sturdy helmet, which looks more realistic than most.
Cons: Quite pricey as you only get the helmet.
Consumer score: Bestselling space helmet scoring an average of 4.3 out of 5.
Things To Consider When Buying Fancy Dress Costumes
Comfort
Sometimes fancy dress costumes can be made of materials which can be scratchy or uncomfortable. Opt for costumes that look soft and comfortable to wear.
If the costume material is super thin, then think about buying a bigger size so you can layer it over warmer clothes if necessary.
Your child is only going to get fed up quickly if they don't feel completely comfortable while wearing their costume.
Kids Interests
Choose a costume which your child will be excited to wear. If they are a fan of a particular superhero let them pick their costume as you'll be sure to get the best use out of it then.
Quality
Choosing a better quality costume, which may happen to be more expensive, may save you money in the long run as the costume can be worn time and time again.
A high quality costume should have a better fit, be made of more durable fabrics and look more authentic.
Price
The price of fancy dress costumes for kids can vary from anything between £14-£40. It's up to you how much you want to or can afford to spend.
Sometimes you can find a really reasonably priced costume, which is still comfortable and can be worn more than once.
Cheap Astronaut Costumes & Today's Bestsellers
Final Thoughts
My top pick overall is the Melissa & Doug Astronaut Costume because you get the full kit (suit, gloves, helmet, name tag).
It's machine washable and receives excellent feedback from parents – a whopping 89% gave it 5 stars out of 5.
If you are looking for a helmet (to add to a suit) then take a look at the Aeromax Helmet with Movable visor. It's available in white or pink and has lots of good detailing.
I hope this list of the best astronaut costumes was helpful.
If you think I left any out that should be included or have a suggestion for a future article, let me know in the comments below.
Nicola
Last Updated: March 2022
Added 'How We Selected.'
Added Top Picks.
Updated Image.
Added link to Healthline website.
Added internal links.
Added Pros/Cons on all products.
Updated consumer scores.
Added 'Things To Consider'.
Added Alternative Retailer.
Added Final Thought.
Moved OOS to bottom.
Get The Best Costumes For Kids!
Tacobear Astronaut Costume for Kids (currently unavailable)