For this post, I have put together a collection of the best astronaut costumes currently available. Also check out my top recommendations for more kids fancy dress.
Our Top Picks
MY TOP PICK:
My recommended pick overall is the Melissa & Doug Astronaut Costume because you get the full kit (suit, gloves, helmet, name tag).
It's machine washable and receives excellent feedback from parents – a whopping 89% gave it 5 stars out of 5.
If you are looking for a helmet (to add to a suit) then take a look at the Aeromax Helmet with Movable visor. It's available in white or pink and has lots of good detailing.
Related: See my guides to more kids costumes including the best Elsa Dress and Dinosaur costume.
Show Today's Top Deals
These are today's top deals and bestsellers for astronaut costumes.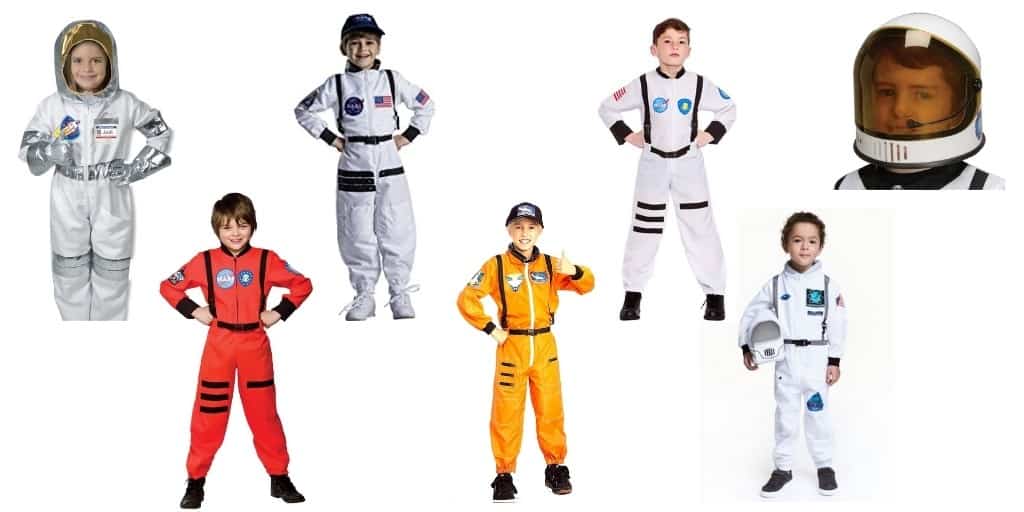 So here is my list of the the best astronaut costumes.
Melissa & Doug Astronaut Role Play Costume
Discount - Save £8.72
Includes an astronaut's jumpsuit, gloves, shiny helmet,and reusable name tag.
Machine-washable for easy cleanup
The reusable name tag also wipes clean, so another astronaut can take a turn.
Suitable for kids aged 3 to 6 years.
Parents rate this costume – from 127 ratings it scores an average of 4.8 out 5.
A convincing 89% gave this 5 stars.
Born Toys Premium Deluxe Astronaut Costume
This set includes Full Body NASA Suit, NASA Cap, NASA Bag and Personalized name tag.
For children aged 4-8 years old.
83% of parents give this outfit 5 stars out of 5.
From 376 buyers it scores an impressive 4.7 out of 5.
Buyers comment on the fantastic quality and how much their children love it.
H&M Astronaut Costume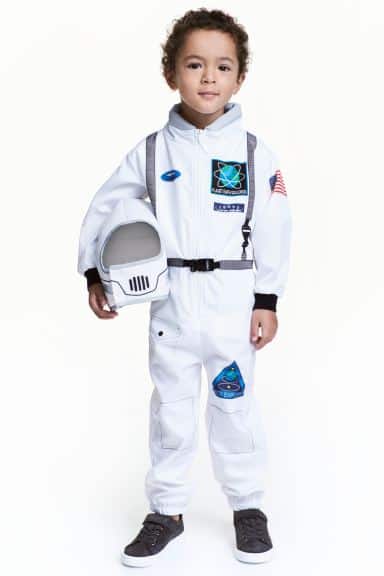 Astronaut costume with a matching soft helmet.
Features embroidered appliqués, decorative pockets, plastic buckles, a lightly padded collar and a zip down the front.
Lightly padded helmet with a hook and loop fastening at the front.
Available in various sizes from 1½-10 years.
Wicked Moon Mission Astronaut Costume
Includes all-in-one Astronaught Flightsuit.
Available in three sizes: Small 3-4 years, Medium 5-7 years, Large 8-10 years.
Parents give this suit strong reviews – scoring an average of 4.7 out of 5 from 135 ratings.
Tacobear Astronaut Costume for Kids
The astronaut costume set includes astronaut jumpsuit, gloves, shiny helmet and reusable name tag.
Recommended Age Range: 3-6 years.
Mission To Mars Astronaut Costume
Discount - Save £0.47
Includes Astronaut Flight-suit only.
For ages 5 – 7 years old. Also available in other sizes 8-10 years.
Well reviewed costume scoring an average of 4.5 out of 5 from 104 ratings.
Rubie's Astronaut Child Costume
Includes Jumpsuit and Cap.
Available in small, medium and large sizes.
This suit gets very good reviews scoring an average of .
74% of buyers give this 5 stars.
Aeromax Youth Astronaut Helmet with Movable Visor
Available in white and pink.
Recommended age from 3 – 10 years..
Lots of detail including a moving visor, NASA logo and appealing decorations.
Bestselling space helmet scoring an average of 4.3 out of 5 from 2,575 ratings.
Today's Top Deals & Bestsellers
I hope this list of the best astronaut costumes was helpful.
If you think I left any out that should be included or have a suggestion for a future article, let me know in the comments below.
Nicola
Get The Best Costumes For Kids!