For this post, I have put together a collection of the best Spiderman costumes currently available. See my top recommendations for more fancy dress costumes for kids.
Our Top Picks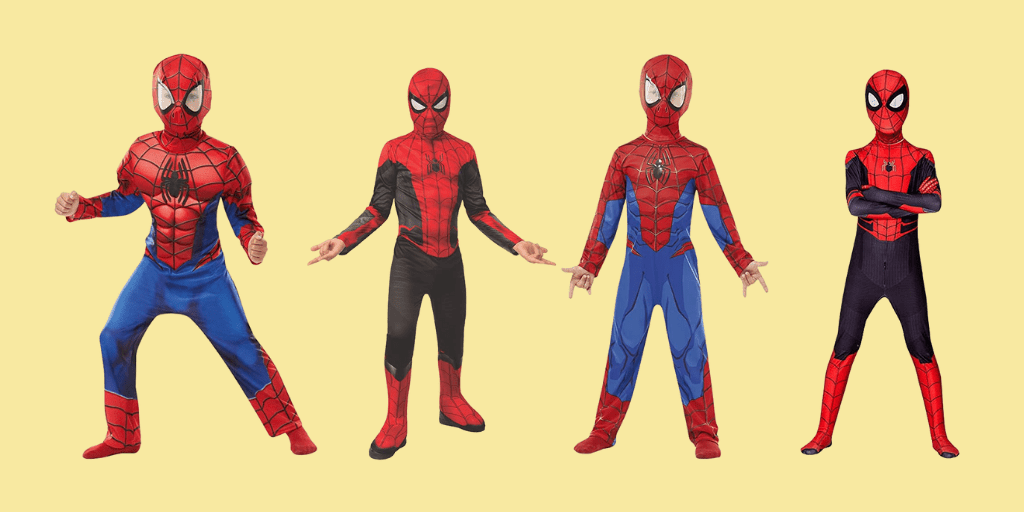 Have you got a little budding superhero in the family?
In this article we pick the best spider man costumes and recommend the best online stores to bag the ideal spider man outfit.
How We Selected
We've searched high and low to find our favourite Spiderman costumes. From reading lots of reviews and speaking to parents, we've gathered the ones we believe are the best in quality and style.
All of our recommendations have excellent buyers feedback and 4-5/5 star ratings.
Take a look at our guide and get ready to find a costume guaranteed to put a smile on their face. Just remind them that "with great power comes great responsibility."
If you're looking for more kids fancy dress then see my guide to the best superhero costumes, Batman costumes and Iron Man costumes.
For the benefits of playing dress-up see the Healthline website.
So here is my round up of the best Spiderman costumes.
Rubie's Official Marvel Spider-Man Far From Home
Classic black and red costume includes printed jumpsuit, attached shoe covers and fabric mask.
Some reviewers do comment that the masks tend to be on the small size.
Size options: small age 3-4, medium 5-7 and large 8-1
Pros: The jumpsuit has attached shoe covers.
Cons: Only available in 3 sizes.
Consumer Score: This Spiderman costume is popular with 79% of buyers giving it 4-5 stars out of 5.
RUBIE'S Marvel Spider-Man Classic Child Costume, Blue-Red
Blue and red costume includes printed jumpsuit and matching snood.
Soft material that maintains its colour and fabric well after many washes.
Feedback are that it's a little bit big on many children but plenty of room to grow into.
Size options: Medium Age 5-6, Height 116cm and 5 – 6 years / 116cms
Pros: The snood has mesh covered eyes.
Cons: No padding for muscles.
Consumer Score: Buyers really love this Spiderman costume with 72% of buyers giving it 5 stars out of 5.
Rubie's Spiderman Marvel Deluxe Child Costume
Deluxe costume that includes padded muscle chest jumpsuit and matching snood.
Size options: Follow their fitting advice. Costume available in child's sizes S 3-4, M 5-6, L 7-8 and age 9-10
Pros: The padded muscle chest and mesh covered eyes.
Cons: No shoe covers.
Consumer Score: Buyers really like this Spiderman costume with 78% of buyers giving it 5 stars out of 5.
Leezeshaw Superhero Spiderman Costume
Discount - Save £3.00
Lycra material so it's a tight fit. Include jumpsuit and mask.
Well reviewed with feedback that it looks fantastic and many comment to order the size above.
Size options: Nine different sizes to choose from.
Pros: A full body suit with foot cover and eye lenses.
Cons: Sizes are confusing.
Consumer Score: A Spiderman costume which is very popular with 70% of buyers giving it 5 stars out of 5.
Marvel Spider-Man Red Costume (Argos)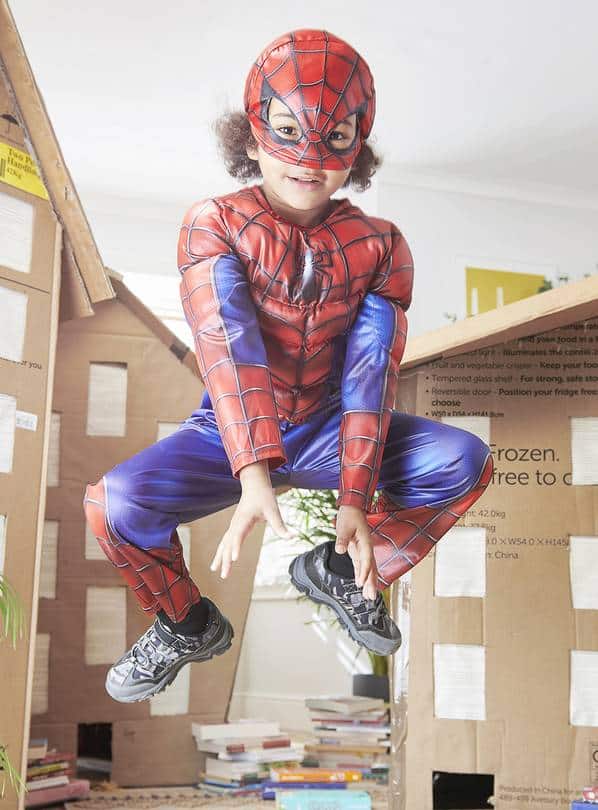 An affordable costume which even has padded chest and abs for a real superhero look.
With a separate pull on face mask.
100% Polyester it needs to be sponge cleaned only.
Size options: 2-3, 3-4, 5-6, 7-8, 9-10 Years.
Pros: Cheap, padded abs and chest.
Cons: According to some buyers the mask comes up quite tight.
Consumer Score: Buyers love this Spiderman costume with 95% of buyers giving it 5 stars out of 5.
Retailer: Argos.
Disney Store Spider-Man Deluxe Reversible Costume For Kids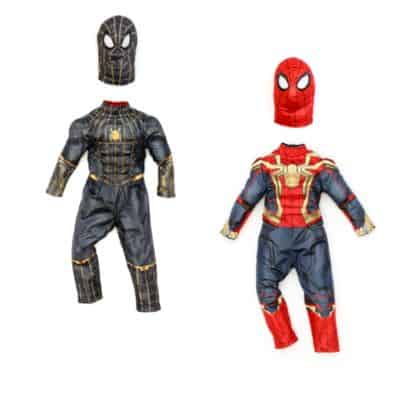 With classic red costume on one side and black costume on the reverse, this bodysuit has all-over screen art and padded muscles.
Includes bodysuit and mask.
Mesh eye panels with black vinyl outlines.
Size options: 3Y, 4Y, 5-6Y, 7-8Y, 9-10Y.
Pros: Reversible for two different looks, padded muscles, high quality.
Cons: Expensive, no buyers reviews yet as new listing.
Retailer: Shop Disney.
Things To Consider When Buying Fancy Dress Costumes
Comfort
Sometimes fancy dress costumes can be made of materials which can be scratchy or uncomfortable. Opt for costumes that look soft and comfortable to wear.
If the costume material is super thin, then think about buying a bigger size so you can layer it over warmer clothes if necessary.
Your child is only going to get fed up quickly if they don't feel completely comfortable while wearing their costume.
Kids Interests
Choose a costume which your child will be excited to wear. If they are a fan of a particular superhero let them pick their costume as you'll be sure to get the best use out of it then.
Quality
Choosing a better quality costume, which may happen to be more expensive, may save you money in the long run as the costume can be worn time and time again.
A high quality costume should have a better fit, be made of more durable fabrics and look more authentic.
Price
The price of fancy dress costumes for kids can vary from anything between £14-£40. It's up to you how much you want to or can afford to spend.
Sometimes you can find a really reasonably priced costume, which is still comfortable and can be worn more than once.
Cheap Spiderman Costumes & Today's Bestsellers
Final Thought
My overall favourite costume is the RUBIE'S Marvel Spider-Man Classic Child Costume. If you're looking for a classic costume which will last this one has very good buyers feedback.
If you want an affordable option which has great customer reviews, then the Marvel Spider-Man Red Costume from Argos ticks all the boxes.
I hope this list of the best spiderman costumes was helpful.
If you think I left any out that should be included or have a suggestion for a future article, let me know in the comments below.
Nicola
Last Updated: January 2022
Added 'How We Selected.'
Updated image.
Added link to Healthline website.
Added Pros/Cons on all products.
Added consumer scores.
Added 'Things To Consider'.
Added 2 x New Products.
Added Alternative Retailers.
Added Final Thought.
Get The Best Costumes For Kids!
Rubie's 640841M Boys Spiderman Morphsuit (Currently unavailable)
No products found.
Includes jumpsuit and mask.
Extremely well reviewed.
If you're looking for a black spiderman outfit this is a good option.
Like a morph suit, material very sleep, good quality.
Has a handy and very discreet zip fly for toilet trips.
Miles Morales eat your heart out!
Size options: S: 90 ~ 110 cm; M: 110 ~ 120 cm; L: 120 ~ 130 CM; XL: 130 ~ 140 CM; XXL: 140~150 CM
Spiderman Costumes at Disney Shop (Currently unavailable)
These two are a little pricier but you will find a superior quality.
This traditional blue and red one is an all in one suit that includes a pair of gloves that has a button for light up projections! Very realistic costume and great quality material. Highly recommend for any Spider-Man lovers.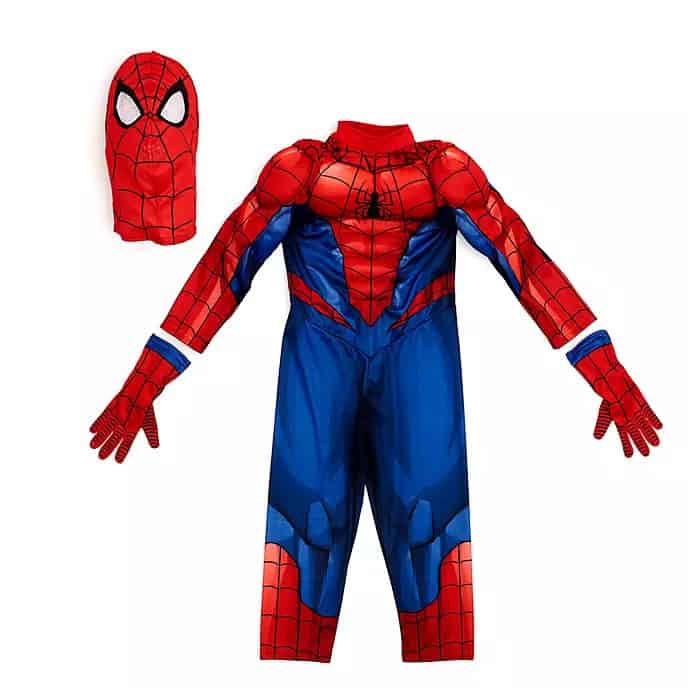 3 piece set
Includes: body suit, gloves and mask
All-in-one suit with padded muscle detail
Stretchy material with Spider-Man logo and web artwork
Self-adhesive tab fastening at back
Printed fabric character mask with mesh eye holes
Light-up web projection activated by a concealed button in each glove
Costume, mask and gloves: 100% polyester, excluding trims
Hand wash only
Requires x3 AG13 batteries, included
Warning: not suitable under 36 months due to small parts
Created for Disney Store
If they'd prefer a darker colour here's another high quality, well reviewed option.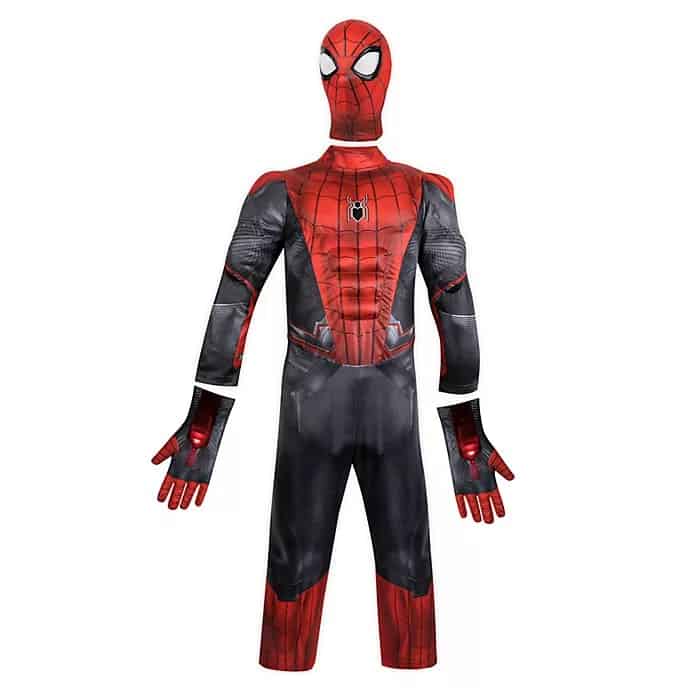 3 piece set
Includes: bodysuit, gloves and mask
All-in-one body suit with padded shoulder, pectoral, and stomach muscles
Stretchy material with Spider-Man logo and web artwork
Self-adhesive tab fastenings at back
Full head cowl mask with self-adhesive tab fastening at back
Mesh eye screens with vinyl outlines
Light-up web projection activated by a concealed button in each glove
Created for Disney Store