For this post, I have put together a collection of the best batman costumes currently available. See my top picks for more kids fancy dress.
Our Top Picks
My personal favourite is the Dark Knight Classic Costume from Amscan because I think it looks the coolest, like Batman. 84% of buyers give this 5 out of 5 stars and it's available in many sizes.
It really depends on what design your child will prefer, all of these get great buyer feedback.
Also worth a mention is the LEGO Batman one, if you're child is a fan of both this is a surefire winner!
Show Today's Top Deals
These are today's top deals and bestsellers for batman costumes.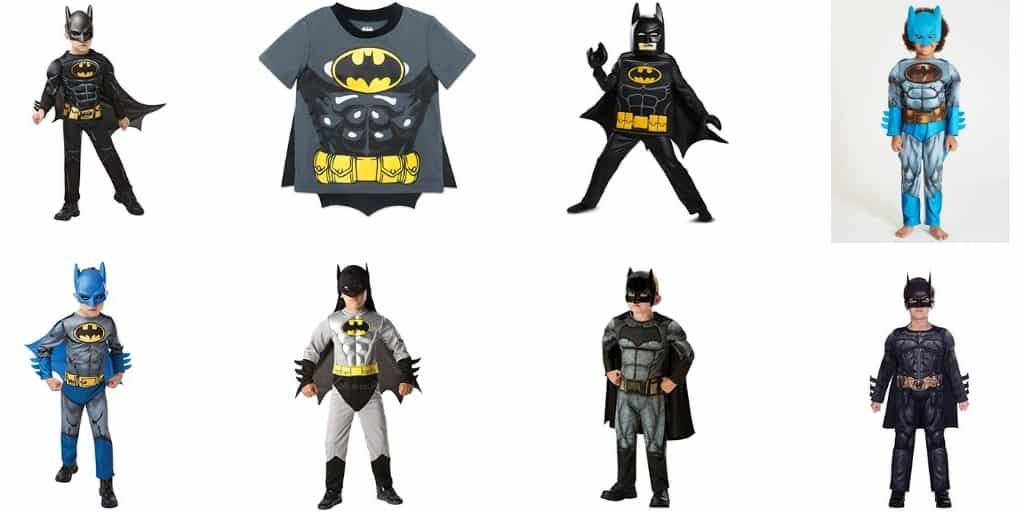 ---
Batman is one of DC Comic's most recognisable superheroes.
If your little one is a huge fan, these Batman costumes will be sure to fire their imagination.
Most of these include a bodysuit, mask and detachable cape.
There's lots of styles from every Batman era from the classic Grey 1960's Batman, to the gritty Dawn of Justice Kids Batman Costume and the legendary Dark Knight Costume, based on Christian Bale's character.
Let your child release their inner caped crusader!
If you're looking for more kids fancy superhero costume then see my buyer's guide to spiderman costumes and iron man costume for kids.
So here is my list of the the best batman costumes.
Rubie's Official Batman Black Deluxe Child's Costume
This official child's batman costume includes printed padded jumpsuit, half face mask and detachable cape.
Special Deluxe Edition of Bruce Wayne's alter ego. 
Padded six-pack out front and broad foam-filled shoulders
Comes in a range of sizes: 3-4 years, 5-6 years, 7-8 years and 9-10 years.
Bestselling Batman costume with glowing reviews. From 604 ratings 83% scored this 5 stars and receives an average of 4.7 out of 5.
Don't forget to check out our top picks for other costumes, including the best Spiderman costumes.
Rubie's Official Batman Fancy Dress Costume
This costume includes a chest jumpsuit, attached belt and cape and a mask.
Does your child love to get dressed up? Check my guide to the top picks of dinosaur costumes.
Rubie's Official Batman Comic Child's Classic Costume
Old school classic Batman costume with jumpsuit in grey/blue/yellow, half face mask and detachable cape.
Got a little Elsa fan in the house? See my round up of the best Elsa dresses.
DC Comics Batman & Superman Toddler Boys' Costume
This toddler costume includes a T shirt and detachable satin cape.
Muscle graphics with black and yellow printed Bat shield and utility belt.
Machine washable and made from 60% Cotton, 40% Polyester.
Suitable for in and around 5 years olds.
Bestselling toddler batman costume with 591 ratings with an average of 4.8 out of 5. 89% of parents give this costume 5 out of 5.
LEGO Deluxe DC Costume
High quality LEGO Batman costume includes Minifigure tunic with detachable cape, mask, pair of hands and matching pants.
Available in a range of sizes from small (4-6 years), medium (7-8 years), large (10-12 years) and XL (14-16 years).
Parents love this product for its quality and how good it looks.
Buyers rate this LEGO Batman costume – from 171 purchases this scored an impressive average of 4.8 and 88% of buyers gave this a full 5 out of 5 stars.
Rubie's Official DC Justice League Batman Deluxe
Discount - Save £8.77
This deluxe costume includes printed and padded jumpsuit with detachable cape and mask.
Available in a range of child sizes including small (3-4 years), medium (5-6 years), large (7-8 years) and XL (9-10 years).
Another well reviewed costume from Rubie's. From 587 parent ratingsthis scored an average of 4.7 and 80% gave this the maximum 5 stars.
Amscan Batman Dark Knight Classic Costume
Discount - Save £9.66
This Dark Knight costume includes the mask, chest, trousers and cape.
Batman Blue & Grey All In One Costume – 2-3 years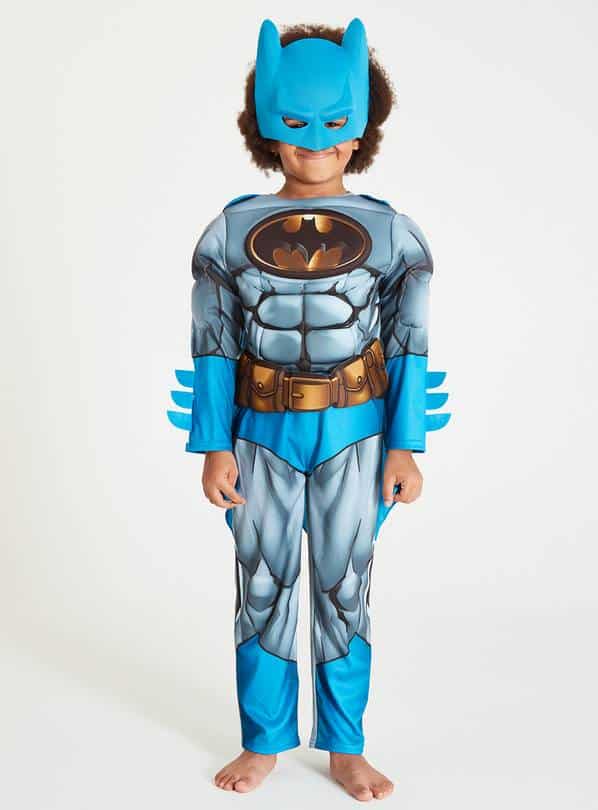 This traditional suit design includes a grey bodysuit with blue details, blue masked disguise and cape.
Available in lots of sizes from 2-3 years, 3-4 years, 5-6 years, 7-8 years and 9-10 years.
New suit so only 1 review but a glowing one.
Today's Top Deals & Bestsellers
How To Make Your Own Batman Costume! (DIY)
This is creative!
See how the costume kid makes the iconic Tim Burton Batman Costume.
I hope this list of the best batman costumes for kids was helpful.
If you think I left any out that should be included or have a suggestion for a future article, let me know in the comments below.
Dominic
Get The Best Costumes For Kids!