For this post, I have put together a collection of the best Elsa costumes currently available. See my top recommendations for more fancy dress costumes for children.
Our Top Picks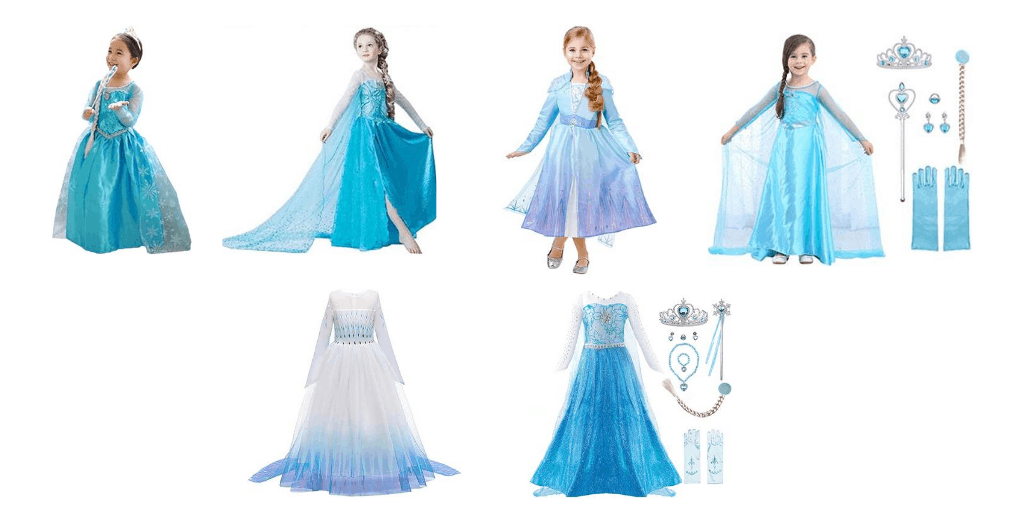 ---
Are you looking for the perfect Elsa costume for your child?
In this article we pick 6 of the best Elsa outfits and recommend the best online stores to bag the ideal Frozen themed fancy dress.
Related: I've covered many more costumes for children, see my guide to the best dinosaur costume and astronaut costume.
Let it go!
6 of the Best Elsa Dresses
Since the release of Disney's Frozen in 2014 sparkly Elsa dresses have continued to sell like hot cakes! Frozen 2 was released in 2019 and the dream of dressing as a Snow Queen continues…
uk1stchoice-zone UK Girls Princess Costume
Good quality, well made and great value for money Elsa dress with sequin bodice detail and fixed train.
Good feedback from parents and children.
Worth buying a size up for a good fit.
Available in 2-3 Years, 3-4 Years, 4-5 Years, 5-6 Years, 6-7 Years and 7-8 Years.
Rubie's Official Disney Frozen 2, Elsa Deluxe Dress
Discount - Save £17.66
Official licensed Disney Frozen 2 dress with sequin bodice detail, skirt with shimmering glitter detail and includes organza cape.
Fit for purpose and loved by kids but mixed reviews on quality.
Available in child sizes small 3-4, medium 5-6, large 7-8 and age 9-10 years.
URAQT Elsa Dress Princess Costume with Accessories
No products found.
This Elsa dress has rhinestone detailing and a long-sleeved train.
Also comes with Elsa Gloves, Magic Wand, Earrings, Ring, Braid and Princess Crown so great value for money.
Good quality for the price and happy customer feedback.
Available in child sizes 100 cm – 2 to 3 years old, 110 cm – 3 to 4 years old, 120 cm – 4-5 years old, 130cm – 5-6 years old, 140cm – 6-7 years old, 150cm – 7-8 years old.
ELSA & ANNA UK1stChoice-Zone Girls Snow Queen Fancy Dress
Beautiful Elsa dress with an extra long train.
Soft material on the arms with lovely sparkling detail that doesn't rub off.
Really good quality and highly recommended by parents.
Little girls love it.
Size 2-3 Years refers to Manufacturer Size S; Size 3-4 Years refers to Manufacturer Size 20; Size 4-5 Years refers Manufacturer Size 30; Size 5-6 Years refers to Manufacturer Size 40; Size 6-7 Years refers Manufacturer Size 50; Size 7-8 Years refers Manufacturer Size 60.
OBEEII Girls Princess Elsa Costumes Frozen 2 Carnival Dress
Long sleeve Frozen 2 Elsa dress with snowflake print and semi-sheer shoulders.
Available in blue or purple.
Comes with wand and plait accessories.
Well received by customers.
Nice quality and soft to wear.
Available in ages 2-14 Years.
Where To Buy Elsa Dresses
The Elsa dresses we've chosen above are from Amazon but we've also listed some other good retailers as additional options in your hunt for the perfect outfit.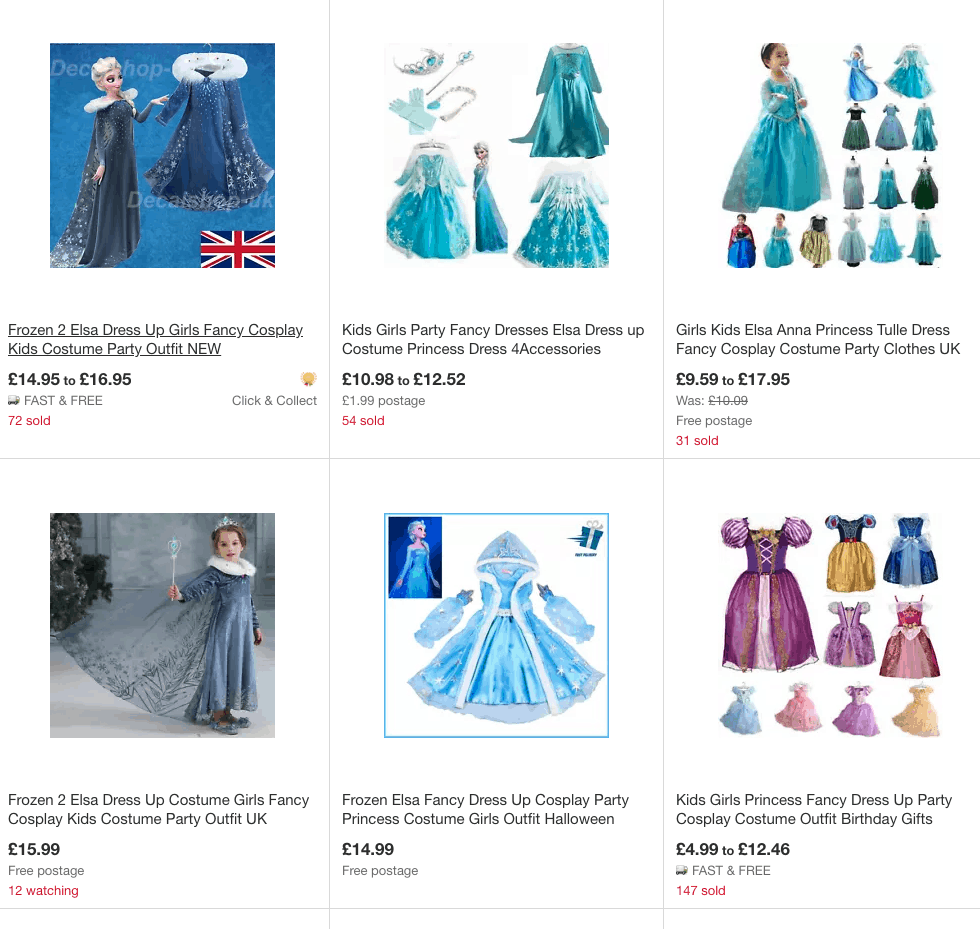 Elsa Dress Deals & Bestsellers
Frequently Bought Together
Final Thoughts
My preferred pick is the dress from the Elsa & Anna brand because it's beautiful, it has soft material on the arms with lovely sparkling detail that doesn't rub off. It's exceptionally well reviewed with 81% being 5 stars out of 5.
I hope this list of the best Elsa Frozen dresses was helpful.
If you think I left any out that should be included or have a suggestion for a future article, let me know in the comments below.
Nicola
Last Updated: December 2021
Added quick links at the top to Our Top Picks.
Check stock levels, Kabety dress no longer available.
KABETY Girls Princess Anna Dress (Not Available)
No products found.
Satin, tulle, organza, polyester Elsa dress with accessories which are a big hit with customers.
Tiara, jewellery, wand, plait and gloves all come with the dress.
Bubble hem for a princess feel.
Good quality and great value for money.
Soft sleeves so comfortable for kids to wear.
Well received reviews.
rue to size and available in Ages 3-8 Years.
Get The Best Costumes For Kids!