For this post, I have put together a collection of the best slipper socks currently available. Also see my complete socks buying guide or for more warm socks see my top picks for thermal socks or cashmere socks.
Our Top Picks
My top picks are the Women's slipper socks from SDBING because they are warm & cosy, well made, non slip and have great reviews. For a good value pair of ankle ones these No products found. are a good choice.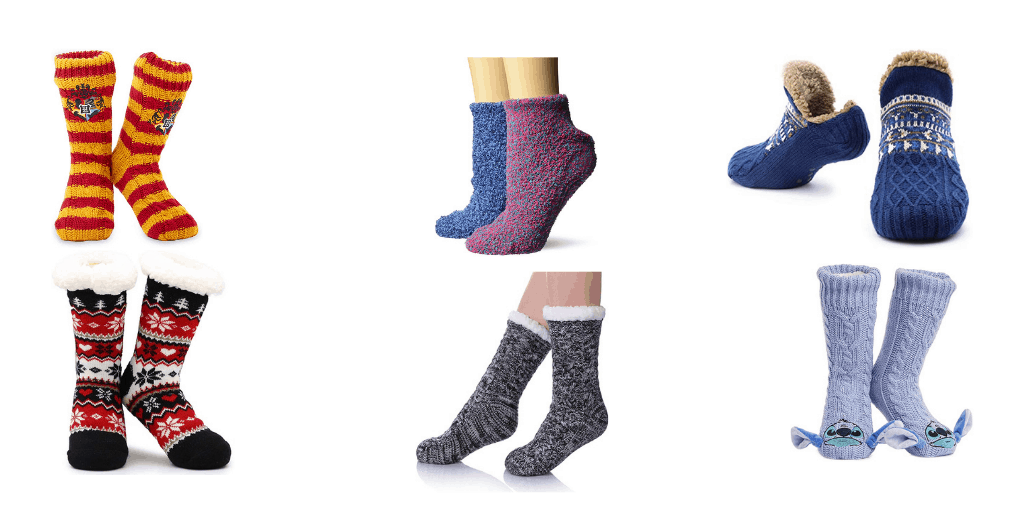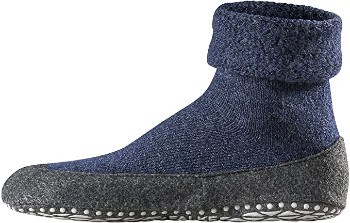 Show Today's Top Deals
These are today's top deals and bestsellers for slipper socks.

---
Slipper Socks are the perfect combination of cosy socks with slip-proof soles. They're the perfect choice of footwear for wearing around the home as they are usually made of soft, comfortable material, but the sole grips will prevent you from slipping on any hard floors.
There are plenty of choices of slipper socks around from cosy, warm ones with fleece or sherpa lining and lighter versions in cotton, which could still be worn under boots.
We've done our research to bring you 11 of the best pairs of slipper socks on the market.
Let's get started!
11 Best Pairs Of Cosy Slipper Socks
SDBING Women's Super Soft Slipper Socks
High quality fleece lined socks which keep feet warm and cosy.
The silicon rubber grips on soles prevent any slips on hard floors.
Available in Black, Dark Grey, Light Grey, Dark Blue, Pink Red.
One size fits UK 4/7, EU 37/40, US 6-10.
Ideal for cold mornings.
Dr. Scholl's Women's Lavender & Vitamin E Socks (2 Pack)
These soothing spa socks are enhanced with vitamin E and lavender for moisturising relief.
They are constructed with a smooth toe seam to help prevent any irritation.
Grippers in the sole prevent slipping on hard surfaces like wood and tiles.
Machine washable.
Ideal for pampering tired feet.
One size fits UK 2-8.
Citycomfort Slipper Socks For Women And Men
Super cosy socks with soft sherpa lining.
The knitted socks have a decorative design on but are short ankle length, so look more like a traditional slipper.
Warm but still breathable.
Soles have grips to stop any slipping.
Suitable for both men and women, these socks are available in 3 colours; beige, blue and grey.
Can be worn as a sleeping socks, to make your nights warmer.
Available in 4 different sizes; 5/6/7/8."
Heat Holders – Women 2.3 Tog Ankle Slipper Socks
No products found.
Shorter ankle length thermal slipper socks with non-slip grippers on the bottom to provide better traction on indoor wood or tiled surfaces.
With tog rating of 2.34 they are made from a specially developed heavy bulk yarn which has extreme thermal qualities.
They are diabetic friendly and provide relief for cold feet due to circulation problems.
Suitable for UK shoe sizes 4-8.
See my top picks for thermal socks.
Jeasona Ladies Fluffy Slipper Socks
These slipper socks are lined with lamb fleece which is very soft and will keep feet warm in winter.
They come in a variety of animal prints including dog, owl, fox, panda, and penguin.
Silicon rubber grips on soles prevent slips and falls on smooth floors.
Fits UK shoe size 2.5-5.
Totes Slipper Socks For Men
Twin pack of popular brand Totes slipper socks for men.
Super soft and cosy to keep feet warm at home with slip resistant tread.
Could be worn under boots in the winter.
True to size- buy usual UK size.
Harry Potter Fluffy Slipper Socks
Harry Potter fans will love these stripy Gryffindor Deluxe Knitted Winter Socks.
Made with thick knitted wool and sherpa lining for comfort and warmth.
They are anti slip and machine washable.
These super cosy thermal slippers come in a women UK size 5 to 8.
They would make the perfect stocking filler.
Christmas Citycomfort Slipper Socks
No products found.
Each pair of these are made from high quality and ultra-soft fleece and lined with the double thick layer of Sherpa fur to make them super cosy.
The Christmas Fairisle design make them a great seasonal choice.
With non-slip grips on soles.
Fit UK size 4-8.
See my best buys for Christmas Socks.
Unicorn Slipper Socks Women & Girls
These fun, unicorn design slipper socks are made of thermal fleece and provide enough warmth to keep you comfortable all day.
The double layer of Sherpa fur lining make sure you're super cosy.
Comfortable, lightweight and non-slip.
Fits UK women's sizes 4, 5, 6, 7 & 8.
ALKE Men's Cosyshoe Slipper Sock
Discount - Save £5.01
Luxury slipper socks for men made of fine, soft 90% merino wool.
An elastane cuff on the heel and a fold-over cuff will prevent the leg from slipping.
The inner plush keeps feet cosy and warm.
Machine washable.
Available in mens UK sizes 5-7/8-9/9-10/11-12/13-14.
Disney Fluffy Slipper Socks For Women
Disney slipper socks with character Stitch on toes with added ears for cuteness.
Lined with soft fleece and lovely cable knit wool for a premium look.
One size fits UK shoe size 5-7.
Ideal gift for a lady or girl who loves anything Disney!
Where To Buy Online (Best Retailers)
In our product reviews above I've recommended Amazon as they tend to have the best price and stock levels. I do recommend checking other retailers such as the following, which cater for both men and women;-
Today's Top Deals & Bestsellers
I hope this list of the best slipper socks was helpful.
If you think I left any out that should be included or have a suggestion for a future article, let me know in the comments below.
Nicola
Sock Buying Guide & Best Buys