For this post, I have put together a collection of the best merino wool socks currently available. Alternatively check out my articles on the best bamboo socks or waterproof socks or see all my buyer's guides to the best socks.
Our Top Pick
My favourites are the Vitsocks Women's 80% Merino Wool Soft Warm Socks as they have the highest merino wool content so are extra luxurious and soft. They also have great customer reviews.
Show Today's Top Deals
These are today's top deals and bestsellers for merino wool socks.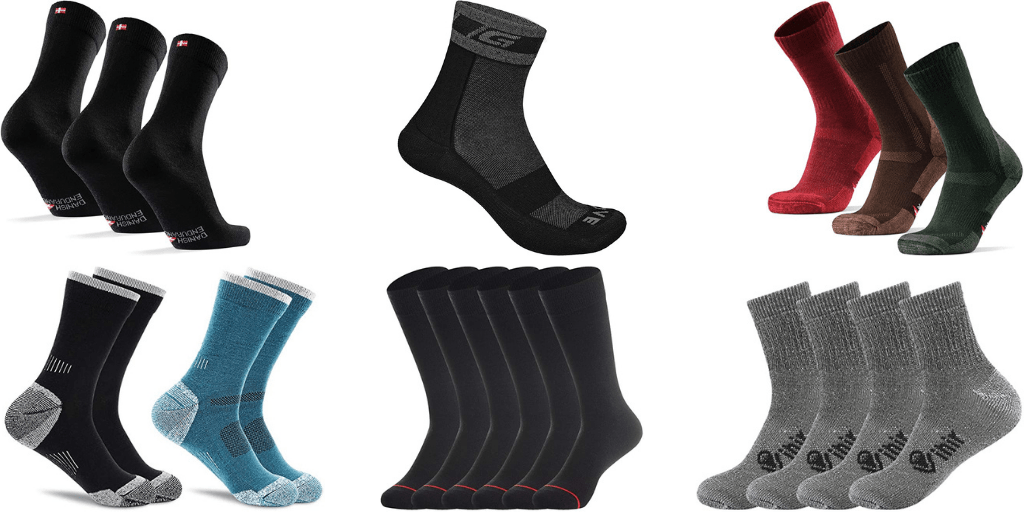 Merino Wool Socks are the ideal choice for keeping your feet warm as the fibres insulate rather than trap heat.
Merino wool will keep your feet warm in the winter and cool in the summer, so you can wear socks made of Merino wool all year-round!
Read through my buying guide – I'll show you what features to look out for and your key considerations when buying a pair of merino wool socks. You can also read my reviews of the best options out there for women and men. I cover all the top brands like Danish Endurance, Vitsocks, Bridgedale and more.
As well as our reviews we've pulled together 1000s of customer reviews so you can make a more informed decision.
So here is my list of the best merino wool socks for women, men and kids.
Danish Endurance Outdoor Walking Socks in Merino Wool for Men, Women & Kids
These socks come in a multipack of 3 pairs.
The natural heating, cooling and antibacterial properties of these merino wool socks ensure that your feet will be warm in the winter and fresh in the summer.
Ventilation mesh lanes wick away sweat. Cushioning and padding reduce the risk of getting blisters.
Ideal for hiking, trekking, outdoor adventures and walking.
Available in sizes: Child UK 12-2, UK 3-5, UK 6-8, UK 9-12, UK 13-15.
Recommended by Rasmus Kragh, the first Dane to climb Mount Everest.
30% merino wool, 36% nylon, 33% acrylic, 1% elastane.
Available in black and grey, multicolour and light grey.
Excellent feedback from buyers – 75% of 11,146 reviewers give these socks 5/5* ratings.
Vitsocks Women's 80% Merino Wool Socks
Moderately thick super soft socks.
They come in packs of 3 pairs.
80% Wool (Merino), 17% Polyamide, 3% Elastane.
These wool socks are not designed for hiking, stiff leather boots or very cold/frosty weather.
With flat toe seam, specially designed heel-pocket and non-tight cuff.
Available in sizes UK 3 to 8.
Excellent feedback from buyers – 70% of 650 reviewers give these socks 5/5* ratings.
Vihir Men's Antimicrobial Thermal 80% Merino Wool Athletic Crew Socks
4 pack of mens socks.
These thermal boot socks won't weigh you down or let your feet overheat while you are on the move outdoors. Especially good for the colder months.
Ideal for walking, hiking, trekking, camping, hunting, playing winter sports, mountaineering, skiing.
Constructed with 80% merino wool blend, 18% nylon and 2% spandex, these wool socks are extra thick and hide dirt for long-lasting durability.
Available in navy and army green.
One size fits men's shoe size UK 7.5-10.5.
Well reviewed socks, 86% of 188 buyers scored these 4 stars or higher.
Kooogear Men's Merino Wool Blend Hiking Socks
Mens Ankle Crew Hiking Socks Set, 2 pairs.
Soft resilient anti-bacterial fibre socks, which offer smart moisture humidity control.
Available in Black + Teal Blue 2 pack.
Available in sizes UK 6 – 9.
Great for outdoor athletic activities such as running, hiking, climbing, fishing and more.
Merino Wool: 50%, Acrylic: 35%, Elastic Polythane: 15%.
Good buyer feedback – from 134 reviews, 85% gave these 4 out of 5 stars.
Bonangel Men's Merino Wool Dress Socks
Mens fine merino wool dress socks for a smart look.
These socks are anti-pilling and breathable.
Naturally odour resistant and super soft socks.
Available in sizes UK 5.5-11.
50% Fine Merino Wool, 37% Acrylic, 10% Elastane, 3% Elastic.
Available in 7 pack styles. 3 pair black/ red, 4 pair mixed black, black/ purple, Argyll, 4 pair mixed black, blue/ puple, Argyll, 6 pack black, black and red, black, Argyll mix.
Great buyer feedback – from 201 ratings, 82% scored 4* or higher.
GripGrab Winter Thermal Cushioned Cycling Socks with Merino-Wool
Discount - Save £0.51
Breathable and robust winter cycling socks which offer a great level of comfort and excellent insulation to keep you riding through the coldest days.
These socks are made with 28 % merino-wool.
Padded sole for increased protection against cold and wind.
Supportive stretch zones provide a tight, comfortable fit.
Available in black.
Available in sizes S and L.
Well reviewed socks, 71% of 367 buyers scored these 5 stars or higher..
Danish Endurance Merino Wool Dress Socks for Men & Women
Moisture-wicking, crew-length dress socks.
Crafted with cooling lanes that will keep your feet comfortable and dry.
Available in black with Danish Endurance logo on cuff and sole.
Available in sizes: UK 3-5, UK 6-8, UK 9-12.
37% Polyamide, 30% Merino Wool, 30% Acrylic, 2% Polypropylene, 1% Elastane.
Great feedback from buyers, from 5,994 ratings 70% gave these socks 5*.
Sock Shop Ladies Trasparenze Jennifer Merino Wool Knee High Socks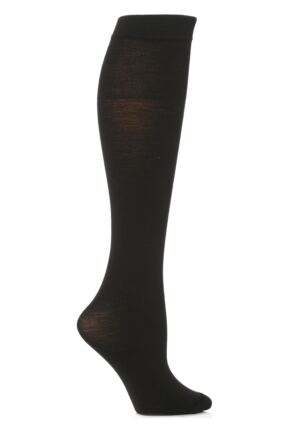 These women's knee high socks are matte opaque 100 denier socks, warm and comfortable thanks to the quality merino wool used.
70% Merino Wool 15% Polyamide 15% Elastane.
1 pair pack.
Reinforced seamed toes.
Available in colours; Black, navy, purple, dark grey, dark brown, white, stone, wine red.
One size.
Great customer feedback with average 4.8/5 ratings.
Sock Shop Kid's Uphill Sport Hiking Socks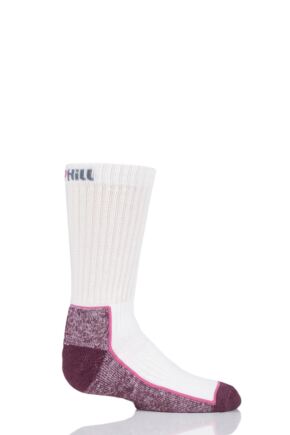 Pair of kids walking socks.
With a layered cotton body and wool added to an extra-thick terry pile cushioned sole makes them ideal for wearing with walking boots.
The thermally effective fabric blend will help keep cold out, but won't keep damp air in either.
They have hand linked toes for smooth seams, a fitted heel and elastic grip at the mid-foot, supporting the arch and keeping the socks in place.
45% Combed Cotton 26% Merino Wool 27% Polyamide.
Available in black, white, grey and light blue, pink, navy, purple, blue and orange.
Available in kids sizes 9-5.5.
Good customer feedback with average 4/5 ratings.
Sock Shop Bridgedale Mens Multisport Cushioned Merino Wool Socks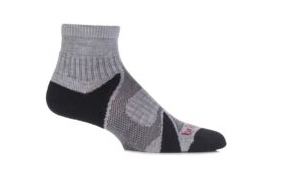 These multisport cushioned Merino Wool Socks are padded where it helps.
Great for running, cycling, gym work or a combination of them all.
1 pair in a pack.
Enhanced breathability and air circulation is provided by a mesh structure upper that additionally cuts overall weight.
Available in sizes UK 6-12.
Great customer feedback with average 4.8/5 ratings.
Today's Top Deals & Bestsellers
Where To Buy Merino Wool Socks
What Are The Benefits Of Merino Wool Socks?
Merino wool has managed to replace the rag-wool sock fabrics of the past. The natural elasticity of the fine fibres allows garments to stretch and then return to their original shape, preventing baggy socks.
The temperature-regulating feature of merino is a great benefit and helps to keep your feet comfortable in all weather.
Merino wool socks resist the smell of sweat for longer than synthetic alternatives. The soft and durable material will wick moisture away from your skin by absorbing it and wicking it to the outside of the socks to evaporate.
Merino wool is super soft and comfortable, with no itchiness.
It is eco-friendly. Merino sheep are usually shorn once to twice a year and the shearing process causes the animal absolutely no pain.
Merino wool is much lighter than other wool, making it easier to wear with shoes.
Merino wool socks are breathable and moisture-wicking, so they can even prevent blisters.
They are antibacterial so great for feet hygiene.
Merino wool is durable so is great for sporting activities such as skiing and hiking.
How To Care For Merino Wool Socks
Washing:
Turn socks inside-out
Machine wash on gentle cycle in warm or cool water
Do not add bleach or fabric softener
Tumble dry on low or hang to dry
How to Store:
Store socks flat. Balling up wool socks can distort their shape.
You can keep wearing your merino wool socks throughout the year as they are suitable for hot or cold weather.
Merino Wool Ski Socks
You'll find a great selection of merino wool ski socks out there and some I've included above.
They manage moisture better than cotton and synthetics and are more comfortable in all weather conditions. They are non-itchy and won't bunch up and cause blisters.
Merino Wool Hiking Socks
You'll find a great selection of merino wool hiking socks out there and some I've included above.
The best hiking socks are breathable and will keep your feet warm in cold weather and cool in hot weather. They also help to stop your hiking boots from rubbing and therefore prevent the likelihood of blisters. The best hiking socks feature merino wool as the core material as it's breathable, quick drying and antibacterial.
Merino Wool Cycling Socks
You'll find a great selection of merino wool cycling socks out there and some I've included above.
Merino wool feels super soft and comfortable and its natural elasticity allows the socks to move with your feet so it's ideal for winter cycling.
---
I hope this list of the best merino wool socks was helpful.
If you think I left any out or have a suggestion for a future article, let me know in the comments below.
Nicola
Sock Buying Guide & Best Buys