For this post, I have put together a collection of the best waterproof socks currently available. See all my buyer's guides to the best socks.
Our Top Socks
My top pick overall are the Sealskinz All Weather Mid Sock because of their versatility in warm and cold conditions. This means they have a comfy, light merino wool interior. They are available in a range of colours and they receive fantastic reviews.
Show Today's Top Deals
These are today's top deals and bestsellers for waterproof socks.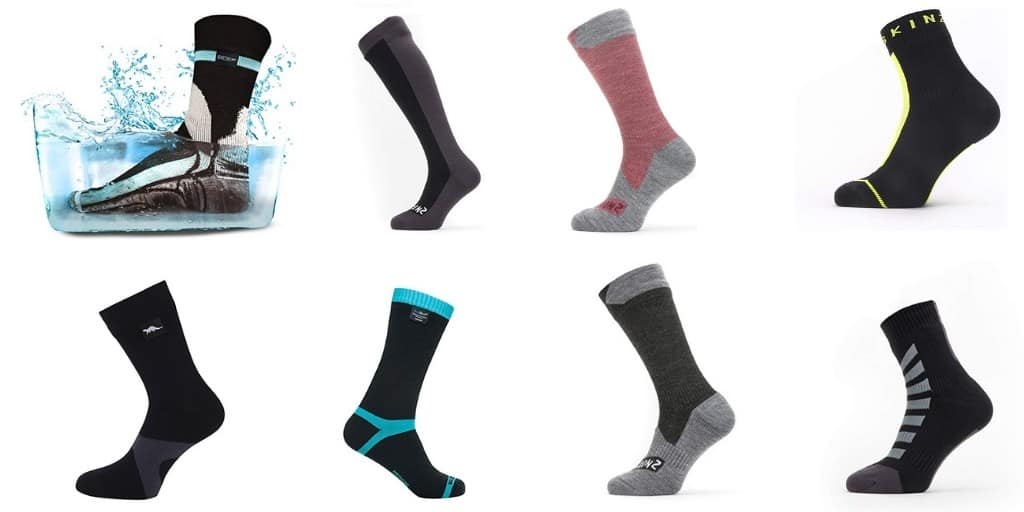 ---
Who likes the feel of soaking wet feet?
Nobody!
And so the invention of waterproof socks are a fantastic addition to your wardrobe.
They are perfect whether you're simply going for a walk and it starts to pour or you're exercising outdoors, be it cycling, running, hiking, golfing or engaging in water sports.
Read through my exhaustive buying guide – I'll show you what features to look out for and your key considerations when buying a pair of waterproof socks. You can also read my reviews of the best options out there for women and men. I cover all the top brands like SealSkinz, Dexshell, Arctic Dry, Bridgedale and more.
As well as our reviews we've pulled together 1000s of customer reviews so you can make a more informed decision.
You can then look forward to always having dry feet, whatever the British weather throws at you!
So here is my list of the best waterproof socks for women, men and children.
Sealskinz Waterproof Sock – All Weather Mid Sock
Otter Waterproof Socks For Men and Women
ArcticDry Xtreme 100% Waterproof Socks
Dexshell Coolvent Mid-Calf Waterproof Socks
Sealskinz Waterproof Cold Weather Knee Length Socks
Discount - Save £4.51
The Lost Peak 100% Waterproof Crew Length Black Socks
Sealskinz 100% Waterproof Ankle Length – Cold Conditions
Today's Top Deals & Bestsellers
Where To Buy Waterproof Socks
Do Waterproof Socks Really Work?
Yes they do! As long as you buy good quality ones.
Even with the finest waterproof shoes or boots you'll know all too well that water can leak into your socks. Adding waterproof socks to your closet will ensure your feet stay dry.
They usually work with a number of layers – two or three – the external layer is waterproof usually with a form of nylon.
How To Choose Waterproof Socks In The UK
Keeping water away from your feet is of course the main consideration when purchasing waterproof socks. There is a great deal of difference in how effectively different brands and socks do this.
But that's not the only buying consideration – there are many other key factors I want to make you aware of to help you make the best decision for your needs.
External Temperature
Are you planning to only use your socks in cold or even snow like conditions?
Or perhaps something you can use in both the winter and also the summer.
If you want something dual use then you need to buy socks that are all weather so they're not too thick and hot during warmer months. Do be aware that if you get ones that are thinner (usually with merino) then they are not going to be as effective in arctic type conditions.
Sock Length
Depending on your intended use you can choose to buy socks that are ankle length, mid length or even knee high socks.
Outer Layer
Waterproof socks are made from a number of layers. It is the outermost layer that is the first line of defence against the watery elements. The composition of this layer will give your protection and you should ensure whatever used is the right material.
Inner Layer
This layer needs to be comfortable and breathable as its in direct contact with your skin.
Merino wool can be a common material used here because it's warm, anti-bacterial and breathable. As it's a natural fabric it can also be one of the reasons waterproof socks can be a bit more expensive. You'll find that the merino wool will be combined with a man made fabric to give it
Colour Choice
You will find that the majority of waterproof socks come in dark or muted colours.
This is because most wearers use these socks in the great outdoors and so a dark colour will hide any mud or dirt stains.
There are also many options that have a touch of colour if you wish to have a pop of brightness.
Of course if you are not likely to get them muddy and you love the bright colours then it's not really an issue.
Waterproof Sock Sizes
Many waterproof sock sizes are in in small, medium, large or extra large sizes.
Check with the manufacturer what shoe size these correlate to.
Waterproof Golf Socks
You can complete your golf outfit with a pair of comfortable, breathable waterproof socks. The last thing you want to be doing as you're braving 18 holes in difficult conditions is being wet or even slippery inside your golf shoes.
Many of the sock choices above will be suitable for golfing. I would recommend you choose either mid length or ankle socks. Depending on what time of year you are playing you can either choose all weather socks that will suitable for temperatures all year round.
If you're playing in summer conditions you may prefer the warm weather socks. And if you're playing in very cold conditions then you can opt for cold weather or even extreme cold weather socks.
Benefits of Waterproof Golf Socks
As well as keeping your feet dry there are other benefits:
Enhances traction
When moisture enters your shoes you can struggle to maintain your footing. Balance is crucial in golf and waterproof golf socks are made from a spandex material with padding on the heels and toes that will help improve your grip, in those damp conditions.
Protection from debris
– You'll find no shortage of physical hazards on the golf course including stones, twigs or all sorts of other nasties in the sand or grass. It only needs a small twig to cause you a great deal of pain. Golfing socks that are waterproof have a robust design that cannot easily be pierced because they are made from up to three layers.
Improves comfort
– You're going to be walking around the course for many hours and golf requires the utmost concentration. The last thing you want to be distracted by is discomfort in your shoe – either through wetness or being cold. Waterproof socks are designed to absorb moisture keeping your feet dry. The multiple layers make them even bouncy to walk in – really raising the comfort levels. And they don't need to be super thick to do this.
Versatility
Even if you don't play golf regularly having a pair of waterproof socks means you can benefit from them in all sorts of walking. Whether you're an avid walker, skiier, cyclist or runner you'll benefit from having a number of pairs.
Waterproof Running Socks
You'll find a great selection of waterproof running socks out there and many I've included above.
My top recommendation is that waterproof socks for running are only really best suited in extreme weather. The reason is that the outer layer of waterproof socks tends not be as breathable as straight polyester or merino wool socks.
This means they will trap heat. This is of course great in really cold conditions and where you are trampling through tall wet grass or pounding through streams. But it's not something you really want in baking sun or need when it's not particularly wet.
Waterproof Cycling Socks
Similar to running I would recommend waterproof cycling socks for extreme wet or cold conditions.
A good option are the Sealskinz Waterproof Hydrostop Cold Weather Mid Length Socks. Well that was a mouthful!
Many of the ones reviewed above will work well but the Hydrostop ones benefit from elastic tape at the cuff which seals the entrance and prevents drips from coming through through. Like the other Sealskinz socks there's a Merino wool lining which wicks away sweat and dries fast!
Waterproof Walking Socks & Hiking
If you're hiking in wet conditions waterproof socks are the way way to keep your feet dry and comfortable throughout the day.
You wan to find ones that have a soft and breathable inner layer but a strong outer layer to provide liquid protection. And you want the culmination of layers to offer good cushioning.
Have a look through our reviews and comparisons above – many are perfect for walking. You'll need to decide whether you for ankle, mid length or knee high socks. And also what temperature conditions you'll be walking in.
I hope this list of the best waterproof socks was helpful.
If you think I left out one that is important or have a suggestion for a future article, let me know in the comments below.
Dominic
Sock Buying Guide & Best Buys