For this post, I have put together a collection of the best heated socks currently available. See our buying guides to the best socks and heated clothing.
Our Top Picks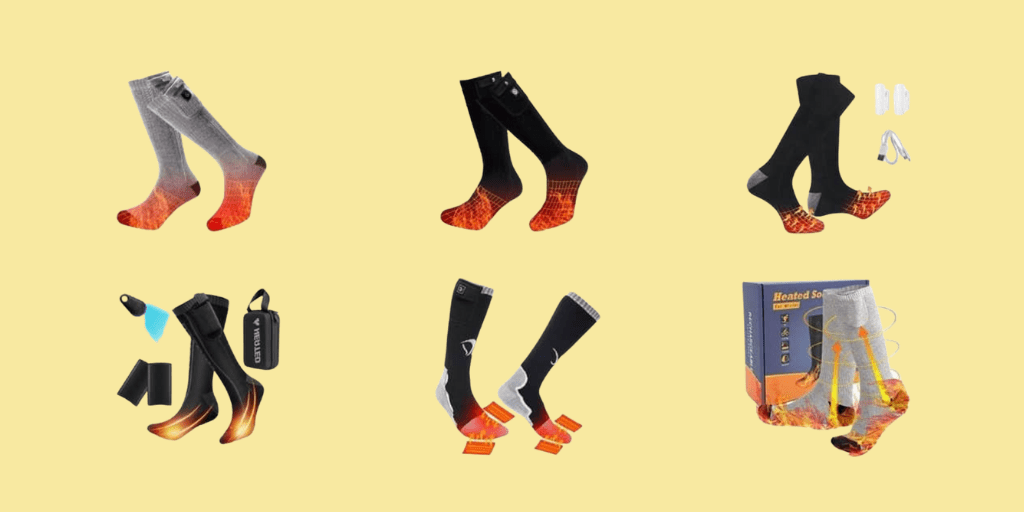 Battery heated socks are a fantastic way to keep your feet warm in freezing temperatures or if you suffer from poor circulation.
Similar to heated gloves they feature battery-operated wiring that heat up. They will keep your feet nice and toasty for hours plus you can set the temperature level of the socks to your liking.
How We Selected
If your feet are always cold even with thermal socks or merino wool socks you may want to consider these next-level innovative accessories.
We've scoured the internet looking for the best heated socks, which will save you the time and effort.
We've pulled together 1000s of customer reviews so you can make a more informed decision.
Alternatively check out my top picks for heated gloves, thermal socks or waterproof socks.
So here are my top picks for rechargeable heated socks.
Barchi Heated Battery Operated Socks
Colours available Black, Grey or Black/Grey.
Sizes available small, medium, large and extra large.
3 Heat Settings.
Buyers found this comfy and well made.
Pros: Padded reinforced toe and heel for comfort.
Cons: Expensive.
Consumer score Great reviews. 83% gave these 4 or 5 stars.
EEIEER Heated Socks for Men & Women
Upgraded Heating Element – Covers Instep & Forefoot & Toes
Made of 90% premium combed cotton and 4% A-grade Spandex plus 6% polyester.
Colours available black, blue, grey and black/grey.
3 Levels Temperature Settings – Super Heated Up to 70°C
Pros: Longer length, less expensive than some other brands.
Cons: Don't get that warm.
Consumer score Good reviews. 75% of buyers give these 4 or more stars.
Reviewers love these for outdoor activities like skiing and cycling.
HonTaseng Rechargeable Electric Socks For Men & Women
Made with 83% Cotton , 10% Polyester, 7% Lycra Spandex material.
3 levels temperature settings.
The high heat( heating 9 hours), medium heat (heating 12 hours), and low heat (heating 15 hours).
Most buyers keep them on the hottest setting.
Pros: Less expensive than some.
Cons: No heat under toes.
Consumer score Great reviews. 94% give these socks 4 stars or more.
Day Wolf Heated Electric Socks
Sizes available S, M, L and XL.
Colours available black/white, grey and black/grey.
Made of 80% cotton, 12% polyester fibre, and 8% elastic fibre.
Pros: Odour resistant, moisture wicking, padded for maximum comfort.
Cons: Pricey.
Consumer score Very good from buyers. 82% give these socks 5 stars.
Snow Deer Heated Socks
These electric socks have rechargeable lithium polymer batteries.
Heating up to 2.5-6 hours and full charge around 3-4 hours.
3 heat setting controllers.
Made of 92% Polyester, 12% polyester,8% Elastane material.
Breathable, quick-drying and a soft padded reinforced heel and toe.
Pros: The heel and the toe have additional padding so they are comfortable.
Cons: They don't have moisture-wicking properties.
Consumer score Good from buyers. 73% give these socks 4-5 stars.
What To Consider When Buying Heated Socks
Intended Use- Outdoors
The type of heated sock you will choose will depend on how and where you intend to use them. For outdoor use they can be very practical in very cold conditions. If you're hiking many of you will find a good pair of thermal socks will keep you warm enough. The vigorous movement of walking should keep you warm.
If you're outside but plan to be stationery for long periods of time then electric socks can be absolutely perfect! For example, this could include fishing, motorcycling, hunting or camping.
Intended Use- Indoors
You may simply find yourself will very cold feet during the winter months. If you're looking for a step up from warm merino wool socks or thermal socks then a pair of heated ones may be a fantastic solution. If you suffer from cold feet when sleeping they can be a great solution.
They can also be used if you have poor circulation and there are medical uses including diabetes or hypothyroidism.
Battery
The main reason electric socks have grown in popularity is due to improvements in battery technology. Specifically, the ability to fit high powered batteries into a smaller space and that last for some time.
The power of the batteries, of which we've included a great range in reviews above will generally determine how long they can keep your feet warm for. If for example you're off fishing for a day or on a long motorcycle ride then go for batteries that will last 5 or more hours.
Temperature Control
Many heated socks let you change the temperature of your socks – usually with up to three setting controls.
The control's location vary – sometimes on built-in buttons, bluetooth remote control or even via an app on your smartphone!
Selecting your temperature level will depend very much on your personal preference and what activities you are doing. You'll find some reviewers only use the high setting whereas others are happy using the low setting most of the time. The exact minimum and maximum temperature will vary on each product.
Do remember that the battery will drain quicker the higher the setting you choose.
Material
Choosing a material that you like and is best suited to your needs is key when choosing electric heated socks.
Most socks, and battery powered ones are no exception, are usually made from a number of materials with one being the key makeup. As is normal you'll find wool is up there with the warmest. Polyester and Cotton mixes are most popular because they provide a performance such as stretching and grip. Cotton is also highly absorbent whilst polyester driest fast.
Comfort Fit
It's easy to get distracted with all the bells and whistles on heated socks and forget about actual comfort levels!
Most heated socks are quite long so you get maximum warmth. Keep an eye out for lycra spandex and elastic – these help keep your socks snug but not too tight a fit.
Now onto some common questions when it comes to heated docks.
Heated Socks FAQS
Can You Wash Heated Socks?
Although many manufacturers claim their socks can be washed in a machine you'll find many reviewers claim damage to their socks and / or batteries.

This is not surprising given that electrical components and water do not mix well!
So we advise against using a machine and instead hand washing your socks – preferably with a mild detergent and lukewarm water.

One tip is to wear your heated socks over a thin pair of normal ones (like bamboo socks). You'll then won't need to wash your heated ones as much.
How Do Heated Socks Work?
There's nothing too technical about the workings of heated socks – like heated gloves they have embedded batteries that transfer heat to thin wiring spread through the sock.

You set the power of these batteries and the corresponding temperature with a controller.
Cheap Heated Socks & Today's Bestsellers
Final Thought
My favourites are the Barchi Heated Battery Operated Socks because they are comfortable, good quality, available in a range of sizes and colours and receive fantastic feedback.
I hope this list of the best heated socks was helpful.
If you think I left any out or have a suggestion for a future article, let me know in the comments below.
Nicola
Last Updated: January 2022
Added 'How We Selected.'
Added Top Picks.
Updated Image.
Added internal links.
Added Pros/Cons on all products.
Added FAQ's.
Added New Product.
Added Final Thought.
Sock Buying Guide & Best Buys
Heated Clothing Buyer's Guides
Begleri Heated Socks For Men & Women (currently unavailable)
10 hours heating time
Starts to heat in 1 or 2 seconds.
Excellent Reviews. 73% of buyers give these 5 stars.
2 heating areas at the back and bottom of the feet.
3 heat settings from 113F to 158F.
Sizes available: Large and XL.
Really nicely packaged.
From 31 ratings these score an average of 4.3 out of 5.
RTDEP Heated Socks (currently unavailable)
3 Temperature Settings
Features a remote so perfect for outdoor activities like fishing.
Brilliant feedback from buyers. 80% give these socks 5 stars.
From 14 ratings these score an average of 4.3 out of 5.
HKBTCH Heated Socks (currently unavailable)
3 Temperature Settings – High Grade (40-45C) Middle Grade (35-40C) and Low Grade (25-35C)
Rechargeable Li-ion battery lasting for 5-6 hours
Takes around a minute to warm up properly.
Excellent feedback from buyers. 84% give these socks 5 stars.
From 449 ratings these score an average of 4.8 out of 5.