For this post, I have put together a collection of the best heated clothes airers currently available.
Our Top Pick
My preferred pick for best heated clothes airer is the 3-Tier Heated Airer from Dunelm as I really like the heated shoe rack feature and the airer also folds away neatly when not in use.
Show Today's Top Deals
These are today's top deals and bestsellers for heated clothes airers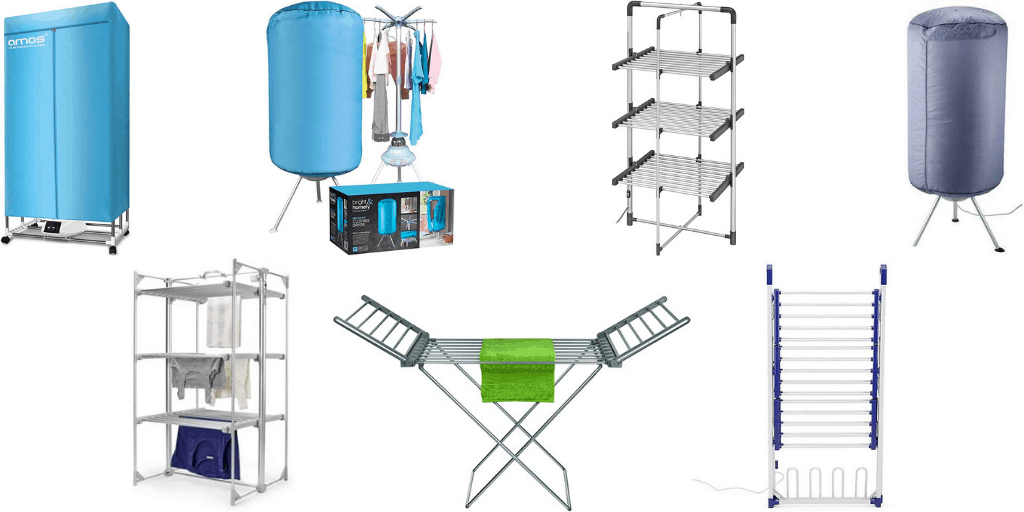 ---
A heated clothes airer can make getting your clothes dry in the winter a breeze. As well as being cheaper to run than a tumble dryer, it's also more environmentally friendly and will save you having to hang your laundry all over the radiators. Ideally it would be great to dry our washing outdoors all year round, but unfortunately the good old British weather doesn't lend itself to this.
We've scoured the market to find 8 of the best heated clothes airers, which will make drying your washing that much easier! Especially during the winter months.
Prefer a clothes airer without the heat? Check out our article on the 16 best clothes airers here.
So here is my list of the the best heated clothes airers.
Amos Eezy-Dry Electric Clothes Dryer
Large capacity energy efficient electric clothes dryer.
Heated clothes dryer which comes with a cover for extra efficiency.
With timer option so you don't have to manually turn off.
Airer is on castors so you can easily wheel it from room to room.
Use plastic coat hangers to hang clothes on the airer.
It is quite lightweight so you can move upstairs/ downstairs if required.
Customers love this heated clothes airer – 62% of 814 buyers gave it 5 stars.
Pifco Y-Shaped Heated Clothes Airer
Winged electric clothes airer.
Powerful 230W and heats up to 55 degrees for faster drying.
With an On/Off switch with indicator light.
Winged design works well for hanging shirts and laying hand washed items flat.
Folds flat for easy storage and efficiency.
20 generously sized aluminium heating bars for plenty of space for clothes.
Dry:Soon Drying Pod
Electric fan drying pod with cover.
Fast, efficient clothes drying pod.

Costing @ 15p an hour to run, it blows hot air through clothes on hangers to dry them gently and quickly.

More gentle on fabrics than a conventional tumble dryer.

The pod has a fan built into the base that heats air up to 70°C and then blows it up into the pod and dries your clothes.

Perfect for shirts, blouses, linen clothes and delicate fabrics.

Clothing can be hung on hangers and then hooked onto the rail. Zip up the fabric cover and switch on the electric airer.
As your clothes will be hanging, it will mean they have very few creases and you probably won't need to iron them once dry.
Customers love this heated clothes airer – 71% of 398 buyers gave it 5 stars.
Black & Decker 3-Tier Heated Clothes Airer
Electrically heated rails.
This clothes airer is kinder to clothes than using a tumble drier so great for getting those delicates dry.
It's also more cost effective.
Folds flat for storage which is ideal if you have limited space.
Holds up to 15kg of washing on 21m drying space.
It's easy to use. You can just fold it out and plug it in.
The 3 tiers mean there is plenty of space to hang items or if you want to hang longer items like dresses you can from the top.
Vivo© Portable Fast Drying Electric Clothes Dryer
Heated clothes airer with cover.
Laundry dries quickly and quietly with this drying pod.
It has an anti slip tripod and clothes can be hung from hangers to dry.
Doesn't take up too much space.
Will get clothes dry without creating a damp environment indoors.
Customers love this heated clothes airer – 74% of 121 buyers gave it 5 stars.
Dry:Soon Deluxe 3-Tier Heated Airer
Heated, thermostatically controlled, lightweight aluminium frame will dry your laundry gently.
Great for delicates like satin and silk which are not suitable for a tumble dryer.
Easy to use with an eye level display and control panel with timer.
Can be used folded in smaller spaces.
Also benefits from a carry handle and a handy plug store meaning your plug and cord are also neatly tidied away.
Costs @ 6p/hour to run so energy efficient.
Customers love this heated clothes airer – 71% of 523 buyers gave it 5 stars.
If you want to speed up the drying process you can even buy the Cover for Dry:Soon 3 Tier Standard Heated Airer, reviewed below.
Cover for Dry:Soon 3 Tier Standard Heated Airer
Dry clothes even faster with this cover made for the Dry:Soon 3!
This cover keeps heat in to dry your clothes much quicker on the Dry:Soon 3 airer.
The mesh side vents help air flow better and prevent moisture build up inside the cover.
A good thing about keeing the moisture contained is that it won't create a damp atmosphere indoors which can lead to mould spores.
It doubles as a handy storage bag for the folded airer, so it can be stored neatly away when not in use.
Sold separately, but customers rate it! 68% of 400 buyers gave it 5 stars.
3-Tier Heated Airer (Dunelm)
3-tier heated airer
This three-tier airer from Dunelm costs less than 4p an hour to run!
Folds away neatly to save space.
It has a handy shoe rack at the bottom which dries shoes and trainers, which is a unique feature.
Suitable for up to 15kg of washing.
Today's Top Deals & Bestsellers
What to consider when buying a heated clothes airer
Budget
Heated clothes airers range from @ £40-£280 so they cater to most budgets. They are a wise investment if you do a lot of indoor drying, especially if you don't have garden space. They will dry your clothes quickly and will cost a lot less than running a tumble dryer.
Type
As this is a functional product you probably want to consider how much drying space you will need and where you will set up the clothes airer over what it will look like. You will want one which fits within your home and will adequately hold your washing.
Cover
A cover isn't essential, as the clothes will still dry using the heat alone but it will decrease the overall drying time by quite a bit. Drying clothes indoors can also make the room damp and create mould spores, so a cover will reduce this problem.
I hope this list of the best heated clothes airers was helpful.
If you think I left any out that should be included or have a suggestion for a future article, let me know in the comments below.
Nicola
Home Products – Buyer's Guides