For this post, I have put together a collection of the coat stands currently available. Plus, see our guides to the best bedroom accessories.
Top Picks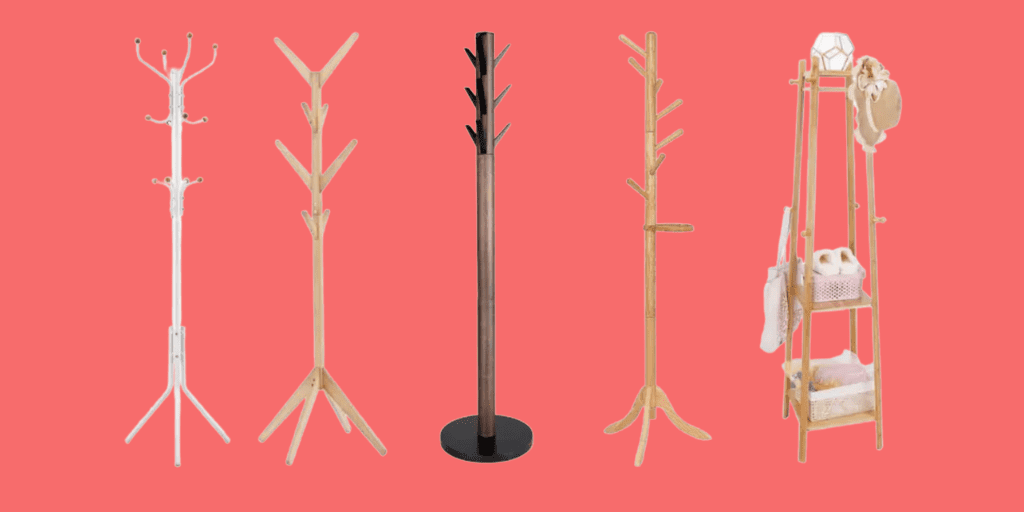 Make a feature of your clutter by adding a coat stand in your hallway.
Not only will you be able to organise your winter coat collection and keep it tidy, you will have somewhere you can offload your outerwear, hats and even shoes when you walk through the door.
How We Selected
There are so many different styles of coat racks available on the market from wooden to metal and vintage to modern.
We've selected ten of our favourites, which will not only add a decorative feature, but also help to keep you organised at home.
We picked coat stands which have excellent reviews from buyers and 4-5/5 star ratings.
Get organised with our picks of the best clothes rails, ottoman storage and trundle beds.
Let's get started!
Alvorog Coat Hanger Stand with Rack
Freestanding iron coat stand with coat hangers and a three-tier shoe rack.
Practical options for plenty of storage space for coats, bags and shoes.
There are 16 coat hooks and its four adjustable feet can provide balance on uneven floor.
Pros: Lots of hooks for coats and space for shoes and storage.
Cons: Quite large at 63.5 x 29 x 180 cm.
Consumer Score: A popular coat stand with 70% of buyers giving it 5 stars out of 5.
Songmics Metal Coat Rack
White classic shaped coat stand with 12 metal hooks.
Finished with wooden ball caps.
Ideal for hanging your coats or accessories in any room.
Pros: Plenty of hooks for coats, finished with wooden balls for an aesthetic look.
Cons: Some customers say it's a bit unstable.
Consumer Score: A really popular coat stand with 72% of buyers giving it 5 stars out of 5.
Unho Coat Stand Rack Hanger Bamboo
Multifunctional bamboo coat stand.
With rails to hang coat hangers on four sides, a top shelf to store boxes or for a plant feature, hooks for bags, coats etc and a bottom shelf for shoes or more storage.
Its scratch proof base pads make it non-slip and wear- resistant.
Pros: Plenty of hooks and shelves for storage or adding features.
Cons: Some buyers mention its not that sturdy.
Consumer Score: Buyers like this coat stand with 79% of buyers giving it 4-5 stars out of 5.
Hododou Wooden Coat Rack
Discount - Save £2.00
This wooden coat stand is made from solid rubber wood which is sturdy and durable.
With 7 spirally arranged hooks and 1 360°rotating tray, this coat stand is stylish as well as being practical.
The unique tray addition, is the perfect place for throwing your keys and sunglasses when you walk through the door, meaning no more forgetting where you put them!
Pros: The functional tray for keys and sunglasses so they never go astray.
Cons: No shelves.
Consumer Score: Really popular coat stand with 79% of buyers giving it 5 stars out of 5.
Umbra Flapper Wooden Coat Rack
Discount - Save £57.77
This stylish standing coat rack has nine metal hooks that flip out to hold jackets, coats, hats umbrellas, scarfs, bags, and more.
When not in use, simply push back the hooks for a clean, minimalist appearance.
It is a solid, floor-standing wooden coat tree that features a wide metal base and 9 flip-down cast-aluminium hooks.
Pros: Stylish and durable.
Cons: Quite pricey.
Consumer Score: Excellent reviews with 84% of buyers giving it 5 stars out of 5.
Morrell Coat Stand – Wayfair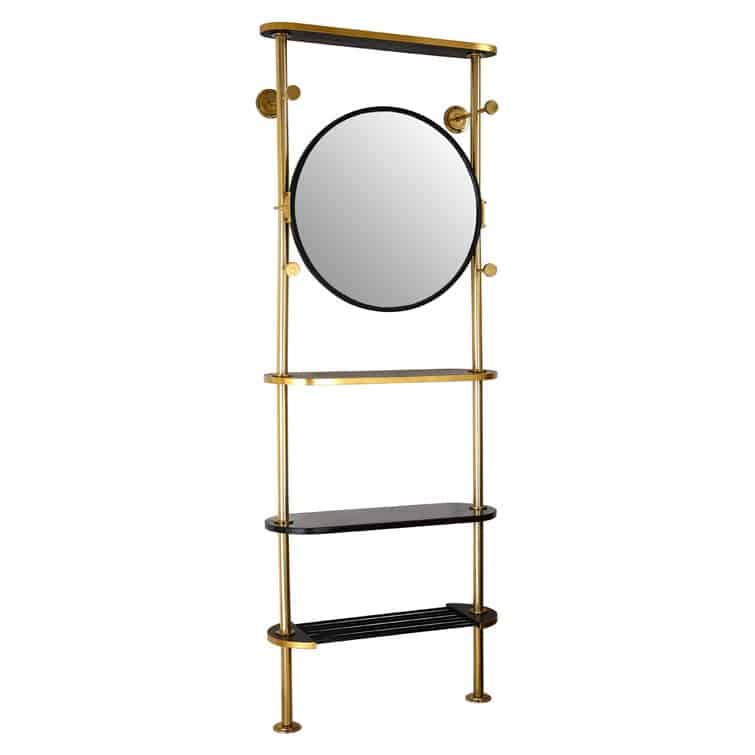 A boutique hotel style coat stand with metal frame and coat hooks which boast a rich antique brass finish that will create a striking look in any room.
With four hooks, a round mirror and 2 shelves in black finish, one which is slated, so perfect for storing shoes.
Pros: Stylish and striking, includes a mirror.
Cons: Not many hooks.
IKEA Coat Stand HEMNES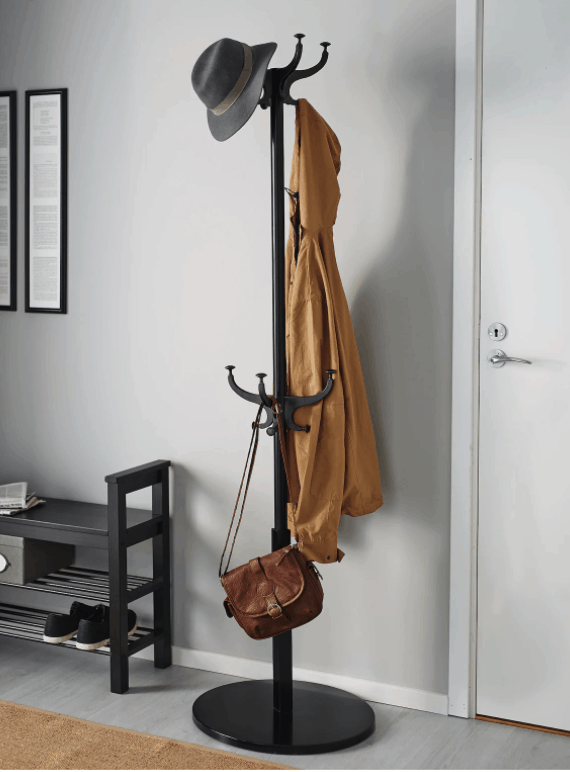 A simple, classical designed coat stand with a modern edge, which would look good in any room.
With 16 hooks for plenty of storage space.
Pros: Affordable, stylish, plenty of hooks.
Cons: Only available in black.
Consumer Score: A very popular coat stand with average customer ratings of 4.9/5 stars.
John Lewis Anton Wooden Coat Stand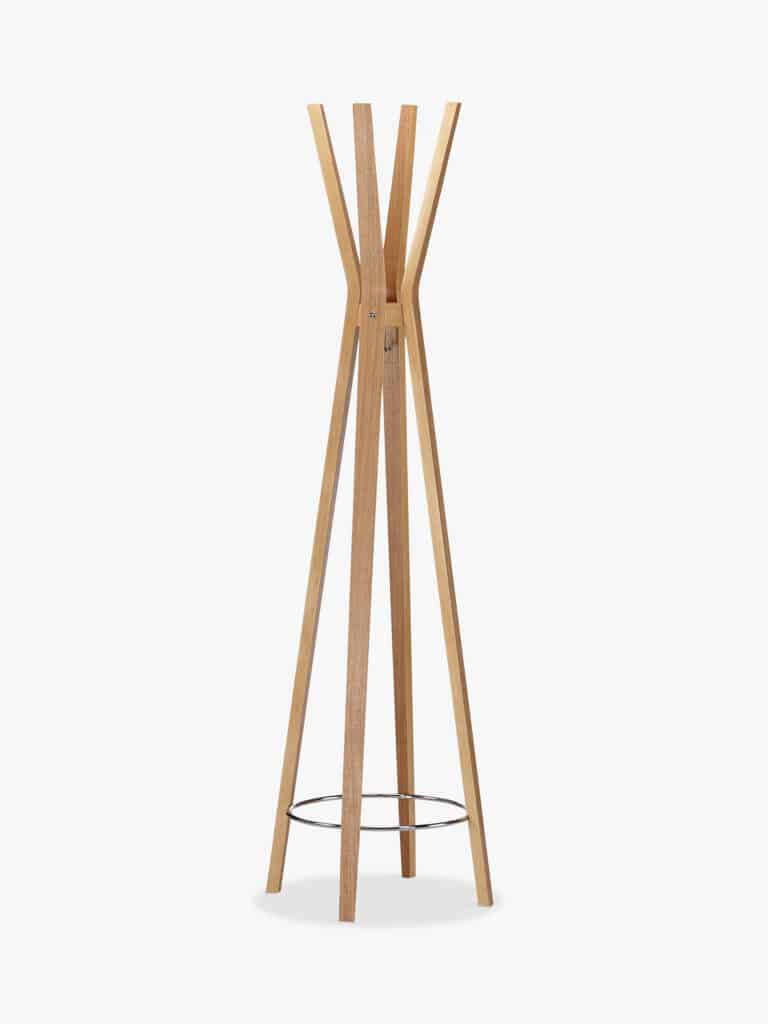 A cool, modern coat stand which is made from high-quality oak veneer and plywood, with a Scandi-inspired design that incorporates splayed arms and legs.
There's generous hanging space for coats and hats and additional hooks concealed in the centre are useful for hanging bags or other essentials.
The wood is coated in a lacquer for durability.
Pros: Stylish design, plenty of hanging space, some concealed hooks.
Cons: Expensive.
Consumer Score: A popular coat stand with average customer ratings of 4.4/5 stars.
What Are The Benefits Of A Coat Stand?
Organisation
Coat stands can not only keep your coats well organised, but they are also a useful place to keep hats, scarfs and other accessories. Keep your home looking decluttered.
Style
A nice coat stand can add charm to any empty corner of a living room or hallway.
Easy Access
A coat stand will provide easy access to all of your outdoor wear. You can position it in a convenient place so that you can grab your coat before you walk out of the door.
FAQ's Coat Stands
Do you need a coat stand?
A coat stand to hang coats, jackets, scarves, hats and other outdoor items is a good idea in a small house or flat, where there is no additional space for a cupboard. It can also add an element of style to any home.
Where should a coat stand be placed?
Usually in the hallway to gather all of the incoming coats and accessories. But you could also use one in a bathroom to hang towels or dressing gowns. Alternatively, you could place one in a bedroom as a clothes organiser.
How tall are coat stands?
It does vary but usually around the 5ft height so they are reachable to most individuals but give enough space from floor to hooks to hang long coats etc.
Cheap Coat Stands & Today's Bestsellers
Final Thoughts
My top pick is the Umbra Flapper Wooden Coat Rack as it is stylish, durable and the hooks can be pushed in for a streamlined look when not in use.
Buyers love this coat stand with 84% giving it 5/5 stars.
I hope this guide on coat stands was helpful.
If you think I left any out that should be included or have a suggestion for a future article, let me know in the comments below.
Nicola
Last Updated: February 2022
Added Top Picks.
Updated image.
Added 'How We Selected.'
Added Pros/Cons on all products.
Added consumer scores.
Added 'Benefits'.
Added FAQ's.
Updated links.
Added Final Thought.
Moved unavailable products to bottom of page.
Home Products – Buyer's Guides
Youyijia Wooden Coat Stand (currently unavailable)
Wooden coat stand made of birch and poplar wood, therefore it is eco-friendly.
The surface of the hooks is smooth finished, which will prevent scratching your clothes, especially knitted clothes.
There are 8 coat hooks at the top, so you can hang coats, hats or jackets.
With lower hooks which are ideal for umbrellas.
Headbourne Coat Umbrella Stand, Walnut Varnish (currently unavailable)
A traditional style coat stand with a walnut varnish finish, which would look great in a period house.
With 10 hooks at the top which are ideal for coats and jackets and a section at the bottom to hold umbrellas.