For this post, I have put together a collection of the best ottoman storage currently available. Check out all my best buys for bedroom accessories.
Our Top Picks
Show Today's Top Deal
These are today's top deals and bestsellers for ottoman storage.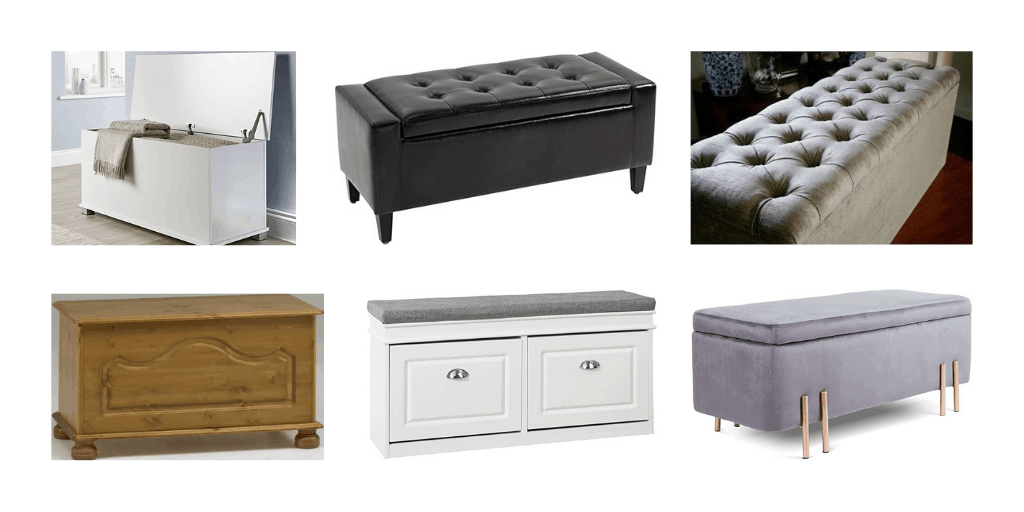 Ottomans are storage trunks which can be used to hold items such as towels, linen, toys, shoes and more. Some come in covered fabrics and have padded tops which can be used as seats.
Ideal for any room in the house and great for space-saving. We've picked our favourites, all of which have excellent customer feedback and 4-5/5 star ratings.
See my top picks for the best corner wardrobes and trundle beds.
Let's get started!
Steens Wooden Richmond Ottoman
This traditional style solid pine ottoman could be used in any room for storing items and if you added some throw cushions to the top it could be used as a seat.
The bun turned feet give it a vintage look.
Self assembly.
Height 450mm x Width 823mm x Depth 409mm.
Good reviews. From 215 ratings 72% of buyers gave this 5/5 stars.
---
Chenille Fabric Large Ottoman (mm08enn)
This large ottoman comes in chenille fabric with matching buttons and crystal diamante. Perfect to double up as a comfortable seat.
Available in colours Black, Brown, Cream , Red, Charcoal, Pink, Grey, Light Grey and Purple.
Dimension Length 40 inches x Depth 18 inches x Width 14 inches.
Very good. From 168 ratings 73% of buyers gave this 5/5 stars.
---
Home Source White Ottoman Storage Chest
If you're looking for a simple white ottoman storage chest, this one is a good option.
This ottoman features a hinged lid to enable the lid to stay open while in use.
Dimensions: (W) 99cm (D) 40cm (H) 45cm
Also available in black, oak and white woodgrain.
Excellent reviews. From 657 ratings 75% of buyers gave this 5/5 stars.
---
Beautify Storage Ottoman
Discount - Save £15.00
A plush grey velvet ottoman with rose gold-double framed legs for a stylish contemporary look.
This bench/ ottoman will look great at the end of the bed.
Dimensions: 100 x 40 x 42cm (L x D x H).
Great reviews. From 130 ratings 73% of buyers gave this 5/5 stars.
---
Round Padded Ottoman Storage Stool (HNNHOME)
Discount - Save £8.25
A round linen ottoman storage footstool which is perfect for the lounge. Put your feet up and store all of your magazines, DVDs etc in this ottoman.
With a thick padded seat, wooden legs and anti-slip protectors.
In colours; Beige, Charcoal, Lava, Light Green, Navy, Pearl River, Yellow.
Dimensions: 45(W) x 45(D) x 41cm(H).
Excellent reviews. From 279 ratings 87% of buyers gave this 5/5 stars.
---
PU Leather Storage Ottoman (HOMCOM)
Discount - Save £10.00
PU leather ottoman in a modern boxy shape.
The solid wood frame makes it sturdy and durable, and it is covered in sponge padding to make it a comfortable seat too.
Flip lid with a safe hinge for easy opening and closing.
Dimensions: 40H x 92W x 40Dcm.
Great reviews. From 95 ratings 77% of buyers gave this 5/5 stars.
---
Caspian Ottoman Gas Lift Up Storage Bed
Discount - Save £51.95
If you want a good amount of storage space an ottoman bed is perfect.
The sprung slatted base lifts to reveal a practical storage space and the gas pistons make lifting the bed simple.
With a robust steel frame and faux leather finishing with stitch detailing on the headboard and footboard.
Ideal for bedding, pillows, shoes and more.
Available in black, brown and white.
4ft6 Double Bed: Length: 202cm Width: 154cm Headboard Height: 86cm Footboard Height: 32cm.
Fab reviews. From 1,769 ratings 84% of buyers gave this 5/5 stars.
---
SoBuy® Hallway Shoe Ottoman Bench
A shoe cabinet shoe bench which would work well in a hallway.
With two handy flip drawers, 2 tiers in each drawer for shoes.
The seat cushion in grey is removable.
The narrow depth makes this ideal for a narrow corridor.
Dimensions: W104 × D24 × H52cm.
Great reviews. From 178 ratings 86% of buyers gave this 5/5 stars.
---
Bedroom Accessories – Best Buys