For this post, I have put together a collection of the best cordless hair curlers currently available. Browse my guides to the best bedroom accessories.
Our Top Picks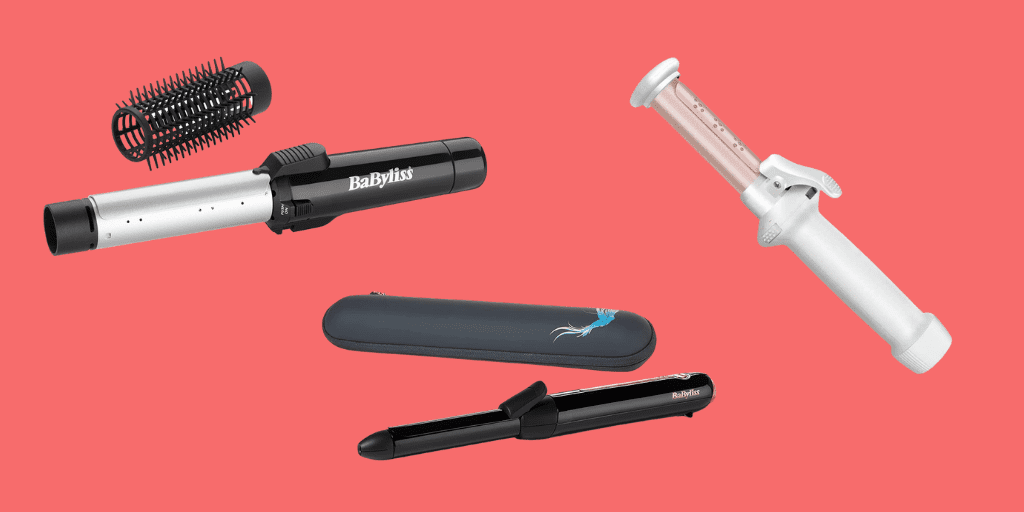 ---
Cordless hair curlers are the perfect styling accessory for on-the-go or travel.
Not only can you create the perfect curls with them, but you also have the option to touch up your style wherever you are.
How We Selected
From automatic to ceramic cordless hair curlers see our picks of the best.
We narrowed down our top picks by reading plenty of buyers reviews, choosing products which have excellent 4/5-5 star reviews.
We looked for ones which are compact and rechargeable, travel friendly, safe to use and heat up fast.
Want more bedroom accessory guides? See my picks for the best Hollywood mirror, moon lamp and ottoman storage.
For tips on beauty product safety see the Electrical Safety First website.
So here is my list of the best cordless hair curlers.
Jokben Wireless Automatic Curling Iron
Cordless auto curler with 6 temperature and timer settings for different levels of curl.
The heat isolating curl chamber means your fingers wont come into contact with the hot ceramic plates.
It comes with built-in rechargeable battery pack which can be easily carried in the pocket or backpack so ideal for on-the-go.
Pros: Good value for money, various temperature and timer settings, no risk of burning your fingers while curling.
Cons: Quite bulky.
Consumer Score: Buyers love this cordless hair curler. 80% of buyers gave this 4-5 stars out of 5.
FHD Portable Cordless Curling Wand
Discount - Save £0.98
Ceramic curling wand which heats within 5 seconds to a constant temperature of 160℃ for speedy styling.
Ceramic coating on wand reduces any damage to hair.
The USB charging is safe and convenient for travel.
The small size of the curling wand makes it portable and suitable for travel.
Charging Time: 2.5 hours.
Time of Use: 45 minutes.
Pros: Compact, good value, ceramic coated for reducing damage to hair.
Cons: Bit fiddly to use.
Consumer Score: Popular cordless hair curler. 63% of buyers gave this 4-5 stars out of 5.
DUOMISHU Cordless Hair Curler
This cordless hair curler uses ionic ceramic technology which claims to seal moisture into your hair and eliminate any frizz and static.
With 6 temperature and timer settings for different types of hair or curl.
Auto-turn off after 10 minutes.
Charging Time: 3-4 hours.
Time of Use: 60 minutes.
Pros: Anti-tangled design, personalised temperature and timer, ionic ceramic technology to eliminate frizz and static electricity.
Cons: Quite bulky.
Consumer Score: This cordless hair curler is well received with 79% of buyers giving it 4-5 stars out of 5.
BaByliss Cordless Curling Tong
A high performance cordless curling tong with patented Micro Heating Matrix heaters that follow the shape of the barrel for consistent and even heat.
The ceramic barrel will create smooth bouncy curls.
Powered by Lithium-ion it has an effortless magnetic charging with life indicator that shows the level of charge.
Includes storage case with heat protective lining and silicone plate guard so you can use it anywhere and it's also convenient for travel.
Charging Time: 3 hours.
Time of Use: 40 minutes.
Pros: Come with a handy storage case and silicone plate guard, ultra-smooth ceramic barrel for an exceptionally smooth finish
Cons: Expensive.
Consumer Score: Buyers like this cordless hair curler. 100% of buyers gave this 4 stars out of 5.
Babyliss Large Cordless Gas Styler
This styler will create smooth curls or waves, or can also add shape and root volume to hair.
The 28mm ceramic coated barrel has a brush attachment for shape and body and the protective heat shield helps to protect hair from heat damage.
It runs on a single gas energy cell making it ideal for trips away or where you will not have access to power.
Great idea for camping trips or festivals.
Pros: Easy to use, heats up quickly, wide barrel for soft curls.
Cons: Contains extremely flammable gas.
Consumer Score: Excellent hair curler with 80% of buyers giving it 4-5 stars out of 5.
Cordless Hair Curler Sale & Today's Bestsellers
The Most Important Features To Consider
Before buying a cordless hair curler you may want to consider the following;-
What Types Of Cordless Hair Curlers Are Available
Cordless Auto Hair Curler: An auto hair curler automatically curls your hair inside the barrel. Usually rechargeable with USB charging and battery operated for up to 60 minutes. Will usually require 3-5 hours charging to reach full capacity.
Cordless Gas Styler: If you prefer a more traditional heat curling wand you could opt for a gas styler in which you replace the butane cartridges when required. You can't necessarily change the heat setting on these.
Cordless Curling Tong: A curling tong or wand that is battery-powered and rechargeable. With the option of different settings, this is pretty much the same as a hair curler with power cable, but will only work for 35-45 minutes before needing to be charged again.
How Portable Are They?
All of the above cordless hair curlers are portable and ideal for travel.
How To Curl Your Hair With Cordless Curler
Prepare your hair by drying it until it's almost dry, then detangle with a wide-tooth comb or brush.
Apply a heat protector spray.
Turn on curler and set your desired temperature.
Split hair into sections for easier styling. Take small sections of hair then wrap the locks around the barrel of the curling iron. Wait a few seconds and release.
If using an automatic curler you will not need to wrap your hair around the barrel as this will automatically be done for you.
Repeat for all sections.
If you switch the direction of your curling every time it will give a more natural look.
Once curled, brush out your hair gently and for added hold spritz with hairspray.
Cordless Hair Curler FAQs
How Do Cordless Hair Curlers Work?
Cordless hair curlers work without any power cable and instead rely on batteries or rechargeable batteries.
What Is An Auto Hair Curler?
These will automatically curl your hair and you don't need to wrap your hair around any barrels. This saves styling time and you won't have to worry about getting burnt as the heat is contained inside the hair curler.
Are Cordless Hair Curlers Better Than Regular Hair Curlers?
Regular hair curlers with a power cable are more powerful than cordless hair curlers, but that doesn't mean that cordless hair curlers are not as good at curling. You will need to recharge cordless curling tools frequently, so they are not ideal for everyday use, but if you enjoy travel or weekends away, cordless versions are easily portable and a great idea.
Final Thought
Any of these products will be great for travel and touch-ups but the Jokben Wireless Automatic Curling Iron is my top pick as it has a built in battery pack, can be charged in three hours and has a unique heat isolating curl chamber to protect your hands from any instant surface heat.
I hope this guide on cordless hair curlers was helpful.
If you think I left any out that should be included or have a suggestion for a future article, let me know in the comments below.
Nicola
Last Updated: January 2022
Added 'How We Selected.'
Added link to safety website.
Added Pros/Cons on all products.
Added Alternative Retailers.
Added 'How To'.
Added Final Thought.
Bedroom Accessories – Best Buys
KASMOTION Cordless Auto Curling Iron (Currently unavailable)
An auto curler with 11 time settings and 6 temperature settings for different hair and curl types.
It also can be used as a power bank to charge your phone or tablet devices.
Easy to use and portable, plus the curls are made in the curl chamber so no burning fingers.
Charging Time: 3 hours.
Time of Use: 60 minutes.
Pros:
Cons:
Consumer Score: Buyers love this cordless hair curler. 73% of buyers gave this 4-5 stars out of 5.