For this post, I have put together a collection of the best trundle beds currently available. See our top picks and buying guides for the best in bedroom accessories.
Our Top Picks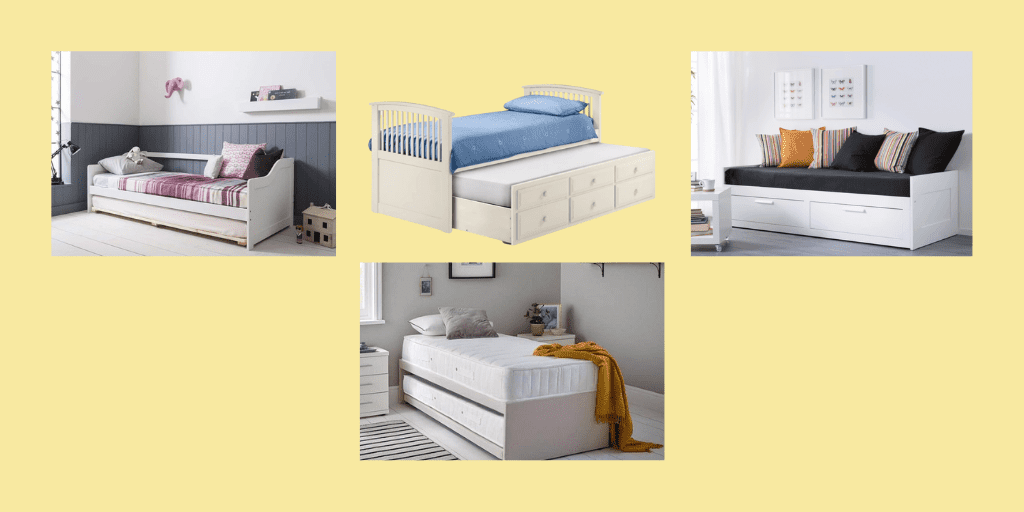 If you're looking for a space saving solution in the bedroom a trundle bed may be a good option for you.
Trundle beds are perfect for smaller homes or for those who have guests to stay. A trundle bed is a bed (usually a single) with space for an additional bed to be stored underneath it. The additional bed can be pulled out alongside the single bed to either make a double bed or to be used as two single beds.
How We Selected
There are plenty of trundle beds on the market. Some would look great in children's bedrooms or others would work well in guest rooms. Some have additional storage like drawers, which is good if you're limited for space.
We searched the internet looking for the best trundle beds. From budget options to ones with added features we've selected our favourites, all of which have excellent buyers feedback and good ratings.
Alternatively see our buying guides on the best crushed velvet beds, crushed velvet headboards and teddy bear bedding.
So here's my list of the best trundle beds.
Home Furnishings UK Guest Bed
Crushed velvet fabric finish guest bed which would be ideal for a guest bedroom.
Available in 4 high quality colours.
With stylish wooden feet.
Guest bed can be raised to the same height as the single bed to make a double bed.
Headboard is not included in the price.
Pros: The pop up style trundle bed means you can have a double bed if preferred.
Cons: No headboard.
Consumer Score: A popular trundle bed with buyers giving it excellent 4.3/5 star ratings.
Kosy Koala Versailles Glossy Vanilla Daybed
Daybed with metal frame which can be used as a seat in the day.
Would look great in a guest room.
Comes with under bed trundle, which can be raised to same height as the day bed.
Glossy off-white finish.
Wooden sprung slats.
The bed takes standard 3ft single mattress (Mattresses are not included).
Pros: Stylish daybed look, under bed trundle can be raised to same height as the day bed.
Cons: Tricky to assemble.
Consumer Score: Buyers love this trundle bed giving it 5 stars out of 5.
Hornblower 3 Drawer Storage Guest Bed Frame and Trundle (Happybeds)
Smooth and contemporary design.
Stone white lacquered finish.
Hidden pull out guest bed on castors with storage drawers along the side.
Beautifully curved headboard and footboard.
Three storage drawers with additional three dummy drawers.
Great for saving space for the sleepovers.
Sprung slatted base for additional comfort and mattress life.
Pros: Extra storage space, includes headboard and footboard.
Cons: Only available in white.
Consumer Score: Excellent 5/5 star ratings and customer reviews.
Classic Guest Divan Base (Dreams)
Bed available in range of colours and in soft touch fabric.
Pull-out trundle on wheels.
4 feet support the divan frame.
Folding legs underneath trundle to make both mattresses the same height.
Mattresses are not included.
1-year guarantee included.
Pros: Small in size for limited spaces, can raise trundle to make a double bed, affordable.
Cons: No headboard.
Consumer Score: Excellent 4.6/5 star ratings and customer reviews.
Esben Day Bed with Pull out Trundle in Classic White (Noa & Nani)
Pine wooden day bed which would look great in a child's bedroom.
Finished in classic white.
Constructed from solid pine wood for durability.
Comes complete with wooden slats.
Single 3ft with an additional pull out trundle bed.
Pros: Looks like a daybed, durable.
Cons: Some buyers say it is fiddly to assemble.
Consumer Score: Excellent 4.1/5 star ratings and customer reviews.
John Lewis & Partners Savoy Two Pocket Spring Trundle Guest Bed
A three-in-one elegantly upholstered guest bed.
The under-bed rolls out quickly and easily and has fold out legs to bring the two mattresses to the same height.
Boasting two pocket spring mattresses you can use them as two twins or zip together to create a comfy king size.
There's a choice of fabric options available in store to suit personal taste.
Headboard is sold separately.
Pros: Stylish, mattresses can be brought up to the same height.
Cons: Expensive.
Consumer Score: Excellent 4.2/5 star ratings and customer reviews.
Things To Consider When Buying A Trundle Bed
Style
Which room is it for? Who will be sleeping in it? If you are getting a trundle bed for a spare room a simple divan would work well. If its for the kids room, a smaller trundle bed could be the best option and if you are limited for storage space, some even come with built in drawers.
There are plenty of options when it comes to style, from wooden frames to ornate metal frames so choose one which suits your taste.
Cost
Trundle beds vary in price. If you are on a limited budget or don't want to spend too much you should be able to pick one up from around the £250 mark. Or if you fancy splashing out and getting something more luxurious there are really nice trundle beds for up to £1000.
Assembly
Many trundle beds need to be assembled before use. While some can be put together quickly and easily others may be more tricky.
FAQ's Trundle Beds
Are trundle beds good for adults?
They are a good option as a guest bed or for kids, but they are not really ideal for everyday use for adults.
What is the difference between a trundle bed and a daybed?
A trundle bed is designed to hold two separate mattresses and sleep two people. A daybed is more like a sofa that is roomy enough to be used for sitting and sleeping.
Are trundle bed safe for kids?
Trundle beds pull open and lock into place and as they are low to the floor the are considered to be safer than bunk beds.
Final Thoughts
If you are looking for the best overall the Hornblower 3 Drawer Storage Guest Bed has storage space as well as a trundle bed, so great if you are limited for space.
It also has excellent 5/5 star ratings and customer reviews.
I hope this list of the best trundle beds was helpful.
If you think I left out one that is important or have a suggestion for a future article, let me know in the comments below.
Nicola
Last Updated: February 2022
Added Top Picks.
Updated images.
Added 'How We Selected.'
Added Pros/Cons on all products.
Added consumer scores.
Added 'Things To Consider'.
Updated links.
Added FAQ's.
Added Final Thought.
Bedroom Accessories – Best Buys
Brimnes Day-bed w 2 drawers/2 mattresses (Ikea) (Currently unavailable)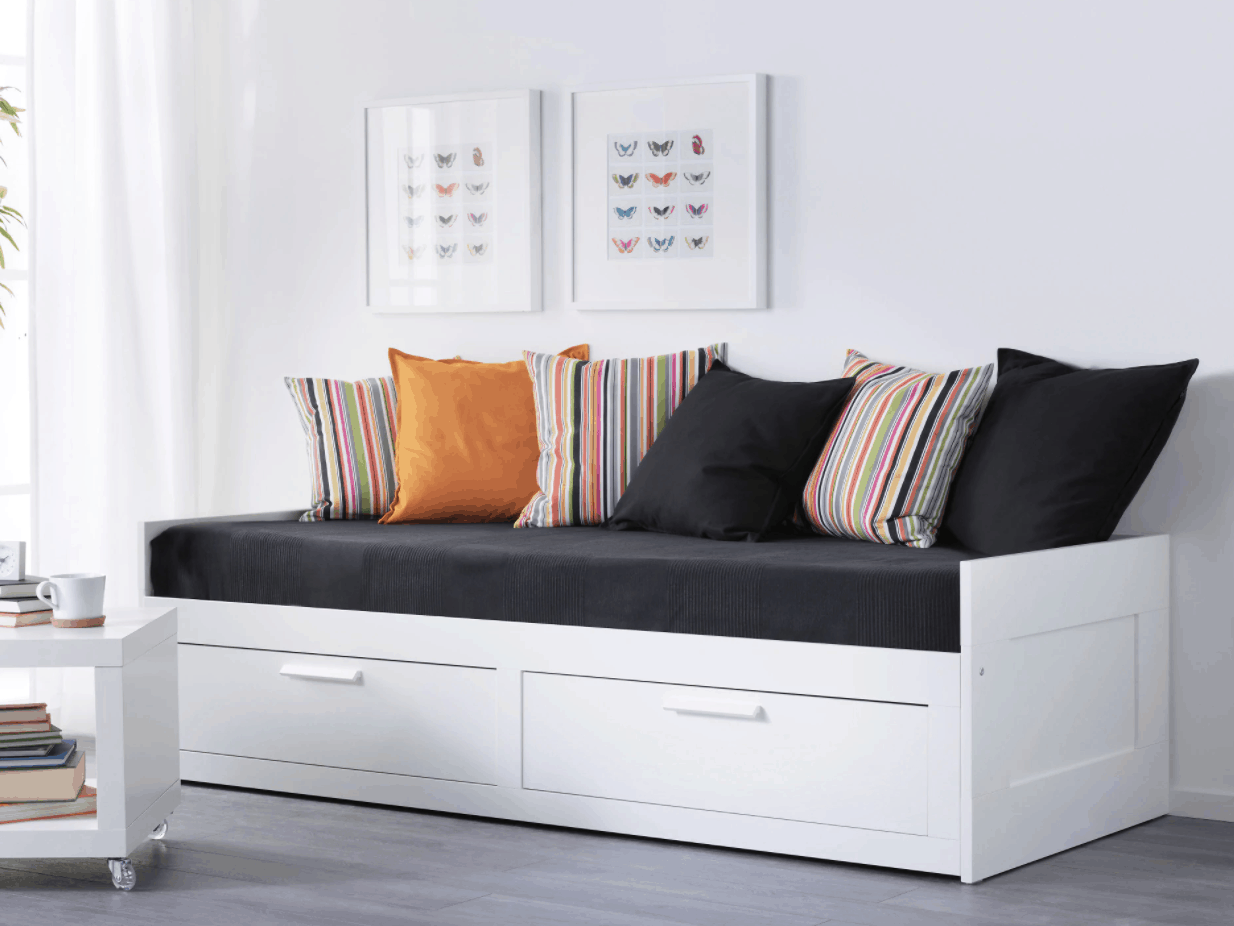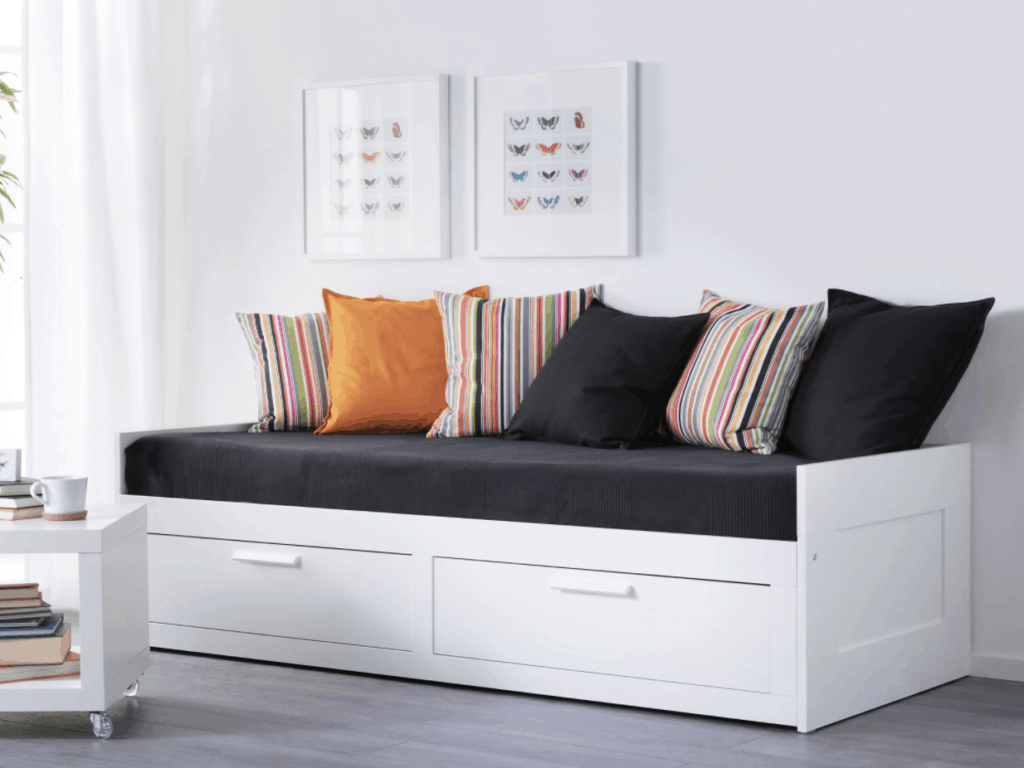 A sofa by day and a bed for one or two by night.
Mattresses included.
The two large drawers give plenty of space for quilts, pillows and bed linen.
Smart solution when you live in a small home.