Want to know a cost-effective way to keep rooms insulated without having to invest in new windows? A thermal door curtain can do just that, whilst adding some nice decoration at the same time.
Alternatively you may be looking for more privacy if your front door has glass panels and net or voile curtains can do just the trick to make sure you have that added privacy.
Lastly there are ribbon, bamboo or beaded curtains which are ideal for keeping flies out of the house in the summer or simply to add a decorative focal point to a boring doorway.
We've listed some of our favourite door curtain which cover all of the above purposes.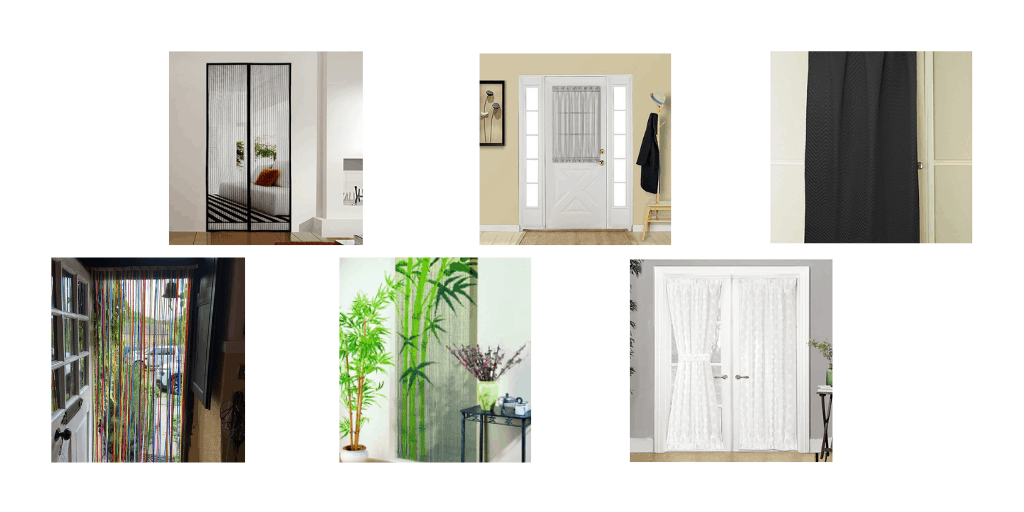 Let's get started!
Best Door Curtains
Country Club Linea Door Curtain
Thermal door curtain which will help to provide thermal insulation in the winter and keep rooms cool during the summer month.
The self-lined blackout fabric will reduce light and glare from outside.
Curtain features a pencil pleat header to easily hang above a door.
Black chevron-patterned design for a modern stylish look.
Curtain measures 117 cm across with a drop length of 213 cm.
Moriaster Magnetic Curtain
This magnetic fly curtain prevents flying insects from entering the house through your open door, but allows for good air circulation.
The sides of the fly curtain are sewn, tear-resistant and made of durable material.
Curtain comes with 10 small velcro fasteners and 1 metre velcro fastener which have a super strong adhesion according to Amazon customer feedback.
This would be ideal for use on children's room doors, balcony doors, patio doors, sliding doors and more.
This magnetic fly screen is 90 x 210 cm. Suitable for doors with a width of 90 cm and a length of 208 cm.
Conacord Bamboo Door Curtain
This curtain is made of hand painted fine strips of bamboo jar with bamboo motif on both sides for a retro door curtain vibe.
It can be shortened in width and length if necessary.
Ideal for use at home, in a bar, patio, or balcony.
Can also be used for decoration or as a room divider.
Approximate dimensions 90 x 200 cm (W x H)
Aquazolax Transparent Sheer French Door Curtains4
Sheer ready-made door curtains which will add privacy to a door with window panels.
They filter sunlight while still allowing natural light to shine through.
With 2 rod pockets each on top and bottom of curtains for easy installation.
Made of super soft voile fabric which will add a decorative accent to the door.
4 different sizes of curtains for your choice: 25″Wx40″L for small door windows; 25″Wx72″L for long door windows; 54″Wx40″L for short door windows; 54″Wx72″L for big door windows.
DriftAway Olivia Sheer Door Curtain
Beautifully flowing layers of sheer door curtains which are suitable for French doors
Although unlined the triple-weave construction will help reduce outside noise and help to provide privacy
The curtains can prevent harmful UV rays from reaching your floors and furniture.
They can also prevent cold or heat transfer from outside, increasing energy efficiency in your home.
Pom pom tassels add a nice decorative feel.
Available in the following sizes; 25″x72″; 52"x63"; 52″X72″; 52"x84"; 52″x96″; 60″X18″
Wildhops Festival Ribbon Curtain (Etsy)
Handmade festival style, multi-coloured ribbon curtain which is made-to-measure.
Perfect for keeping flies out in the summer.
Can also be used as an interior door curtain or as a quirky wedding backdrop or even on a caravan door.
Made of double-sided satin ribbons in a range of vibrant colours.
The curtain is very easy to fix into place using velcro.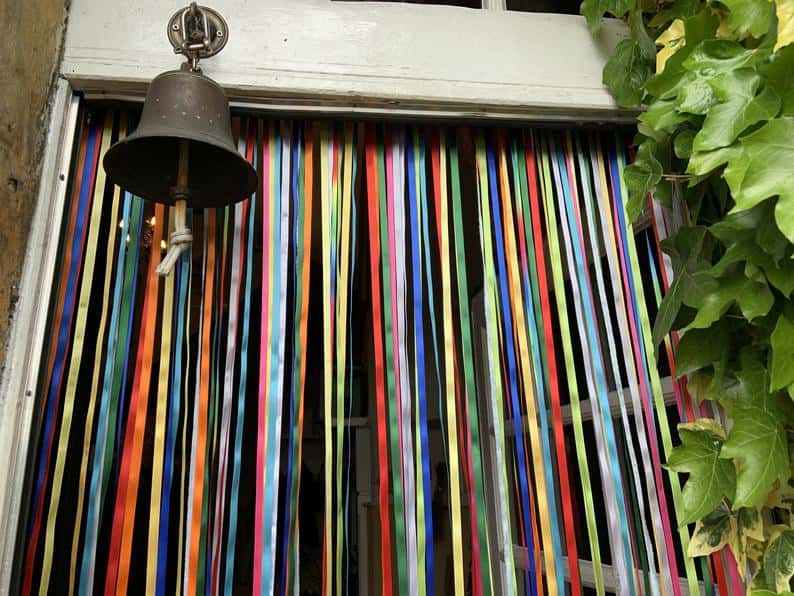 Where To Buy Online (Best Retailers)
In our product reviews above I've mainly linked to Amazon because they tend to have good stock levels at competitive process. I do strongly checking these recommended retailers below.
Bestselling Door Curtains on Amazon
Home Products – Buyer's Guides