For this post, I have put together a collection of the best clothes airers currently available. Wanted heated option? Get my top picks for the best heated clothes airers.
Choosing the right clothes airer can mean faster drying times and it also makes the most of the space available to you.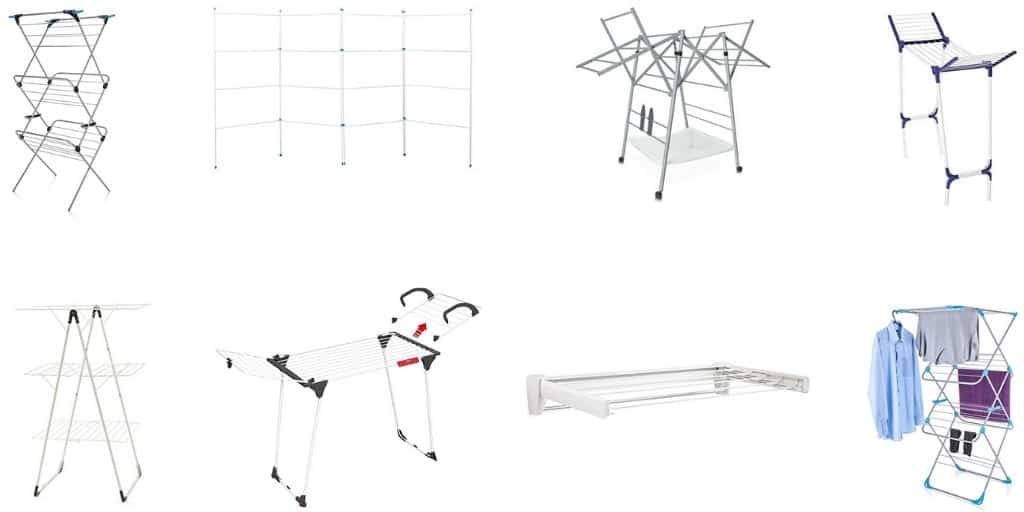 In this article I'll show you the best airers for your house setup, along with the key features to consider. You can see the bestselling airers on Amazon and any of today's daily deals.
Even if you have plenty of outdoor space some sort of indoor drying rack can be a god send when the weather is rubbish. And an effective airer is a whole lot cheaper than using a dryer!
Related: See my guide to the best rotary washing line.
Let's get started!
Minky 3 Tier Plus Indoor Airer
Well suited to smaller spaces, only taking up 58cm of floorspace.
Quick to assemble, portable and lightweight.
Four extended corners provides 12 extra hanger spaces.
Holds 2 wash loads.
Drying space: 21 metres.
Home Vida 4 Fold Airer
Basic four-section folding design so it can be easily maneouvered to suit most spaces.
Made from plastic so it's extremely lightweight adding to its portability.
Large, long bars make it suitable for towels and other bigger items.
Leifheit Pegasus Bathtub Dryer
Narrow design makes it perfect for small living spaces.
It's sturdily made with strong rungs and solid legs so won't topple over easily.
Extendable wings means it's good for longer garments.
Designed for the bath.
The solid click lock mechanism makes this one simple enough to move around without collapsing.
Drying space: 11 metres
ADDIS Superdry Airer
Very sturdy design.
Solid design makes it's simple enough to collapse and move to another room without any of the clothes coming off.
Unlike some taller racks it's well balanced.
Mesh rack at the base provides a good spot for items that won't hang.
Optional wheels can make it's portability that much easier.
Integrated footwear holder.
Drying space: 11 metres
Brabantia Tower Drying Rack
As expected from the Brabantia brand extremely well constructed, along with a higher price tag.
Design means you get 23m or one full load in only one square metre.
Adjustable height and long arms means you can hang long items.
Even with its cost it's extremely well reviewed with many buyers saying the smaller footprint yet large drying area makes it worth it.
Best option if you are looking to dry lots of bedding or towels.
Folded king-size duvet cover fits over the top rack with the sheet placed through the middle.
Drying space: 23 metres
Vileda Premium 2-in-1 Indoor Airer
Double use through its detachable wing which can be hung on a balcony or radiator.
Handy for small spaces or if you've only got a few items to dry.
Includes a small item hanger, useful for hanging socks or underwear without pegs.
Sturdily constructed from steel with secure locking mechanism to avoid it collapsing on you.
Also includes wheels to make it easy to move it around the house.
Drying space: 18 metres
Minky X Wing Indoor Airer with Drying Space
Lots of positions to tweak this to so it can be folded out to suit whatever items you are drying.
The shaped corners provide space for four extra hangers.
Neat tray handy for drying flat items.
No rubber feet so you might find this one will slip.
Drying space: 18 metres
Addis Slimline X Wing Airer
If you're after a compact airer this could be the one.
It's also one of the lightest ones we've featured.
The X wing design makes it super configurable with three different drying positions.
There are 26 rungs and four hanging corners.
Maximum size item would be a single duvet cover or sheet.
Anything larger and items would overlap.
Drying space: 10 metres
Leifheit Classic Flex 200 | 20m
The main benefit of this model is the flexibility.
Two height adjustable wings allows for longer items to be draped without touching the floor.
Folds down easily for simple storage.
Plastic coated material makes it weather-proof to use outside.
Although it's a larger unit, it's not too heavy at 3.6kg for moving it around or out of the house into the garden.
Drying space: 20 metres.
Brabantia T-Model Foldable Indoor Clothes Airer
Classic T model shape provides enough space for a full load of washing holding up to 20kg.
Adjustable tall height make it a good choice or draping sheets or hanging trousers.
The wings include a shelf for drying delicate flats.
Folds up compactly and the protective edges protect your floor when it's not in use.
Higher end of the price bracket but the steel will ensure it lasts – Brabantia provide a 5 year guarantee with this model.
Drying space: 20 metres
Beldray LA052094 Large Stainless Steel Clothes Airer
Super versatile option from Belray the highlight is the high hanger and shoe rack.
The high hanger rack is ideal for drying large items like bedding or clothes that easily crease, like shirts and jackets.
Or you can use as an ordinary airer.
If you throw any trainers into the washing machine you'll appreciate the shoe rack.
Though big in size when fully folded out it does collapse flat when not in use.
Drying space: 13 metres
Minky Easy Loader Indoor Airer
Compact well made clothes airer that is very strong and can hold up to two wash loads.
The top section is ideal for drying flat items.
The shaped corners can hang four extra hangers.
Double locking mechanism stops it from collapsing.
Drying space: 18 metres
Vileda Mixer 3 Tower Airer
Different type design to many of the others.
It's a tall lightweight with handy features.
It provides 30m of drying space with a relatively small footprint.
Contains 6 independent racks suitable for long garments or flat drying of delicate clothes.
Fits nicely inside a shower.
Comes with a holder for small items as well as 2 hooks for coat hangers.
Very well reviewed.
Drying space: 30 metres
Addis Easi 3-Tier Indoor Airer
Stellar reviewed indoor airer that has three tiers and can hold a large family wash load.
This Addis model is well made with sturdy joints and comes with a 3 year guarantee.
This one's a breeze to assemble with it's wide-set bars.
Drying space: 15 metres
Leifheit Telegant Wall Dryer and Towel Rail
Looking for a super compact airer?
This wall-mounted design is just that.
It features 5 pull-out steel rails with a total drying length of 3.6m.
To assemble you simply swing the two side arms out and then pull out the steel drying rails.
You can then push it away when not in use in seconds.
Beneath the drying rails is a handy aluminium rail to hang items such as towels.
Hugely popular and well review – buyers love its space saving qualities and that it looks good to boot!
Minky Tower Indoor Airer
Big Family? No problem.
This provides a huge 40m of drying space and holds three plus wash loads.
When required you can unclip shelves to house long drop items.
If you have endless piles of washing this is a great option – there are 64 rungs (!) and hanger holes to additionally hold 10 hangers.
Drying space: 40 metres
Clothes Airer Deals & Today's Bestsellers
Key Features To Consider
Drying Space & Wash Load
Be sure to look closely at the drying space in metres.
This will give you a clear idea on how much washing you can dry.
You want to ensure you get something big enough – and also there is no point in getting a clothes airer that is overkill for your needs.
The reviews above cover areas between 10-40m2.
Many airers will also tell you how many loads it can hang at any one time.
These range from half a load to three.
Lock Mechanism
The all important function that stops that feeling you may well be too familiar with – a clothes horse that collapses with either weight or when you try to reposition it.
Look out for one with a solid lock mechanism.
This is particularly important with young children around – you don't want a clothes airer full of wet heavy washing to fall on them!
Hanging Corners
Many clothes airers come with these handy features – they provide extra space beyond the main frame to dry items on clothes hangers such as shirts and jackets.
Floor Space & Configuration
When fully folded out you want to make sure it's a good fit for where it's going.
Check the dimensions and make sure it fits.
If space is at a premium you can go for a clothes airer that folds out into a shape that will work well.
Size For Storage
Check the size of the airer when folded down to make sure it will fit where you plan to store it.
You'll be surprised just how small some of the larger ones can compact down to.
Flexibility
There's a great deal of variation on flexibility and features.
These include shoe holder, clips to avoid having to use pegs, split racks, hanging corners, flat drying sections, multi-positional wings and much more.
Different Types Of Clothes Airer
Winged
These make the most of the horizontal space so are particularly well suited to bathtubs and balconies.
They also provide plenty of space for delicate items that lie flat.
Tower
If horizontal space it limited you can go for a taller option.
But be sure to check their stability with solid frames and sturdy design.
Tower airers are really good for drying bedding or heavy bath towels.
Tier
The beauty of these is their one motion assembly and the ability to hang all types of clothing and bedding.
Gated
Basic design that can be folded out to fit most spaces and also are super compact and light to store when folded back up again.
Do lack stability though.
Bathtub
No floor space? No problem – if you have a bath for these ones.
They tend to be winged to make the most of the bath shape.
Shower
Another great choice when space is limited but you have a shower.
They tend to be narrower and tall.
Radiator / Balcony
Tend to be a lot smaller.
Some clothes airers (such as the Vileda Premium 2 in 1) can be used standalone or configured to work on a radiator so you get the best of both worlds.
Radiator airers are usually perfect for hand towels and dish cloths and ideally suited for items that need to be dried in quick time!
Heated
We've not covered these in this article but these tend to be much pricier, no surprise there.
These are a good choice if you have multiple loads to do in one day.
You can be washed and dried in record like times and means you don't need to rely on a tumble dryer or radiator.
See my top picks for heated clothes airers.
Home Products – Buyer's Guides