For this post, I have put together a collection of the best heated jackets currently available. Alternatively check out my top picks for heated clothing.
Our Top Picks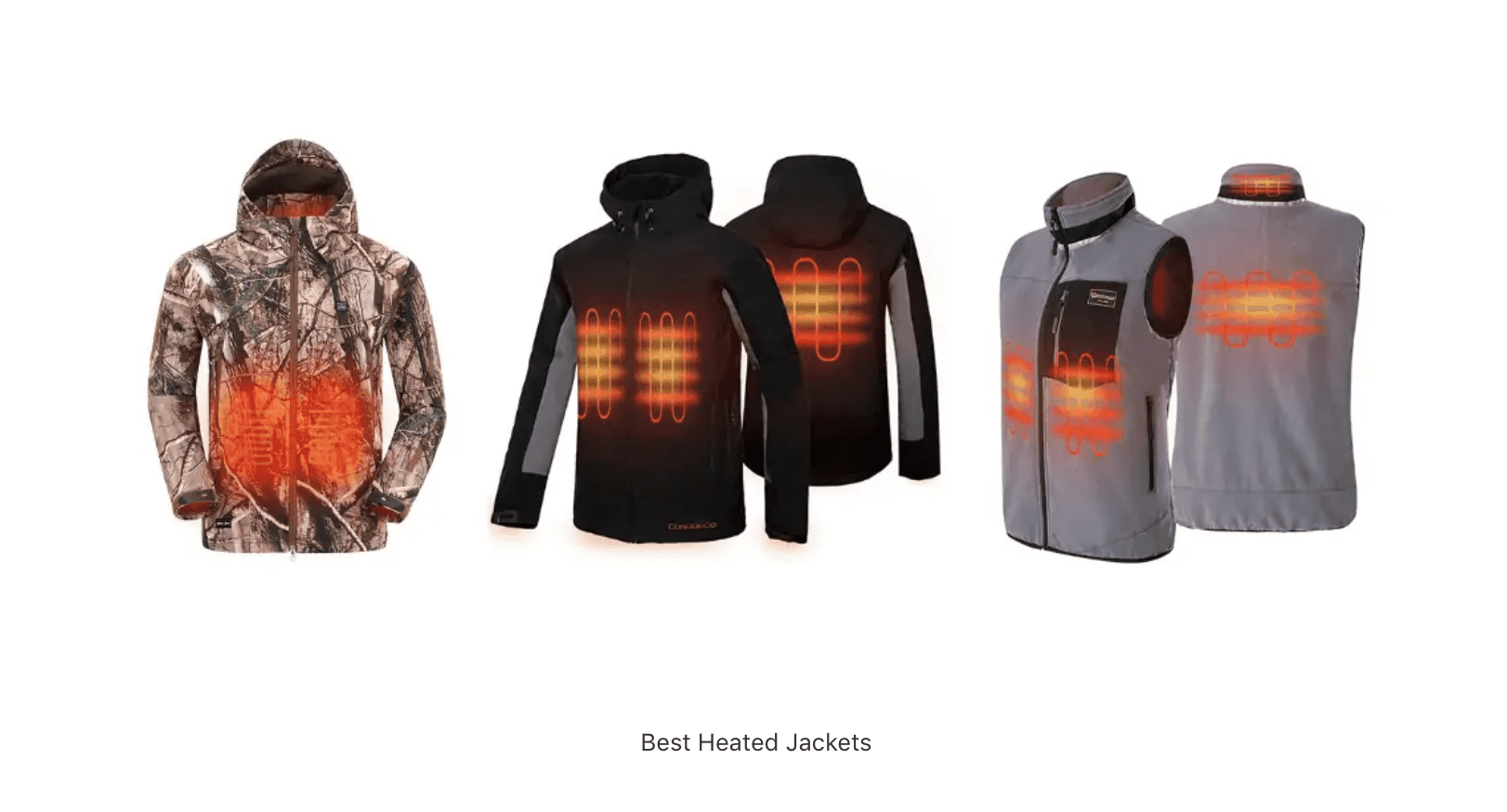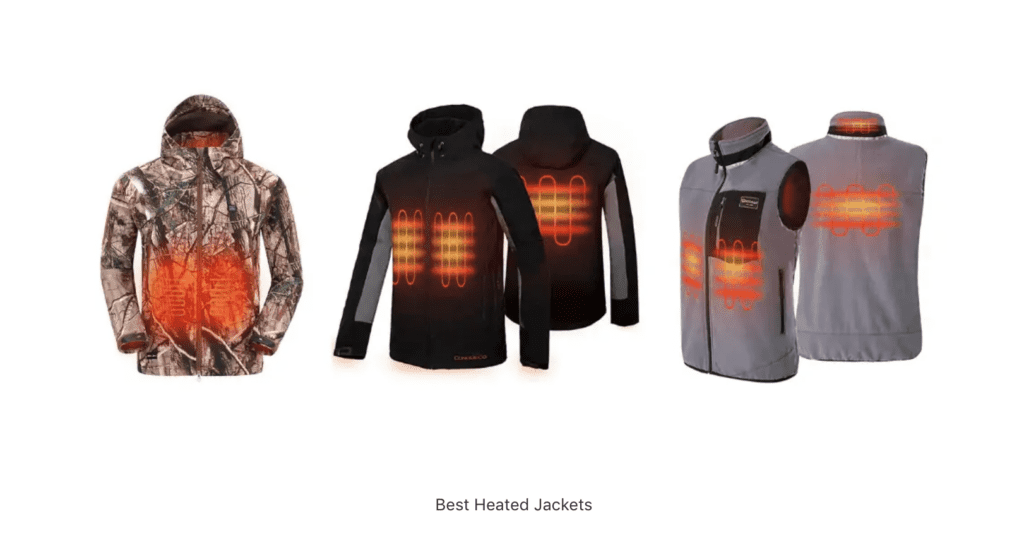 Why feel cold, when you can pop on a heated jacket and keep yourself toasty warm all day.
Heated jackets are lined with small wires which can be charged to produce heat which is then transferred to the wearer.
How We Selected
Read through my buying guide and i'll show you what features to look out for.
I selected jackets which have excellent feedback from buyers and 4-5/5 star ratings.
As well as our reviews we've pulled together 1000s of customer reviews so you can make a more informed decision.
Want to keep your hands and feet super warm outdoors? Check out our buyer's guides to the best heated gloves and heated socks.
Also stay snuggly indoors, with our guide to the best long hot water bottles.
So here are my top picks for heated jackets.
Conqueco Heated Jacket
This mens heated jacket has 3 large-sized carbon fibre heating elements.
Heat located on the left chest, right chest and mid back of the jacket.
With 4 adjustable heat levels powered by 3.7V, 10000mAh lithium battery.
Able to keep the wearer warm for 12 hours on the lowest setting, 5 hours on the medium setting and 3.5 hours on the highest.
The jacket has a polyester outer layer that is DWR protected so it's waterproof and durable.
The velvet inner lining is warm and cosy.
With a thermal protection nodule so jacket won't overheat.
Pros: Waterproof, thermal protection nodule, can keep you warm for up to 12 hours.
Cons: Takes 8 hours to fully charge, pricey.
Very good reviews. 74% of buyers gave this 5/5 stars.
Antarctica Lightweight Electric Heated Jacket
Long sleeved heated jacket with hood.
Heats up quickly in 5 seconds with 3 carbon fibre heating elements.
Heat across core body areas (front and mid-back).
3 Heating leves.
Machine washable.
Available in black and red.
Pros: Heats up fast, works for up to 16 hours with 20000mAh power bank, machine washable, affordable.
Cons: You must remove power bank before washing.
Good reviews. 72% of buyers gave this 4-5/5 stars.
PROSmart Heated Jacket
This jacket has a heating ability of up to 18 hours on the low setting.
The jacket's 12V battery is detachable and portable, so can be charged in multiple places.
The maximum temperature it can reach is 60 degrees C.
A full charge takes around 7 hours.
Almost waterproof zip up hoodie style jacket.
Pros: 3 heated areas, warms up fast.
Cons: Takes 7 hours to charge, not fully waterproof.
Very good reviews. 70% of buyers gave this 5/5 stars.
PROSmart Heated Gilet Polar Fleece
Grey heated gilet jacket perfect for outdoor enthusiasts.
Three temperature settings.
Temperature range 40°C – 60°C.
The working time is up to 4.5 hours – 12 hours for each full charge.
Made of polar fleece for a more casual look.
Heating elements in back, left waist, right waist and the collar.
12 hours of battery life to keep you warm all day.
Pros: Made of soft fleece, three temperature settings, can be worn alone or under a coat.
Cons: Not waterproof.
Very good reviews. 86% of buyers gave this 4-5 stars.
Cheap Heated Jackets & Today's Bestsellers
Where To Buy Heated Jackets
The heated jackets we've chosen above are from Amazon but we've also listed some other good retailers as additional options in your hunt for the best one!
Buy On eBay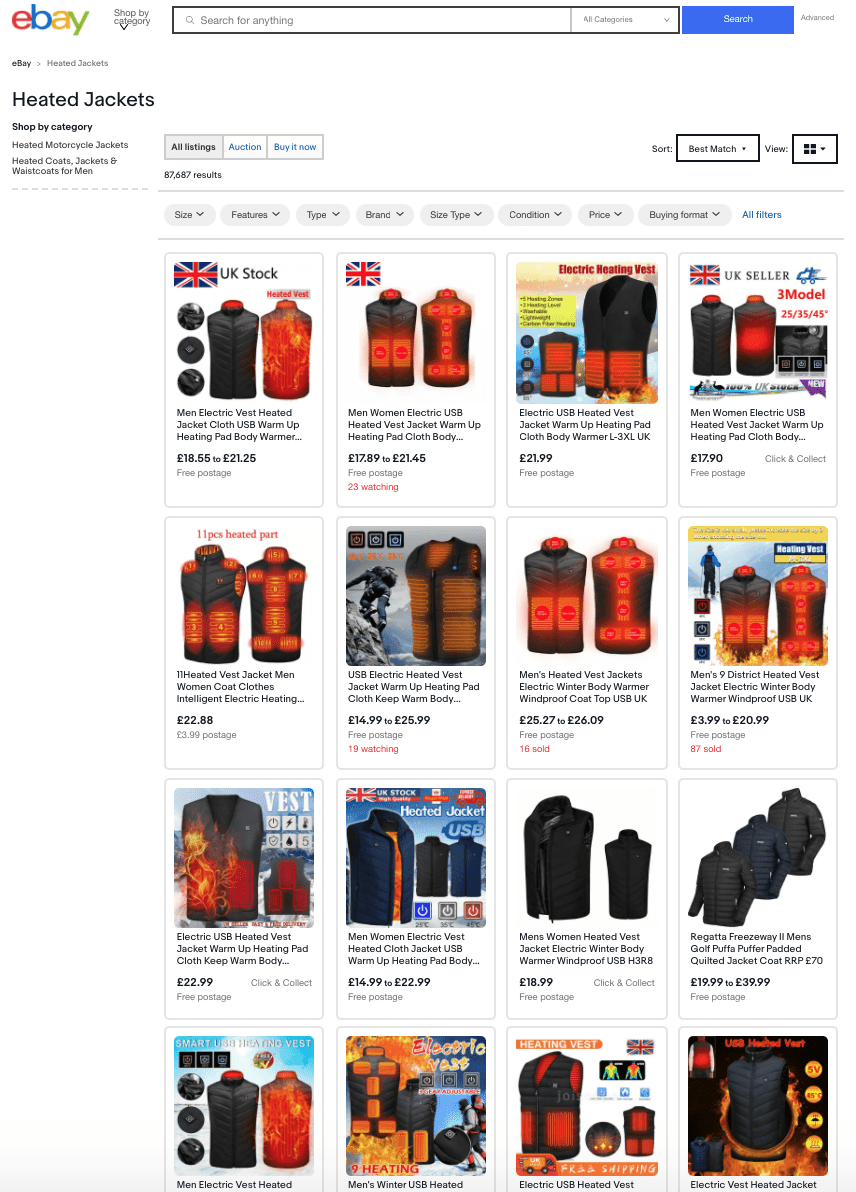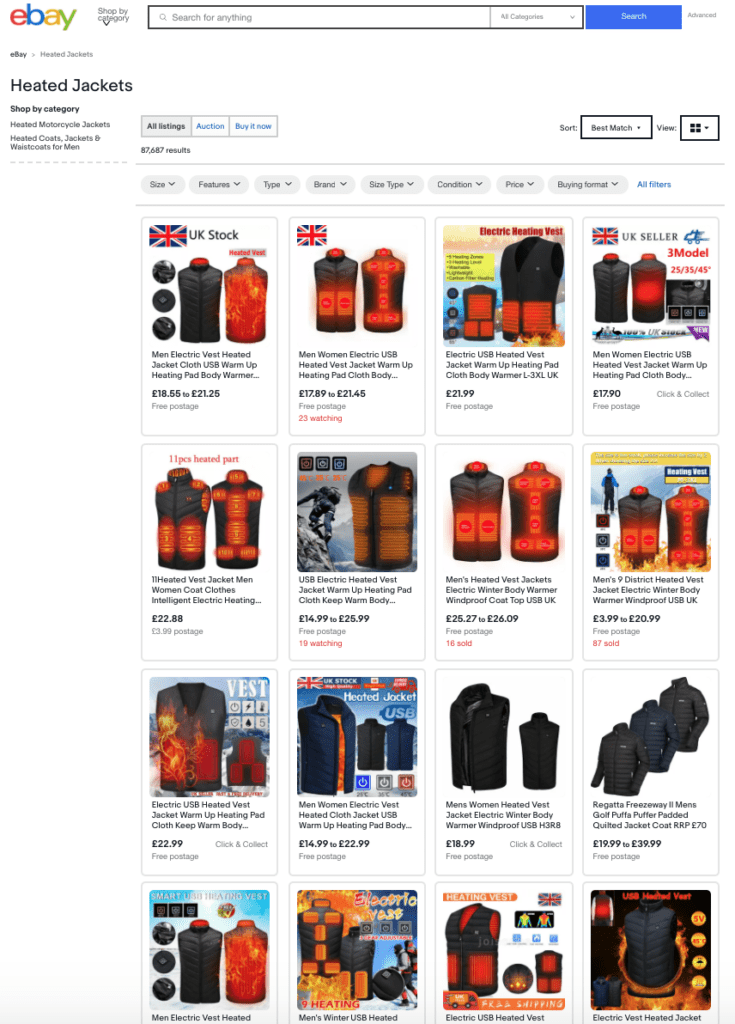 Buy On Regatta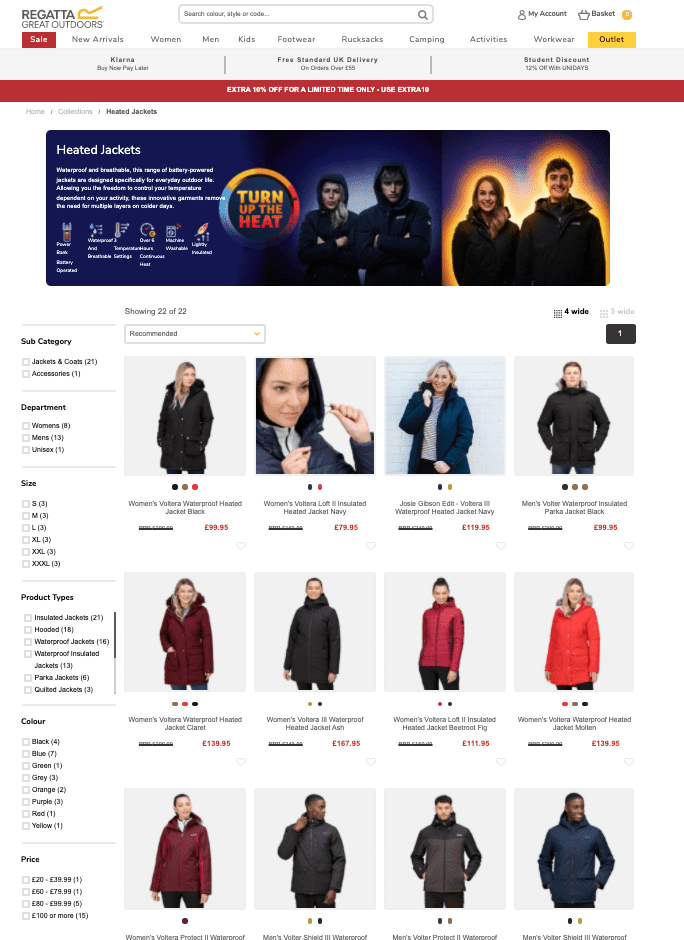 ---
What Are The Benefits Of A Heated Jacket?
Besides just keeping you warm, a heated jacket means that you will require less layers of clothing, which can allow for more mobility.
Heated jackets can also help with pain relief. The extra warmth provided can help to promote blood circulation which can relieve the pain caused from arthritis or rheumatism, which can be made worse in the cold weather.
Some heated jackets even have USB-enabled pockets for charging phones etc.
Heated Jackets FAQ's
Are heated jackets effective?
Yes, they really help to keep you warm outside. They work similarly to heated blankets and heated car seats as each jacket is lined with an electronically powered copper heating zone, powered by a battery pack.
Are heated jackets safe?
They are made to be very safe as the heating elements are hidden within the garment so not exposed to rain, although if the jacket was to get wet inside the lining it's recommended you take it off and disconnect battery.
Can anyone wear a heated jacket?
You should not wear a heated jacket if you suffer from a serious illness or chronic health condition such as anaemia, diabetes, heart disease, low blood pressure, paralysis, hypertension or any other condition that causes poor circulation.
---
Final Thoughts
My top pick is the PROSmart Heated Gilet Polar Fleece.
Not only is it made of soft fleece, it has three temperature settings and can be worn on its own or underneath a jacket.
I hope this list of the best heated jackets was helpful.
If you think I left any out or have a suggestion for a future article, let me know in the comments below.
Nicola
Last Updated: January 2022
Added 'How We Selected.'
Added Pros/Cons on all products.
Added FAQ's.
Added Alternative Retailers.
Added Final Thought.
Heated Clothing Buyer's Guides
Dewbu Heated Jacket (Currently unavailable)
No products found.
The only light patterned jacket in our selection which includes several zip-up pockets.
The battery lasts for 10 hours.
The carbon fibre heating elements are situated in the left chest, the right chest and the mid-back.
Jacket will automatically switch off in the event of a short circuit.
The jacket is windproof and weatherproof. Ideal for hiking or riding.
With a hood that can be tucked into collar.
Pros: Automatic switch off, long lasting battery.

No products found.

. From 211 ratings 72% of buyers gave this 5/5 stars.
EXTSUD Heated Gilet (Currently unavailable)
This heated gilet jacket has no sleeves so can be worn underneath your usual coat or alone.
Powered by any 5V/2.1A mobile power supply.
3 heating settings.
Can reach a maximum heat of 52 degrees C.
According to customers and manufacturer, it comes up small in size so opt for a size bigger than your usual.
Good reviews overall. From 192 ratings 60% of buyers gave this 4-5 stars.