For this post, I have put together a collection of the best Christmas socks currently available. See all my buyer's guides to the best socks.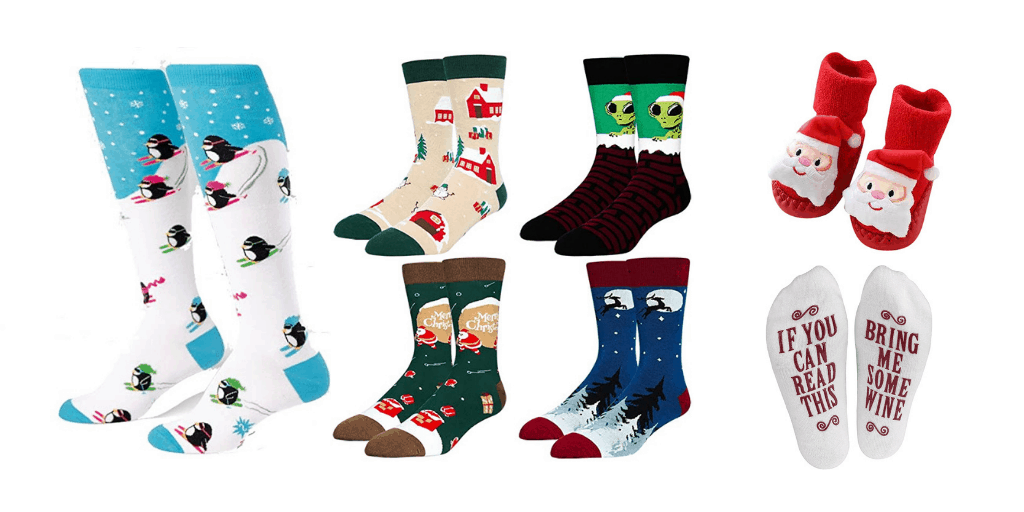 Want to keep your feet toasty? See my top picks for the best heated socks and thermal socks.
Christmas socks make the ideal stocking fillers for everyone, from children to adults. They also make a great Secret Santa gift too. See all my buyer's guides to the best socks.
There are plenty of options for adults from fluffy to funny or knee-high to personalised. There are also a wide variety of Christmas kids and baby socks that will look so cute over the festive season.
We've done our research to bring you 15 of the best pairs of Christmas Socks on the market.
Let's get started!
Best Men's Christmas Socks
Men's Novelty Christmas Crew Socks
Cool Christmas alien snowman socks to snowman and house design.
Quirky prints for men, which are both comfortable and eye-catching.
Gift idea for a boyfriend or husband.
Sock It to Me, Santa Run, Men's Crew Socks, Christmas, Holiday Socks
Quirky running Santa design on socks
Durable, super-soft and high-quality.
Santa Banta- Box of 6 Mens Oddsocks – United Oddsocks
You never have to worry about odd socks with this pack of 6 Oddsocks, which you can mix and match.
They have bright, eye-catching Christmas designs on including Santa and a reindeer.
Happy Socks Men's Christmas Cracker Candy Cane Gift Box Socks
High quality socks with bright stripes and candy cane prints.
They will make a great stocking filler on Christmas day for a dad or male friend.
Best Women's Christmas Socks
Sock It To Me Knee Socks – Downhill Penguins
Novelty, knee-high women's socks with cute penguins skiing print.
Approximately fits women's shoe size 5-10.
Combed Cotton Bring Me Some Wine Socks
Combed cotton ankle socks which will keep feet warm.
With a hidden message on the soles, which would make the perfect gift for the lady in your life.
Each order includes one pair of socks, packaged in an attractive Haute Soiree Vinyards themed gift box.
Socksmith Santa Cats Womens Heather Grey Crew Socks
Know a crazy cat lady?
These would make a great stocking filler for a cat lover, with the Santa cats design on them.
Red Bene Women's Animal Fuzzy Socks
Thick and fluffy animals socks, which are great for lounging around the house in over the festive period.
Comfortable, warm and cosy, they are a great slipper sock option.
FXmimior Fashion Women Hot Glitter and Stars Tulle Socks for Women
These sparkly polyester socks are a little different from the usual Christmas socks, but they are too pretty not to include in our selection.
Think fairy on top of the Christmas tree brought to life!
Non-slip Knit Sweater Warm Household Floor Socks for Women
Love these fluffy 3D cartoon animal socks.
They come in a variety of designs with 3D animals such as reindeer, penguins and more.
With non-slip bottoms, so can be worn as an alternative to slippers.
ZSWQ Warm Fluffy Winter Socks Funny Cake Socks with Gift Box
No products found.
Each pack includes 3 different colour gift socks.
Can be made into cute cake shapes with the gift boxes provided.
Made of soft fluffy coral fleece, they are another great slipper sock option.
Great Secret Santa gift idea.
Best Novelty Unisex Christmas Socks
Face Socks Personalised
These personalised photo socks can be custom made with any face you like.
Great idea for a novelty stocking filler or secret Santa gift.
Rainbow Socks – Woman Man Sushi Socks Box Tamago Salmon Cucumber Maki – 3 Pairs
If you are searching for unique socks, these sushi socks could be the ones!
They come fully packaged in a sushi container and would make a great, quirky Christmas gift for a friend or loved one, especially a sushi fan.
Best Kids Christmas Socks
LuckyBB Christmas Newborn Baby Step Socks
No products found.
Super cute newborn socks with 3D Santas on.
The little fleece socks have terry soft elastic roll back cuffs and non skid bottom hook loop closure.
Christmas Grinch Trainer Sock Liners for kids
Pack of three trainer liner socks with seasonal old favourite 'The Grinch.
Available in Kids Uk Sock Size 4-6.
Featuring sayings such as "Old Grinchy Claus is back" and "It wouldn't be Christmas without me.
Where To Buy Online (Best Retailers)
In our product reviews above I've recommended Amazon as they tend to have the best price and stock levels. I do recommend checking other retailers such as the following, which cater for both men and women;-
eBay
Asos
M&S
Totes
SockShop
Next
Christmas Sock Deals & Today's Bestsellers
Sock Buying Guide & Best Buys