For this post, I have put together a collection of the best rotary washing lines currently available. Also see my top picks for all types of garden accessories.
Show Today's Top Deals
These are today's top deals and bestsellers for rotary washing lines.

Rotary washing lines are ideal for anyone with a garden or backyard as unlike string lines or portable washing lines they can be fixed into the ground and are more sturdy, plus they can save a lot more space. They make hanging out the washing and drying your clothes that much easier.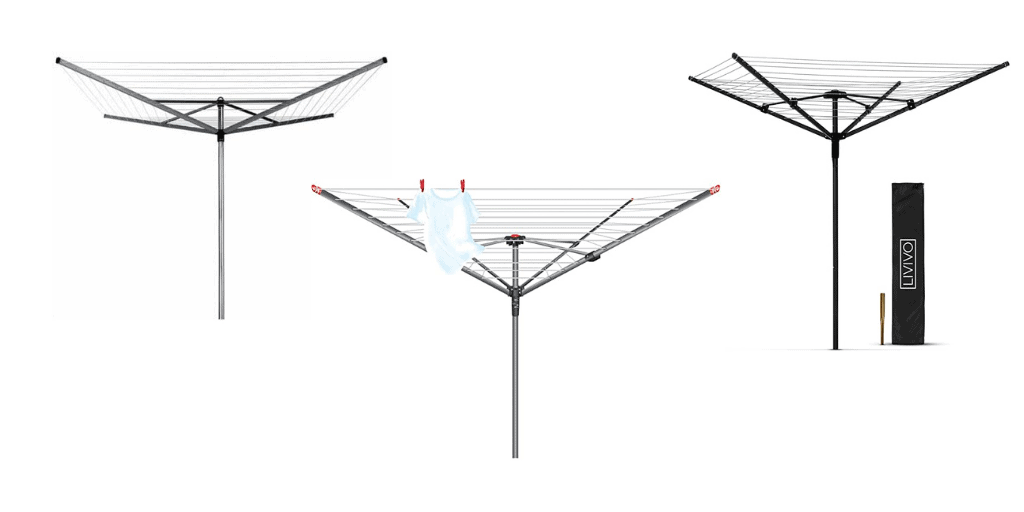 Related: See my top picks for electric patio heater and gas patio heater.
We've picked 7 of the best rotary washing lines on the market, to save you the hard work!
Let's get started!
Brabantia Lift-O-Matic Rotary Airer Washing Line
Smart Lift-O-Matic system to adjust the dryer to your ideal working height.
Good for smaller families of 2-3.
Can hold a double sized sheet on each of the outer lines.
Ideal for airing cushions and bedding in the low position.
Leifheit Linomatic Rotary Washing Line 500 Deluxe
This washing line remains clean and tangle-free by retracting into rotary's arms for protection when closed, so therefore laundry stays clean on the line.
Accommodates five washing loads, plus has eight hooks for hanging shirts.
Its capacity to hold a lot of washing makes it ideal for a larger family.
Brabantia Essential Washing Lines with Plastic Anchor Tube
Discount - Save £12.01
It comes with special holes meant for clothes hangers which means extra hanging space.
It has a sturdy hanging loop for easy storage when not in use.
With a drying space measuring 40m it's smaller but also easy to put up and down with its umbrella system.
LIVIVO Outdoor Garden Rotary Washing Line
This provides 45m of quality PVC-coated drying lines.
It can be assembled and collapsed in seconds, requiring no strength or effort.
Can be adjusted to 4 heights and comes with a heavy-duty cover meaning it can be left out and covered to protect against the elements.
Parkland Heavy Duty 4 Arm Rotary Clothes Airer
Affordable line with 4-arms and 50m of space.
It has a two-piece centre pole, so you can dismantle it easily.
It uses a rectangular arm design that has benefits over the usual tubular models in terms of strength.
Vileda 45m 4 Arm Rotary Dryer
It offers 45m of line length and has a durable steel frame.
Suitable for up to 4 washloads.
It comes with a split pole so can be conveniently transported and easily assembled.
The 3 position hand grip allows you to easily tighten any sagging lines.
Brabantia Topspinner Large Rotary Washing Line
Discount - Save £29.02
This large line features 60 metres of drying space and 3 different line positions.
Its 'Umbrella' system keeps the lines always taut.
Thanks to its advanced mechanism, this rotary dryer spins at the lightest breeze.
Its also UV-resistant and PVC-coated so lines are easy to clean.
Where To Buy Online (Best Retailers)
In our product reviews above I've recommended Amazon as they tend to have the best price and stock levels. I do recommend checking other retailers such as the following.
Rotary Washing Line Deals & Today's Bestsellers
Garden Accessories Guides