For this post, I have put together a collection of the best solar water features currently available. See my top picks for more garden accessories or garden ornaments.
Our Top Picks
Show Today's Top Deals
These are today's top deals and bestsellers for solar water features.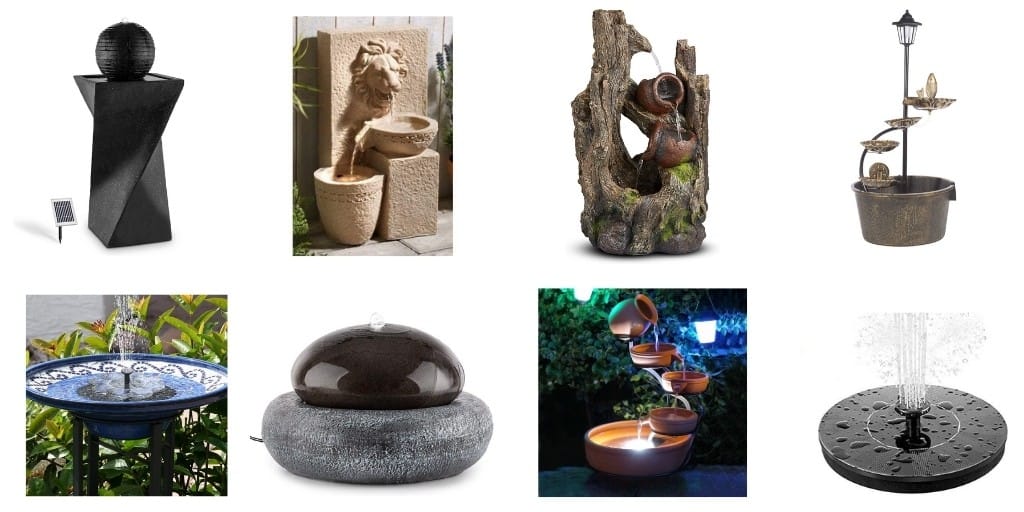 ---
Solar water features are a fantastic way to introduce a calming and visually pleasing addition to your garden.
They also encourage new wildlife into your garden providing a welcome water stop for birds and other small animals.
And best of all they are ec0-friendly and very cost-effective.
They are many different types and hundreds to choose from. We've picked the best reviewed ones covering all structures to suit any budget.
Want to add more calm and class to your garden? See my top picks for garden mirrors and garden swing seats.
So here is my list of the the best solar water features.
Best Solar Pond Pumps
OKMEE GD087B Solar Water Fountain 4-in-1 Nozzle
Impressive device that will turn your pool of standing water into a fountain.
Simple – place in water that receives sunlight and it will spray water upwards.
Three different spraying modes.
Up to 70cm jet height on sunny days about 20cm on cloudy days.
Hugely popular product – no 1. bestseller across all pond fountains.
From 1763 reviews it scores an average of 4.1 out of 5.
Dimensions: 17 x 16.5 x 4.3 centimetres
Senders Solar Fountain Pump
A value option that has four different nozzles which changes the height of the water and also the pattern.
In sunny conditions the water reaches 30-50cm and 10-20cm is faint sunlight/cloudy conditions.
Solid reviews. From 351 reviews it scores an average of 3.8 out of 5.
The solar fountain pumps are suitable for bird baths, fish tank, small pond or pools.
Dimensions: 28.8 x 17.1 x 5.2 cm
TekHome Solar Water Fountain
Why not sit back in your garden and watch the birds (and other small animals) splash about in your solar powered bird bath? You'll need to buy a bowl separately.
4 spray head in different spray patterns.
You can also use this in a pond as the solar pond pump floats on the water.
Solid reviews. From 1,238 ratings it scores an average of 3.7 out of 5.
No battery pack so needs sunlight.
Best Ceramic Solar Water Features
Solaray 4 Tier Cascade Water Feature
Attraction contemporary version of the traditional water bowl cascading fountain.
LED lights illuminate the fountain from below at night.
Includes a battery backup so it can still function during cloudy days.
Five metre cable linking the solar panel to the fountain.
Available in earthenware, terracotta and and green ceramic.
Very well reviewed by gardeners. From 428 ratings this scored an average of 4.3 out of 5.
Dimensions: 55cm high and 32.5cm wide
MP Essential Solar Powered 4 Tier Terracotta Cascade Water Fountain Feature
High quality, serene water feature.
Stores up to 5 hours worth of power in the handy battery back up.
Five metre cable linking the solar panel to the fountain.
Outstanding reviews. From 72 reviews, 71% of buyers gave this 5 out of 5 stars.
Common customer feedback include; well packaged, easy to assemble, worth the money and very attractive.
Best Solar Bird Bath
Tipping Pail Garden Water Feature
Discount - Save £24.50
Sculptural, ornamental option in a bronze effect.
Fountain is powered by two wireless solar panels.
Resin fountain with children tipping a bucket.
Brill reviews. From 68 reviews, 76% of buyers gave this 5 stars out of 5.
Best Solar Cascade Water Features
GardenKraft Cascading Barrel Fountain
Ornamental water solar fountain with four lotus leaves through which water flows.
Water leads to a barrel shaped base with a replica coi fish.
In the middle of the bottom leaf is a small replica water mill wheel.
At the top is a fixed solar panel lamp with an LED light.
Very good reviews. From 1,001 ratings it scores an average of 4.3 out of 5.
82% of buyers give it 4 stars or above. Common feedback includes good value for money, easy to install.
Dimensions: height – 90cm and diameter 41cm.
Blumfeldt Konigsbrun Fountain
Modern, minimalist solar water fountain.
Includes a sphere sitting on top of a tower with polished basalt appearance, resembling marble.
LED light in the centre of the sphere works at night.
Includes battery element which gives you eight hours of use.
Ball can be used separately in a pond.
Fab reviews. 90% of buyers gave it 4 stars or more.
Blumfeldt Schönbrunn Sphere Fountain
As the one above but with a twist in the tower.
Stands at 72cm tall and would make a lovely but not overpowering feature in path or garden corner.
Transcendence Solar-Powered Garden Water Feature
Rustic solar feature would be perfect for a classic English country cottage garden.
Faux walnut log effect blends in perfectly and naturally into trees and shrubs.
At night the LED lights beautifully light up the running water and turning the water gold!
Top reviews! From 85 ratings, 71% gave this 5 stars. On the higher budget side of choices out there.
Dimensions: 33 x 42 x 62.5 centimetres.
Blumfeldt Ocean Planet Solar Fountain
Modern ocean planet orb type design is ideal for smaller spaces.
Built-in mood light made of four white LEDs.
Battery back up means it can run for up to 8 hours at night, for gentle atmospheric evening light.
Only a few reviews but scores 4.3 out of 5.
Gardenwize Lion Head Stone Water Feature
Decorative lion feature made from durable weatherproof resin.
Water pours from a lion's mouth into a bowl that then cascades into a taller bowl alongside.
Ideal for smaller gardens and patios.
Original colour is sand but the fountain can be painted any shade to match your surroundings.
Decent reviews scoring 3.6 out of 5 from 84 ratings.
Today's Top Deals & Bestsellers
Benefits Of A Solar Water Feature
Eco-friendly
Easy to set up
No wiring
Inexpensive to run
Calming
Lasts for years
Constant water movement means that mosquitoes won't breed in it, reducing the chance of you getting bitten on warm summer nights.
Many of these advantages benefit both you and your neighbours
Common Questions About Solar Water Features
Does A Solar Water Feature Work in Winter?
Due to less sunlight during the winter because of fewer daylight hours and poor weather you may well see a decrease in performance of your solar feature. This is normal, don't worry.

You can also choose a solar water feature with a battery back up. This will mean that the solar panel energy can be stored in the battery and used from there when it is darker or through poor weather. So if you'd like your solar water feature to work all year then I recommend you look at options with a battery feature.
Do solar water features work?
Yes they do! Our technology to harness the sun's energy has come a long way over the years. With very little expensive you can add a water feature to your garden that is eco-friendly and energy efficient.

As with any products, do your research carefully. Generally the greater the size of solar panel will mean your water feature can run for longer and / or with more power. It really depends on your needs and what you wish to spend.
Do solar powered water features work at night?
Yes, many do through storing the sun's energy it harnesses through the solar panels during the day and then storing this in a battery.
How much sun does a solar fountain need?
Solar fountains usually have a very low wattage (between 1 – 15 watts). This means they don't require too much sun to run effectively. Those with a slightly higher wattage tend to produce large, more powerful sprays.
Type Of Solar Water Feature
Bird Baths
Pumps
Cascades
Bowls
Ceramic
Wishing Wells
Fairies
Planters
How To Make A Solar Powered Water Feature
Check out this video for a guide on how to make a wonderful solar powered water feature using clay saucers.
This is just one idea – there are so many excellent video tutorials out there.
What you'll need:
Water Pump
Solar Fountain & 4-in-1 Nozzle
Fountain Pump with Accessories
Bell Fountain Nozzle
Drill Machine
Silicon
I hope this list of the best solar water features was helpful.
If you think I left any out that should be included or have a suggestion for a future article, let me know in the comments below.
Dominic
Garden Accessories Guides