For this post, I have put together a collection of the best electric patio heaters currently available. Also see my top picks for all types of garden accessories.
Our Top Picks
Show Today's Top Deals
These are today's top deals and bestsellers for electric patio heaters.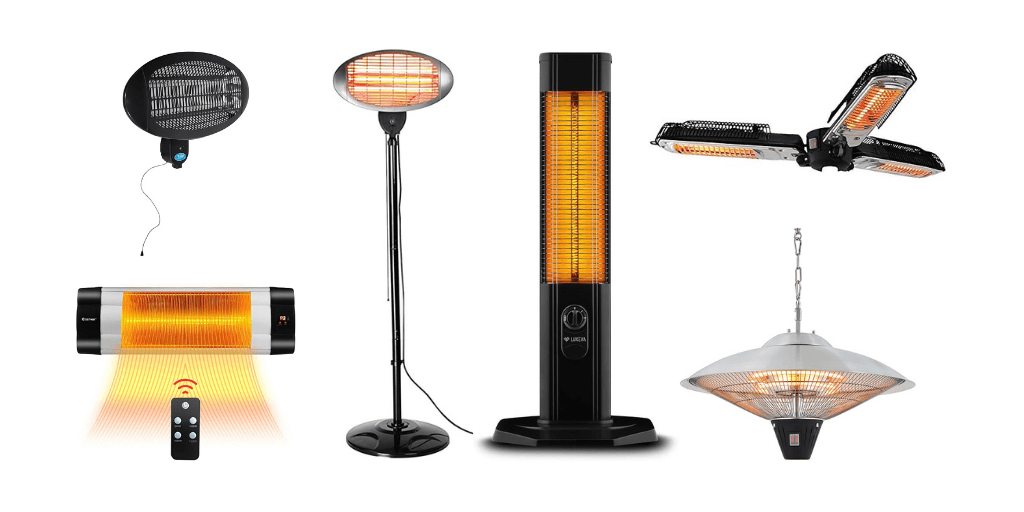 ---
One way to keep warm and cosy on chilly evenings in the garden is with an electric patio heater.
Electric patio heaters are practical and do just the job of giving you heat when needed.
They are also suitable for both indoor and outdoor use. (Please check manufacturers instructions, as this may vary depending on which heater you choose).
Related: Keep shaded from the sun with the best cantilever parasols or add a feature to your outdoor space with the best cast iron chimineas.
So here is my list of the the best electric patio heaters.
Hanging Electric Patio Heater
La Hacienda Silver Series Hanging Heater
Powerful 2100w hanging halogen heater that's very energy efficient and contemporary styled.
It is the most stylish looking of our picks.
Doesn't emit any fumes.
It has three heat settings and the lamp has an exceptional 5000 hour lifespan providing both heat and light on cool dark evenings.
Features hanging chain fixing which can be attached to the roof of a gazebo or similar structure.
Great customer feedback 25 ratings, 94% gave it 4 or 5 stars.
Budget; £££
Wall-Mounted Electric Patio Heater
Prem-I-Air 2 kW Outdoor Garden Heating
Discount - Save £3.51
Simple little heater which can slot on to screws on a wall.
Can also be used inside a garage or workshop to provide heat without the inconvenience of having a heater on the floor.
It has three heat settings all controllable from the long pull cord.
Should be kept in the dry when not in use.
As it uses a totally dry heat system there is no condensation, gas or fumes.
It heats up using infra-red light.
Very good reviews. From 160 ratings, 90% gave this electric patio heater 4 or 5 stars.
Budget; £
Costway Wall Mounted Infrared Patio Heater
This wall-mounted infrared patio heater comes with a handy remote control.
The aluminium alloy exterior makes this heater waterproof and durable.
It is suitable for indoor and outdoor use.
There are three heating modes available.
It can be used up to 4000 hours.
The automatic timing feature makes this product a great option for some.
Good reviews, From 69 ratings, 78% customers gave this electric patio heater 4 or 5 stars.
Budget; ££
Free Standing Electric Patio Heater
Luxeva Carbon Infrared Floor Patio Heater
An infrared floor heater, which features an aluminium housing and a freestanding design.
It measures approximately 1m in height, and is suitable for both indoor and outdoor use.
With 98% efficiency and an integrated thermostat function.
This heater also doubles as a handy outdoor light in the evening.
The freestanding design means you can move it around to where you need it.
Includes a cover.
Very good reviews. 86% of 173 reviews gave this 4 or 5 stars.
Budget; £££
Heatlab FreeStanding Infrared Electric Patio Heater
A stylish, effective and versatile heater.
Can be used both indoors and outdoors.
Free standing so can be moved around to suit you.
Waterproof function.
With an adjustable height (45 degree up-down adjustable heating element).
It also has a 1.8 metre cable so you can move it around your patio more freely.
A source of both heat and light, ideal for socialising into the evenings.
Multiple heat settings which allows you to adjust the temperature saving you both energy and money.
Really good reviews. 85% of 594 buyers gave this patio heater 4 or 5 stars.
Budget; £££
Parasol Electric Patio Heater
HuanGB Parasol Patio Heater
No products found.
Halogen heater with 360°all round heating which can be installed under a parasol.
3 adjustable heat settings.
Waterproof, but should not be used in wet weather.
The vertical angle of each blade can be adjusted (0-90 degrees).
No odours, chemicals, or fumes released.
Infrared heater is tailored for both indoor and outdoor places.
Ideal for keeping your guests warm around the patio dining table.

No products found.

. gave this 5 stars out of 5.
Budget; £££
Today's Top Deals & Bestsellers
Are electric patio heaters any good?
If you want to heat your garden quickly and easily an electric heater is ideal for you.
They are easy to switch on and off, and warm up quickly giving off heat when you need it.
Electric patio heaters come in various sizes and styles, from wall mounted to free standing or hanging to table-top.
What is the difference between electric and gas patio heaters?
Gas patio heater are more expensive to run than electric options and they can also take longer to heat up.
However, once warm they do usually provide a good heat range, so they are great for bigger spaces.
Gas patio heaters may also look more appealing if you are entertaining guests.
Different types of electric patio heaters
Free Standing Patio Heaters
These are a great option as you can easily move them around to various parts of the garden or patio as long as you have an electricity source within reach.
Wall Mounted Patio Heaters
These are designed to be mounted on a wall and tend to be smaller in size. They are good for small spaces or even for use in your garage.
Hanging Patio Heaters
This type of heater is designed to hang from a ceiling or gazebo. They come in a range of options and some of them look super stylish. Great as they don't take up any room.
Tabletop Patio Heaters
Portable and compact with a lower electricity output. Good for evening dining.
Umbrella Mounted Patio Heaters
These attach to standard garden umbrella poles. They usually have a 360 degree heat output so that everyone around the table underneath can benefit from the heat source.
---
I hope this list of the best electric patio heaters was helpful.
If you think I left any out that should be included or have a suggestion for a future article, let me know in the comments below.
Nicola
Garden Accessories Guides