For this post, I have put together a collection of the best rabbit runs currently available. See our buyer's guides for all garden accessories.
Our Top Picks
Show Today's Top Deals
These are today's top deals and bestsellers for rabbit runs.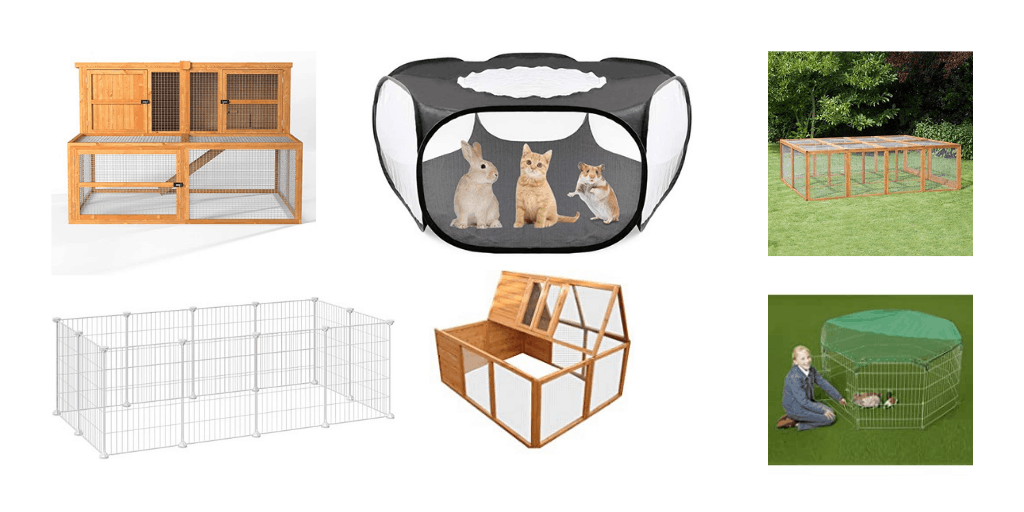 ---
Rabbits can bring much joy as family pets and it's important to give them a safe, secure and comfortable place to run around. Rabbit runs are specifically designed for that reason and they come in a variety of sizes and styles.
It is important for rabbits to have enough space to stretch and move around whether it be inside or outside, so we've put together our top picks of the best rabbit runs. These include indoor, outdoor, wooden, metal and foldable ones.
All of our recommendations have 4-5 star ratings and excellent customer reviews.
Looking for more pet products? See our buyer's guides on the best rabbit hutches and cat toys.
So here is my list of the the best rabbit runs.
Best Rabbit Hutch & Run
5ft Kendal Outdoor Rabbit Hutch and Run
Hutch and run suitable for a large rabbit.
Robust 5ft hutch sits over a double sized run (in either a forward or backward facing direction).
With a central wire panel for the water bottle, an arched divided sleeping area and a ridged safety ramp.
Weather proofed with an animal safe water based wood preservative.
150 x 120 x 120 cm.
Customers really like this rabbit hutch and run – 100% of 8 buyers gave it 4/5 stars or more..
---
Best Rabbit Run For Indoors
Songmics Indoor Rabbit Run
Discount - Save £5.25
This metal and plastic run can be clipped together anyway you want to, to create a safe place for your rabbits to run.
Suitable for indoors or outdoors.
Includes 12 grid plates, 24 plastic connectors, 12 anti-slip pads, 1 rubber mallet and 40 cable ties.
143 x 73 x 46 cm.
Very good reviews. From 188 ratings 85% of buyers gave this 5/5 stars.
---
Best On A Budget
Idepet Mesh Rabbit Playpen
A lightweight and portable rabbit run which can be used anywhere.
Pops up and can be used both indoors and outdoors.
The top can either be covered over or unzipped.
The mesh fabric is not that secure so not ideal for leaving rabbits unattended.
Better for indoor rabbits that need somewhere to run during the day.
Best for price.
100cm x 38cm.
Good reviews. From 706 ratings 65% of buyers gave this 5/5 stars.
---
Best Folding Rabbit Run
AVC Designs Foldable Rabbit Playpen
A foldable playpen which can easily be stored away when not in use.
Can be used indoors or outdoors for pets such as rabbits.
Featuring 8 panels which allows you to lay your playpen out in a variety of different shapes.
Available in sizes S-XXL.
Plenty of good reviews. From 3,109 ratings 72% of buyers gave this 5/5 stars.
---
Best Large Rabbit Run
Chartwell 5ft Rabbit Run XL
This solid wood run with wired panels can be used on its own or as an add on for any corresponding sized double or single hutch.
The wood is treated with an animal safe water-based preservative. Not only will it help your run stand up against the weather, but it won't matter if your bunnies take a nibble every now and then.
Width:1500mm Depth:1880mm Height:710mm
Good reviews. From 1 rating 100% of buyers gave this 5/5 stars.
---
Best With Shelter
Bunny Business Fully Folding Sheltered Rabbit Run
This 4ft fully folding sheltered run is ideal for the garden. The shelter will allow your rabbits to stay out of the sun or rain.
Folds away in seconds.
The roof keeps predators out and pets in, and is hinged with predator-proof latches.
122cm x 122cm x 61cm (h)
Fab reviews. From 355 ratings 77% of buyers gave this 5/5 stars.
---
Best With Sun Shade
VivaPet Outdoor Octagon Rabbit Run
Discount - Save £2.00
This enclosure can be used indoors and outdoors.
It comes with a free safety net with a sealed part which helps to protect from sun.
150 cm by 150 cm when assembled as octagon.
The run can be secured together with long drop pins that peg into the ground.
Excellent reviews. From 4,192 ratings 82% of buyers gave this 5/5 stars.
---
Today's Top Deals & Bestsellers
---
What to consider when buying a rabbit run
Size
The more space rabbits have to run freely the happier they are, so make sure you get one big enough for them to play and stretch in.
Indoor or Outdoor?
if you have a big garden you may want to keep the rabbits outside and a run will give you the confidence to let your rabbits play safely outdoors. Alternatively, if you need to keep your rabbits indoors an indoor run will work at keeping them in one place.
Hutch & Run Combined
Some hutches come with a run incorporated into the design. The hutch maybe elevated on top of the run and then the rabbit is able to access the run by a ramp and roam around more freely.
Material
Rabbit runs should be made of durable, strong material like treated wood and metal to make it safe for rabbits to be in them, especially when outside.
---
I hope this list of the best rabbit runs was helpful.
If you think I have left any out that should be included or have a suggestion for a future article, let me know in the comments below.
Nicola
Garden Accessories Guides