For this post, I have put together a collection of the best watering cans currently available. Also see my top picks for all types of garden accessories.
Show Today's Top Deals
These are today's top deals and bestsellers for watering cans.

Discount - Save £1.00
2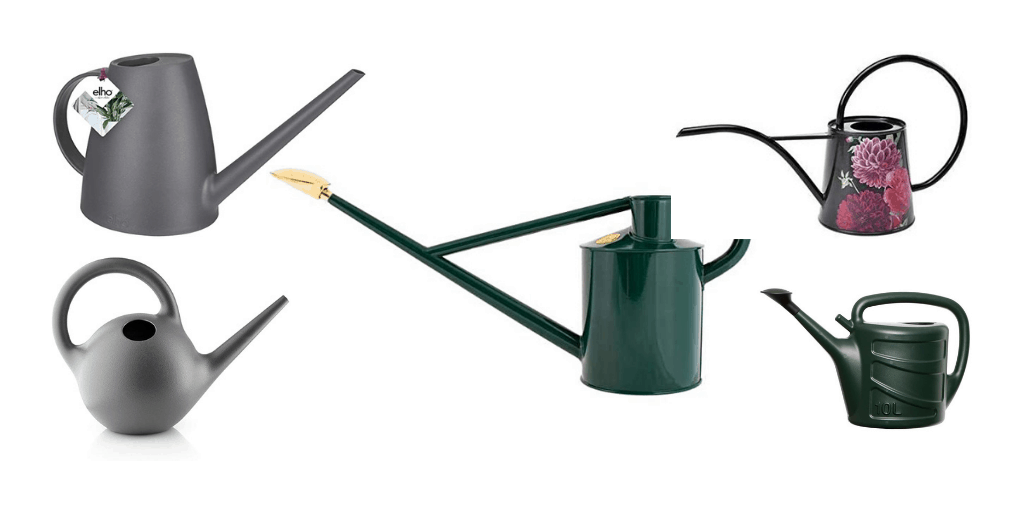 How does your garden grow? If you want your plants to flourish it's important to keep them watered, whether they're out in the garden or pot plants in your home.
The easiest and most practical way to water plants is with a watering can. There are various types to choose from depending on where you are planning to water the plants. From small indoor watering cans, to large capacity watering cans for the garden.
Later in this article we explain the different types of watering cans and their uses.
Related: See my top picks for the best solar lights and solar water feature.
Firstly here are our picks of the top 9 watering cans for either indoor or outdoor use.
Let's get started!
HAWS Professional Metal Galvanised Watering Can
1 gallon watering can with an extra-long spout, that is designed to effortlessly deliver water to those hard to reach plants and beds.
Lightweight design for everyday gardening tasks.
HAWS Multipurpose Plastic Watering Can
2 pint small watering can perfect for watering indoor pots and delicate seedlings or even a great gift for a child gardener.
A removable plastic rose makes it perfectly versatile on both delicate seedlings and well established plants.
Elho Brussels Watering Can
Discount - Save £1.46
Stylish 1.8 litre watering can ideal for maintaining indoor plants.
Matching water sprayer also available.
ARBORIA Steel Watering Can
Traditional style, beautiful galvanised steel watering can.
It features a large adjustable handle and spout with a brass rose.
Ideal for indoor or outdoor use.
Eva Solo Globe Watering Can
Functional and stylish watering can uniquely shaped.
Made from a durable combination of plastic and stainless steel the colour will add instant style to your home or garden.
Ideal for indoor or outdoor use.
Esschert Design Flamingo Watering Can
If you love anything flamingo, then this quirky watering can is a must.
Suitable for watering indoor plants or ideal for kids to water plants in the garden.
Young Gardener Pink Watering Can
This watering can for children has a 1 litre capacity and would make a great gift for any budding gardeners.
Suitable for children over the age of 3.
Burgon & Ball RHS British Bloom Indoor Watering Can
A durable galvanized steel indoor watering can with elegant slender spout for targeted watering.
Features the new British Bloom design.
1 litre capacity.
This one would make a perfect gift as it's beautifully designed.
Wilko watering can 10l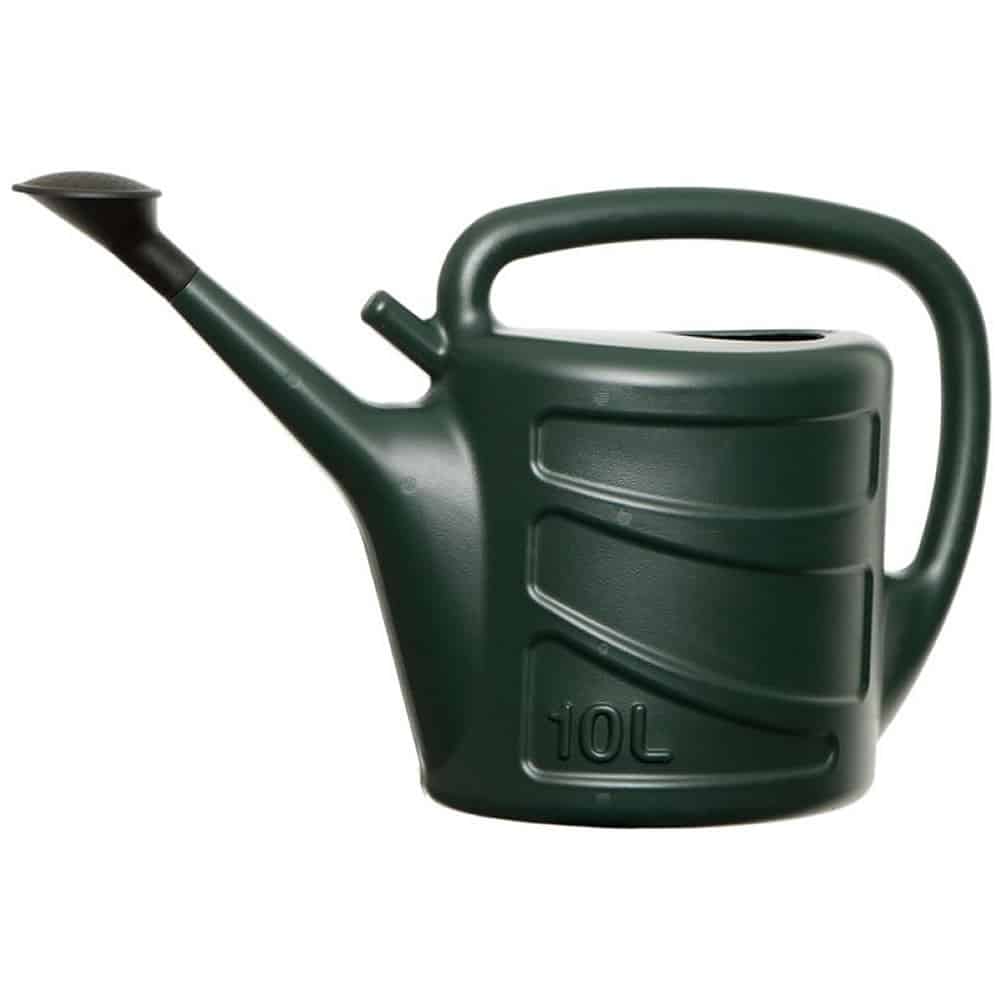 Affordable plastic watering can with wraparound handle for control during prolonged watering.
The hook above the spout is a great place to store the rose when it isn't required.
Best Value Buy!
What Type Of Watering Can Do I Need?
Metal or plastic?
Metal watering cans are durable and will last a long time provided they are galvanised and rust resistant.
Plastic watering cans are cheaper but may not last as long. The benefit is they are lighter to carry.
Big or small?
If you are using your watering can for a light sprinkling of a few plants you may opt for a smaller one, or if you have a larger garden to cover you may decide to get a bigger watering can with a large capacity, to save you heading back to the tap too often.
Make sure it's not too heavy to carry though!
Neck and sprinkler
What types of plants are you watering?
If you have tall leafy plants you should look for a watering can with a long slim neck, which can easily reach the roots of the plant to give them sufficient water.
For things like hanging baskets and window boxes you should opt for a shorter neck so its easy to water overhead.
You may also want to consider the handle position and how comfortable it is to hold whilst watering.
Some watering cans have a detachable sprinkler or rose (rosette) which is perfect for delivering a fine, even shower of water to new plants and seeds.
The rose should be removed to give thirstier plants more water.
Where To Buy Online (Best Retailers)
In our product reviews above I've linked to Amazon because they tend to have good stock levels at competitive process. I do strongly checking these recommended retailers below.
Watering Can Deals & Today's Bestsellers
Discount - Save £0.74
2
Garden Accessories Guides