Looking for a place to stay near LEGOLAND Windsor UK?
In this independent guide I'll show you the best hotels and how to book a LEGOLAND Holidays package (hotel and ticket). You'll also be able to compare ticket prices and get top tips for a great day out.
Let's get started!
Should I book a LEGOLAND hotel and ticket package?
It depends. You can benefit by getting 2 days at the park for 1 if you book a hotel and ticket page direct at LEGOLAND Holidays. This includes all the LEGOLAND Resort hotels and 35+ off site hotels.
If you are happy with one day at the park, you can book a hotel and ticket package at Budget Family Breaks. July 2020: Some great prices available from £127 for family of four with hotel and tickets. More details
Alternatively, you can book a hotel and LEGOLAND tickets separately. This does give you more choice for your accommodation.
In either case I'll show you the best hotels and how to save on tickets with our price comparison tool.
I recommend you read the whole guide but if you're in a rush here's some quick links:
If you want a package and are happy with one day at the park then check out Budget Family Breaks. Check dates but we've found many available for £109 for a family of four.
Scroll down to get our insider's guide to the best hotels near LEGOLAND Windsor.
Click the buttons or 'check prices' to get the latest availability on Booking,com – our favourite website for booking hotels. Why? Best prices, great discounts, most reliable & easiest to use.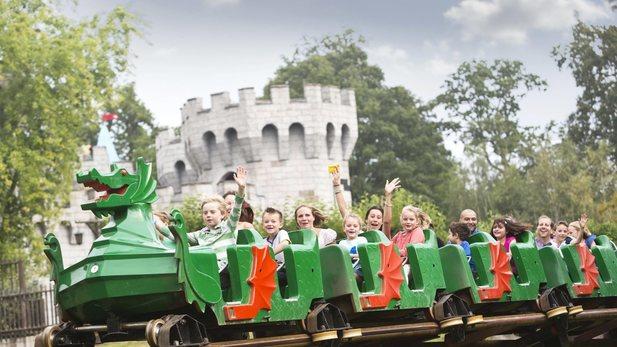 Offsite Hotels Near Legoland Windsor
Best Hotels Near Legoland Windsor
An insider's guide to the top hotels near Legoland Windsor, including the best Lego-themed rooms at the resort, off-site hotels – plus hotel alternatives such as apartments, lodges, and cottages.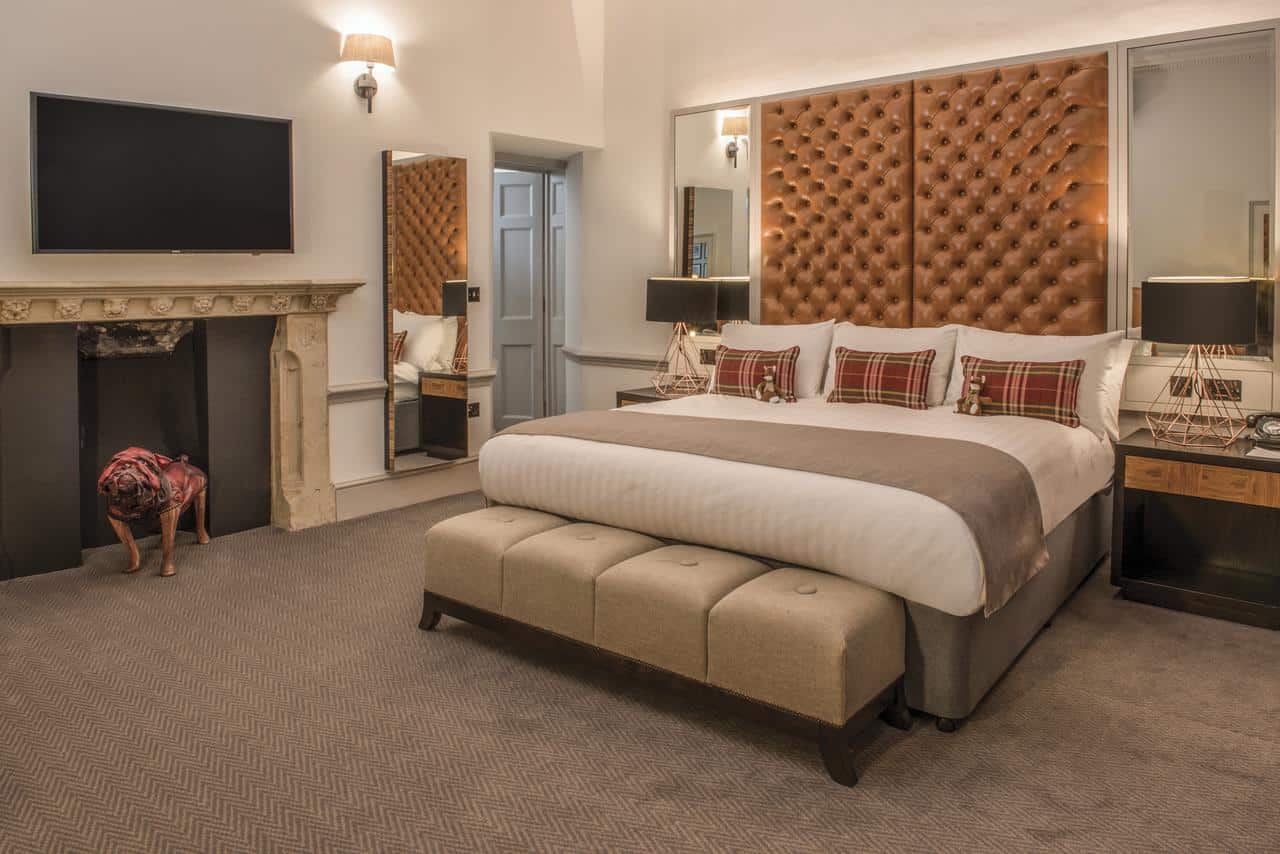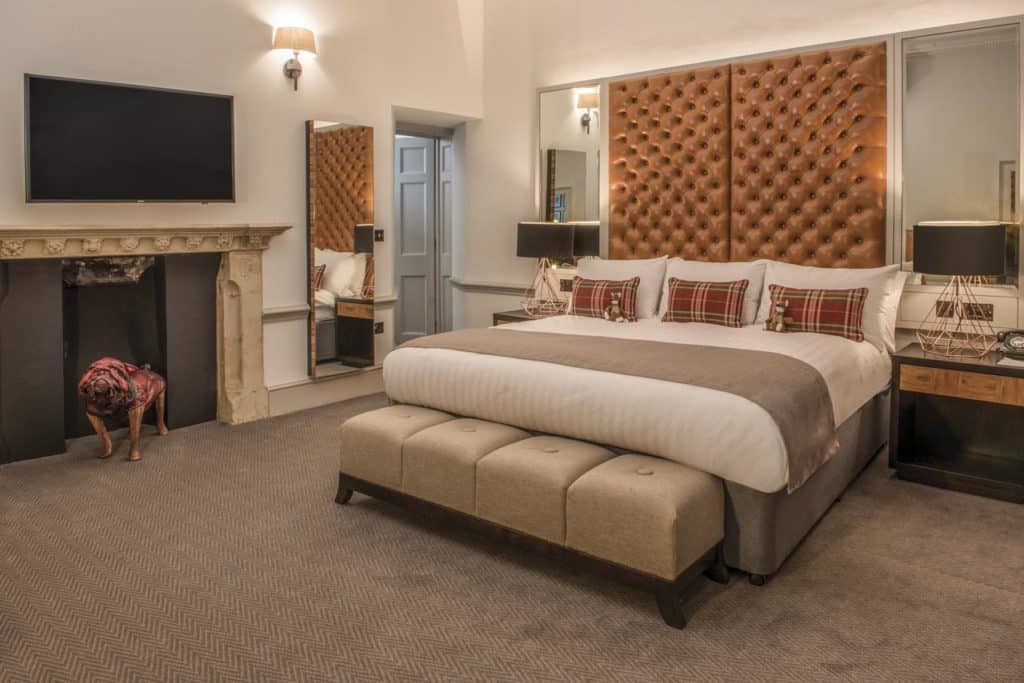 Set in lovely landscaped grounds, the historic De Vere Beaumont Estate is a family-friendly hotel situated 5.4 miles away (15-minute drive) from Legoland Windsor. Many of the rooms have scenic views across the grounds. Family rooms include a double bed and sofa bed.
The leisure club features a heated indoor swimming pool and a gym. Guests can enjoy seasonal British cuisine in the restaurant. This is the perfect place to relax and unwind. Plus free cancellation.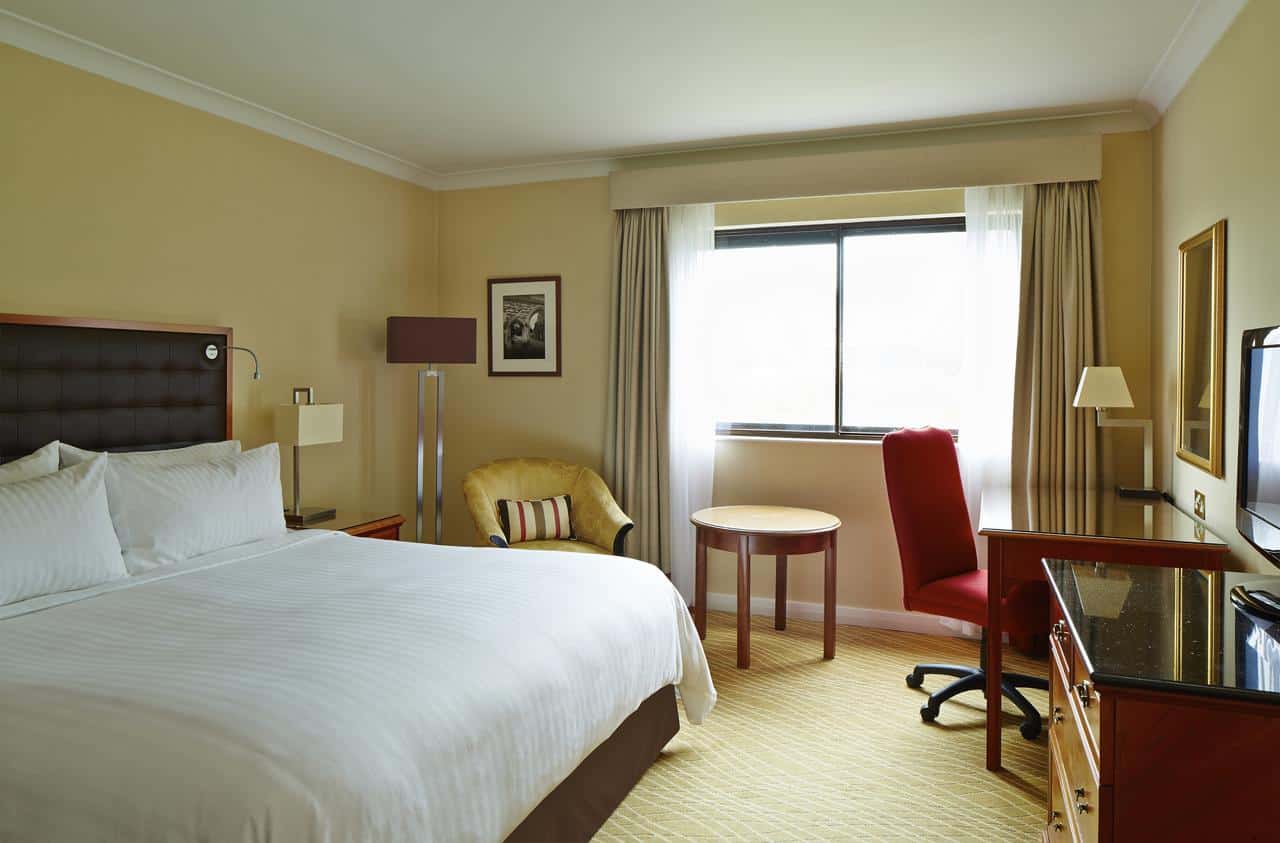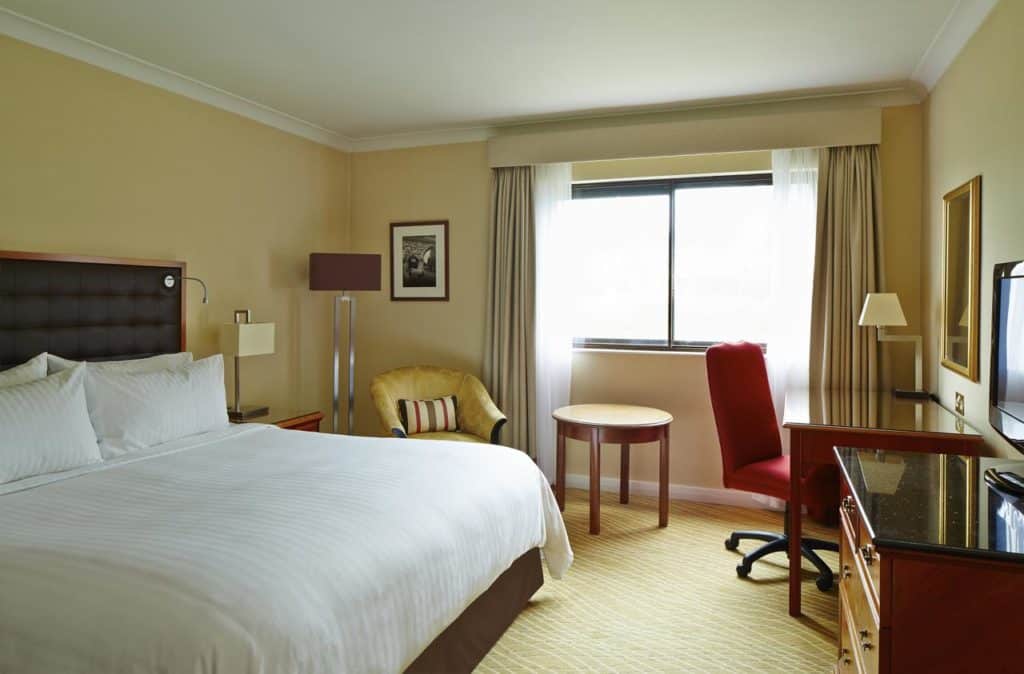 4.7 miles (10-minute drive) away from Legoland this hotel offers deluxe double rooms with 2 double beds or cheap rooms with double bed and sofa bed.
The hotel has a restaurant, pizzeria, and bar, plus a health club which includes an indoor swimming pool. Plus free cancellation.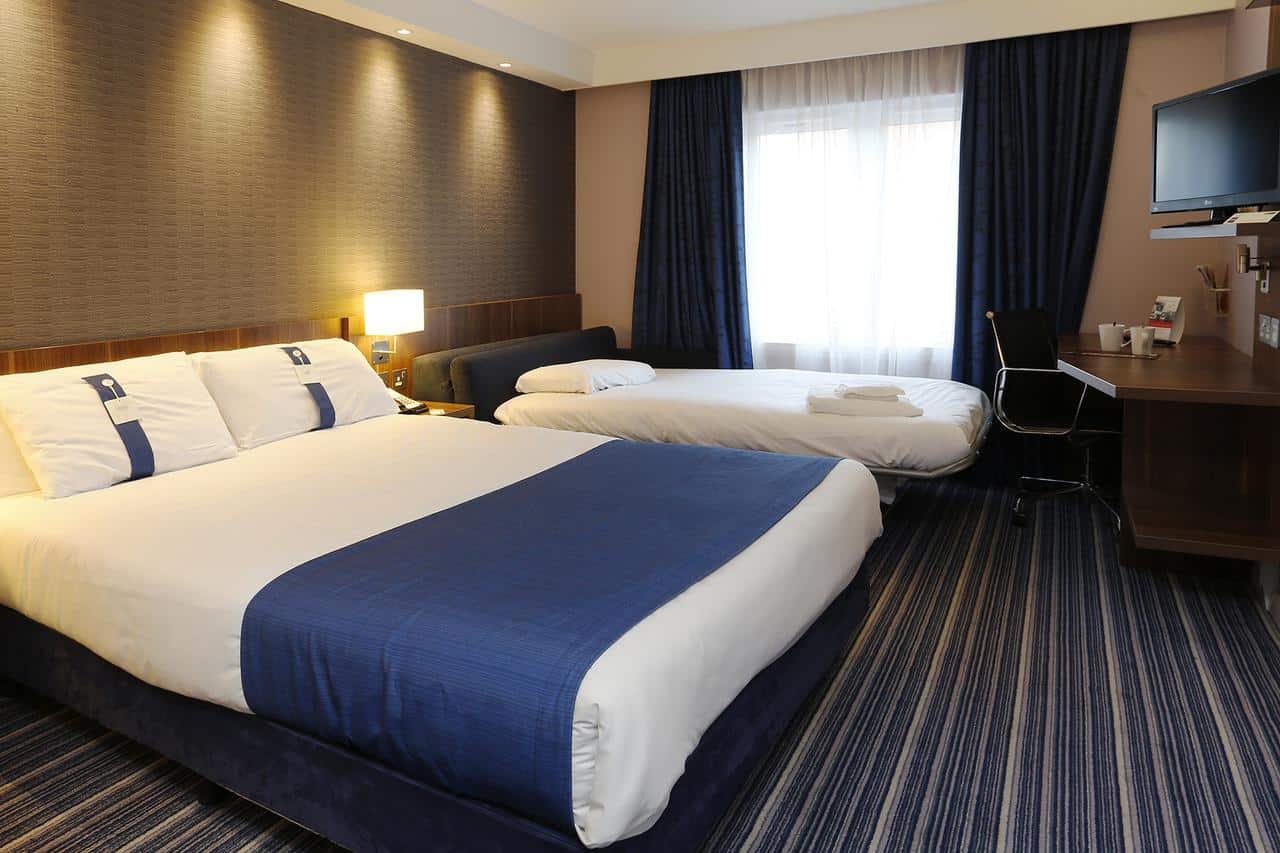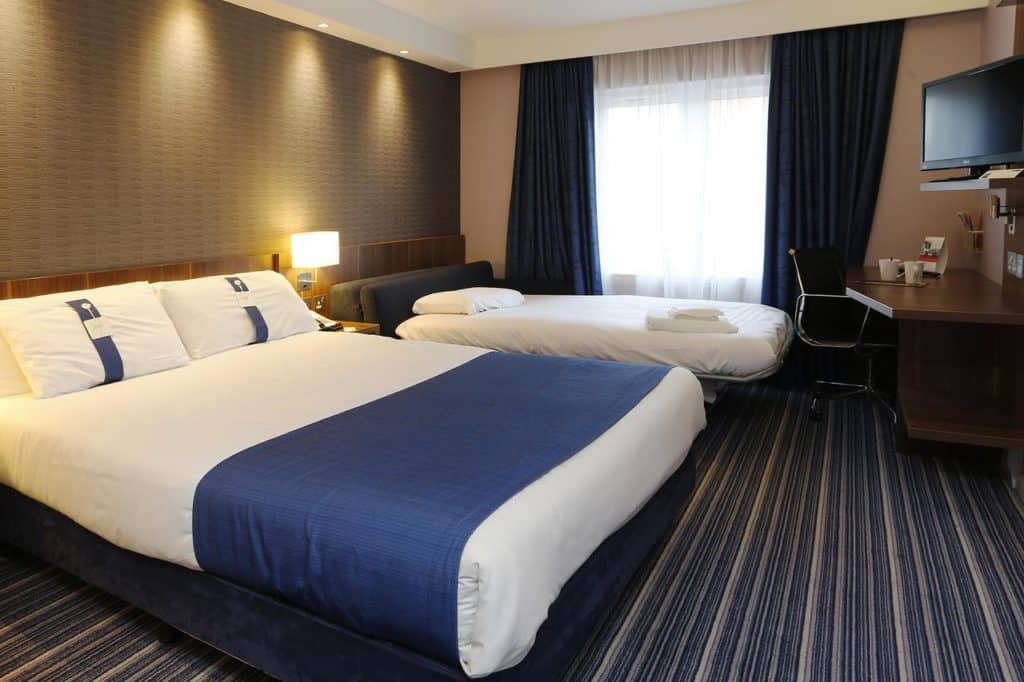 Situated in historic Windsor, the Holiday Inn Express Windsor is just a 10-minute walk to Windsor Castle and an 8-minute drive to Legoland (2.7 miles away).
Families of three can book a double room with a sofa bed, but groups of four or more would need to book 2 rooms so they may prefer an alternative hotel. Wifi and breakfast buffet is included in your room rate.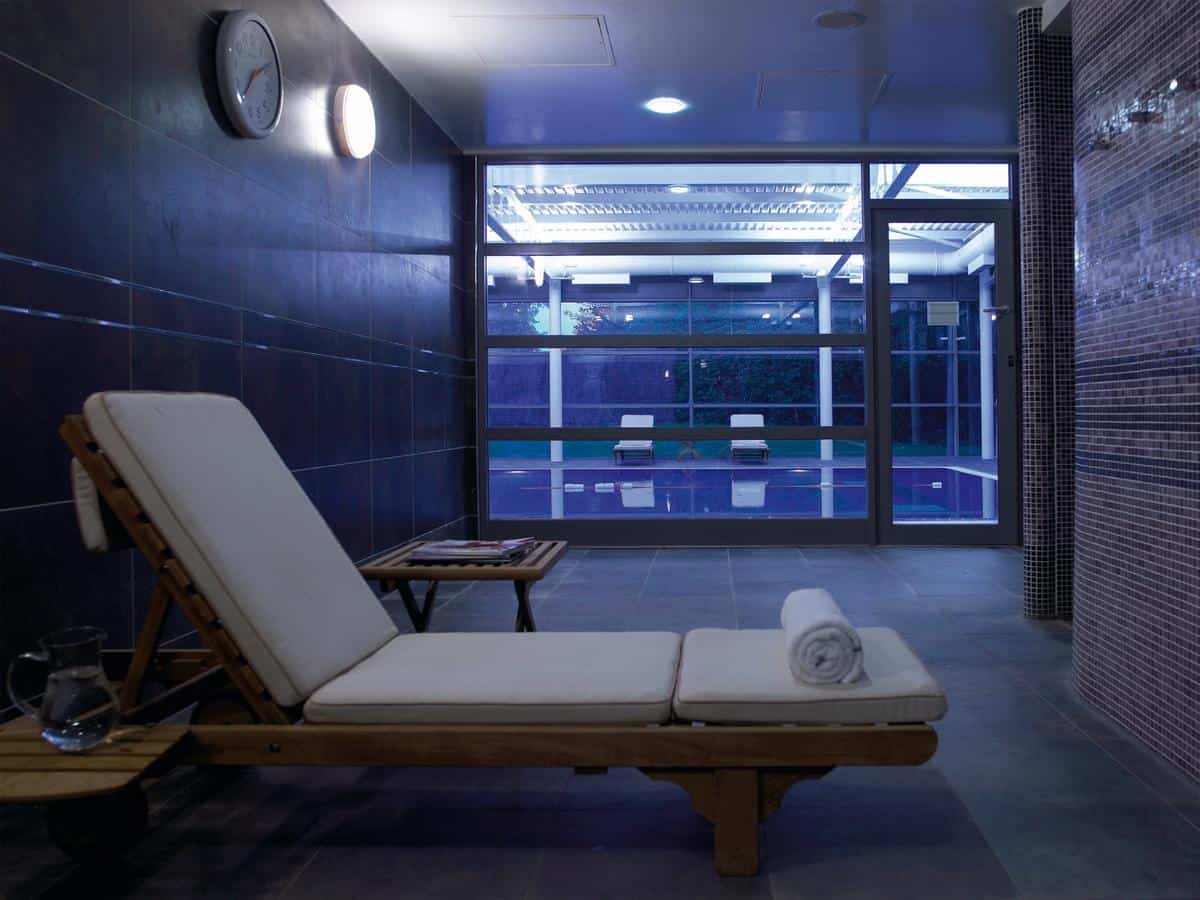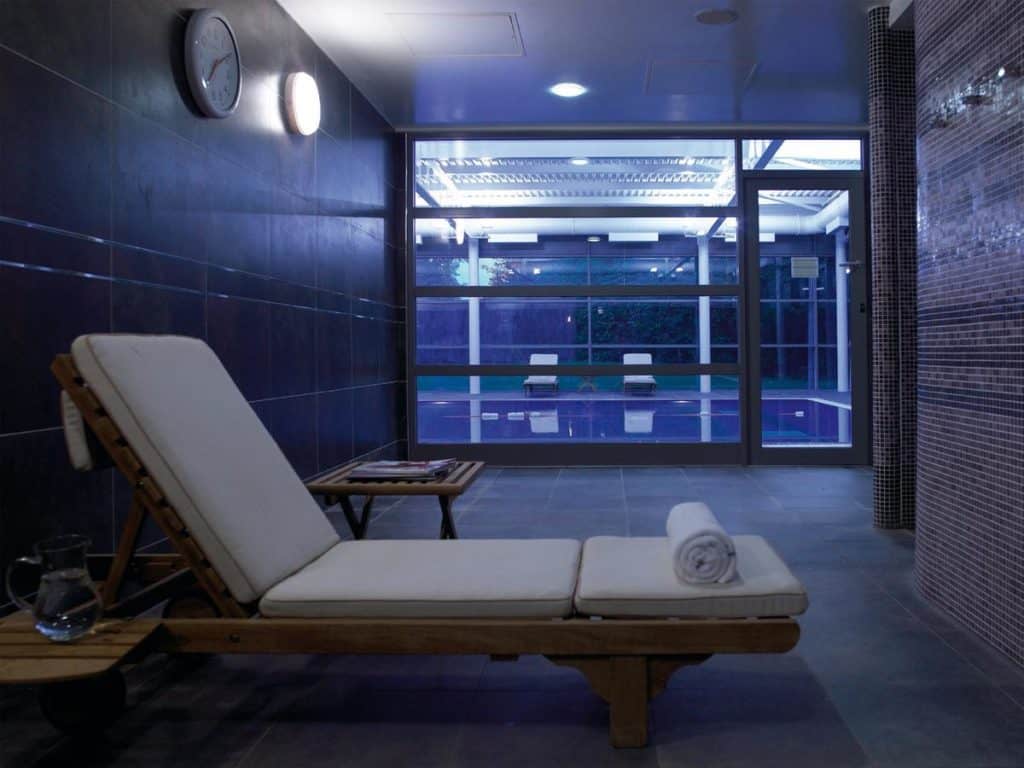 Styled like a French chateau, this family-friendly hotel is 7 miles away (14-minute drive) from Legoland. The deluxe double rooms come with one double bed and 2 single beds.
The spa has a gym and indoor pool with views across the gardens. There is also an AA Rosette-rated restaurant.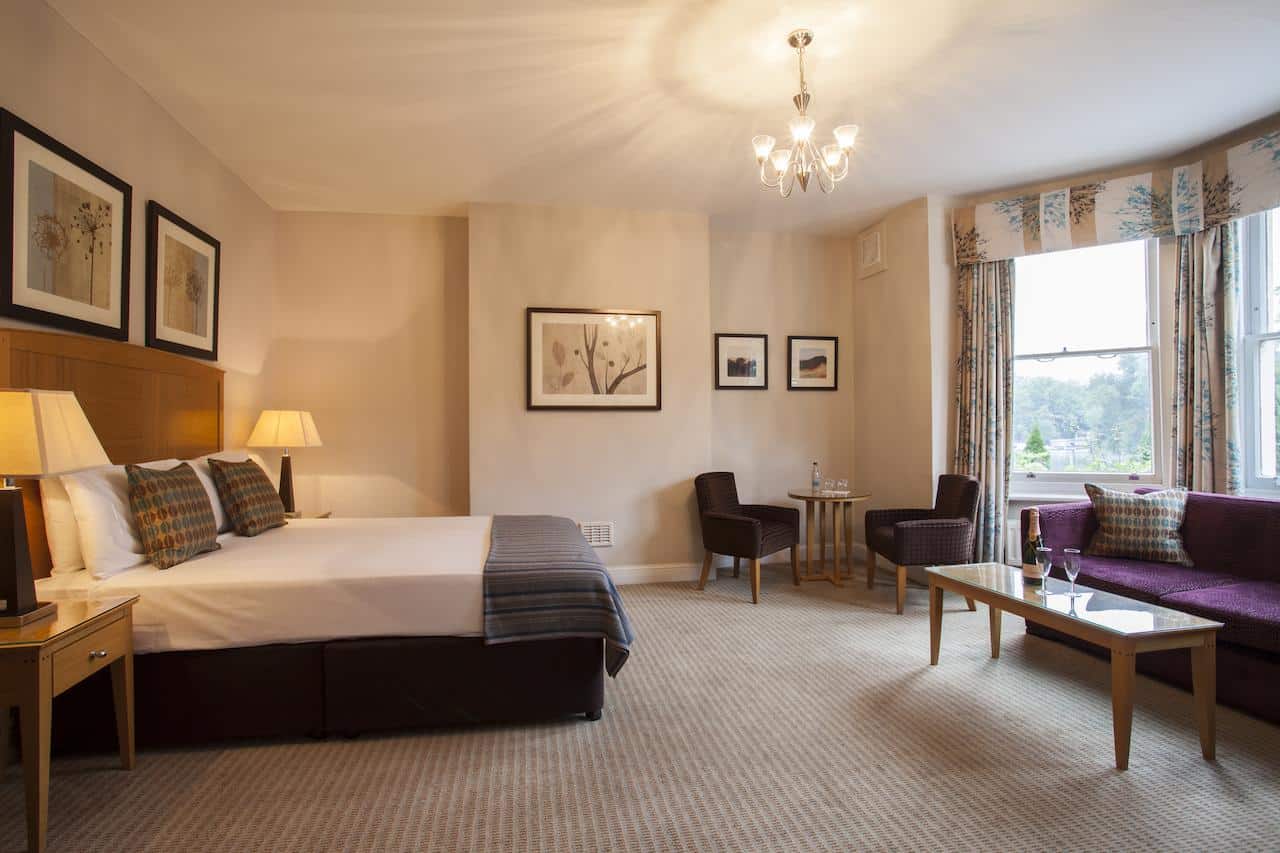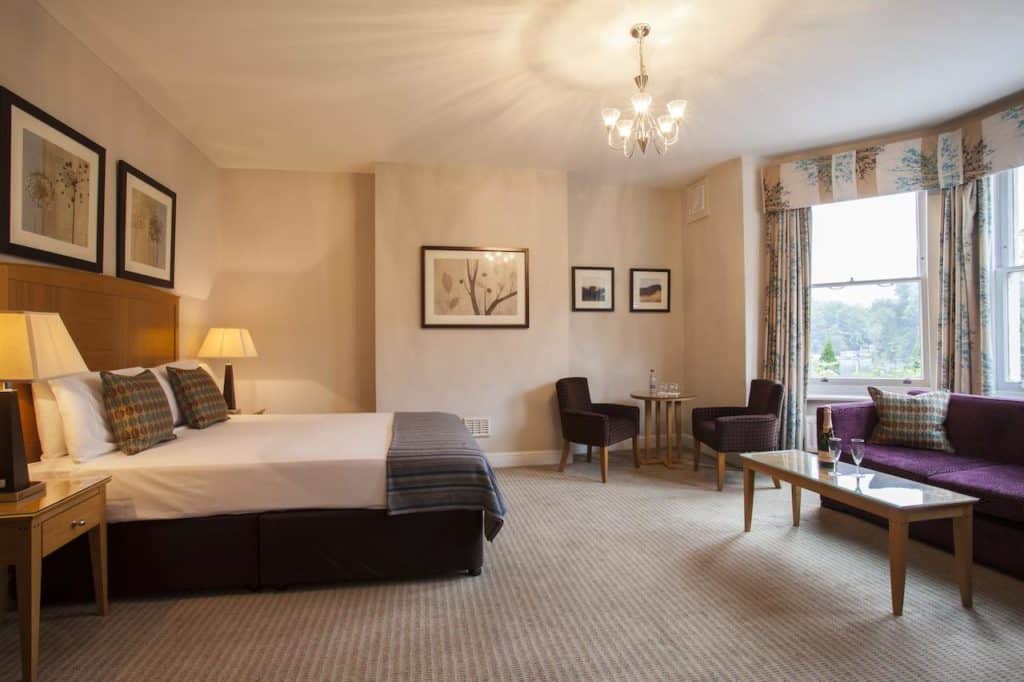 Situated on the banks of the River Thames, this family hotel is ideal for Windsor, Legoland, Ascot Racecourse and London. Many of the rooms have small balconies and offer river views.
There is a relaxed restaurant with a riverside terrace and garden. All rooms offer comfortable beds, a flat-screen TV with Freeview and free WiFi. A 7 mile (15-minute drive) from Legoland.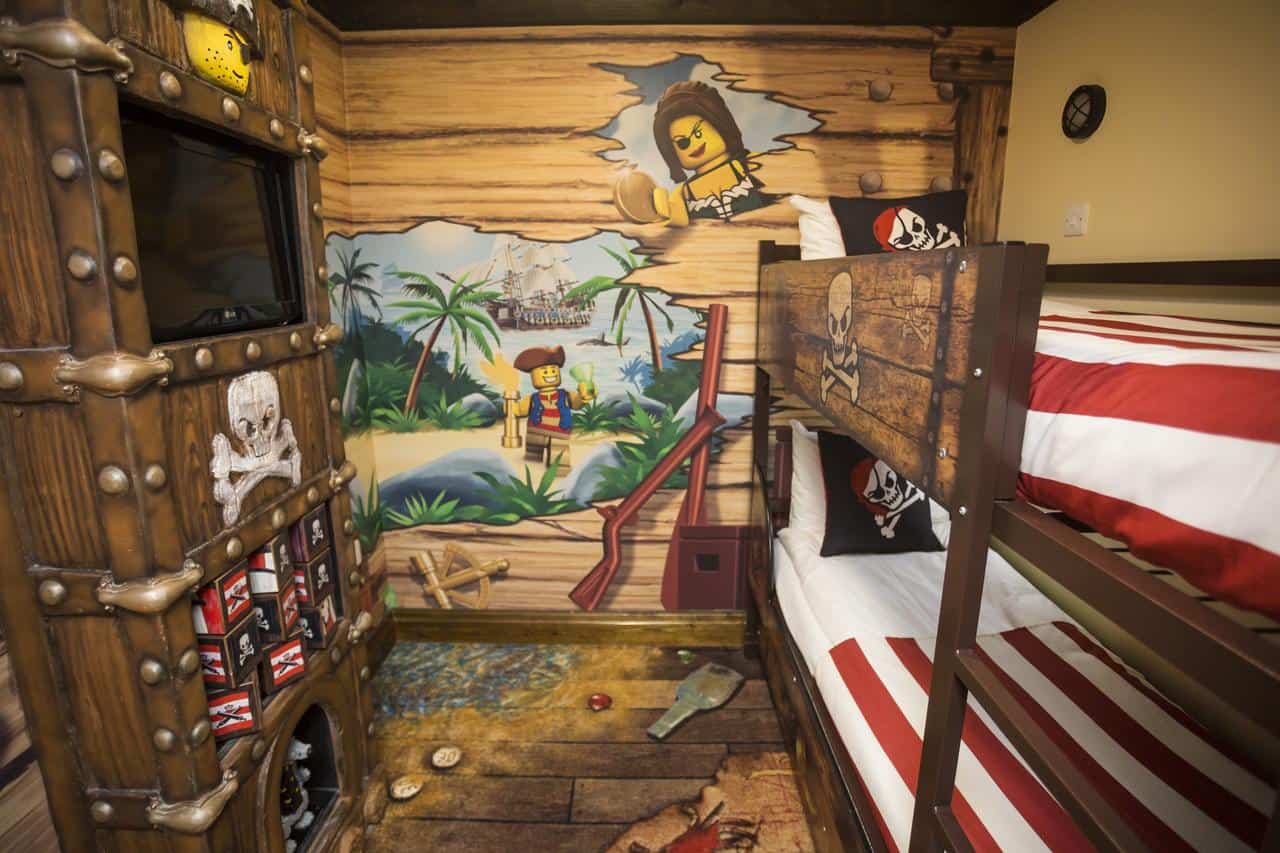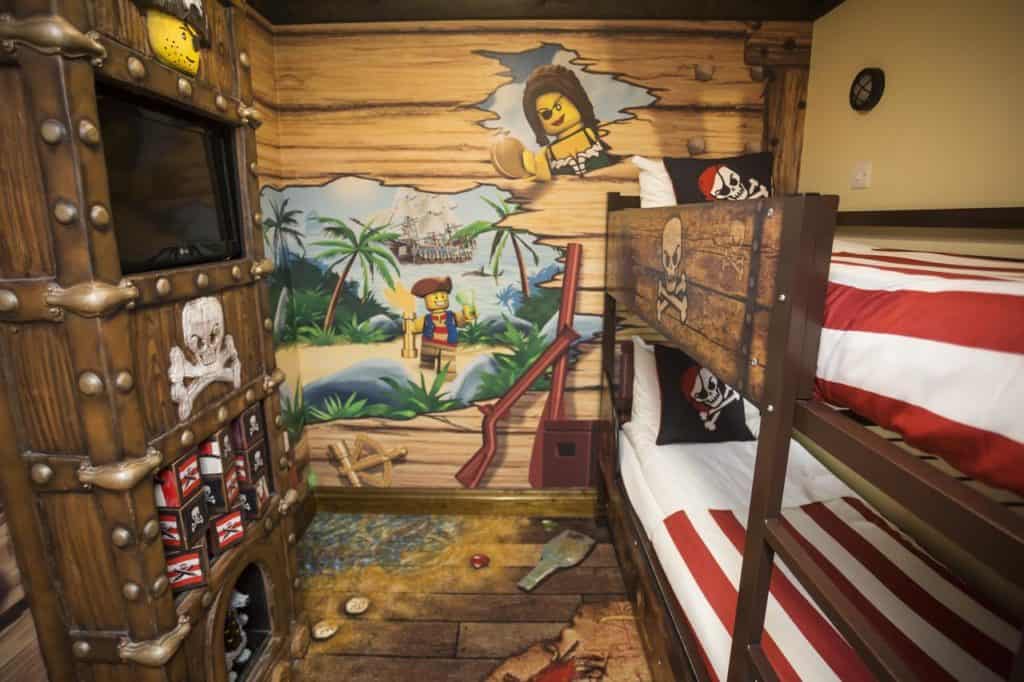 If you want to be in amongst the action stay at the resort hotel, just 200 yards from Legoland. Featuring a restaurant, the 4-star hotel has air-conditioned rooms with free WiFi, each with a private bathroom.
The hotel features an indoor pool, fitness centre, entertainment staff, and a 24-hour front desk. The accommodation offers a children's playground.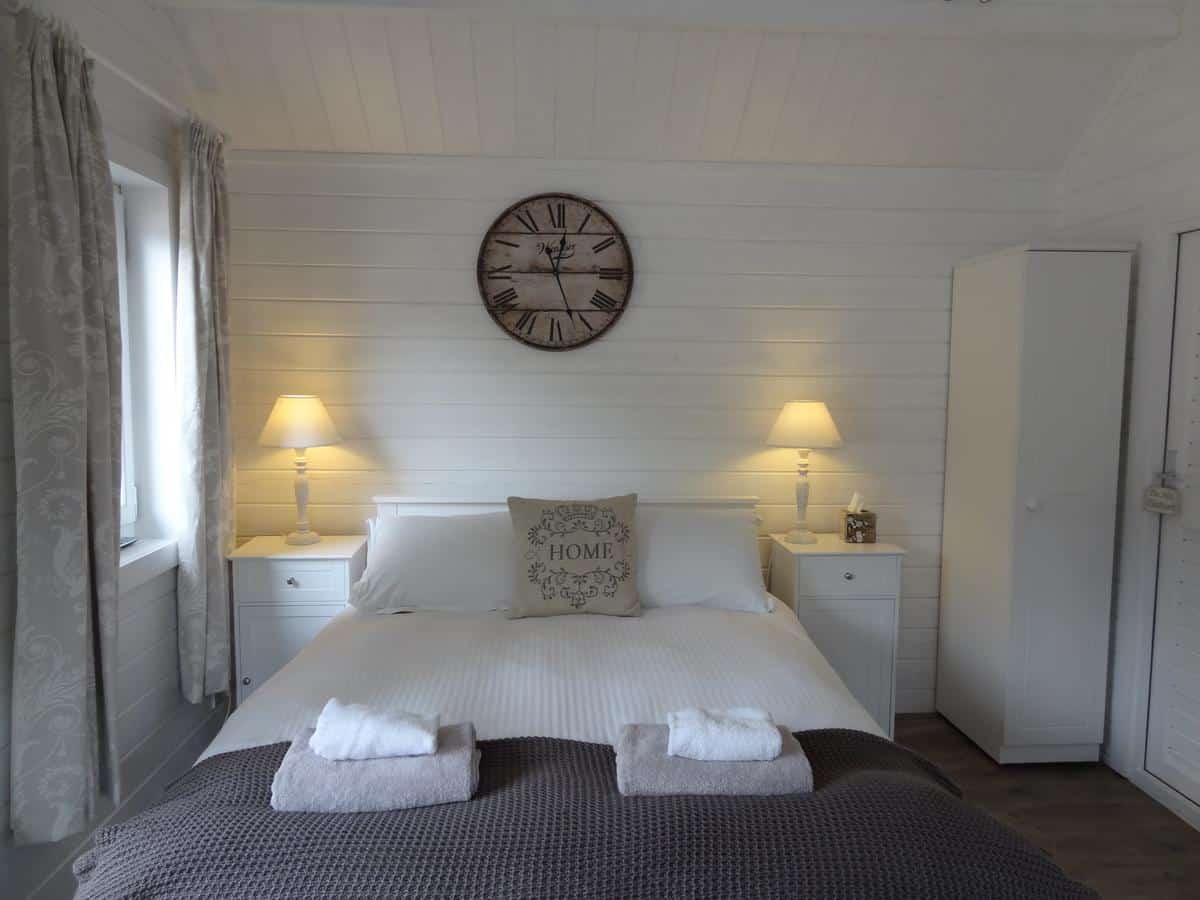 Park Farm is a 4-star bed and breakfast & a 5-minute drive (1.4km) away from Legoland Windsor Resort. It is conveniently located close to a range of family activities such as museums, cultural locations, and theme parks. Rooms are comfortable with controllable heating and fan, wifi, and a choice of full English or Continental breakfast. They also offer Vegetarian meals.
One room sleeps 3. Families can choose between two choices of rooms – the first one is a double bed with a single bed while the second one has a double bed and a bunk bed. The smaller family room has a bathtub and a shower. All rooms have a fridge, microwave, and ironing supplies which can be used anytime by guests.
A child-friendly pub over the road serves food and ales while Park Farm offers a wide selection of breakfasts served with toast, muesli, fresh juice, and coffee. Park Farm is just 20 minutes' walk from the centre of Windsor. London Heathrow Airport is just 20.9 km away and Eton can be reached in less than 10 minutes.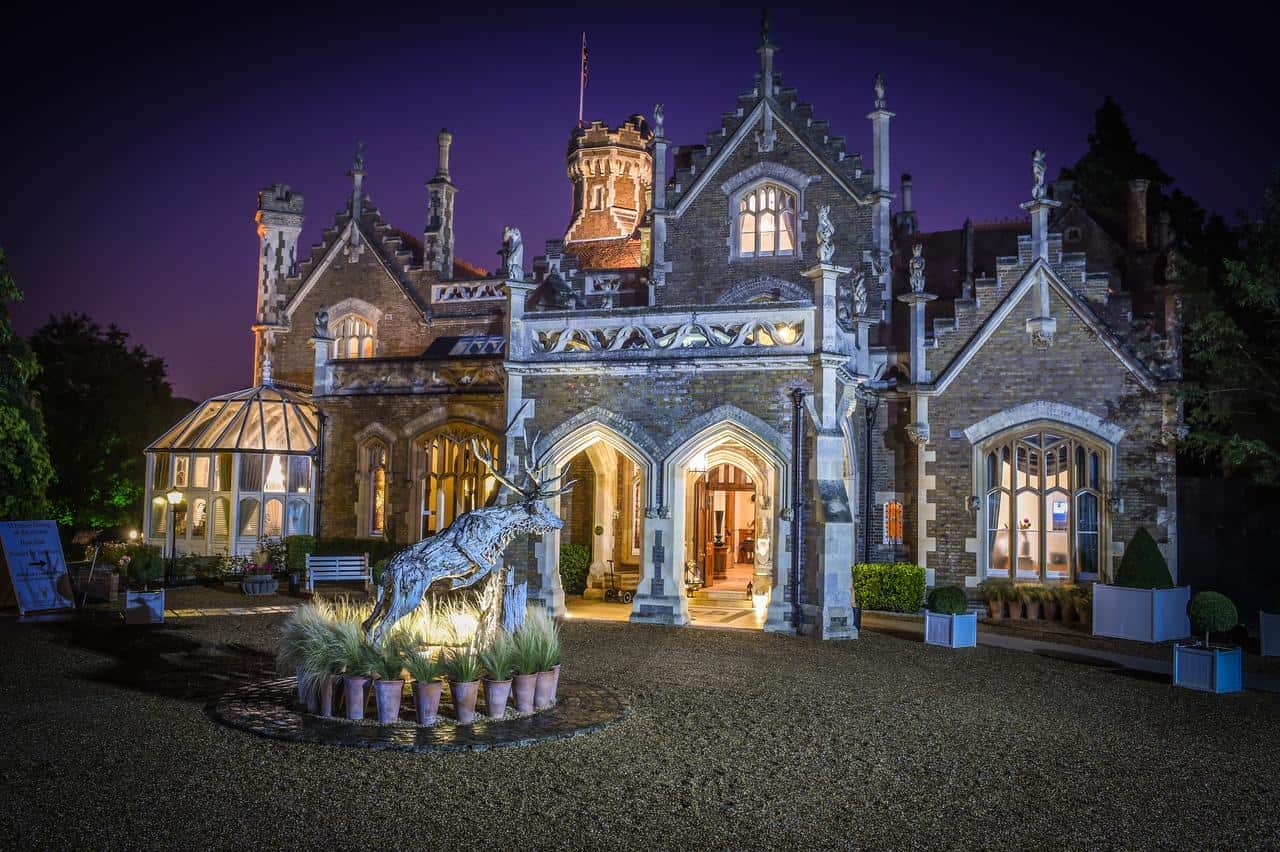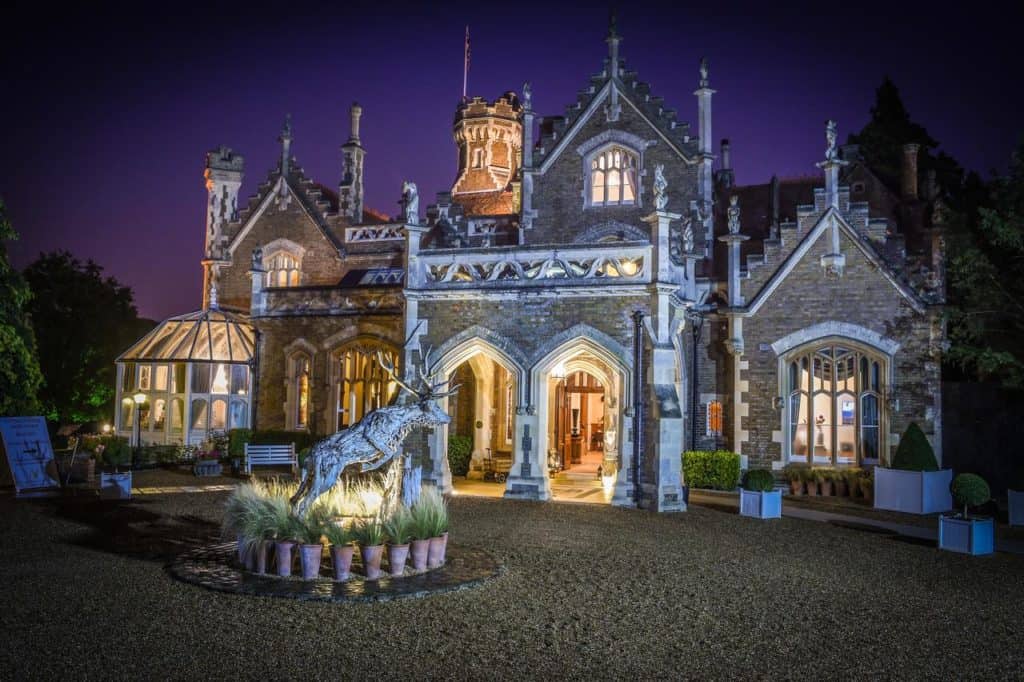 Oakley Court is a secluded luxury family-friendly hotel 12 minutes away (2 miles) from Legoland Windsor Resort. It is a famous Victorian Gothic Country house used a film set of many old horror films including Dr. Frank N Furter's "Rocky Horror Picture Show".
No need to be afraid of the place as it is family-friendly and kids are treated like VIP's, with the restaurant serving children's menu and activities like family afternoon tea, a 'Make Your Own Waffles' breakfast that comes along with the free breakfast, and Oakley teddy bear.
All family rooms have mini-robes for children and it even has Character Rooms that kids would definitely enjoy. Upon request, children are even served milk and cookies before bedtime. Family rooms can accommodate up to 4. It is also a pet-friendly hotel with spacious grounds where children and pets can play around.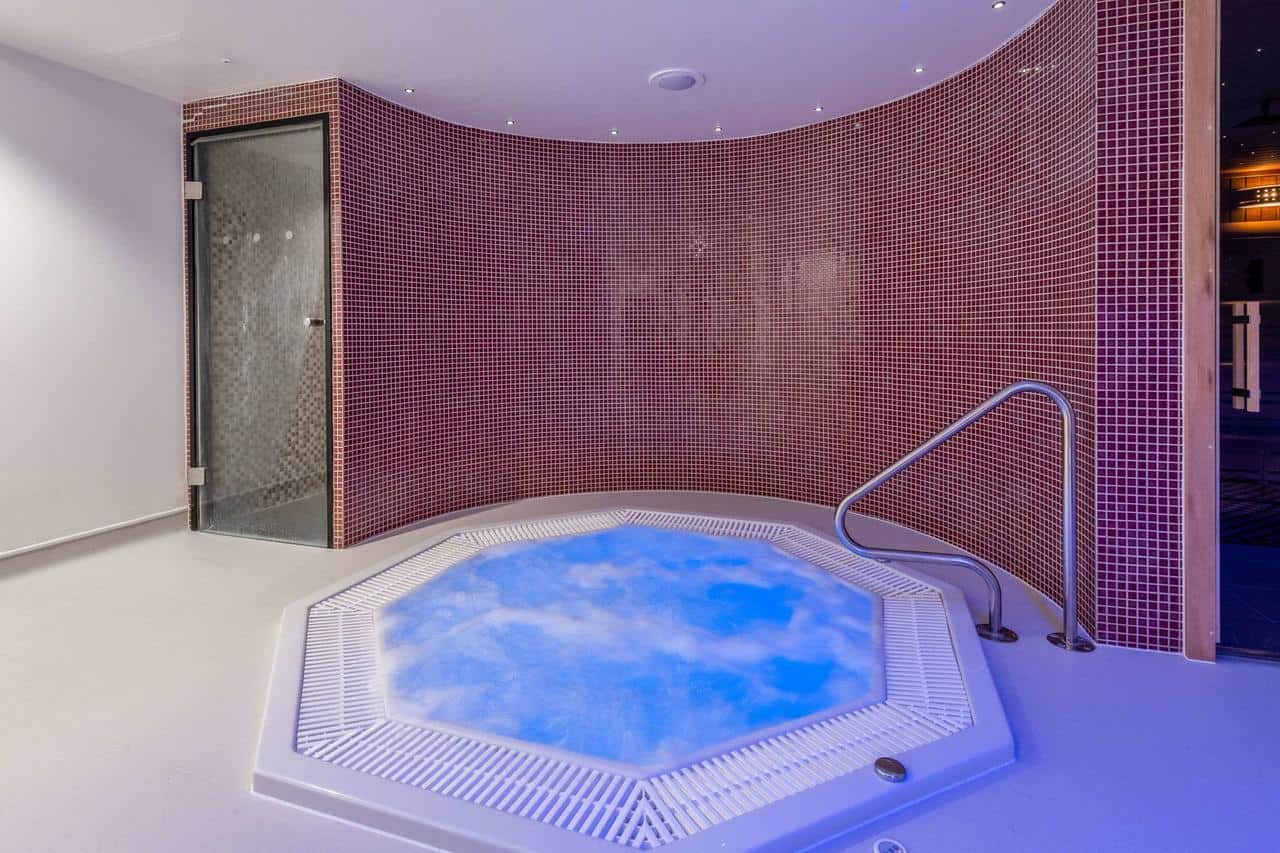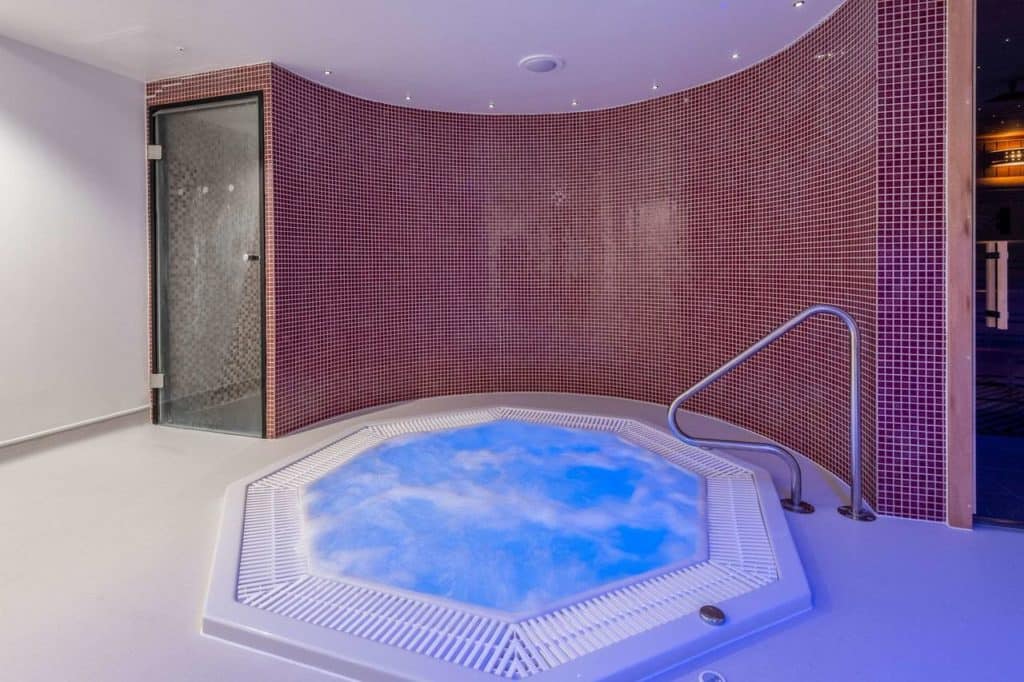 Harte and Garter is a 15-minute drive hotel near Legoland Windsor and an easy reach to Eton College where guide tours are available. It has a quintessentially British charm being right next to the Windsor Castle.
It's a luxurious family-friendly hotel that not only stands out because of its regal design & dark wood furnishings, thick carpets, and cozy fireplaces, it also pampers parents with their jacuzzi, spa, and various treatments. A family room can accommodate up to 4.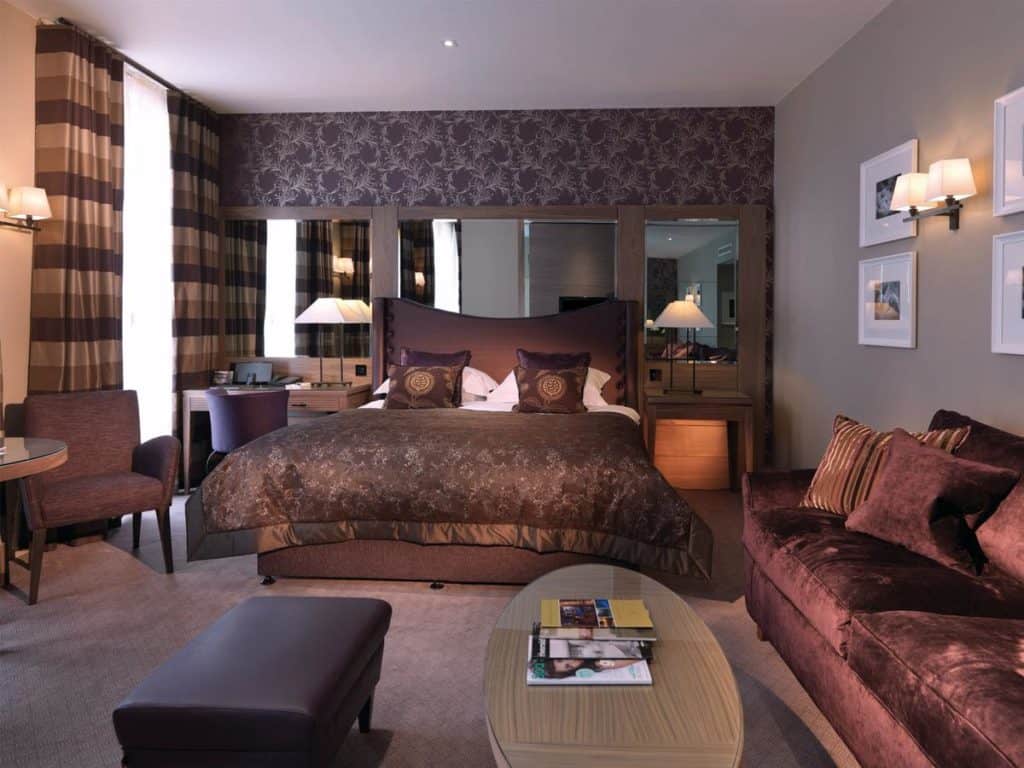 The MacDonald Windsor Hotel is a popular luxury hotel designed by award-winning Amanda Rosa, whose last design, the Aviator Farnborough hotel's atrium has been compared to the Guggenheim Museum in New York.
It is approximately 2.11 miles away from Legoland Windsor, which is about 15 minutes. The rooms in the MacDonald Windsor Hotel are luxurious with Egyptian cotton linen and bathrooms are equipped with monsoon showers and Bluetooth speakers.
There's a children's breakfast available at Caleys, the hotel's Scottish Steakhouse restaurant. The executive room normally sleeps 3, i.e. 2 adults and 1 child but can be brought up to 4 since you can request for an extra bed or cot for free (for children 12 and below). This hotel is pet-friendly. It is one of the few top luxury hotels where pets are allowed to be brought in.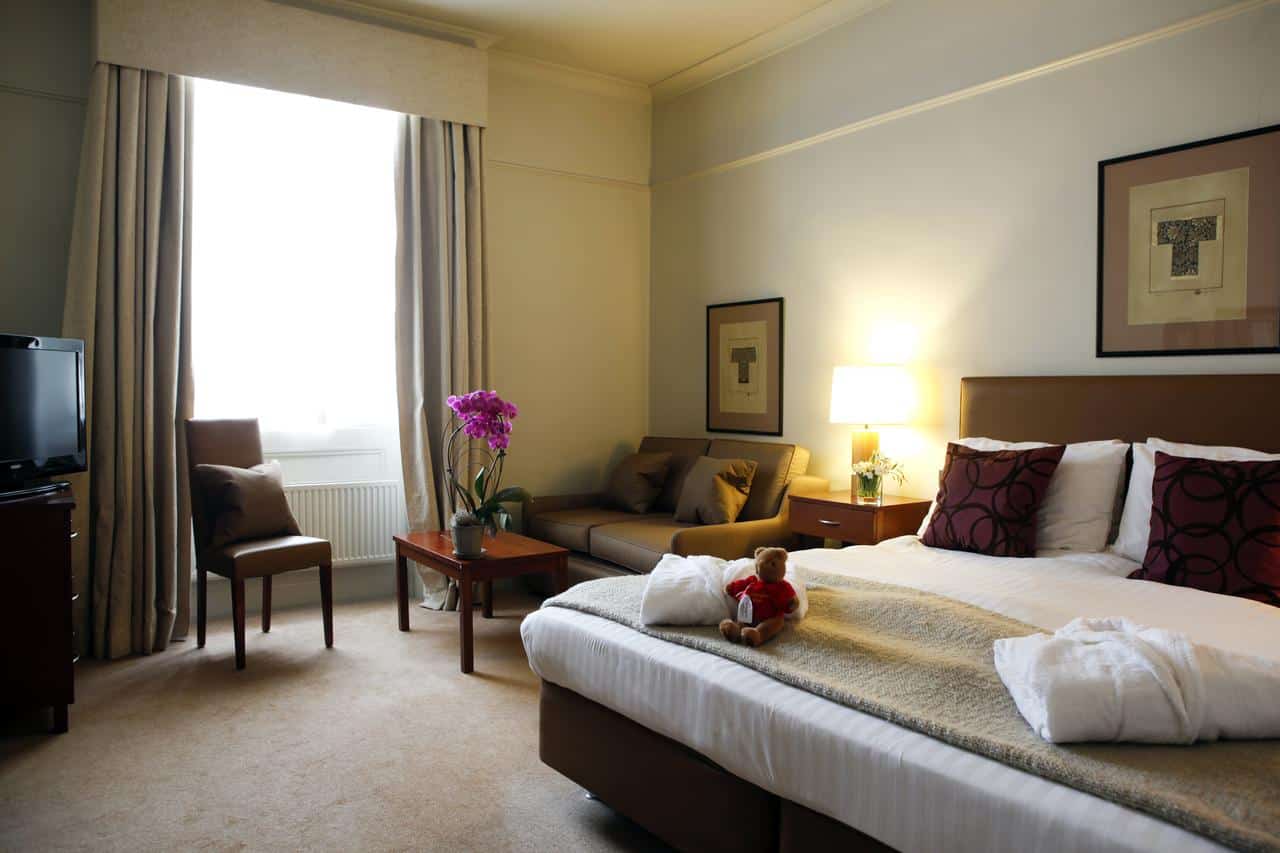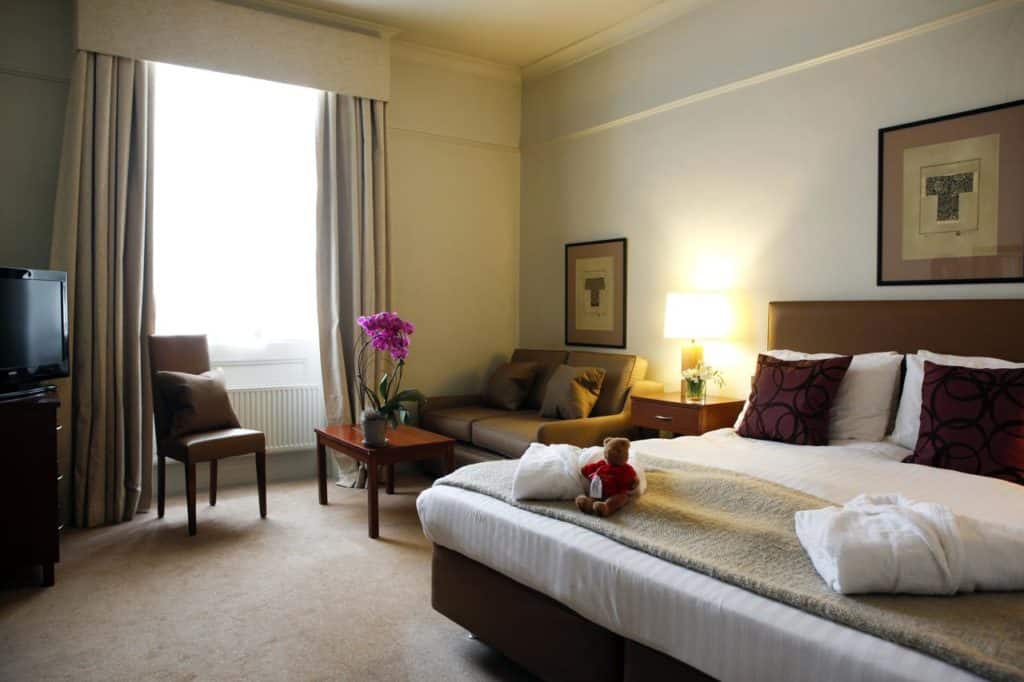 The Christopher Hotel is a family-friendly hotel 16-17 minutes away (2.3 miles) from Legoland Windsor. It's also about 15-minutes away from London Heathrow Airport. It is a refurbished coaching inn that was established in 1711.
Though it has modern and comfortable amenities, the old charm of this historic building is still present. This hotel has family rooms and offers a children's menu on their onsite restaurant. Extra beds and cots are provided for free for children under the age of 10. Family rooms sleep up to 4, 2 adults and 2 kids. Babies can stay in cots for free as well. It is also a pet-friendly hotel.
Holiday Inn Near Legoland Windsor
There are 11 Holiday Inn hotels near Legoland Windsor that you can book as part of a hotel and ticket package.
Premier Inn Near LEGOLAND Windsor
There are 2 Premier Inns near LEGOLAND Windsor.
Unfortunately, you cannot book a hotel and ticket package with LEGOLAND Holidays so you have to book your accommodation and ticket separately.
Use the table below to click through to get the prices and availability for each Premier Inn close to LEGOLAND.
Travelodge Hotels Near Legoland Windsor
Why not try an Airbnb stay near LEGOLAND?
Budget Family Breaks – July 2020
July has some great prices, especially when you see the tickets alone are sold online at £33 a ticket!
Below are the last minute prices for July that are unbelievable value for money!! Prices with (4) based on 2 adults and 2 kids, (3) based on 2 adults and 1 child
£127(4) or £112 (3) Holiday Inn Reading South – July 24/26
£128(4) or £113 (3) Holiday Inn Farnborough – July 23/24/26/28/30/31
£131(4) or £114(3) Mercure London Heathrow – July 23/25/26/27/28/29/30/31
£131(4) or £114(3) DoubleTree by Hilton – July 26
£131(4) or £114(3) Holiday Inn Express T5 – July 23/25/26/27/28/29/30/31
£137(4) or £122(3) Premier Inn Heathrow – July 31
£138(4) or £123(3) Mercure Staines-Upon-Thames – July 20/21/22/ 23/25/26/27/28/29/30/31
Working out
(4) based on 2 adults and 2 kids, (3) based on 2 adults and 1 child
Our prices above
Self package
£33pp with the online saver – 2 adults and 2 kids = £132 for 4 x 1 day entrance into LEGOLAND Windsor Resort
Please note this was for 2019 – we will update this with 2020 prices.
Experience a host of festive fun, including Elves' Magic Show, LEGO building activities and more! Jump aboard the Brickmas Express or take a winter stroll down to Miniland to start the day, can you spot Father Christmas delivering the mini presents to all the minilanders? Follow the Christmas trees to the Christmas Kingdom where the ultimate LEGO fun awaits…
Click here for Santa Sleepover deal
Little helpers will be needed to build LEGO gifts to take home and write letters to Father Christmas — plus, your favourite LEGO characters will be taking part to spread festive cheer! Don't forget to meet Father Christmas in his magical grotto!
From £300 for a family of 4 staying at the LEGOLAND Resort Hotel or from £340 family of 4 staying at the LEGOLAND Castle Hotel.
Includes;
Overnight stay in a LEGO themed room
Meet Father Christmas and receive an early Xmas present!
Another LEGO Gift in your room
2 days entrance in the Park on selected rides
Mrs Christmas' Toy Shop – Narrated interactive build show
Elves Workshop – builds, letters to Father Christamas and more!
Evening Festive entertainment
Access to the LEGO themed splash pool
Delicious breakfast in the morning
And much more!!!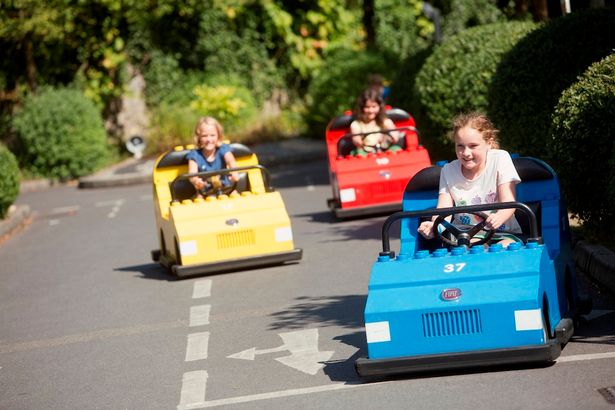 Legoland Holidays Package Current Offer 2 – £99
Enjoy over 55 rides and attractions at LEGOLAND® Windsor Resort and an overnight stay at a nearby partner hotel for just £99 per family of 4.
Amazing Savings!! Buy tickets for a family of 4 in advance online costs £116 or £188 if you purchased them on the day. So pay less and get your hotel stay included!
Hurry, when it's gone it's gone!! Limited availability
Lead price of £99 per family is based on 2 adults and 2 children aged 12 years or under, sharing a standard family room at Days Inn Fleet (breakfast not included) on Friday or Sunday nights throughout October.
Your package includes:
1-day entry into LEGOLAND® Windsor Resort per person
An overnight stay at Days Inn Fleet
FREE parking at the hotel
FREE WiFi at the hotel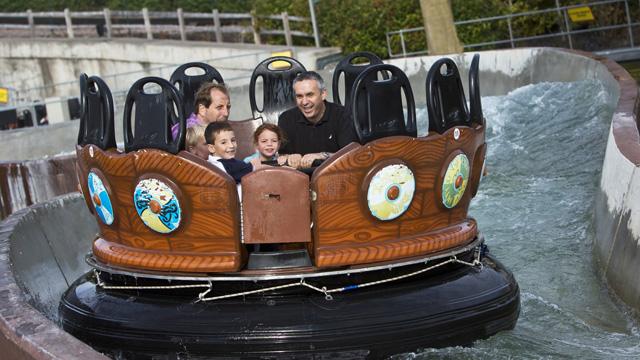 Legoland Holidays Package Current Offer 3
Legoland 2020 Short Breaks EXCLUSIVE
SAVE Up to £72* per family when you book a short break at Legoland. Get your second day into the Theme Park free! Plus get a FREE 2 day Digi Pass when you stay in an onsite Hotel.
Book this Exclusive Offer here https://bit.ly/2PymVUK
Package includes:
A Resort or nearby hotel stay
2nd Day FREE Theme Park tickets
A delicious breakfast in the morning
Guests staying in Resort accommodation also receive:
Fully themed room plus FREE LEGO®️ gift
A Free 2 day Digi Pass
Ride Priority Access
FREE parking and WiFi
Hotel entertainment and character meets
Offsite lead prices – All based on 2 adults and 2 children
Days Inn Fleet – inc breakfast
£127 Mar 13/20/27 Apr 26 May 1/15 1/15Jun 5/12/19/26
£139 Mar 15/22/29 Apr 24 May 3/8/10/17 Jun 7/14/21/28 Jul 5/12/19 Sep 2/3/4/13/20/27
School Holidays £152 Apr 6-9 May 22/26-28 Jul 24-31 Aug 1-5
Holiday Inn Express T5 – Inc breakfast & kids under 12 eat free at the hotel
£158 Mar 13/20/27 Apr 24 May 1/15 Jun 5/12/19/26 Jul 13/20/27 Sep 2/3/4/11/18/25
School Holidays £170 Apr 6-9 May 26-28 July 24-31 Aug 1-7
Mercure London Heathrow – Inc breakfast & kids under 12 eat free at the hotel
£167 Mar 13/20/27 Apr 24 May 1/15 Jun 5/9/12/19/26 Jul 10/17 Sep 11/18/25
Or stay on resort at the LEGOLAND Resort Hotel with all the additional benefits mentioned above. Based on 2 adults and 2 children
£213 Mar 23rd Apr 21/22/27/30 May 4/14 Sept 7/10/14/17/21/24/28 Oct 1/5/8
£225 Apr 20/26 Sep 13/20/27 Oct 4/11
£243 Jun 2-4, 8-11, 15-18, 22-25
Offer Ends Midnight 17.11.19
Book this Exclusive Offer here https://bit.ly/2PymVUK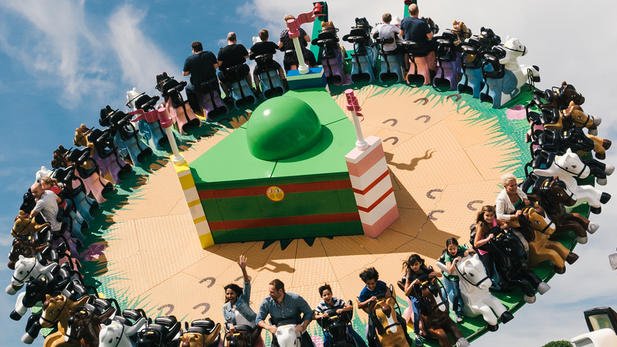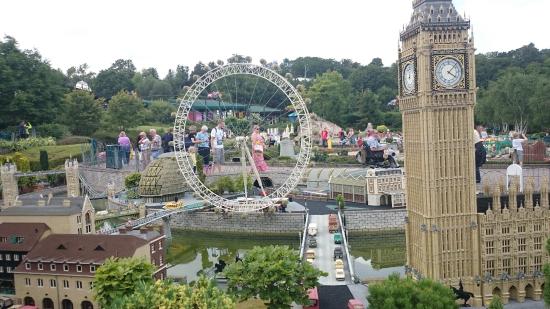 [iframe width="854″ height="480″ src="https://www.youtube.com/embed/BiZI67f2QWc" frameborder="0″ allowfullscreen]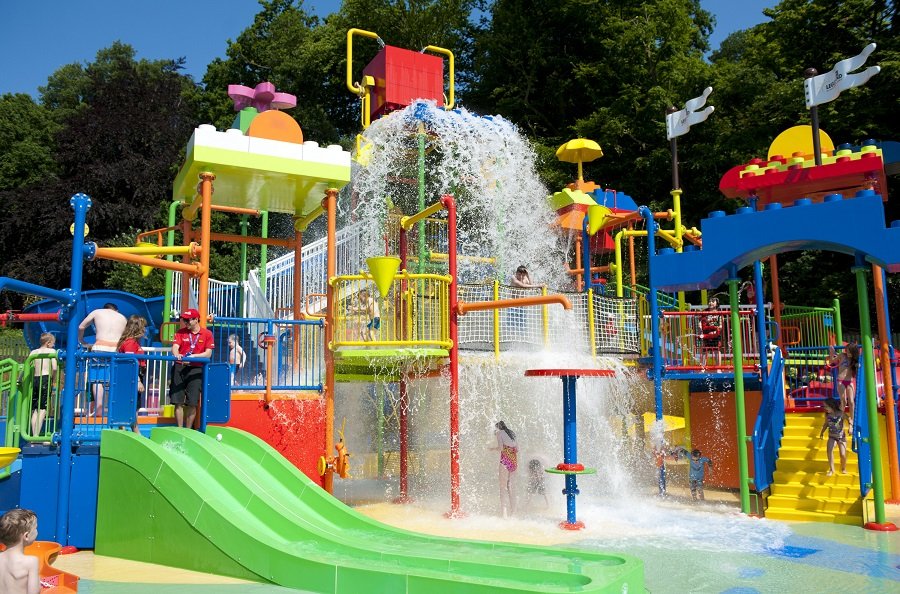 About Legoland
"Awesome awaits" is the slogan of Legoland, and that proves true for most of the 2 million visitors that pass through its gates each year.
Widely regarded as an attraction for families with younger children (under 10s) the theme park invites you to: "Fly through the treetops to escape fearsome dragons, ride the thrilling rapids with a Viking Fleet, join LEGO® divers on a magical underwater adventure on Atlantis Submarine Voyage or enjoy the UK's only LEGO® Star Wars™ Miniland Model Display."
If you've got young kids, Legoland Windsor is definitely somewhere you'll want to visit before they grow up. But plan ahead to avoid the big queues and heaving crowds that have spoilt the fun for some families.
Legoland Opening Times
Legoland is generally open from 10am to 5pm every day but sometimes stays open later from 6pm/7pm on selected dates throughout the year. For more accurate details on daily opening times throughout the year click here >>
Where is Legoland UK?
LEGOLAND Windsor Resort is located in Windsor, Berkshire in England.
It's just outside Windsor on the site of the old Windsor Safari Park, close to the M4 and M25. If you're going by rail there's a regular 30 minute bus shuttle from Windsor train station. There's also a coach out of London Victoria.
Legoland Postcode
Legoland Windsor Resort is on the B3022 Windsor/Ascot road just two miles from Windsor town centre.
Winkfield Road
Windsor
Berkshire
SL4 4AY
Legoland Parking
You will need to purchase a parking ticket for £7 per day (£6 if pre-booked online). This can be purchased from the Ticket Booths at any time during your day, online prior to your visit or at the car park machine on site.
Legoland Prices
General admission prices are as follows;-
Online tickets from £29pp
Gate price tickets from £47pp
Children under 3 visit for free.
For further details on Legoland prices, click here >>
Whenever you decide to visit, whether it's for a special occasion or just a family getaway, we're sure you'll create some wonderful memories to cherish for years to come 🙂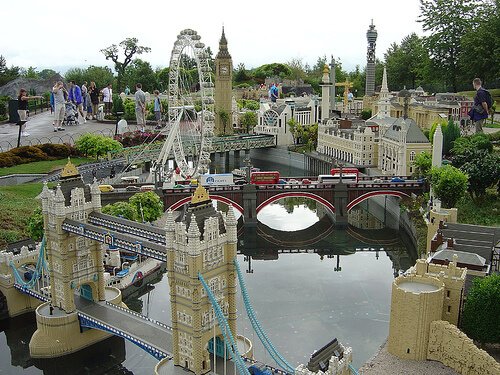 Legoland Windsor Rides and Highlights
55 interactive rides and attractions
The Beginning – a hill train down to the rest of the park
Land Of The Vikings – water rapids ride
Knights Kingdom – dragon rollercoaster for big and little kids
Pirate Shores – Jolly Roger pirate boat ride and enchanted forest
Heartlake City – new LEGO® friends area which includes a stage show
LEGO® City – drive a model car and get your license
DUPLO Valley – water play, train ride and other amusements for toddlers
Imagination Centre – interactive creative area which includes 4D cinema experience
Miniland – sprawling miniature village where everything is made of LEGO®
Review
Although Legoland Windsor advertises as suitable for 2-12s, most visitors say the park is best for under 10s. Its few thrill rides would be considered tame by older kids.
People that don't enjoy Legoland usually have two complaints: that it's busy and that it's expensive. But it's not busy all the time. Avoid school holidays and weekends and you can have a stress-free day at the resort. If you can't avoid the busy spells then make sure you buy a Q-bot to reserve your ride times. And the ticket prices are comparable to other theme parks. Where some lose out is by spending lots on pricey food, drink and merchandise once inside – avoid if you can!
Here's our review from Nikki one of our deal hunters at FamilyBreakFinder from her trip on 2016.
Lately I've seen so many fab offers, and money saving tricks for Legoland, I thought it was only fair to take my little girl on her first trip to the magical Windsor resort!
Naturally I went armed with my little cardboard cut-out coupon from my half-eaten pack of Rice Crispies – Buy One Ticket Get One FREE!
… And at £50.40 (adult on-the-gate price), it was well worth it! Our daughter is under 3 so she was free, bonus!
We went with some friend's whose little girl is 5 and she thoroughly loved every second of it, excitedly running from ride to ride!
Surprisingly, there was more than I thought for our little one to enjoy, she loved the train rides, hot air balloon ride and the LEGO Friends live shows!
By far our fave family ride was the 'Atlantis Submarine Voyage' – at first I thought Legoland had gone to a lot of effort putting the pretend submarines in water, just to sit in them and press buttons and watch the flashing lights…. but then, the sides of the submarine illuminated and you could see a whole underwater world beneath you!!
You are then taken on a slow ride around a large aquarium tank – a SEA LIFE centre where many species of sharks, rays and tropical fish swim past Lego models – we were all mesmerised!
[iframe width="560″ height="315″ src="https://www.youtube.com/embed/jwAe76I_mLc" frameborder="0″ allowfullscreen]
Lucky for us the weather was fantastic so we could also enjoy the 'Splash & Play' which we were super impressed with, the kids loved running around under the fountains of water and jumping (with daddy) on the fun water slides!
All in all we had a thoroughly enjoyable (and loooong) family day out – fortunately little one (and me if I'm honest) slept the whole journey home after her fun-filled, action-packed day!
My Top Tips:
Pack a picnic as food stalls are rather pricey and there's plenty of lovely park areas to sit and enjoy your lunch
Always take a mac – we got caught out on a sunny day with a freak heavy down pour!
When you enter the park, take the train ride down to the where the main theme park is… saves you the long slog down the hill
No need to take your pram, you can hire legoland buggies – and they're much more fun for the kids!
What other families have said
"It is brilliant. It was very hot when we went on Saturday and the park got very busy around lunchtime, but by then we had done the rides with the family so could just enjoy the rest of the park. The mini land is amazing and the model railways captivated our three year old grandson. The live shows were good especially the Pirates. Get to the lake area early enough to get a seat on the steps with a good view of the action. Food and drinks are quite dear."
"We are a family of four with a 9yr old and 6yr old . It was a lovely day very hot so the children made use of the splash park. It's an expensive day but so worth it , so much to do and see though so would recommend the fast track passes which we didn't get as you end up queuing half of the day and missing a lot without them."
"Absolutely loved it. It was very busy and we had to queue for some rides but it was worth it. Even the heavy rain didn't spoil it. Heartlake City and Mini Land were my faves. The live pirate show was totally immense. Would go back in a minute."
Legoland Videos
[do_widget id=black-studio-tinymce-27]
[do_widget id=black-studio-tinymce-26]
See Also