On this page, I've handpicked the best treehouse holidays from across the web.
So whether you're looking for the perfect romantic retreat or somewhere the kids will never forget, we have just the thrilling treehouse stay for you.
Treehouse Holidays Devon
Luxury treehouse beautifully furnished and located in a secluded location in North Devon.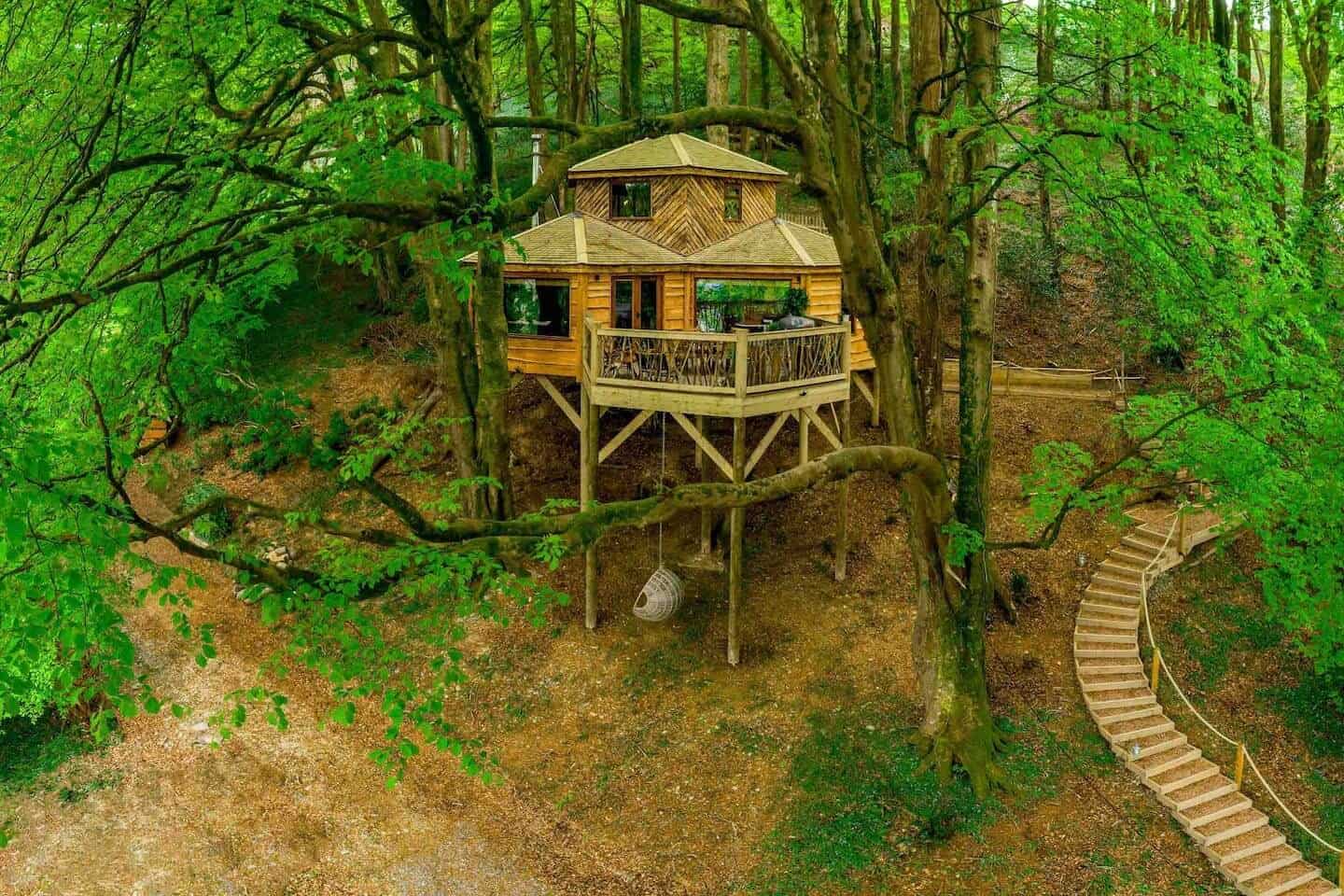 ---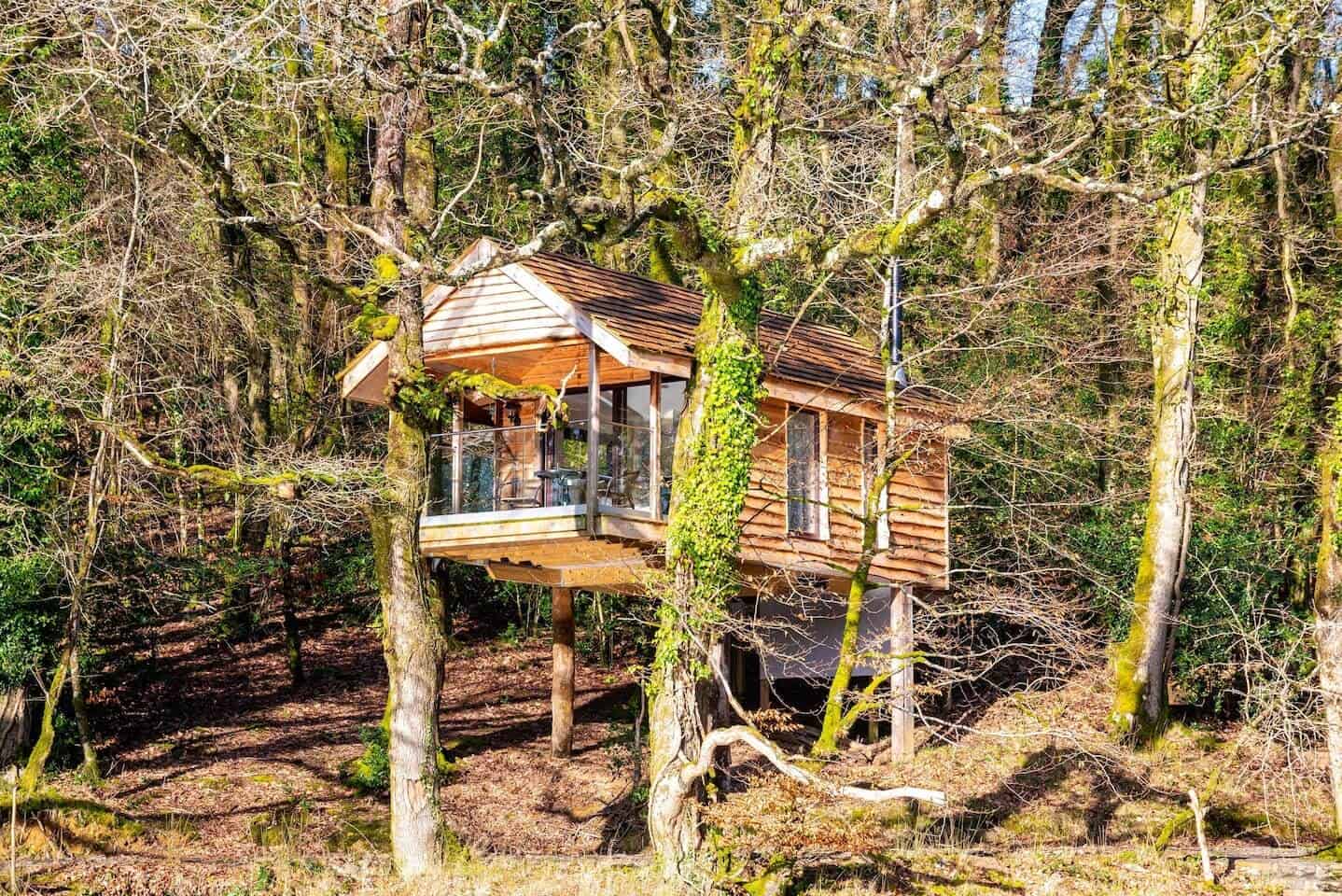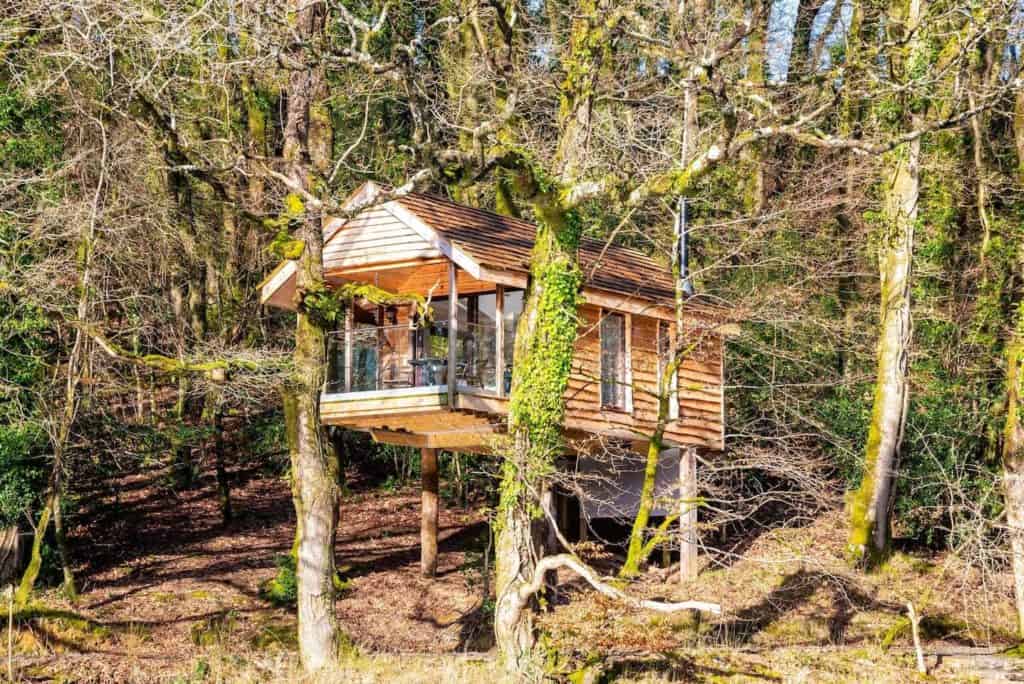 Treehouse Holidays Cornwall
Luxurious Cornwall tree house lodge accessed by an adventure bridge. This one's good for bigger groups and families, sleeps 8.
---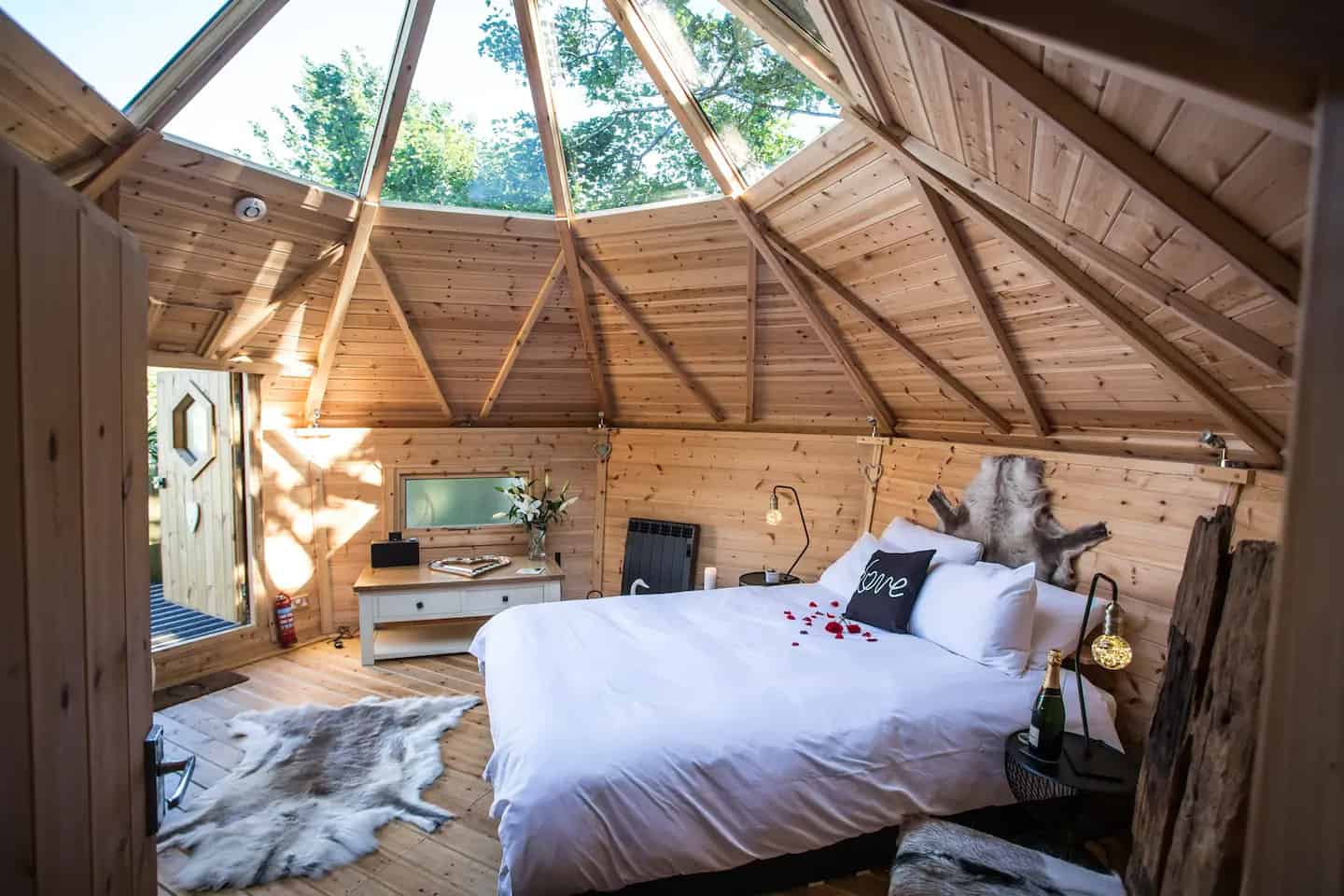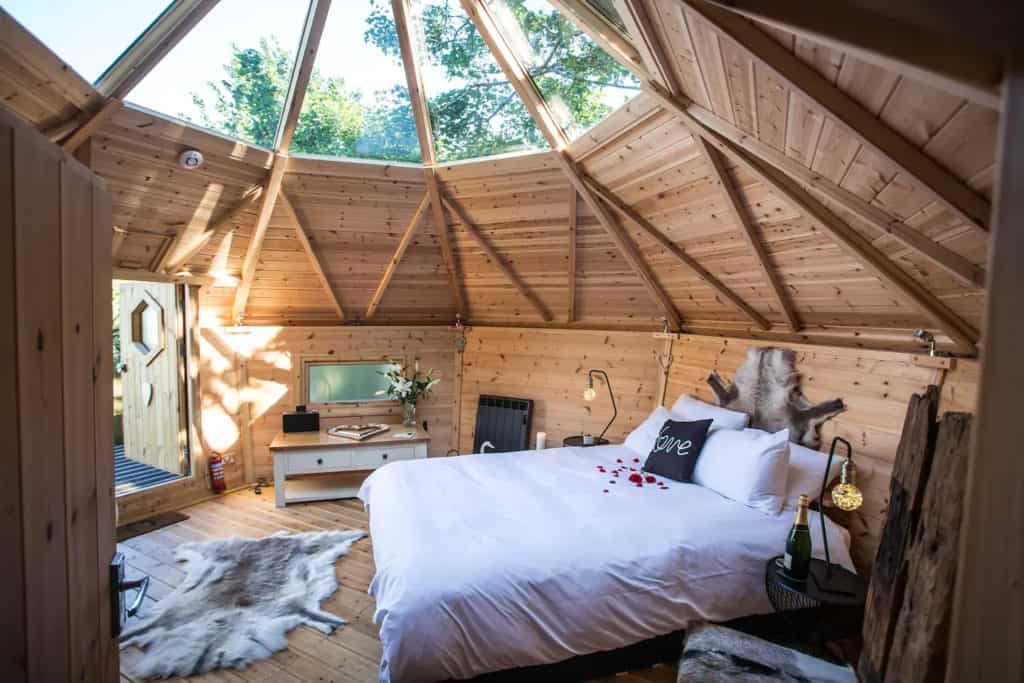 An irresistibly romantic hideaway, complete with log burner, hot tub, and a stargazing roof, secluded amongst the trees in a rural Cornish village.
We had the most amazing stay! The cabin was beautiful and the little touches made it. The BBQ lodge was also so lovely to have in the evening and easy to use! Would definitely recommended booking! Thank you!
---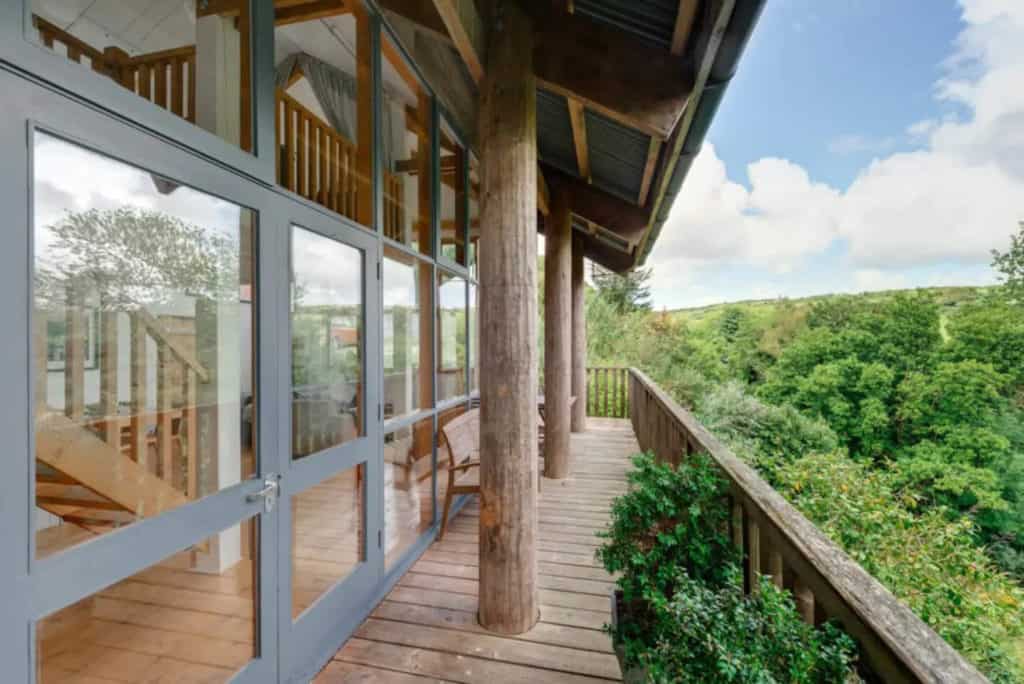 Nothing beats laying in bed watching the stars and listening to the running water of the near by stream. This property is a must.
---
Luxury treehouse nestled 6 metres above the ground with stunning views across the North Cornish Coast.
---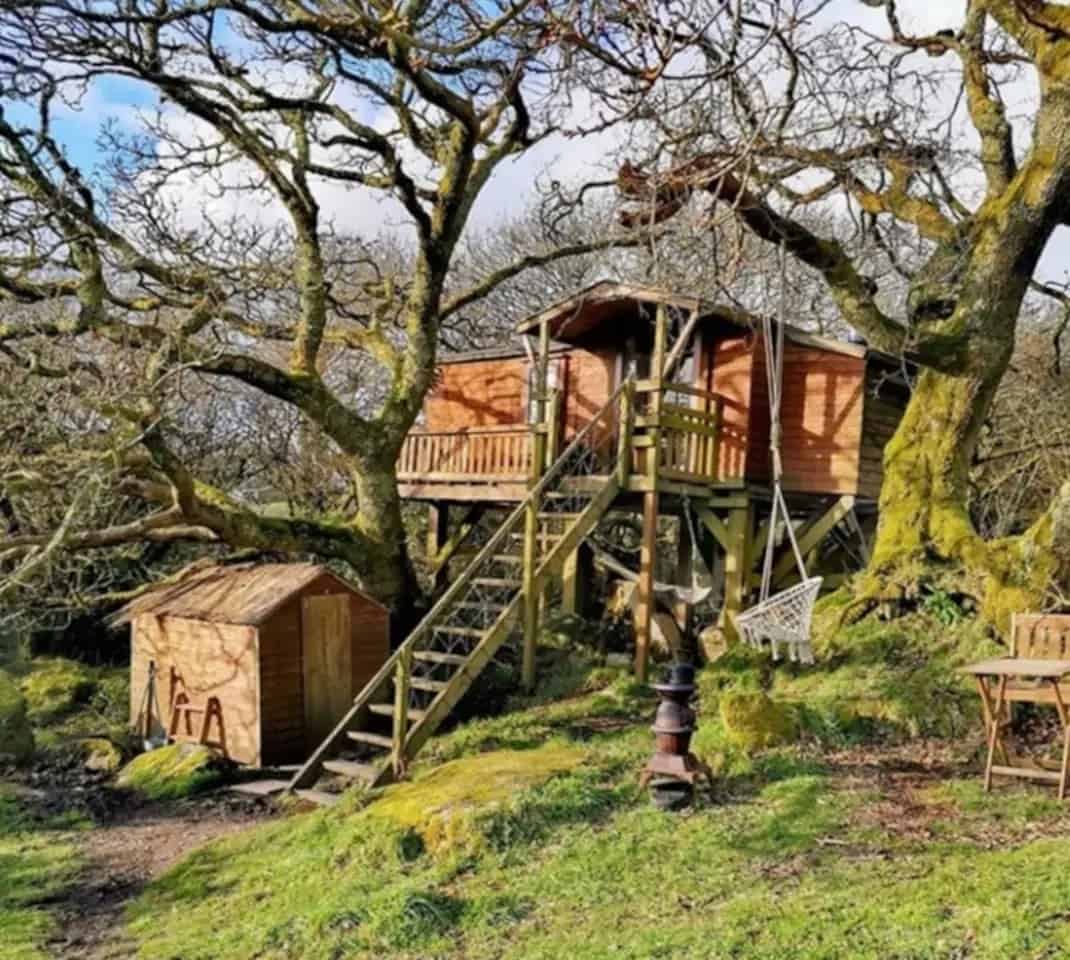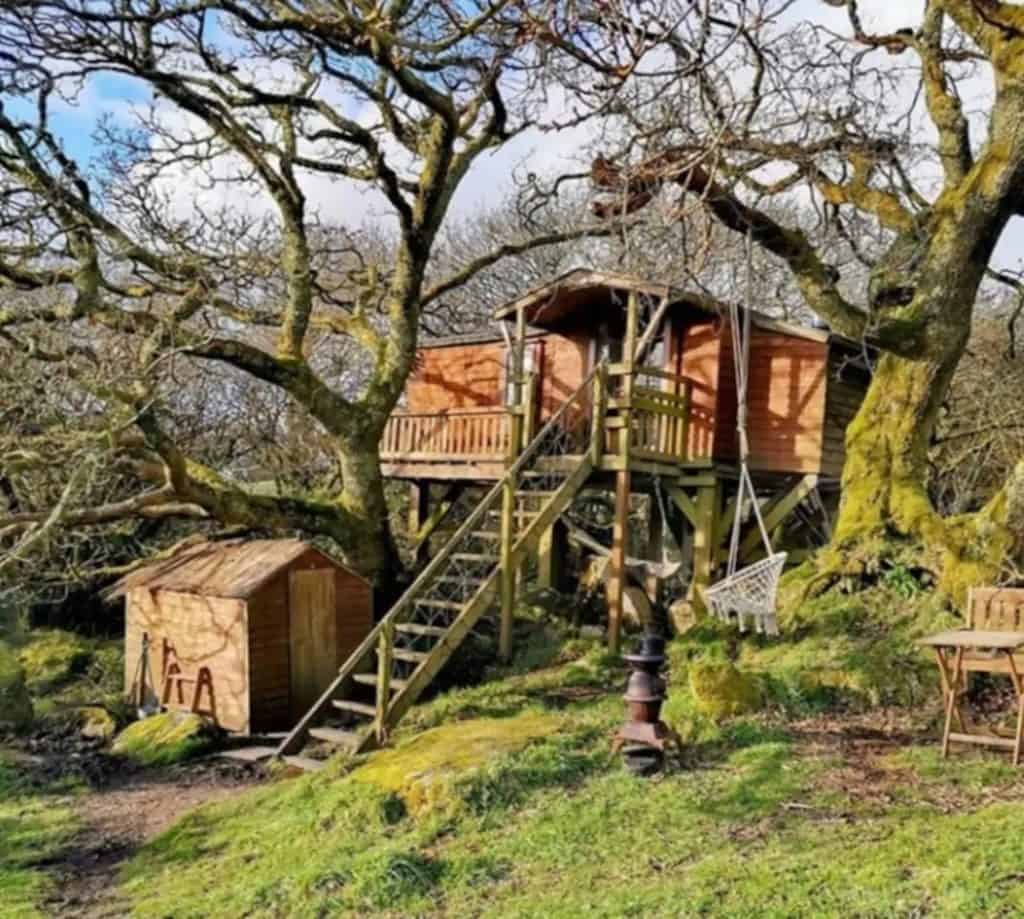 Magnificent treehouse set in a 7 acre field with a cast away boat (in summer), lake/pond and island rope bridges.
A Gin and Rum tasting bar and masterclass is included for adult guests.
---
Treehouse Holidays Yorkshire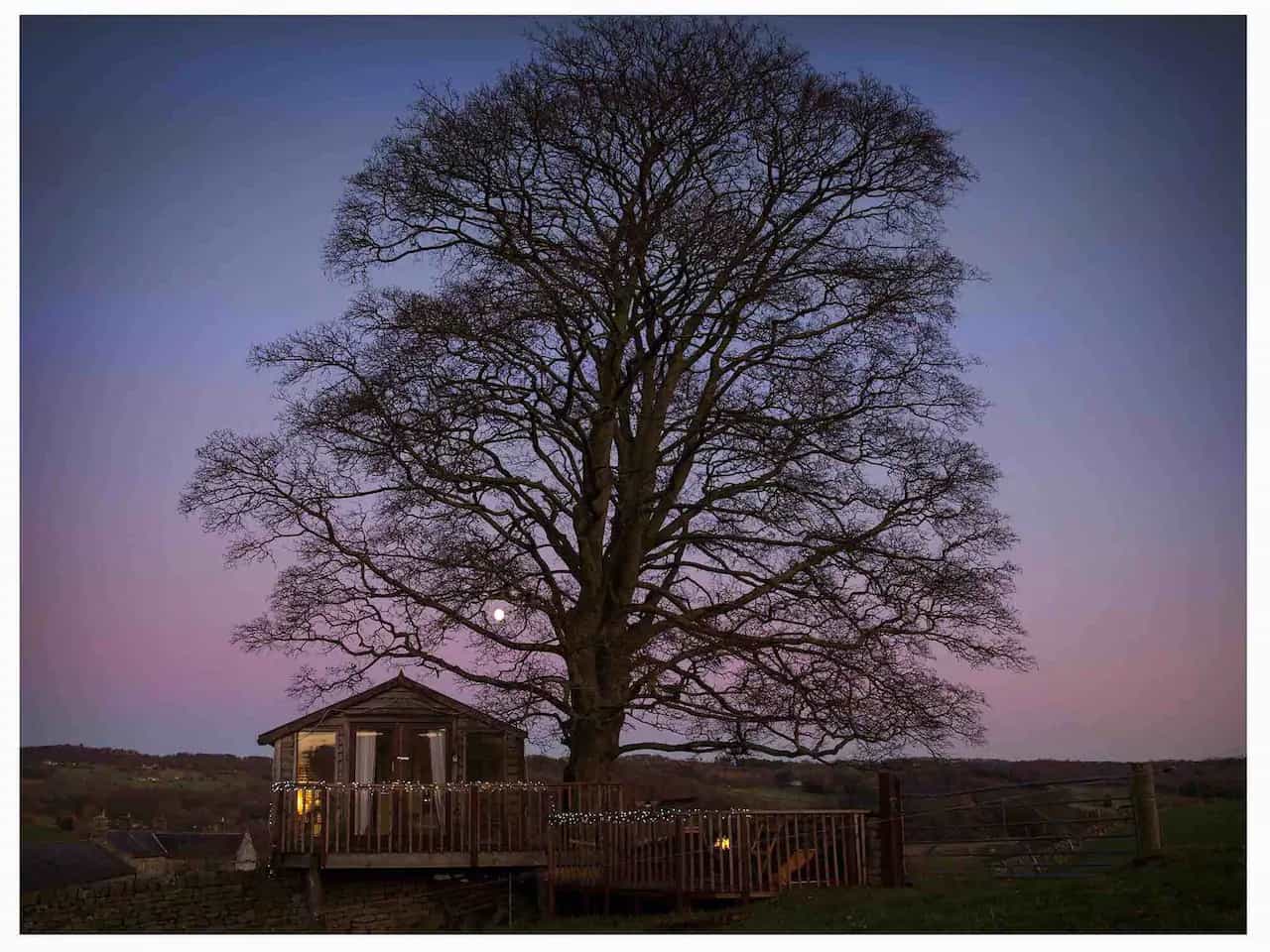 Stunning treehouse with hot tun with amazing views across the Yorkshire Dales.
---
Treehouse Holidays Wales
Hidden away in the glorious Ceredigion countryside, this magical treehouse sits in a secluded location of woodland, flourishing farmland and gently rolling hills. The property is luxuriously furnished throughout, while the large floating balcony offers panoramic views and numerous places to sit and watch the world go by. Sleeps 2, fire pit. Only 7 miles from the beautiful seaside town of Aberystwyth.
Built to blend with nature, using sustainable materials and uses green energy sources. Totally off grid- we did not miss technology at all!
---
You'll find this luxurious treehouse nestled in the heart of the Brecon Beacons and makes for the perfect romantic getaway. So many highlights, handcrafted acacia double bed with cashmere mattress, wood-fired hot tub, a raised terrace accessed by its own swing bridge. Wonderful views set against the backdrop of the mighty Pen y Fan, the highest peak in South Wales.
This place was the most amazing beautiful trip we have been on The hosts were fantastic and so welcoming they had thought of everything there is nothing we could add to improve the standard of hospitality or quality of our experience Cant thank both enough for everything, I have recommended to everyone and cant wait to visit again
---
Magical treehouse near Tenby in Wales sleeps 6. Loads of lovely quirky features including tunnel slide and outdoor shower.
There's a decking and dining area for Al Fresco dining.
We had an amazing family holiday at Florence Springs. We stayed in the Cuckoo's Nest Treehouse. It was magical for the kids (and us). The staff we great, thank you Sam for looking after us!
---
Quirky treehouse with hot tub and slide with beautiful views overlooking the river.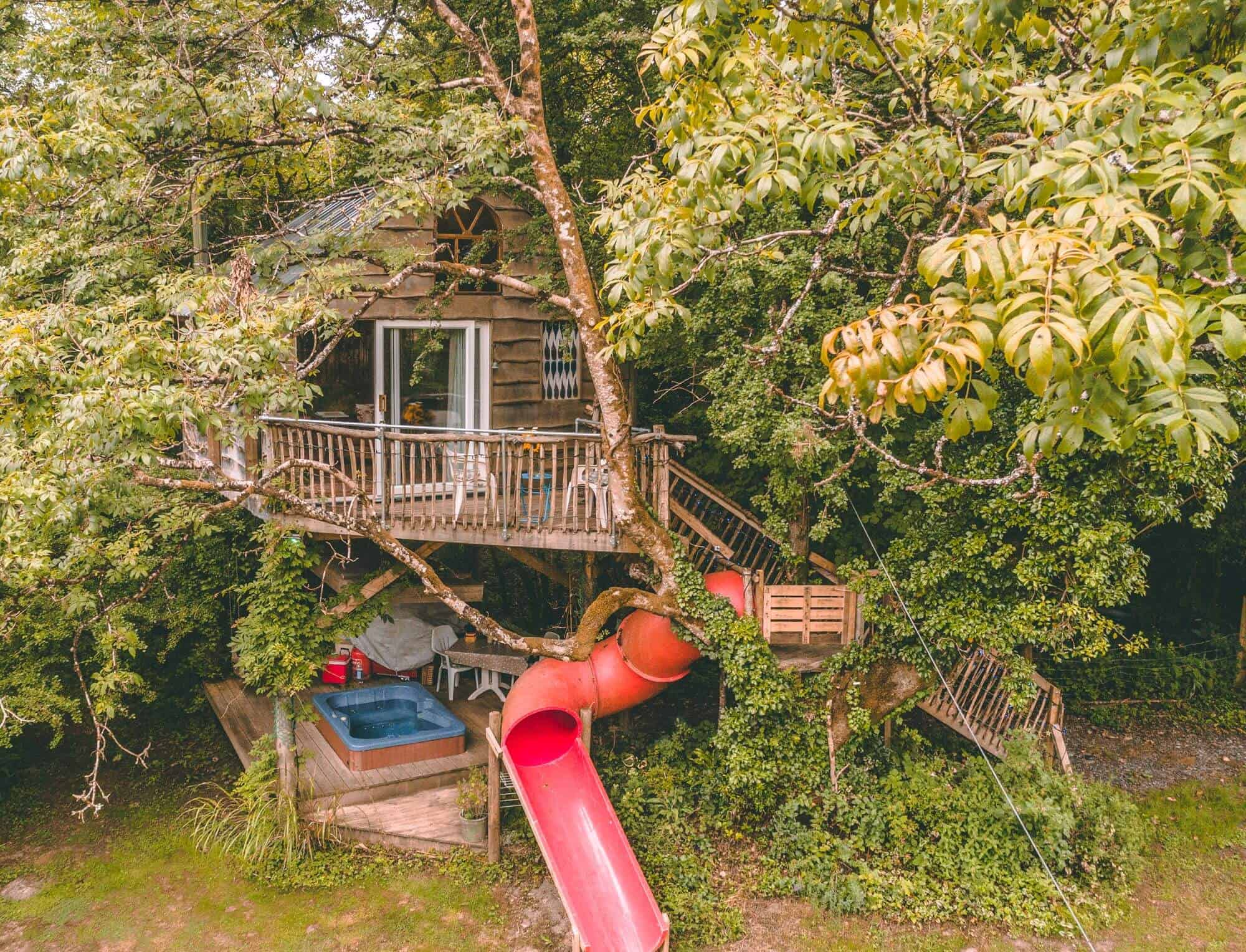 ---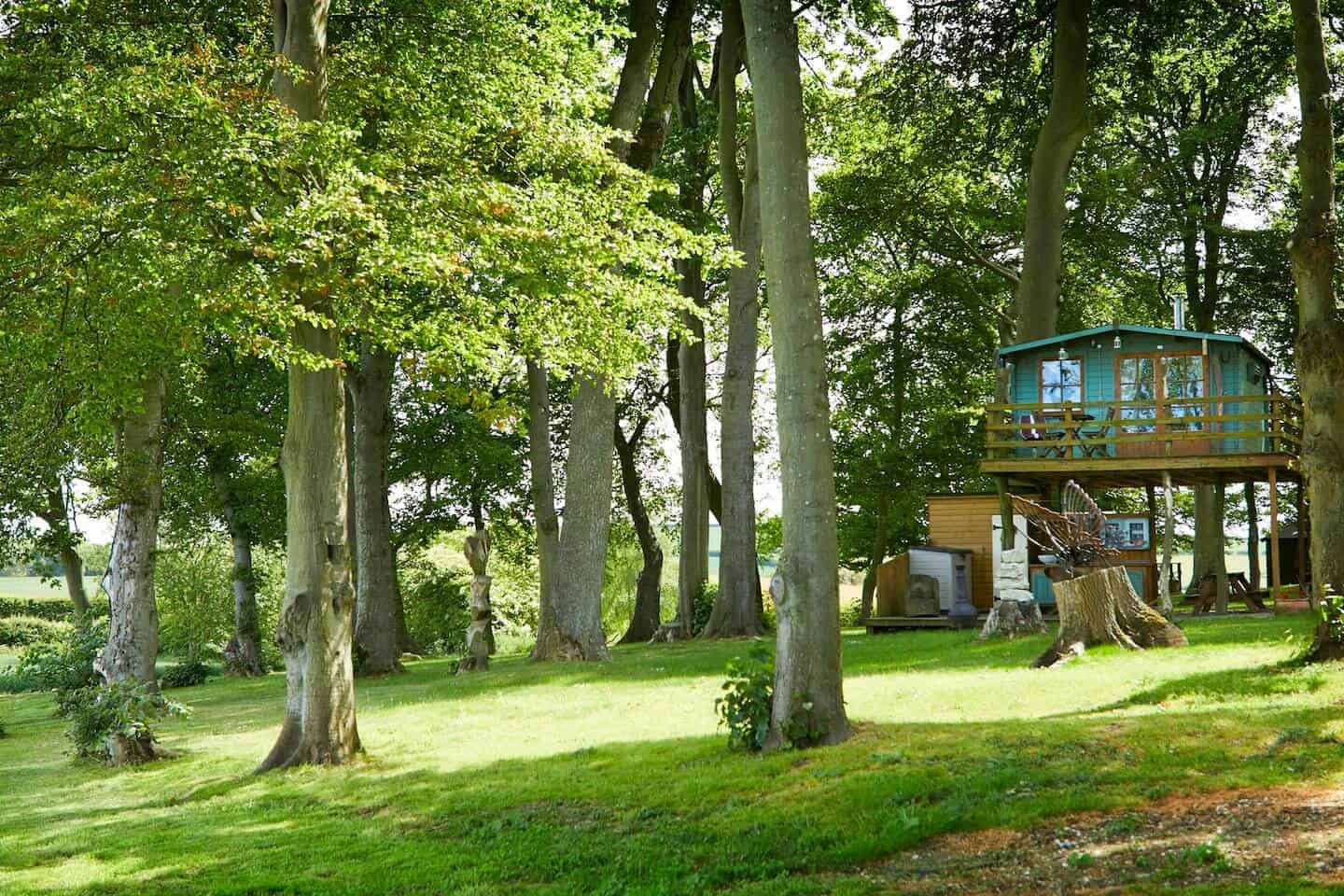 ---
Treehouse Holidays Shropshire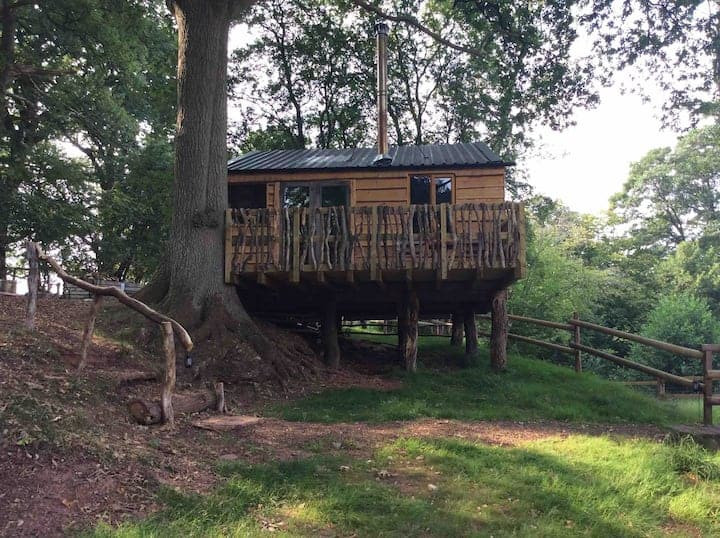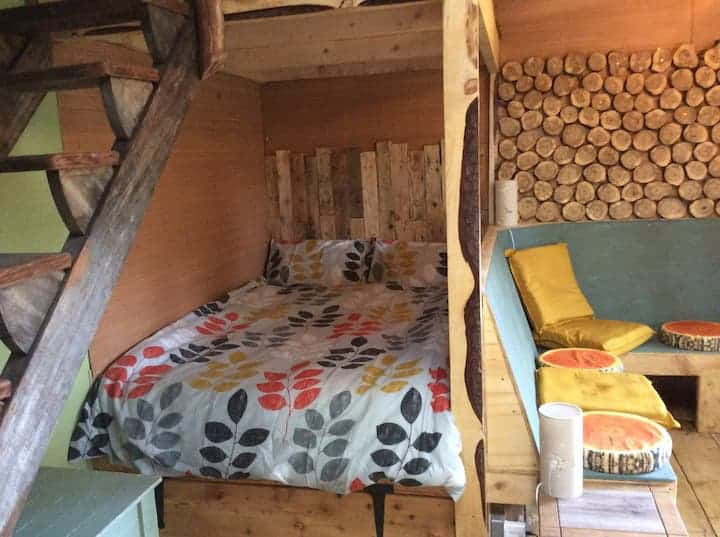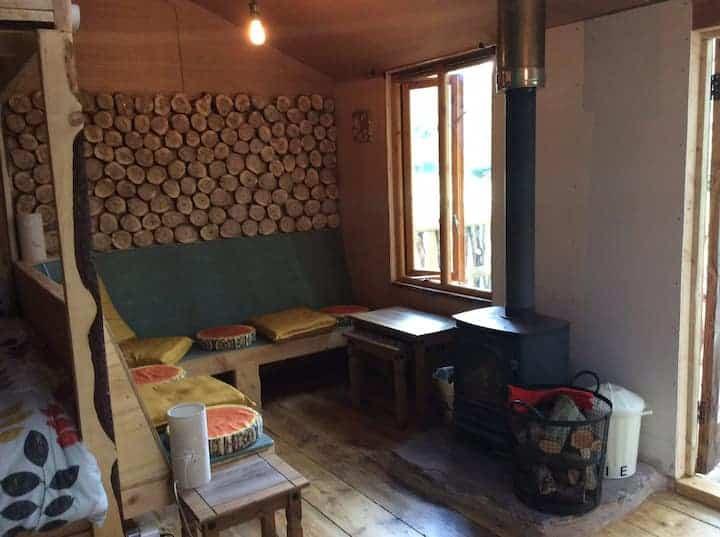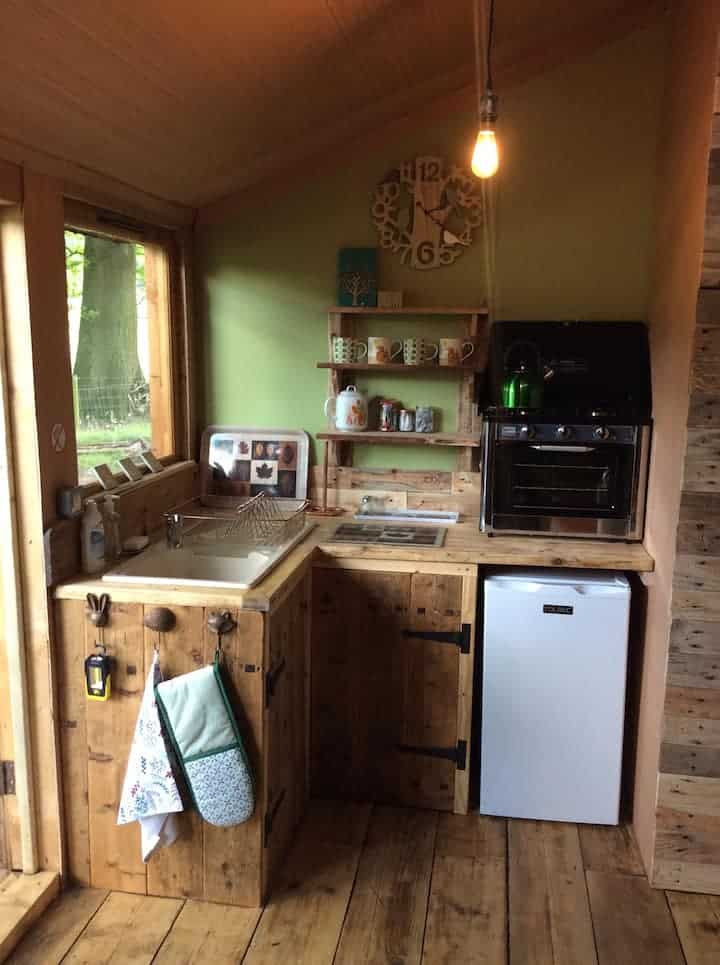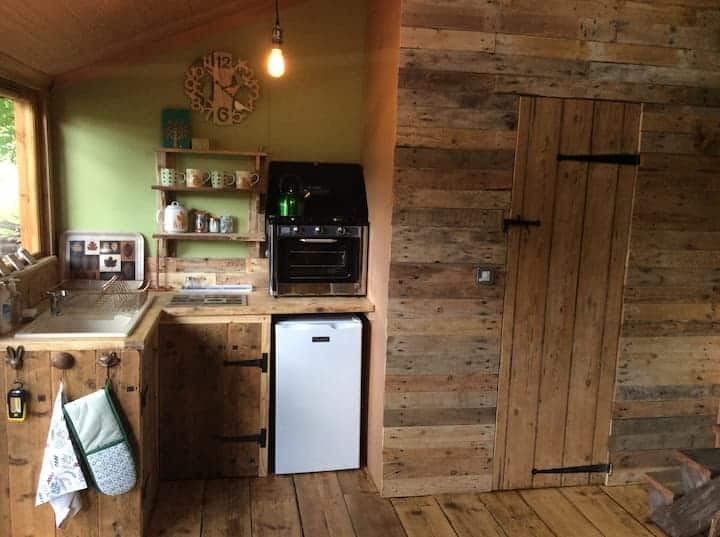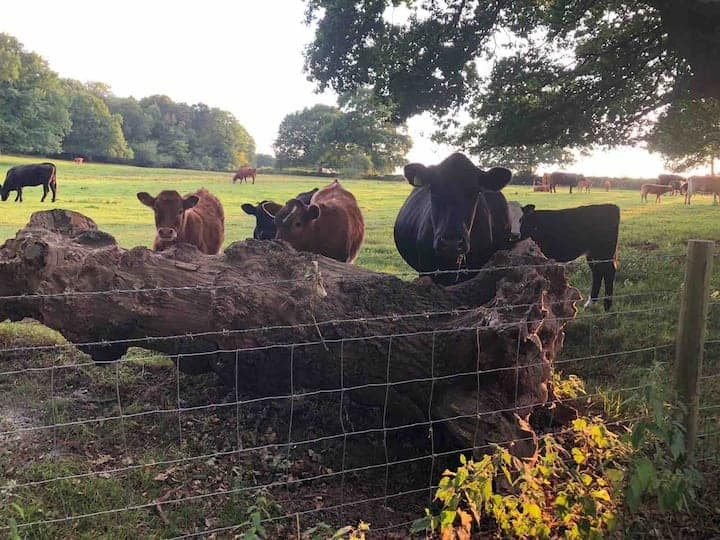 The Treehouse At Derrington3
The Treehouse At Derrington1
The Treehouse At Derrington2
The Treehouse At Derrington4
The Treehouse At Derrington5
The Treehouse At Derrington6
A simple treehouse set among trees with a stream rippling below.
With a double bed and twin beds on a mezzanine floor for the kids, this is a great family treehouse.
The outdoor firepit will provide a spot for toasting marshmallows.
Set on a farm, there are plenty of footpaths to explore.
This treehouse has exceptional 4.97/5 star ratings based on 29 reviews.
Treehouse Holidays Scotland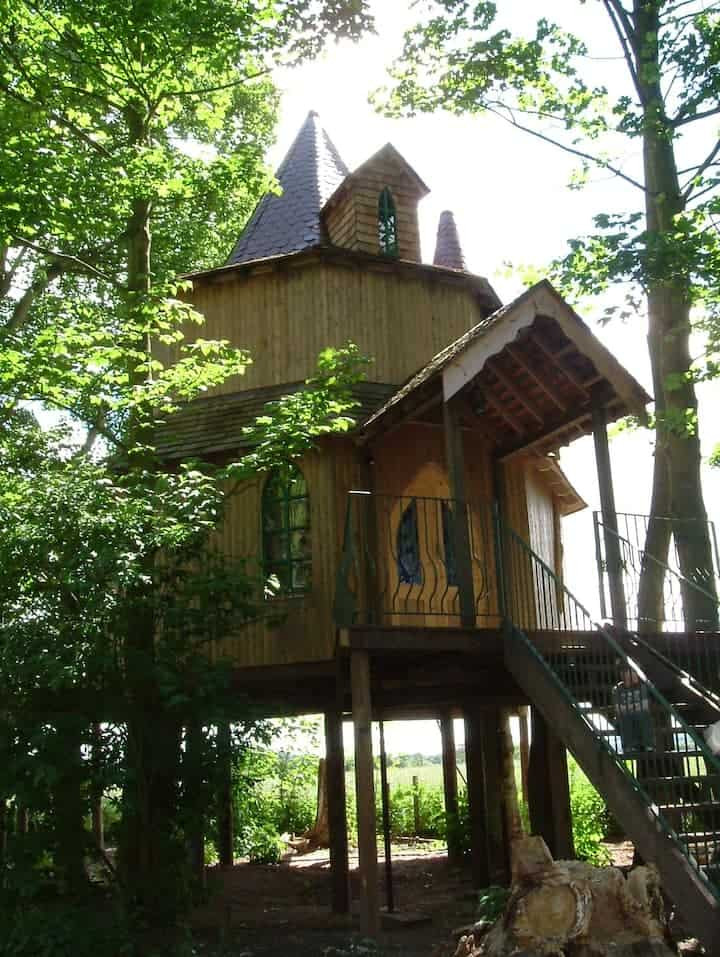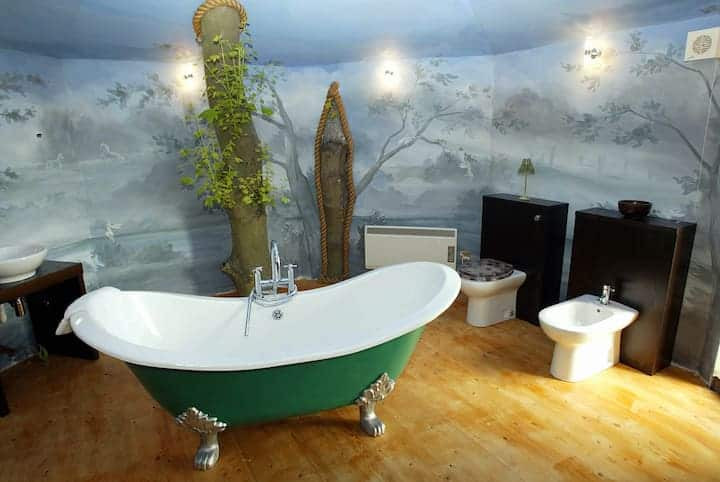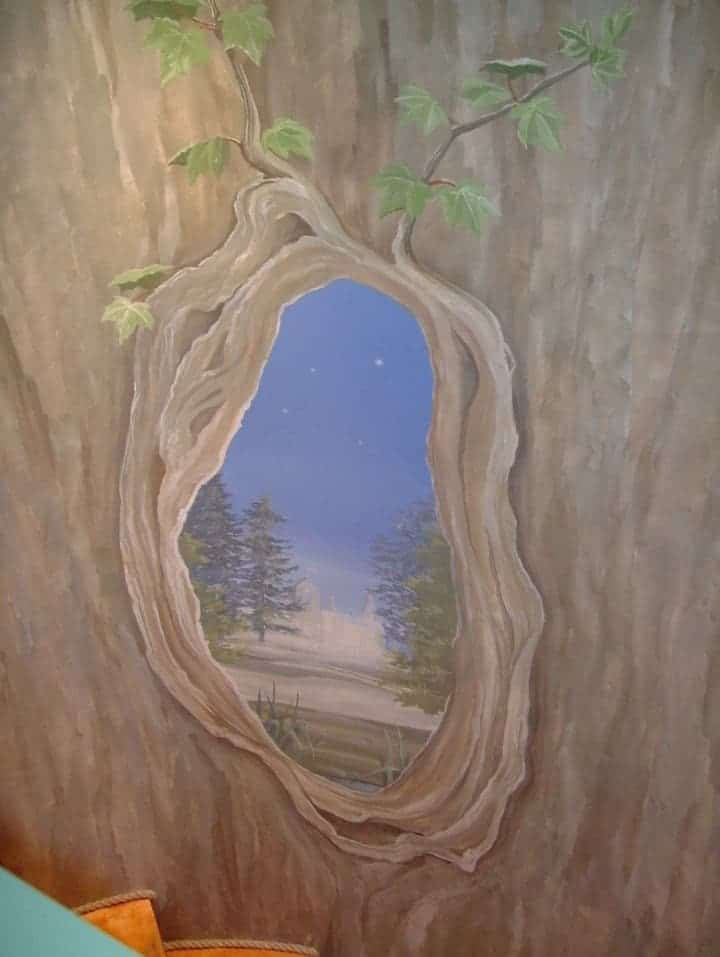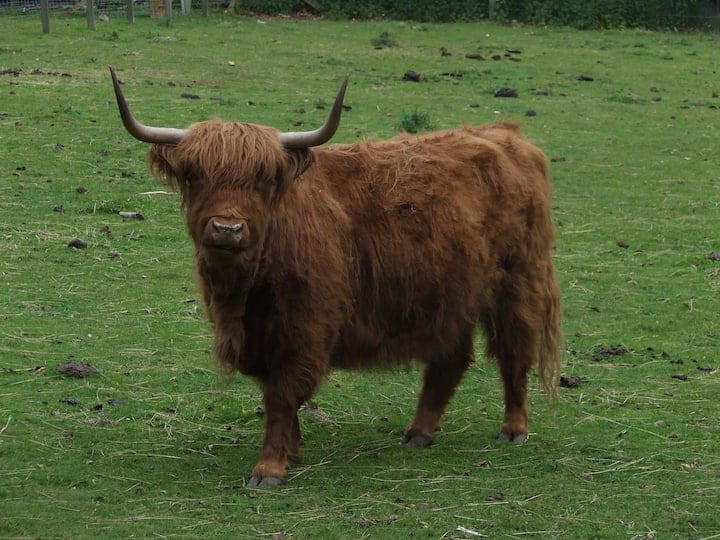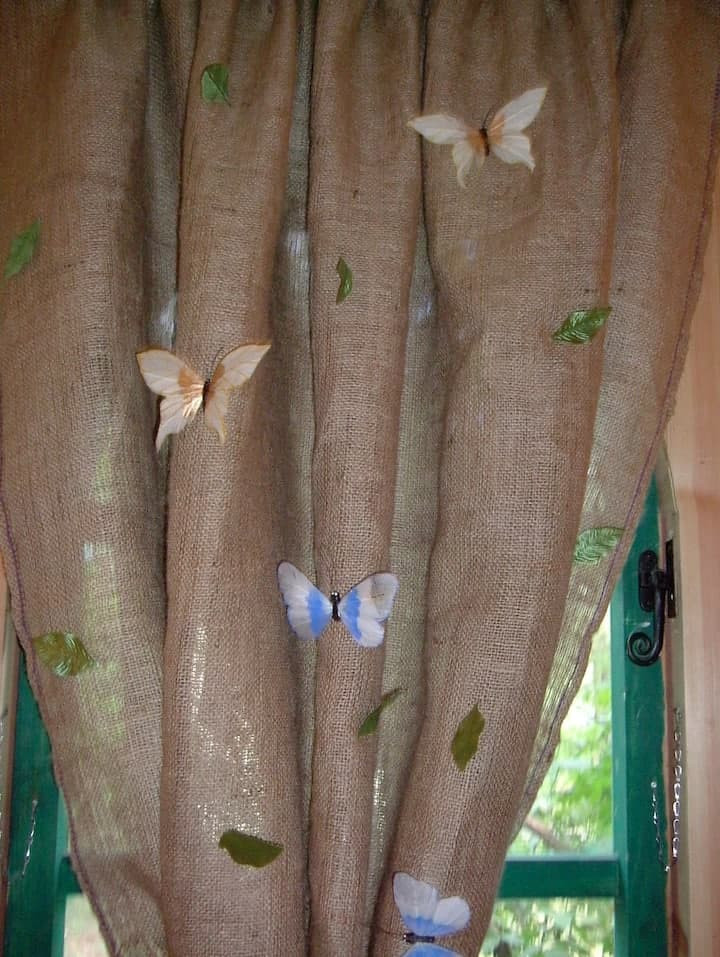 Fairytale Treehouse Scotland5
Fairytale Treehouse Scotland2
Fairytale Treehouse Scotland1
Fairytale Treehouse Scotland4
Fairytale Treehouse Scotland6
Pretty treehouse set in its own private grounds with parking.
There are six living trees growing within and around the treehouse, plus three balconies on which to enjoy the outdoor space.
With 2 floors there is plenty of space for a couple to enjoy a quirky break away and be at one with nature.
This treehouse has excellent 4.91/5 star ratings based on 55 reviews.
Nestled amongst the pines this Scandinavian inspired cabin is only 1 hour drive from Edinburgh or Glasgow. Luxuriously furnished with contemporary styling. Family friendly, sleeps 4.
---
Stunning, private two person built into a tree overlooking a beautiful garden. Woodburning stove, bbq area, atmospheric lighting. Most treehouses you have to book for at least two nights, this one does have the benefit of only need to book it for one night. The treehouse is located 45 minutes from Glasgow.
---
Treecreeper is a luxury treehouse nestled amongst the enchanting woodlands of Lanrick estate, Perthshire. Lots of quirky features with upcycled furniture, exposed copper piping and walls clad with old front doors. Views across stunning woodland offer the most romantic getaway. Stunning treetop terrace featuring an outdoor copper bath to lie back in under the stars.
---
Treehouse Holidays Dorset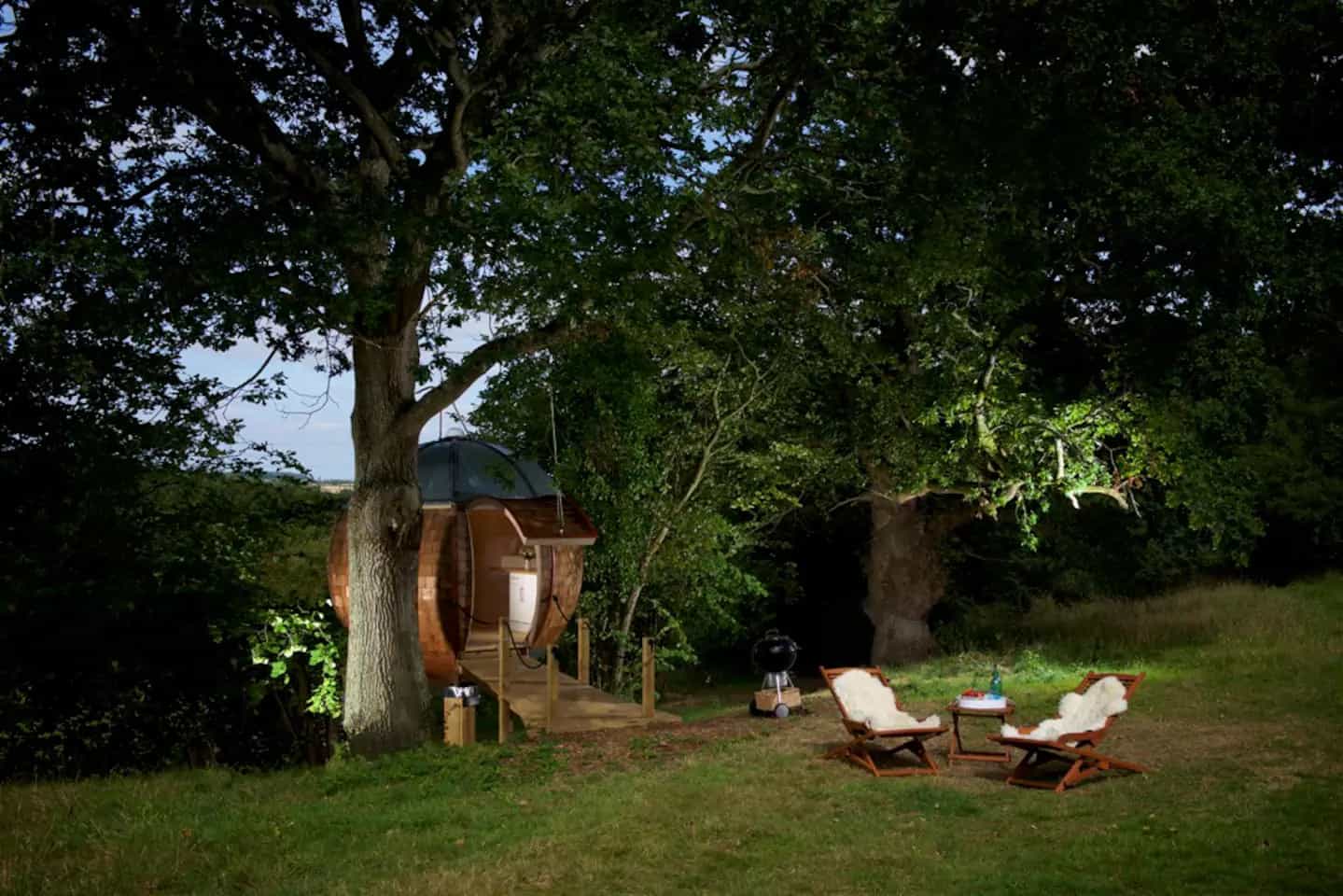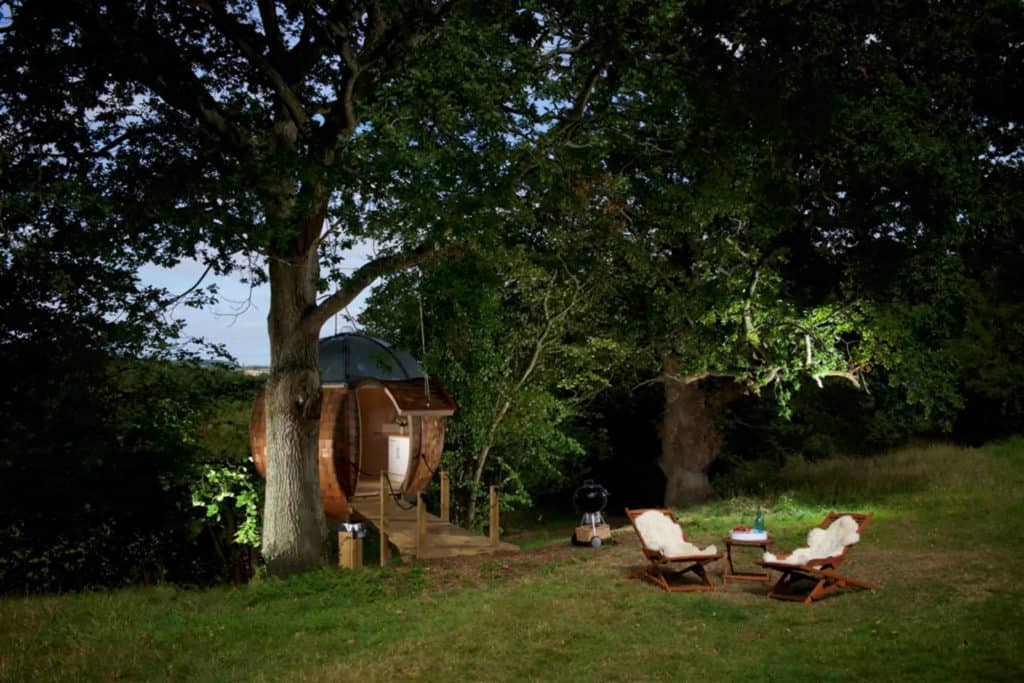 A truly amazing floating tree house set in a spectacular private location in beautiful Dorset countryside.
The treehouse is perfect, beautiful location with loads of space around it, so you do feel completely relaxed. The facilities are excellent, the treehouse has everything you need for a relaxing time away from everything. Excellent fire pit, bbq and seating area all to yourself outside the treehouse. The shower facilities are fantastic. Definitely book the treehouse if you can!
---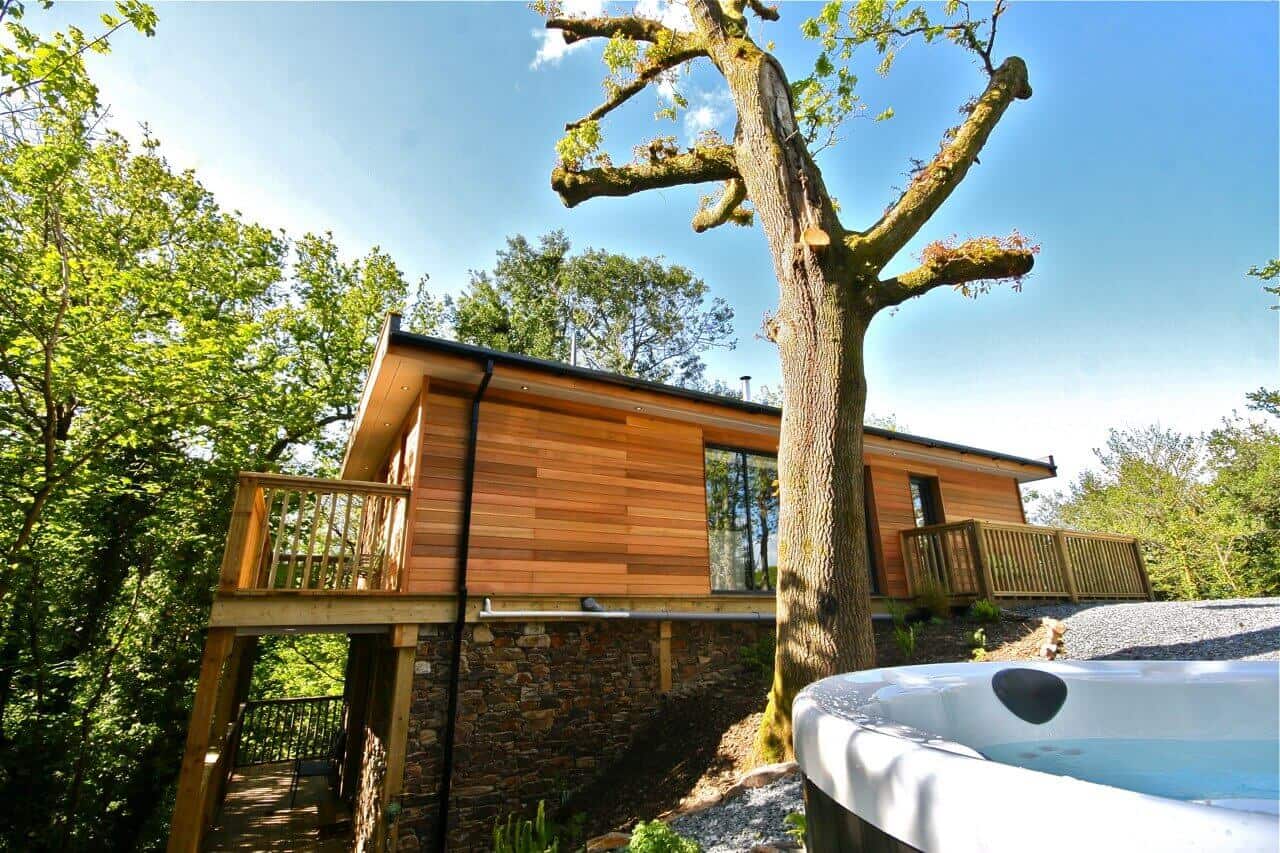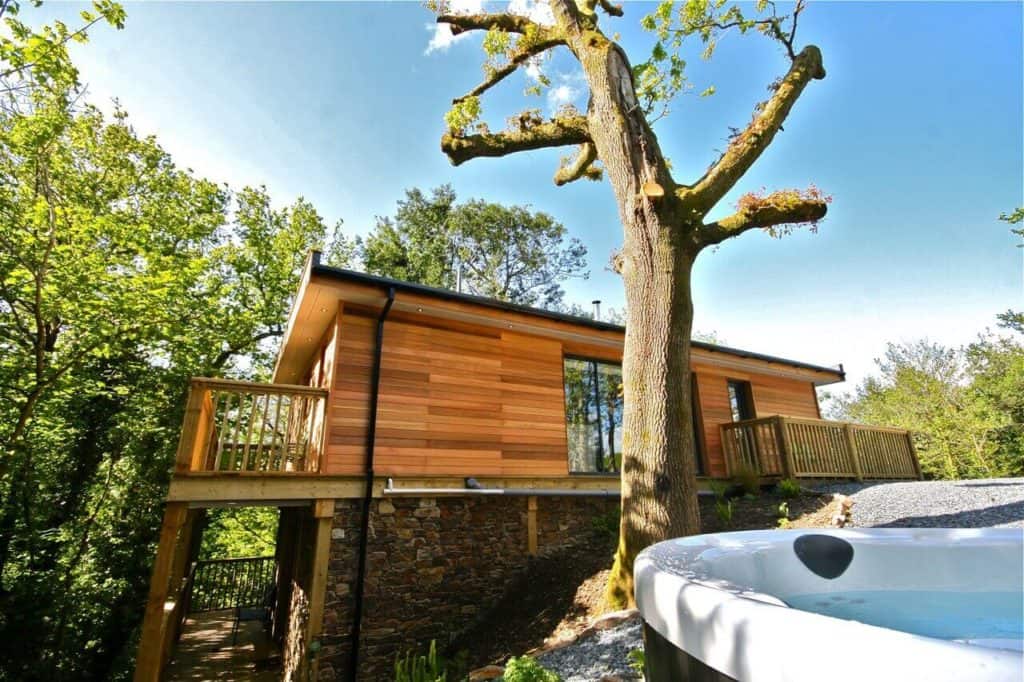 A luxurious Devon treehouse with stunning comtemporary interiors and hot tub, all in the centre of a private woodland.
Highly recommend this secluded house in the treetops. Something for all ages and interests: a private lake to while away a few peaceful hours with a good book, a cinema room for 'the boys' and a hot tub to rest those aching limbs after long walks on nearby beaches. The kitchen is well equipped and spotlessly clean. We enjoyed family meals on the deck with the doors thrown wide open, watching the squirrels leap from branch to branch as we slurped wine and munched away on local fare from Ben's Farm Shop.
---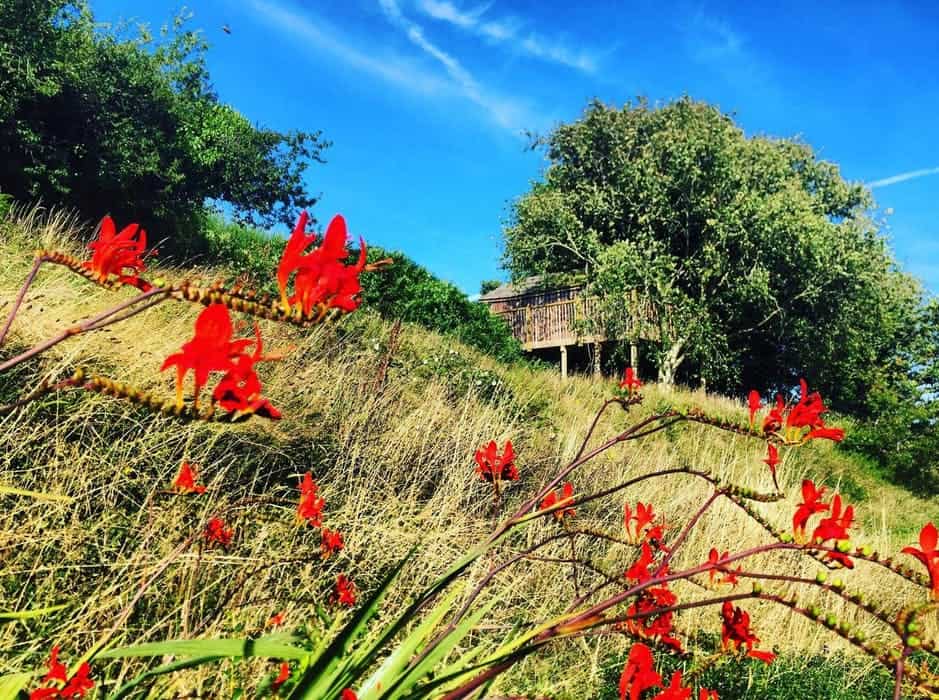 Beautifully crafted treehouse within the branches of a silver birch tree and gorgeously decorated throughout.
---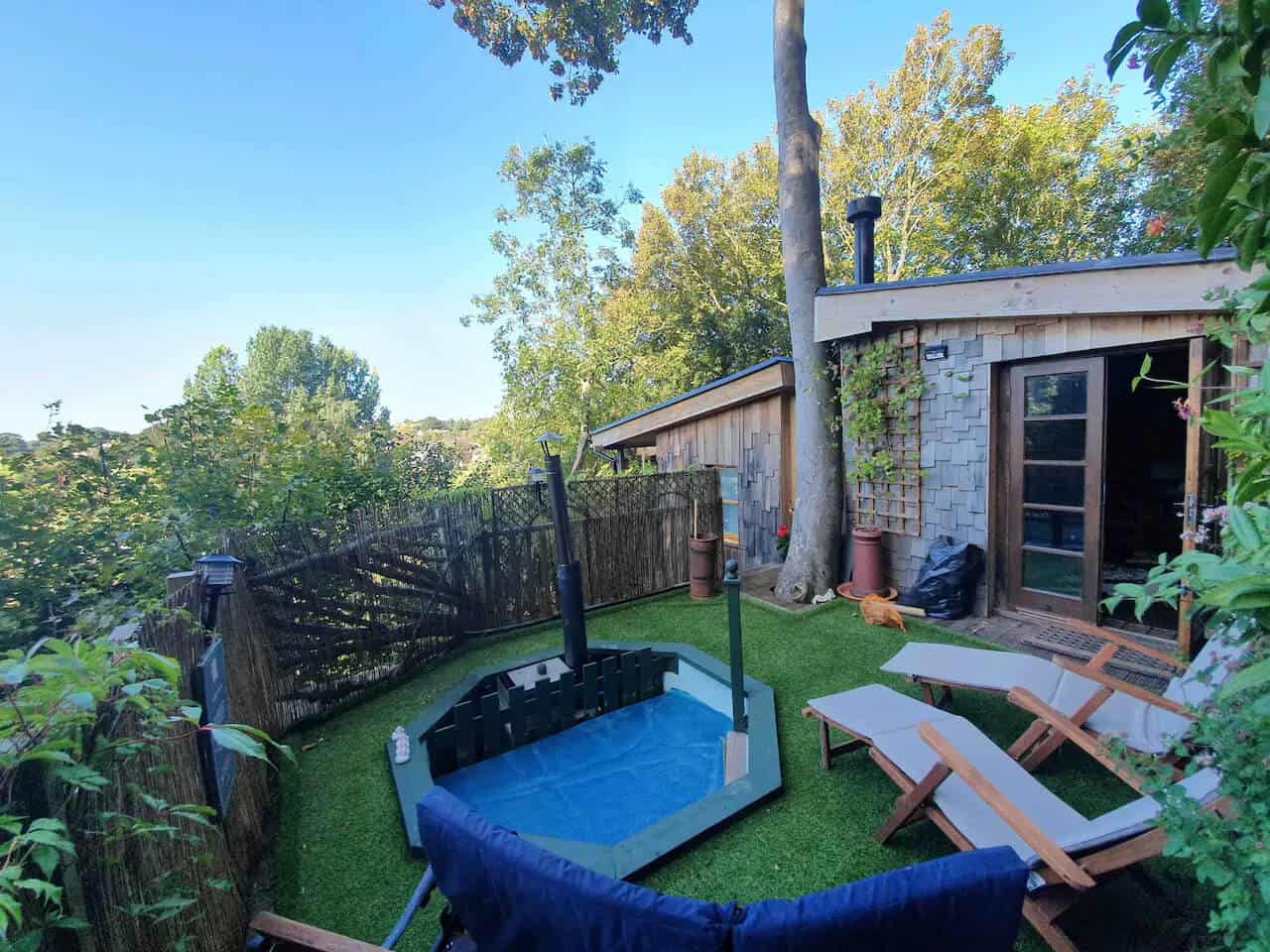 Spectacular treehouse in a secluded location in Dorset. Total privacy with hot tub, fire and bbq.
---
Treehouse Holidays Kent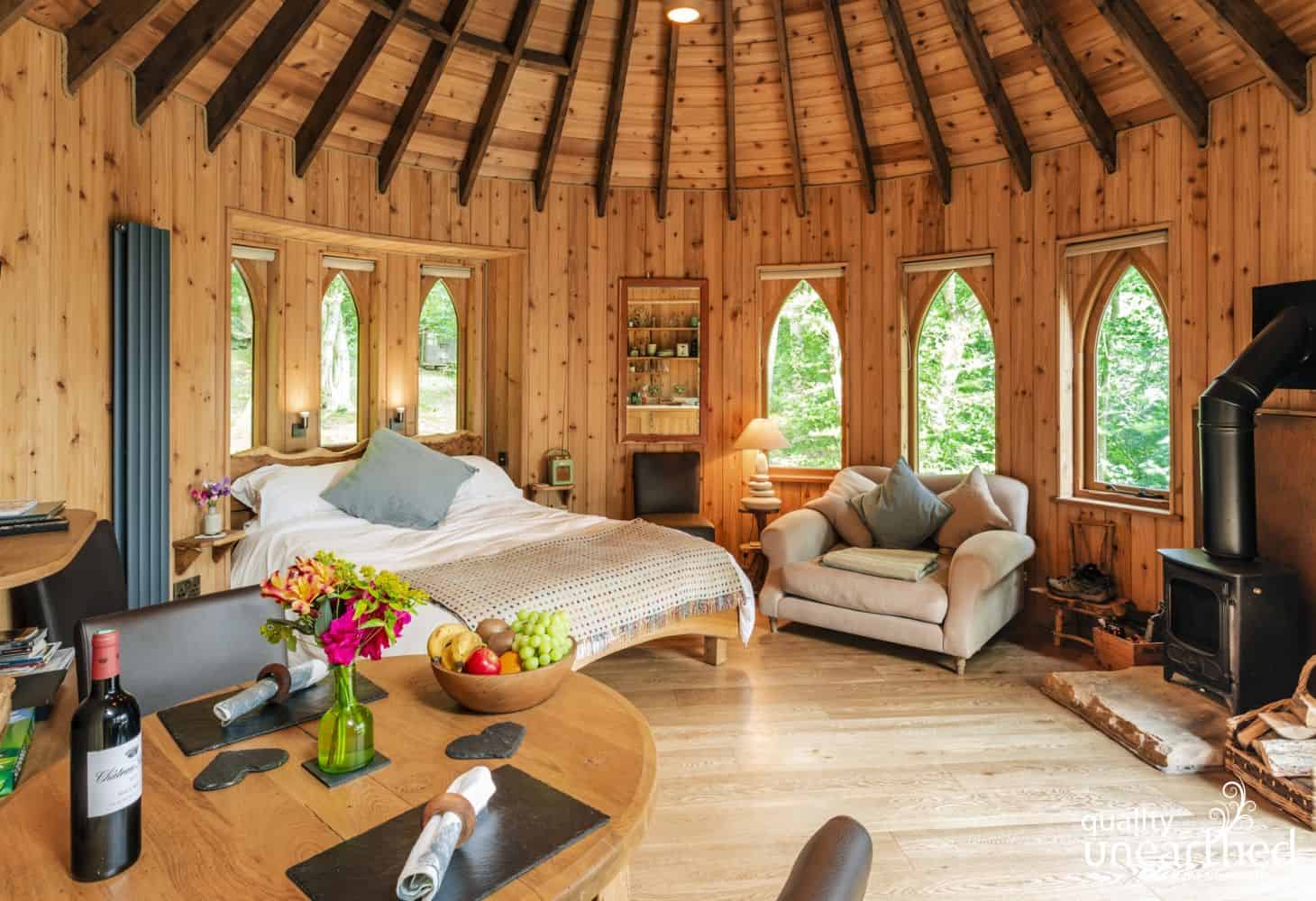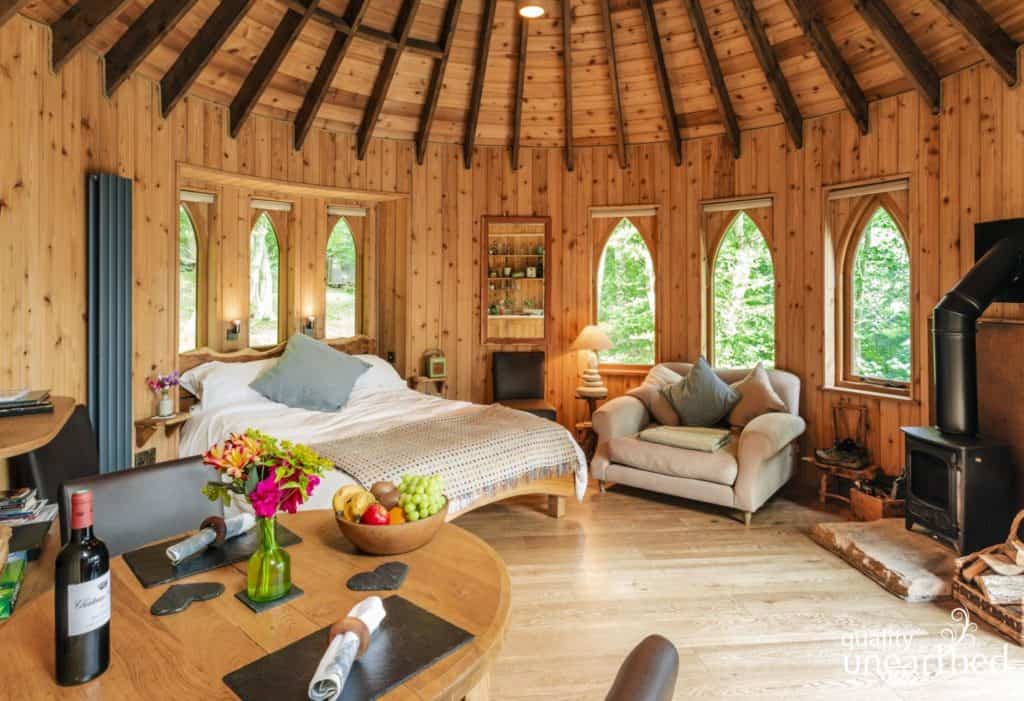 Luxurious, secluded, picture-perfect treehouse nestling in an area of outstanding natural beauty only 45 minutes drive south of the M25.
Lucinda's treehouse is a cosy, romantic and exciting place to stay. We felt instantly at home and slept like logs on the comfy bed. Staying at Hoots really is a unique and genuinely relaxing experience.
---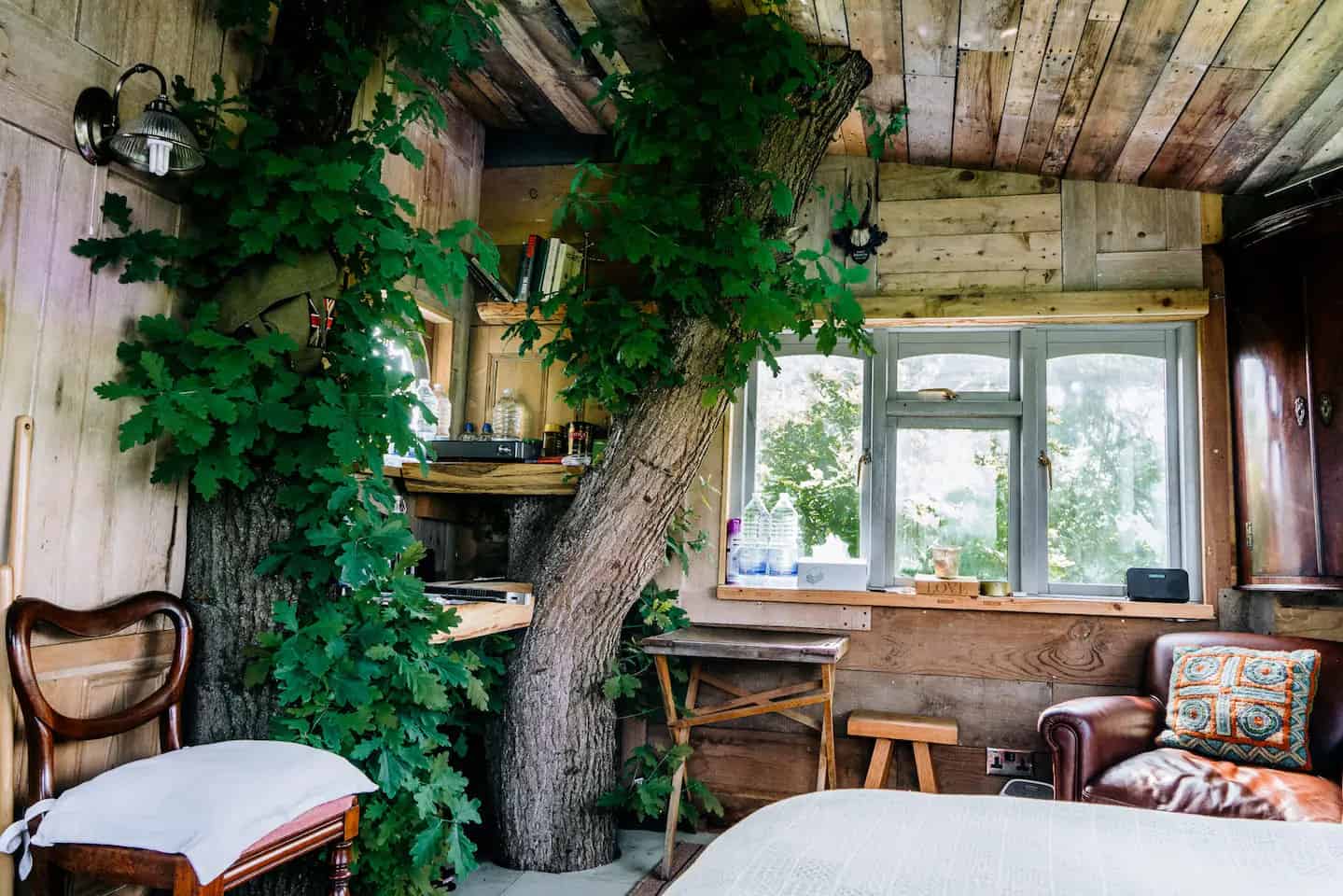 20ft up nesting between three sturdy oak trees this treehouse made of recycled timbers has uninterrupted views across the glorious north downs AONB.
A Beautiful, well thought out cosy treehouse. Beautifully decorated has everything you could ever need.Warm, friendly welcome, beautiful scenery and amazing breakfast. Defnitely recommend!!
---
Treehouse Holidays Somerset
Stay in this amazing tree-mansion with a copper tub in Somerset. Curved capsule wraps itself around an oak tree, special heated floor system and large handcrafted bed. Two elevated viewing decks, wood burning stove, close to a number of popular walking routes.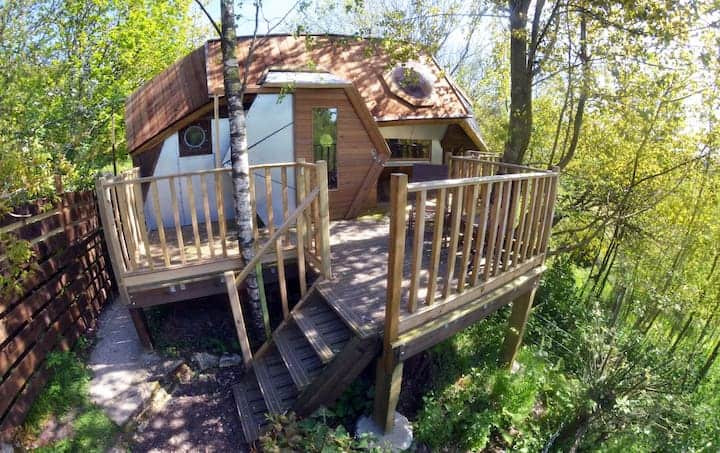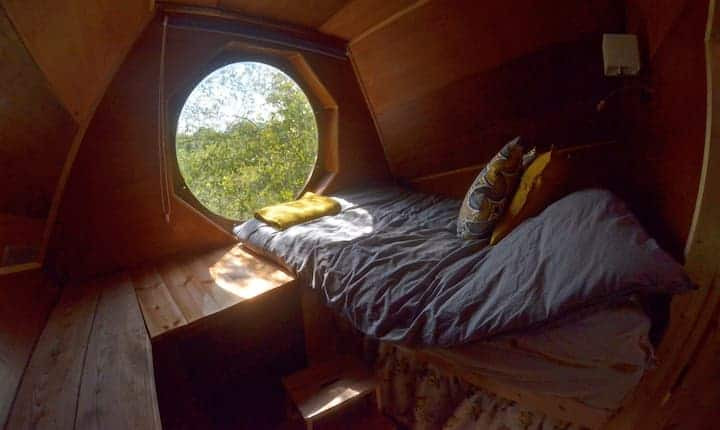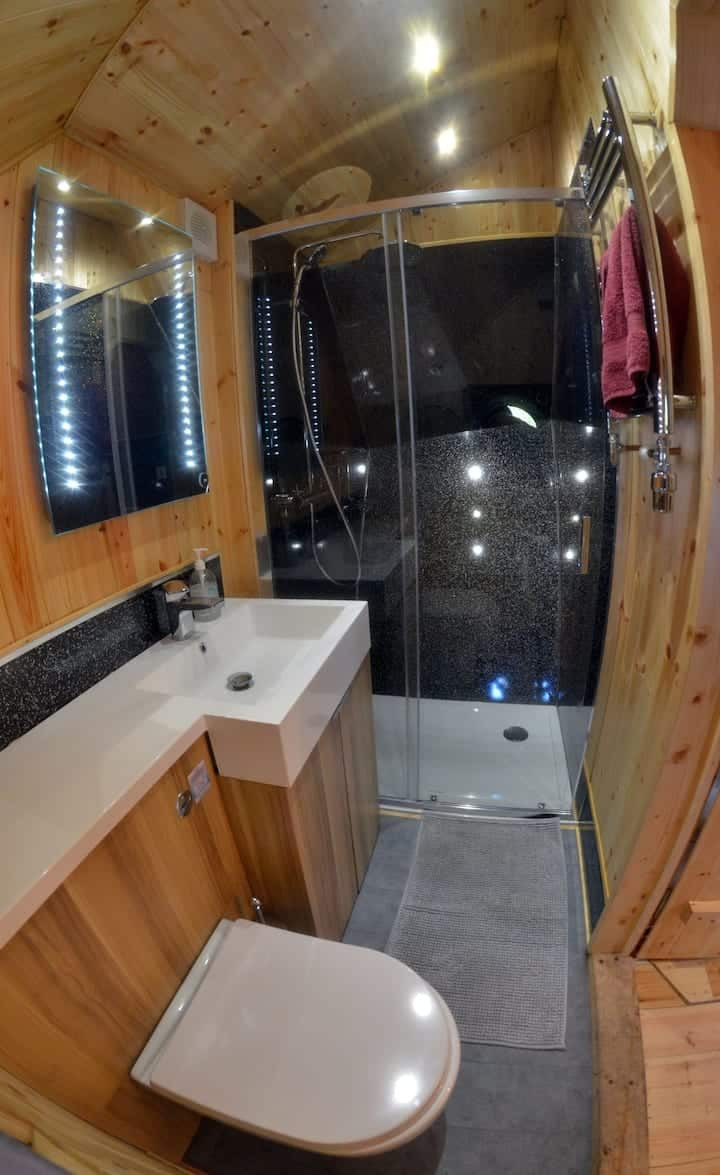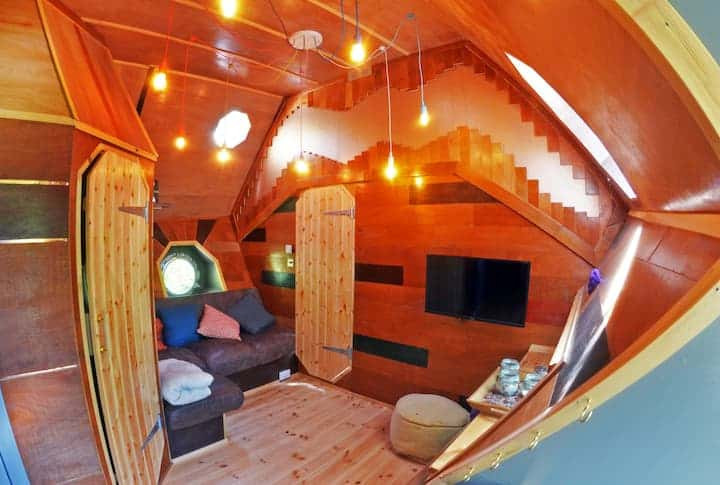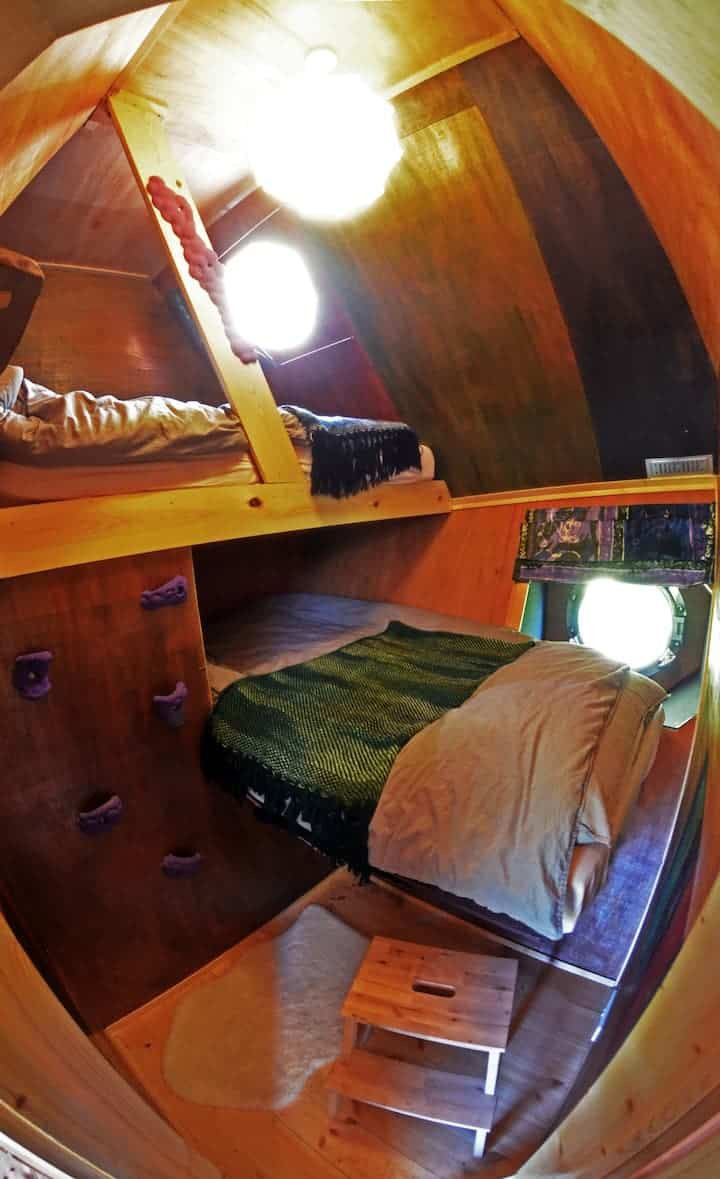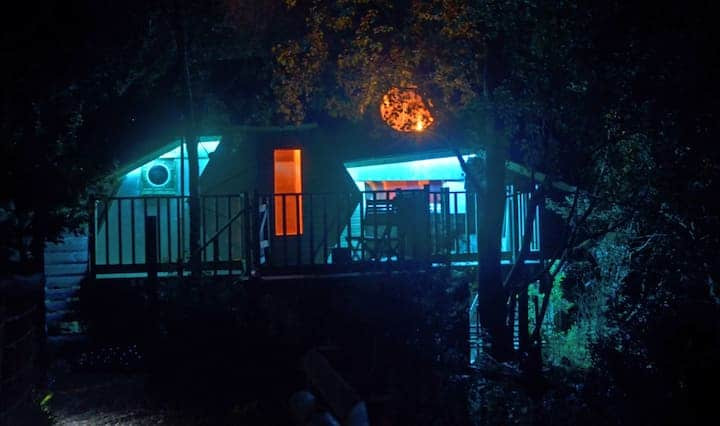 Quirky handcrafted pod in the trees with two bedrooms: one double and one twin with bunk beds. The ideal family retreat.
Guests have full access to the field in front of The Pod, plus there's a firepit, den and rope swing for keeping the kids entertained.
You will also have some pygmy goats as neighbours!
Within easy day-tripping distance to Devon, Somerset and Dorset attractions.
You will also have three pygmy goats as neighbours!
This quirky treehouse pod has exceptional 4.99/5 star ratings based on 133 reviews.
---
Treehouse Holidays Sussex
Come away to beautiful East Sussex to experience a unique stay in The Buzzardry, a treehouse for 4 people at Marklye.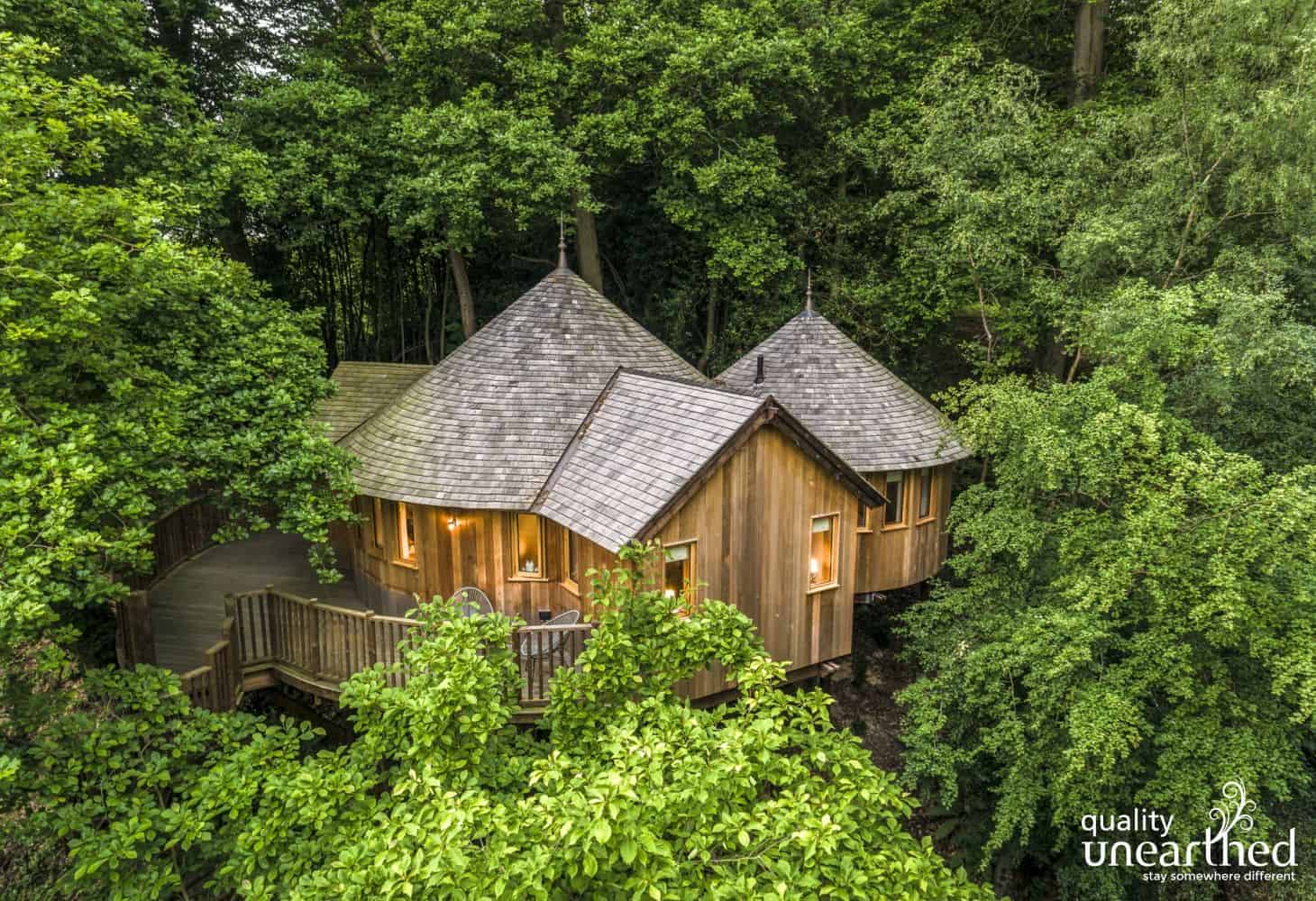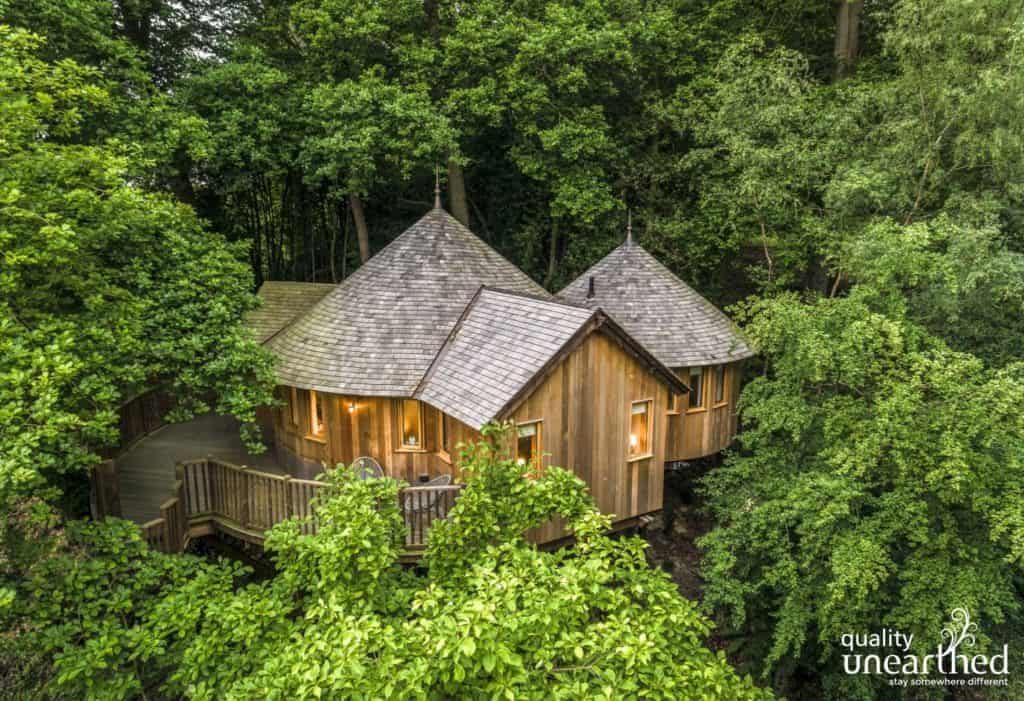 Beautiful place to stay in! Most relaxing place we've ever been too would highly recommend.
---
Height of luxury with this Sussex treehouse, perfect for a romantic break with privacy and seclusion. Magical rope bridge, circular open plan interior around a mature oak tree. Private sun deck with patio and BBQ. Sleeps 2.
---
Treehouse Holidays Worcestershire
A romantic bolthole for couples looking to relax. Secluded hand crafted tree house nestled in the beautiful Worcestershire countryside. So many highlights. King size bedroom with handcrafted bed, free-standing copper bath, private hot tub, BBQ area.
---
Your own luxury treehouse built around an ash tree. Secluded haven with acres of grounds you can explore. Super kind bed with views onto the wildlife lake. Step out onto your balcony with access to a private hot tub and BBQ area. (Sleeps 4 but this is more a couple's retreat as children under 14 are not allowed).
Amazing property – the best glamping experience we have had. The owners are friendly and very welcoming and the property and area are stunning.
Treehouse Holidays Cotswolds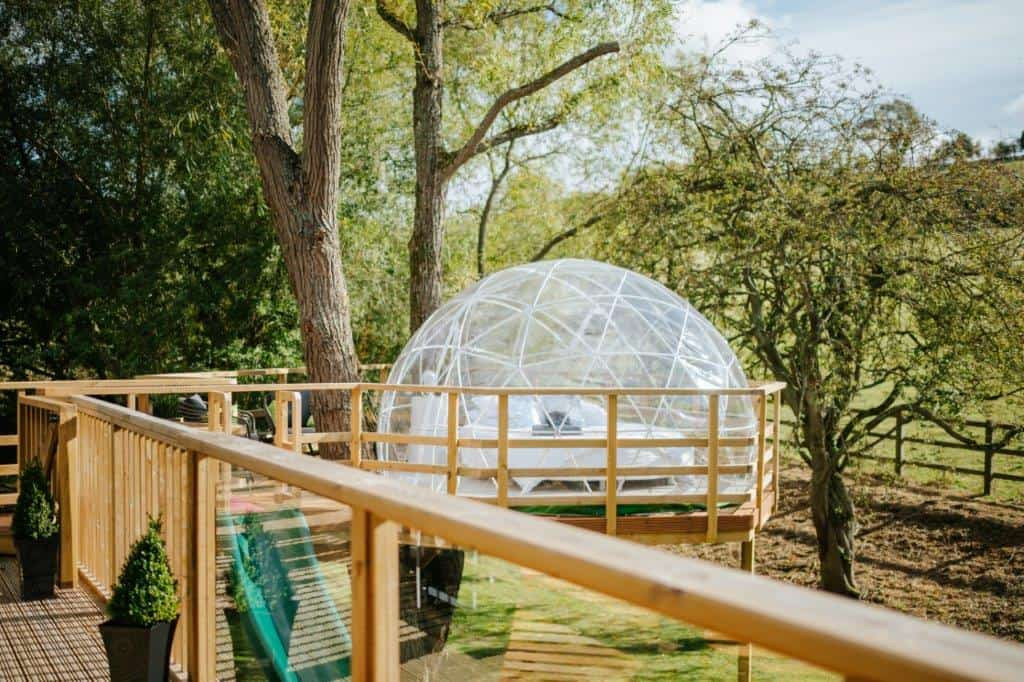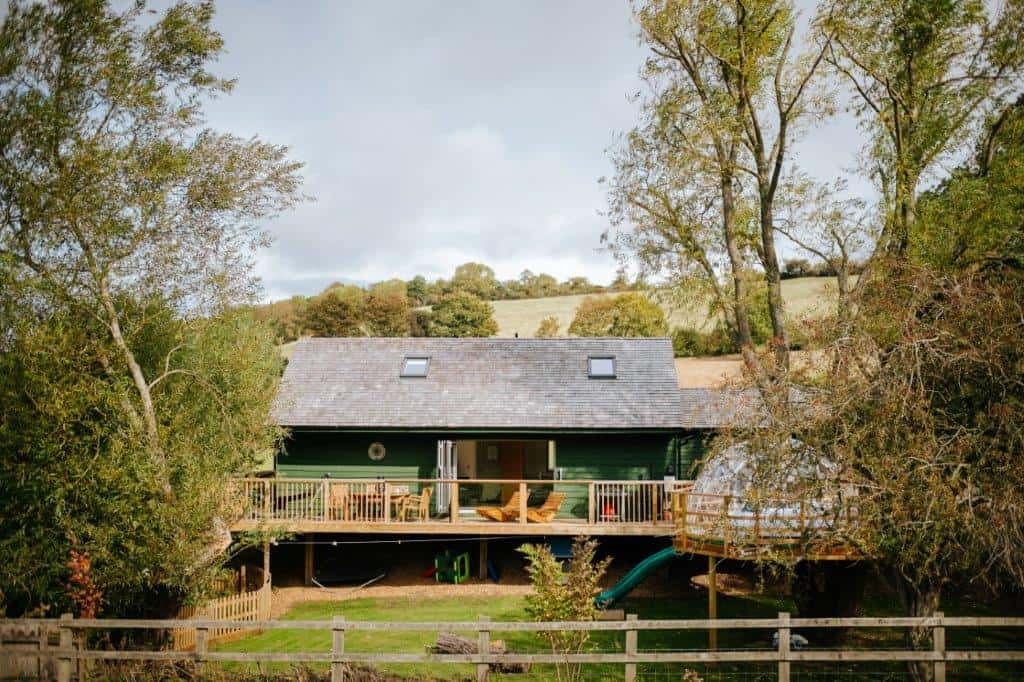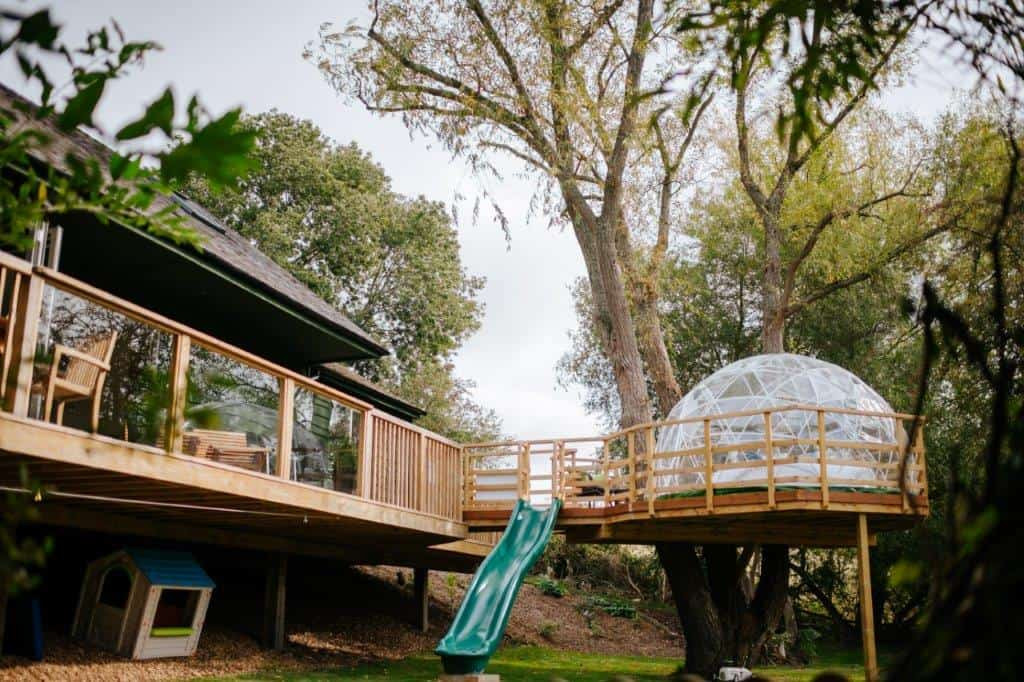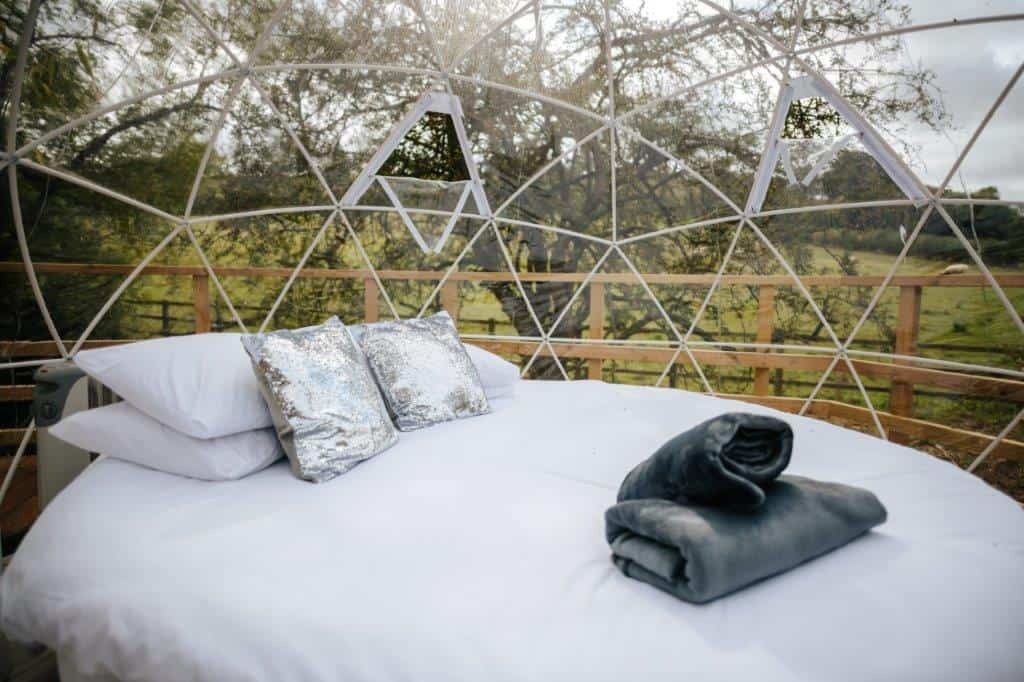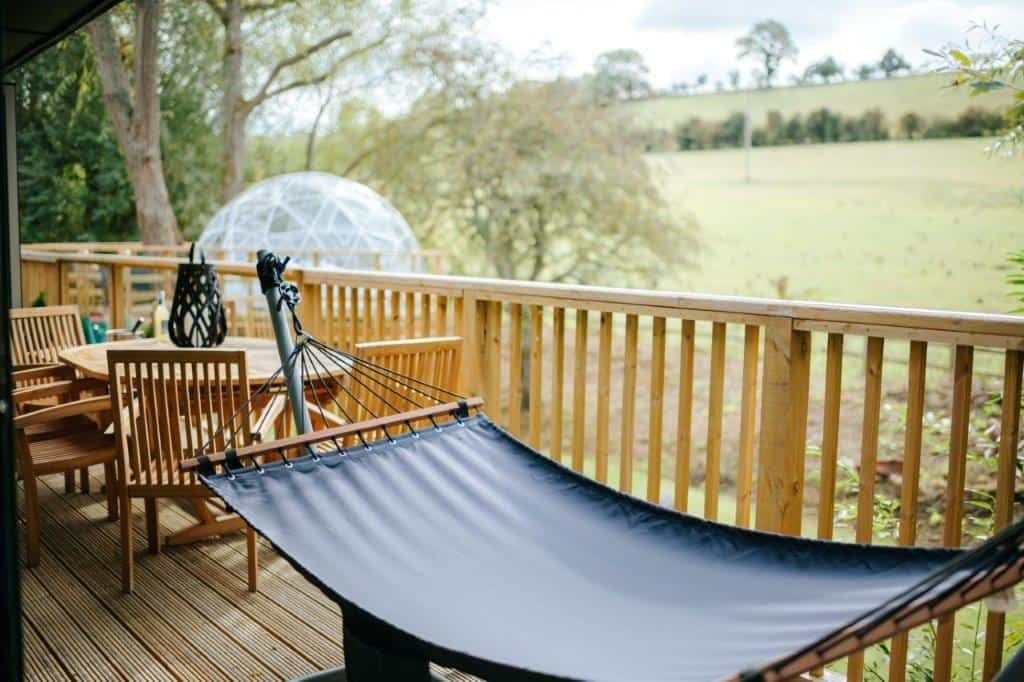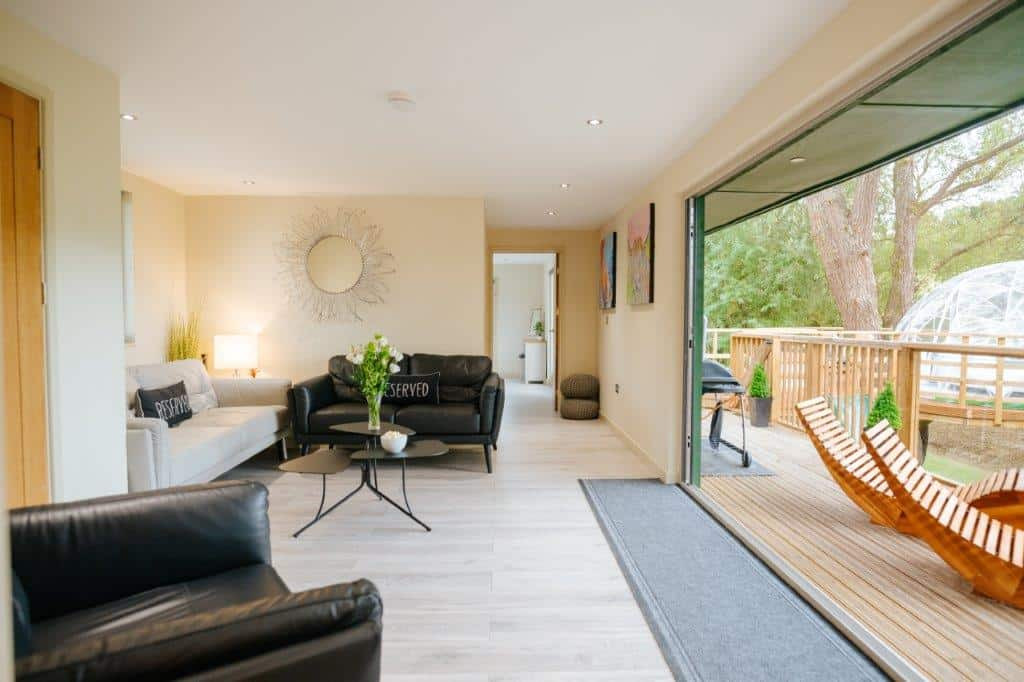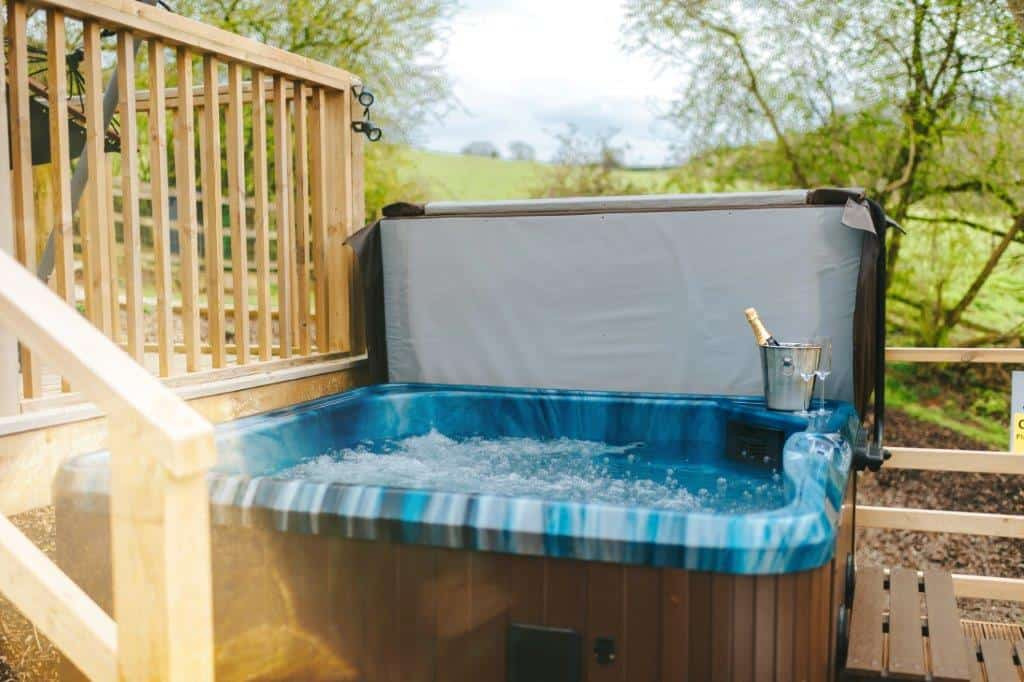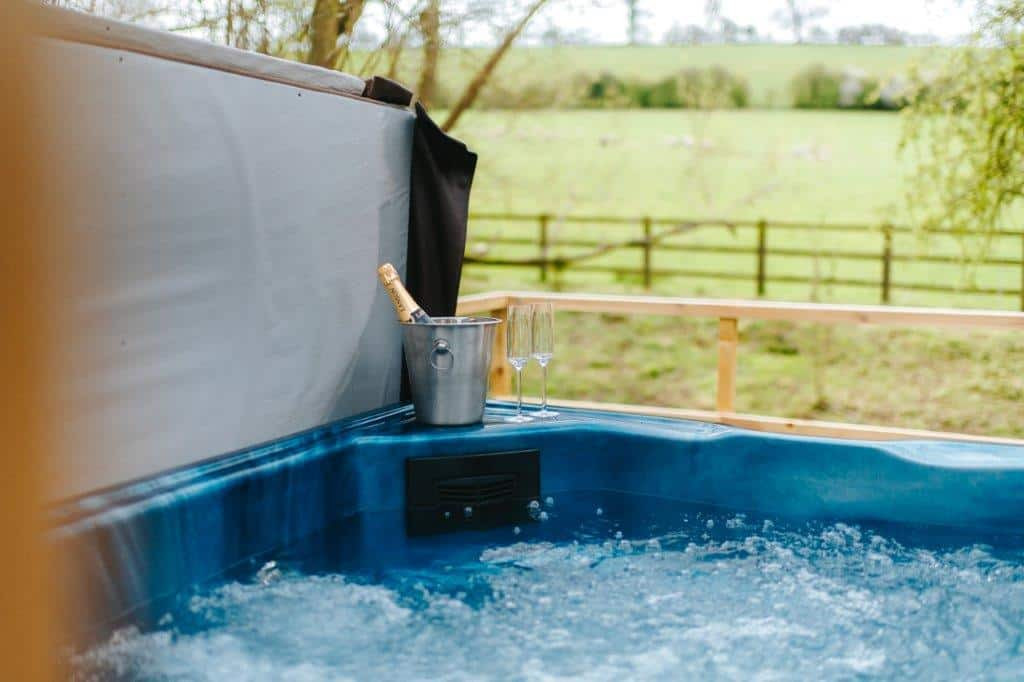 bobs-lodge-warwickshire10
bobs-lodge-warwickshire11
bobs-lodge-warwickshire12
bobs-lodge-warwickshire16
bobs-lodge-warwickshire21
bobs-lodge-warwickshire24
bobs-lodge-warwickshire26
Set in the idyllic Cotswolds countryside, this unique family-sized lodge with hot tub sleeps 6 guests, plus it includes a cool geodesic dome, accommodating a further 2.
The perfect retreat for a family escape.
---
Treehouse Holidays Essex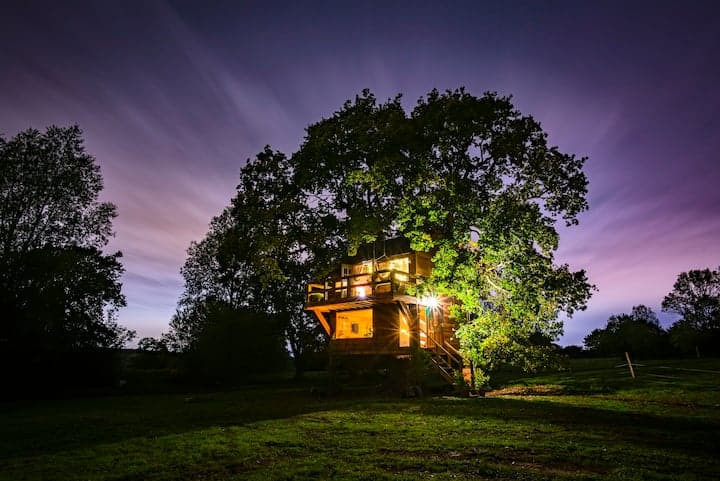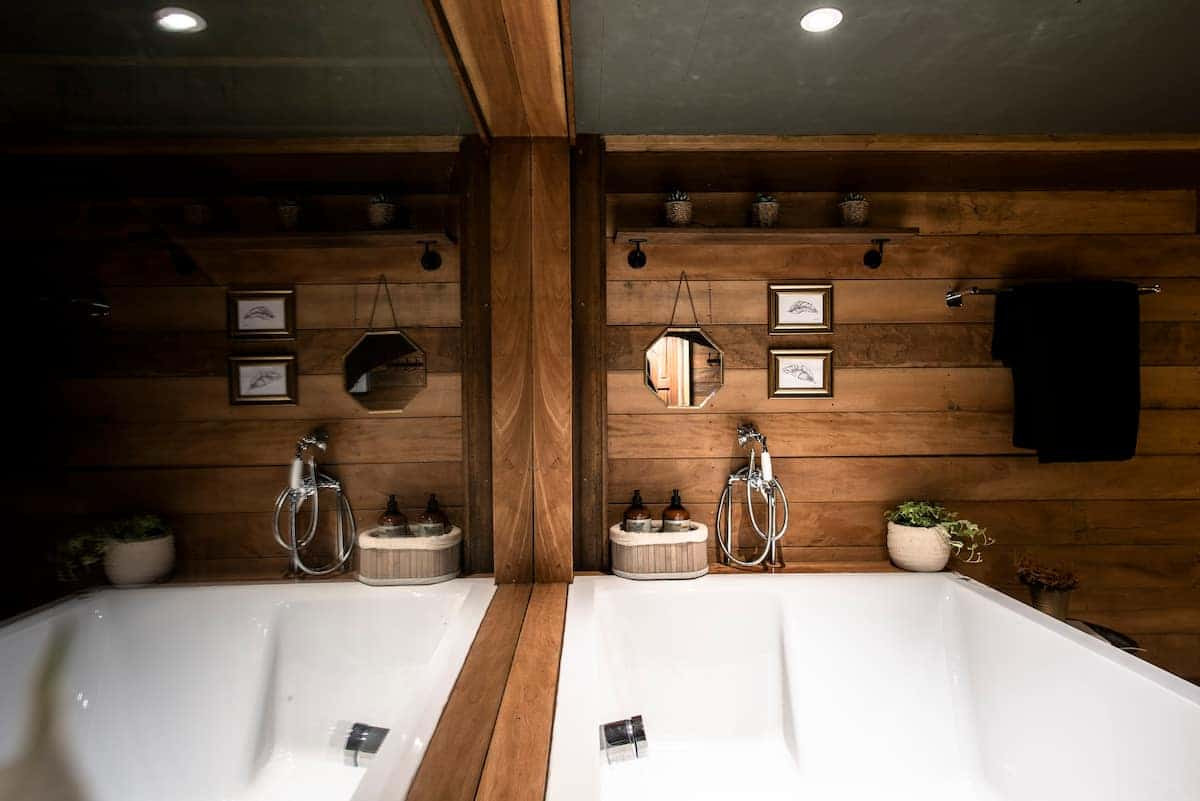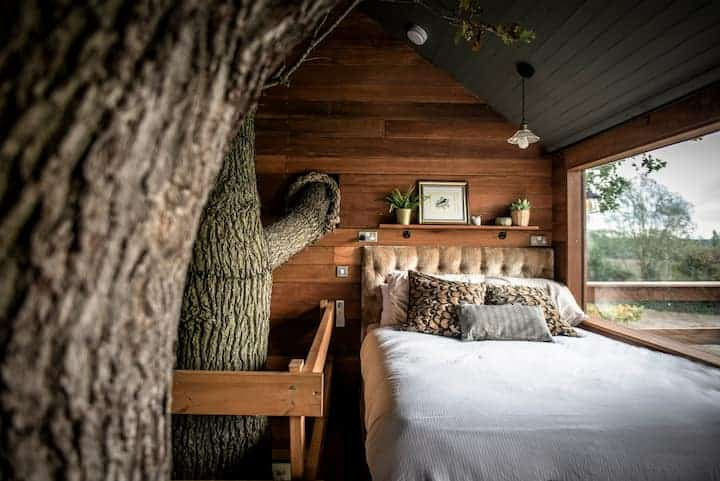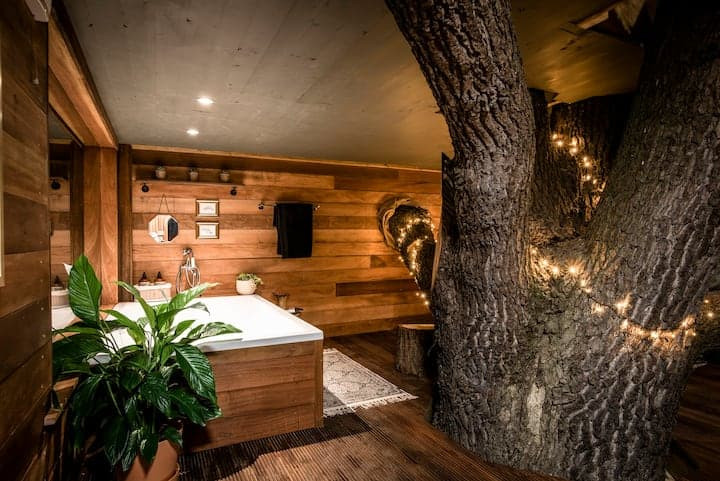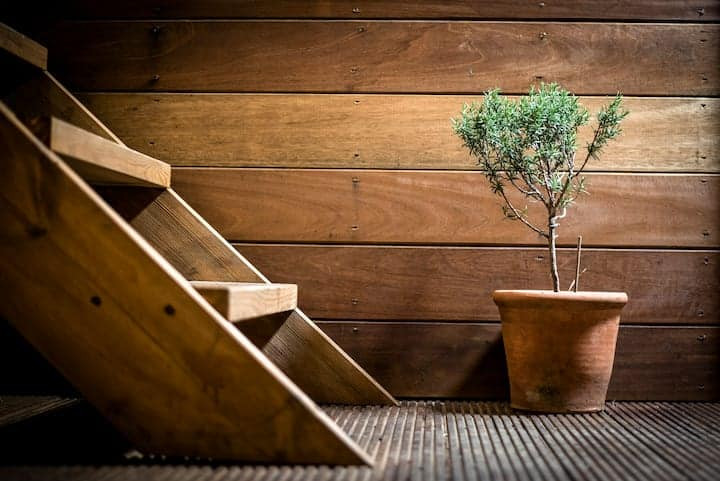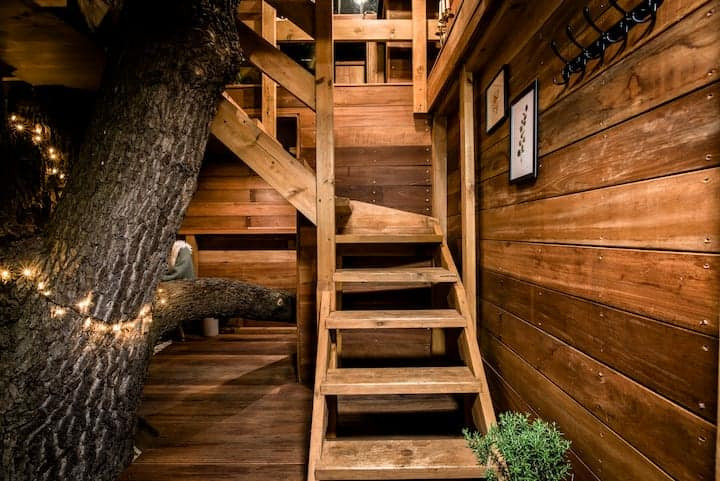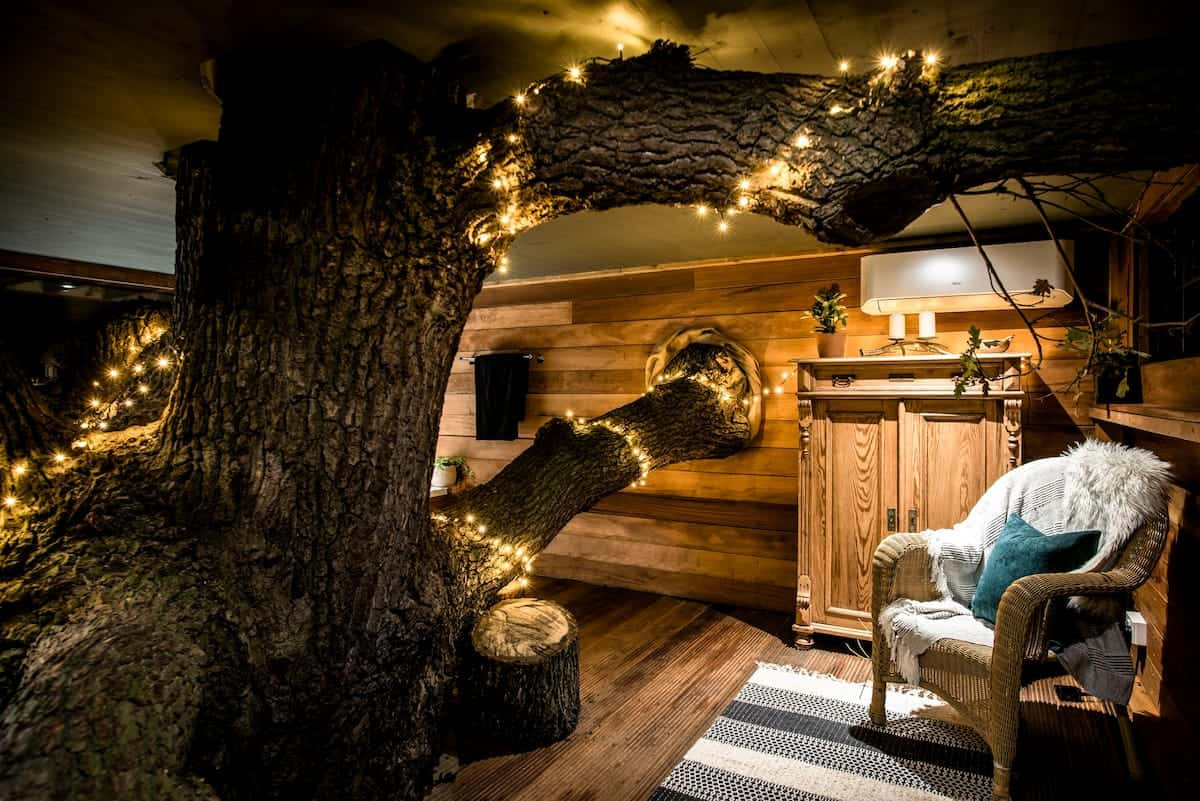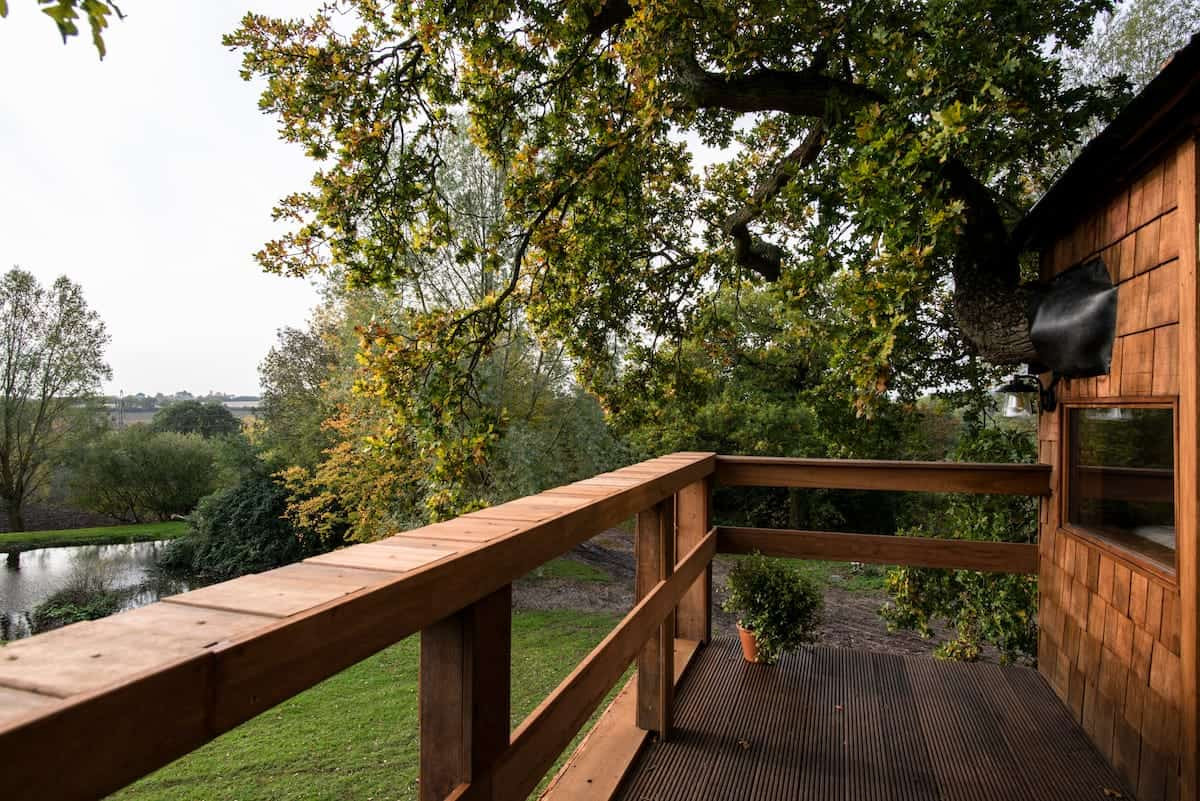 Nestled in the boughs of an ancient oak, this tree house sits within 200 acres of private farmland & meadowland, just an hours commute from central London.
This unique treehouse has the branches running through the rooms for a real outdoors-indoors feel! The perfect romantic retreat for a couple.
This treehouse has excellent 4.83/5 star ratings based on 6 reviews.
Treehouse Holidays Norfolk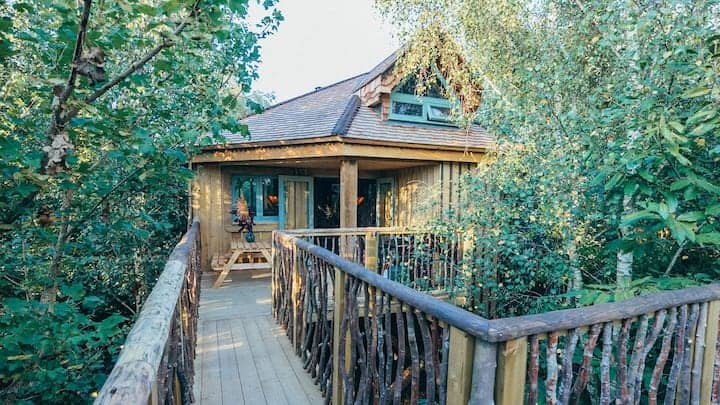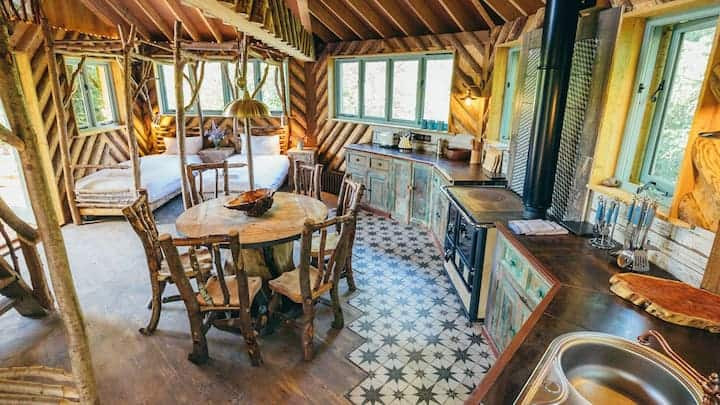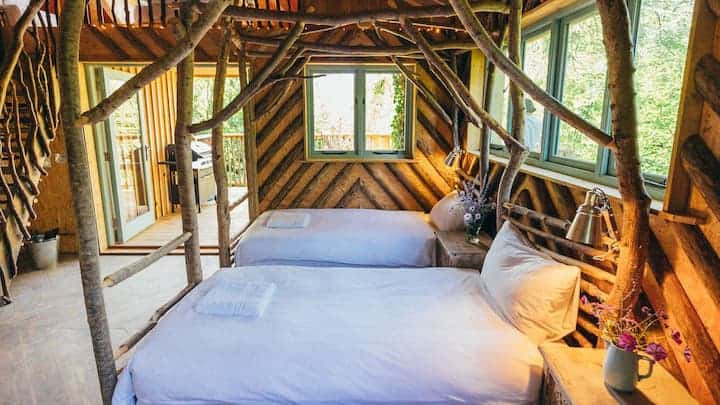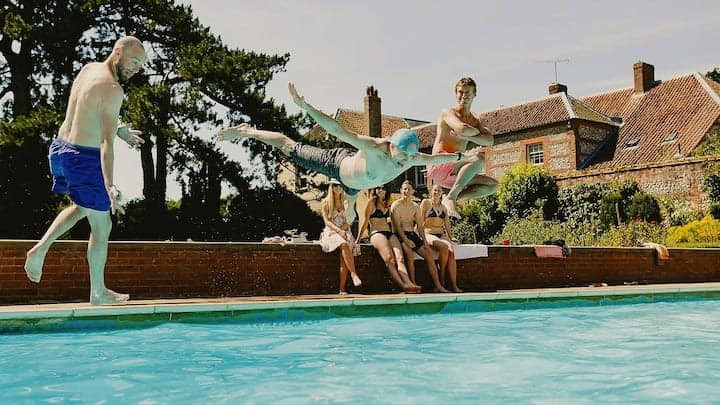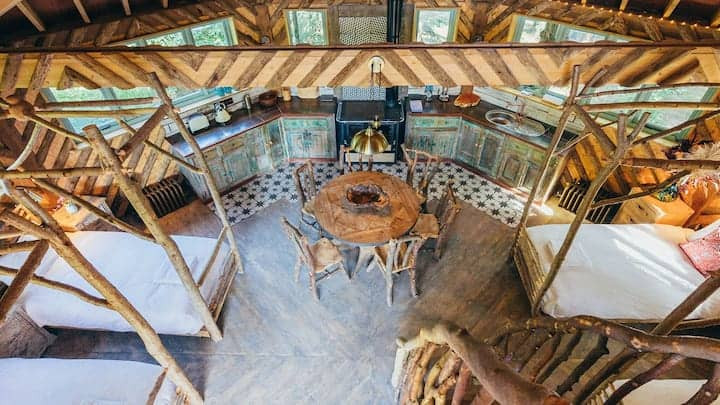 One of the only Treehouses in the UK that is designed to sleep up to 6 people. The furniture is all handcrafted and the whole treehouse has a fairytale feel to it.
Surrounded by a private woodland, this open plan handcrafted hideaway is great for a group of friends looking for a relaxed retreat surrounded by nature.
The terrace has a gas BBQ and a picnic table and is the perfect spot for some stargazing.
There is a heated indoor pool and a wild lake with 2 rowing boats for you to take on the water along with a tennis court with views across the lake. There is also a Japanese meditation garden.
Be the first to review this fabulous treehouse!
Treehouse Holidays Lincolnshire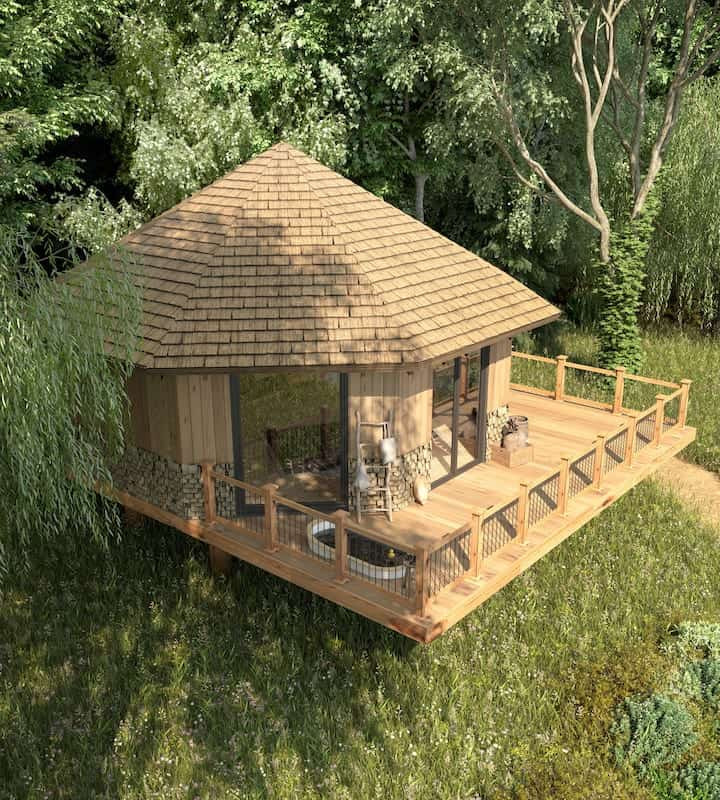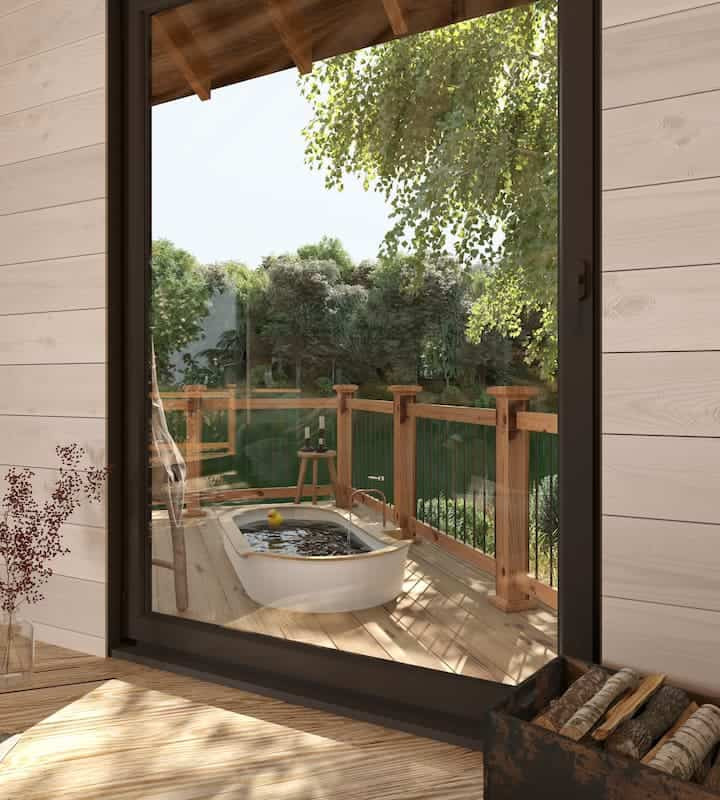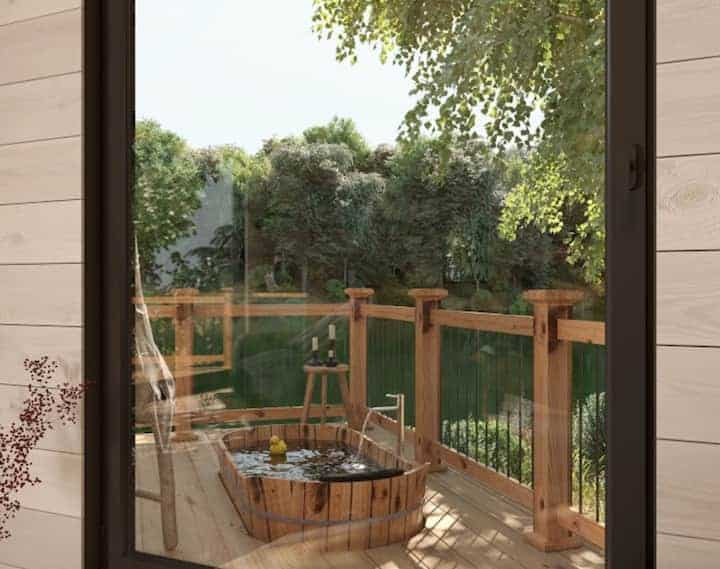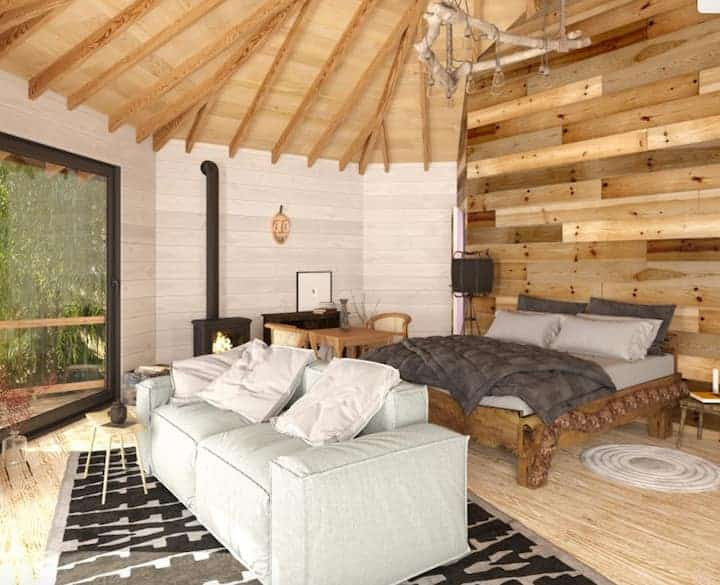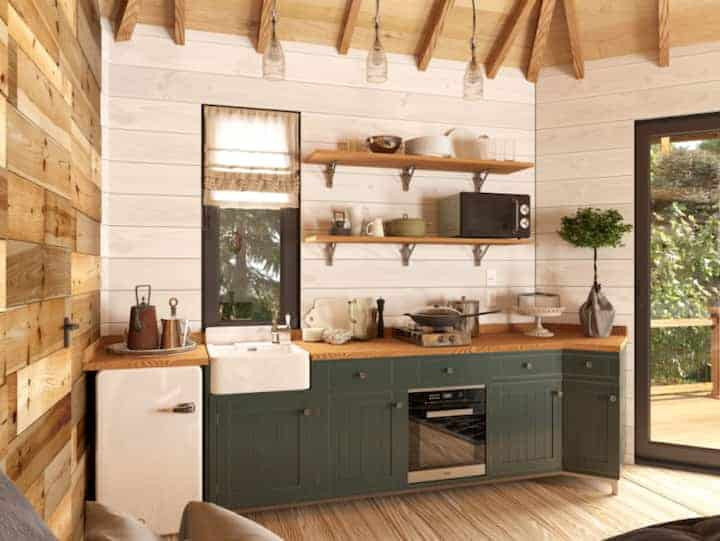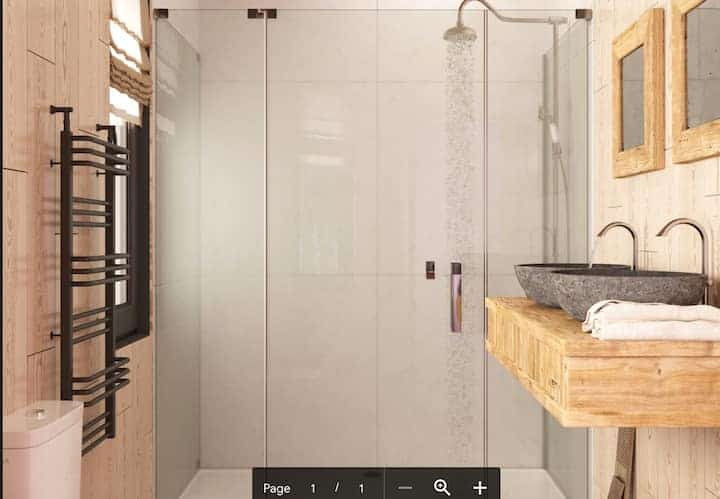 Squirrel's Drey Treehouse1
Squirrel's Drey Treehouse2
Squirrel's Drey Treehouse3
Squirrel's Drey Treehouse4
Squirrel's Drey Treehouse5
Squirrel's Drey Treehouse6
One of 6 eco-chic structures built around private, secluded lakes on the edge of Woodhall Spa Village.
The romantic lakeside location and elevated terrace with a sunken bathtub make this the ultimate adult treehouse getaway.
The surrounding woodlands are perfect for exploring and the village of Woodhall Spa has plenty of fine restaurants, cafes and boutique shops to browse.
Be the first to review this fabulous treehouse!
Let's Find Your Next Quirky Break In The UK
Get the lowdown on cool and quirky properties?
Sign up to become a free member and we'll send you inspiration straight to your inbox