For this post, I have put together a collection of the best inflatable water slides currently available. See my top picks for outdoor toys.
Our Top Picks
Show Today's Top Deals
These are today's top deals and bestsellers for inflatable water slides.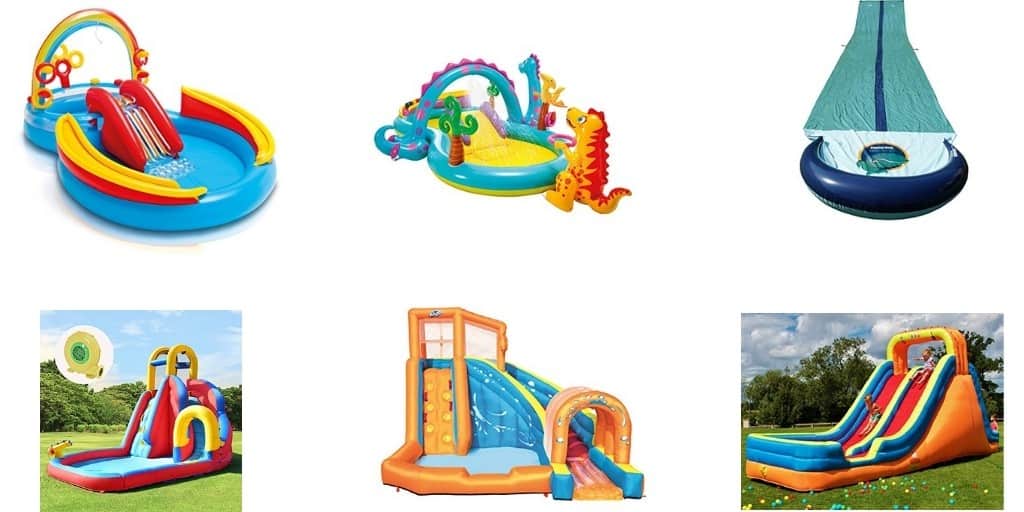 Inflatable water slides are hugely popular with children and it's a great way to get them to put their devices down and let off some steam and get some exercise during the hot sunny days.
Inflatable water slides come in all shapes and sizes, ranging from small garden water slides to bouncy castle-like structures with built-in steps. tunnels, pools and slides.
The best inflatable water slide for you will depend on your budget and preference and also the amount of space available.
We've done the hard work for you and found six of the best inflatable water slides to suit any budget or garden size.
Let's get started!
Under £100
Intex Rainbow Ring Play Centre
Discount - Save £18.10
This one has a ton of features and is great value for money.
Two separate pools (wading pool and main pool), water slide, ring toss game with four inflatable rings.
Water sprayer (attaches to your garden hose).
Easy to drain.
Inflates in 15 minutes with an electric pump.
Inflated size: 117 x 76 x 53 Inch (297 x 193 x 135 cm
Intex Dinoland Play Center
Discount - Save £16.76
Fun Dinosaur themed water play centre includes a paddling pool and moveable arch water spray.
You simply attach the garden hose.
It also comes with Dino hoops and a Volcanic Ball roller game – bit like a game of basketball.
One downside is that no pump is included so it will take a little time and energy to inflate.
The slide is small – perfectly fine for younger children but do check this.
There's padding at the bottom of the slide to cushion the fall.
The pool can accommodate four children.
There's a gradient on the pool and a fun little game for the younger children is to roll the ball down here and land it in the water with a splash.
Inflated size: 117 x 76 x 53 Inch (297 x 193 x 135 cm
Team Magnus Water Slide With Inflatable Crash Pad
If you're after a more traditional slip and slide suitable for older children than a bouncy castle type set up then this is an excellent option.
This one is far superior to many you'll find at Argos or supermarkets.
It's extremely sturdy but also silky so provides for a great slide experience.
It's a long 9.5m slide and aimed at children from 5-12 years old.
Adults can try it but do be careful – the inflatable crash pad at the end isn't designed for large humans!
The slide is easily wide enough for two children so it's perfect for racing!
The central dividing channel keeps the lanes super wet and skiddy.
If you don't have an outdoor hose you can simply use a bucketful of soapy water.
Dimensions: 950 x 160 x 15 cm
Under £400
Costway Kids Inflatable Bouncy Castle
This is an excellent choice if you're looking for a large bouncy castle type water park for your garden.
As always with these, build in additional space around the sides beyond the dimensions of the inflatable itself.
Keep the box itself – it comes with a bag but you are most likely familiar with the difficulty in getting it down to that size!
It comes with a powerful blower so you'll be up and running in a few minutes.
Although it's a large size it's easy enough to maneouvre into a desired position.
There's loads to do including a climbing wall, water slide, splash pool and a water cannon.
The other benefit is its dual purpose.
During the summer you'll connect the water pipe and it will be your own mini water park.
During colder months you remove the hose and the children can still play on it like an ordinary inflatable bouncy castle.
There's also a safety mesh wall between the slide and the climbing wall to ensure their safety and provide ventilation.
Inflated size: 34 x 22 x 35cm
Bestway H2OGO! Hurricane Inflatable
One of Bestway's bestsellers in the large water park category and for good reason.
It comes with an air blower and in a few minutes.
You also get ground stakes to secure it to the floor – ensure you add at least 1.5/2m space around the area the water park takes up.
Key fun features include: twisting slide with a tunnel, climbing wall with four handles and six foot steps which is a great challenge for the little ones.
There's a water blog and shower soaker to keep the children cool and the slide slippery!
Be aware it can use a lot of water and will take a while to fill the pool with water.
Inflated size: 420 x 320 x 260 cm
Sky's the Limit Budget
BeBop Splash Mountain
Splash Mountain is one of the the biggest domestic use inflatable water slides in the UK.
It also has a price tag to match!
If you have the budget and after pure slide action this could be your best option.
There are two slide lanes which is great for children to race each other.
The slides are long and measure 6.7m and are 3.3m high.
The children reach the top of the slide via a climbing wall.
Although it looks like it will fit adults the guidance recommends a maximum weight of 38kg and a height of 145cm with only 2 children on it any one time.
It comes with a powerful pump and erects in minutes.
Fill up the pool area at the bottom and connect your water hose to the sprinklers at the top.
It folds down fine but hold onto the box as it's very tricky to fit it into the bag supplied.
Inflated size: 670 x 215 x 330 cm
Inflatable Water Slides Deals & Today's Bestsellers
Outdoors Toys Guides