For this post, I have put together a collection of the best garden water slides currently available. See our top picks for outdoor toys.
Our Top Picks:
Show Today's Top Deals
These are today's top deals and bestsellers for water slides.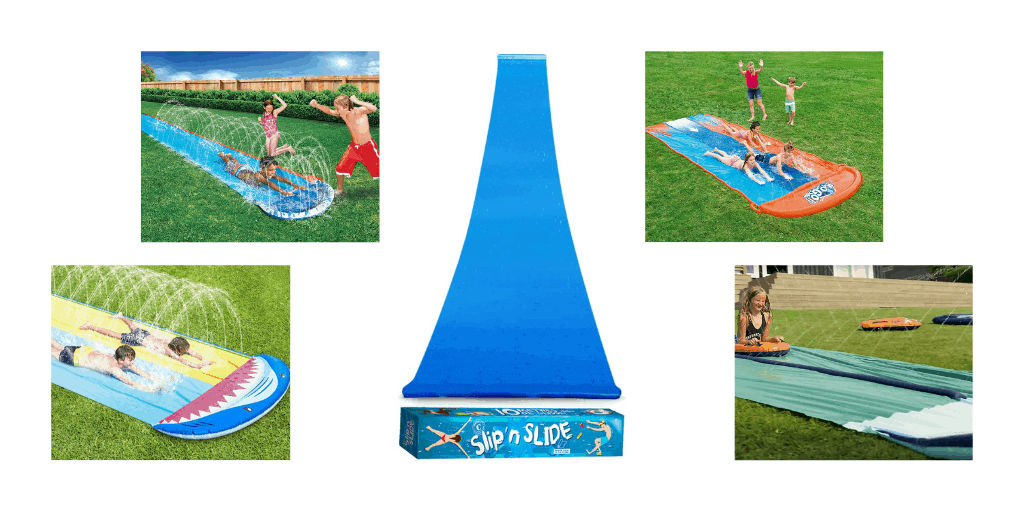 Water slides for the lawn are popular with children and it's a great way to get them to put their devices down and let off some steam and get some exercise during the hot sunny days.
Garden water slides come in various lengths and styles and there are different ones to suit kids of all ages.
The best water slide for you will depend on your budget and preference and also the amount of space available.
We've done the hard work for you and found six of the best water slides to suit any budget or garden size.
More Best Buys: Looking for something a little more bouncy? See our buyer's guides on the best inflatable water slides. For more outdoor fun check out the best wooden playhouses.
Let's get started!
Best Garden Water Slides
Banzai 16ft Speed Blast Garden Water Slide
Discount - Save £0.91
Dimensions: 488 cm L x 71 cm W
Age Range: 3 years +
This water slide can be attached to any garden hose to add water sprinkling for a wet slide.
The slide is ideal for one child to use at a time.
Hit the splash pool at the end for a cool tidal wave finale!
Excellent value for money.
Good reviews. From 325 ratings 68% of buyers gave this 4-5 stars.
Bestway Triple Lane Water Slip and Slide
Discount - Save £10.26
Dimensions: 488 L x 207 cm W
Age Range: 3 years +
A triple inflatable water slide with built-in sprinklers for up to 3 kids to race at a time.
Attach the water slide to a garden hose for sprinklers.
The sprinklers provide a cascade effect and keep the lanes wet and slippery.
Water slide comes with a repair patch for longer lasting use.
Good reviews. From 52 ratings 70% of buyers gave this 4-5 stars.
Team Magnus Water Slide With Inflatable Crash Pad
Dimensions: 9.5 x 1.6 x 0.15 metres
Age Range: 5-12 years old
This one is far superior to many you'll find at Argos or supermarkets.
It's extremely sturdy but also silky so provides for a great slide experience.
Adults can try it but do be careful – the inflatable crash pad at the end isn't designed for large humans!
The slide is easily wide enough for two children so it's perfect for racing!
The central dividing channel keeps the lanes super wet and skiddy.
If you don't have an outdoor hose you can simply use a bucketful of soapy water.
Available in two lengths; 5.5m and 9.5m.
Excellent reviews. From 3,061 ratings 81% of buyers gave this 5/5 stars.
Magicfun Kids Water Slide
No products found.
Dimensions: 4.8 m x 1.4 m
Age Range: 3 years +
This dual lane inflatable water slide comes with 2 sliding boards to make sliding more comfortable and safe.
Kids can race against each other in the two lanes.
The end of the slide has a bumper bar and splash pool with sharks face for extra appeal.
Add water and some soap bubbles for a slippery slide.

No products found.

. From 34 ratings 89% of buyers gave this 4-5 stars.
OriginalCup® Official Giant Slip and Slide XXL
Discount - Save £5.00
Dimensions: 1000 x 100 x 0.06 cm
Age Range: 4 years +
This water slide mat is one of the most popular!
Being 10m in length, it is suitable for both children and adults.
Made of high-quality PVC, the slide is waterproof and hyper shock-resistant, scratch-resistant and UV-resistant.
Can be rolled up easily to store.
With just a little water and some foam this water slide can provide hours of fun.
Also available in 20m and 30m lengths.
Really good reviews. From 439 ratings 80% of buyers gave this 4-5 stars.
Chad Valley Double Lawn Water Slide
Dimensions: H 5, W 138, D 549 cm.
Age Range: 3 years +
This shorter length water slide is ideal for younger kids or smaller gardens.
The inflatable bumper at the end has sprinklers coming out of it for a cool off and to keep the slide wet and slippery.
Dual lanes so kids can race each other.
Made of strong PVC.
Very good reviews with 671 rating it 4/5 or more stars.
Available to buy from Argos.
Inflatable Water Slides Deals & Today's Bestsellers
What To Consider When Buying A Water Slide
Will it fit in my garden? Check the length and width to make sure you have enough lawn for the water slide to lie on.
What age range is it suitable for? Most lawn water slides are made for children over the age of 3 and under the age of 12.
Will it need a hose attachment? Some garden water slides have a constant flow of water sprinkling on them and will need to be attached to a garden hose.
Will it ruin my grass? The weight and pressure of children sliding on the water slide shouldn't damage your lawn too much. Roll up and store away when not in use.
Outdoors Toys Guides