For this post, I have put together a collection of the best pool heaters for above-ground pools currently available. Or, check out our top picks and buying guides for the best in outdoor toys.
Our Top Picks
Show Today's Top Deals
These are today's top deals and bestsellers for pool heaters.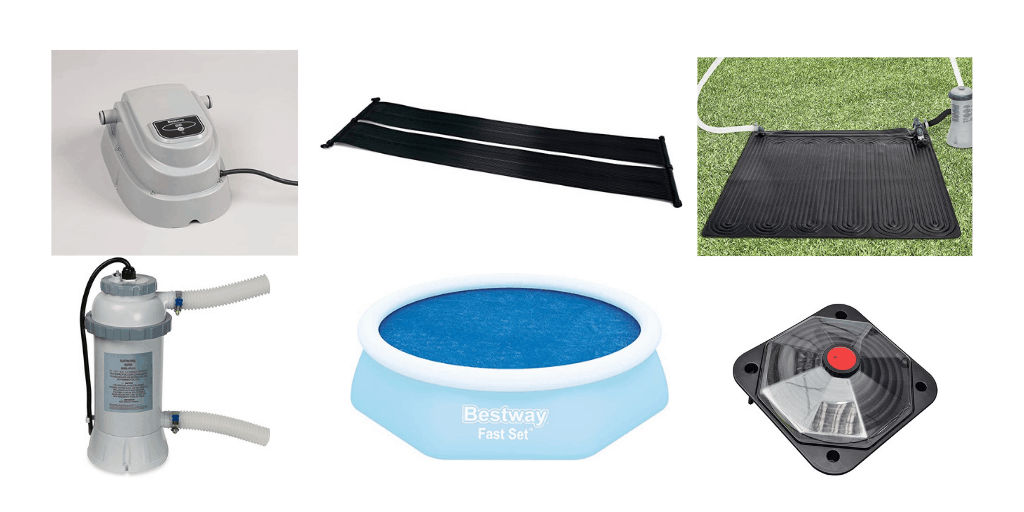 ---
Are the kids already asking for the swimming pool to be set up? Even in the height of British summertime above-ground swimming pools/ paddling pools can take forever to warm up and braving the icy water can be more of a challenge than a relaxed dip, so thats where pool heaters come in!
If you have an above-ground family pool, there are a few different options available to heat the water from solar heating to electric heating.
All of our recommendations have 4-5 star ratings and good customer reviews.
Getting out in the garden with the kids? Also see our guides to the best garden games and best wooden playhouses.
So here is my list of the the best pool heaters.
Best Solar Pool Heaters
Intex Eco-Friendly Solar Heating Mat for Swimming Pools
Attract the sun's rays with this solar heating mat for an above-ground pool.
Designed to work with most Intex filter pumps, this heater uses eco-friendly solar heating technology.
Can increase temperature of pool water by approximately 5 – 9 degrees Fahrenheit depending on weather conditions.
Compatible with filter pumps up to 1/3 HP or pump flow rate < 2,000 gal/hr
Suitable for above ground pools up to 8,000 gal / 11ft sq surface to absorb sun's rays.
Good reviews. From 706 ratings 60% of buyers gave this 4-5 stars.
---
Bestway Fast Set Solar Swimming Pool Cover
Discount - Save £2.72
This solar pool cover floats on the waters surface to provide heat insulation.
It also minimises pool debris.
Available in sizes; 2.10 m / 6'10" and 10 ft.
Carrying bag with insert included.
Customers say this is "easy to assemble" and "easy to use".
Positive reviews. From 1,487 ratings 71% of buyers gave this 4-5 stars.
---
Steinbach Speed Solar Sun Solar Pool Heater
Discount - Save £11.27
A high quality, long-lasting LDPE collectors.
Can be extended indefinitely.
Ready to assemble.
The solar collector is suitable for salt water as well as fresh water.
Heating capacity: Model: 0.7 x 3.0 metre for above ground pools up to max. 12 square metres water content.
Great reviews. From 485 ratings 75% of buyers gave this 4-5 stars.
---
Steinbach Speedsolar Solar Heating Panel
Make pool water temperature 1, 2 or 3 °C warmer.
Also suitable for salt water.
Compact design.
Increased heat output via several connected elements.
Can be used with all kinds of above-ground pools.
Very good reviews. From 842 ratings 80% of buyers gave this 4-5 stars.
---
vidaXL Pool Solar Heater
Energy-saving pool heater will heat your pool water efficiently by solar energy.
Pool heater is heavy duty for long-term service.
Additionally, you can also increase heating efficiency by connecting several heaters together.
The solar panel heater has 2 units of heat which can heat up to 1000 liters of water in 1 hour at a temperature of 1 ° C.
Good reviews. From 111 ratings 61% of buyers gave this 4-5 stars.
---
Best Electric Pool Heaters
Intex 28684 Electric Above Ground Pool Heater 2.2 KW / 230 V
2.2kw above-ground electric swimming pool heater which is ideal for giving your pool water a bit of extra warmth.
Suitable for use with Intex easy set or metal frame pools with a diameter of 8ft to 12ft, it easily connects in line with your pool cartridge filter pump.
Although the heater will fit most 15ft Intex pools it's not recommend using one.
Fab reviews. From 1,782 ratings 71% of buyers gave this 4-5 stars.
---
Bestway Flowclear Swimming Pool Water Heater
Discount - Save £15.66
A simple and effective way to warm up water in your above-ground pool.
This outdoor pool heater is ideal for use with Bestway pools measuring 15 ft or smaller.
It has two hose outlets, one of which connects it to a filter pump and the other to your above ground pool.
Compatible with filter pumps and sand filters with a flow rate of 1000 gal/hr (3785 L) or less.
Comes with a 4m power cord to plug it into to an electrical outlet.
Can take anywhere between 12 hours to 3 days to warm the water.
Has the ability to increase water temperature by approximately 0.5 degree Celsius to 1.5 degree Celsius per hour.
Positive reviews. From 173 ratings 69% of buyers gave this 4-5 stars.
---
Today's Top Deals & Bestsellers
---
What is the most efficient way to heat a swimming pool?
Solar water heaters are cost competitive compared to other types of water heaters and have low annual operating costs.
A solar pool heater is also the most eco-friendly way to heat an above-ground pool.
Electric heaters are standalone heaters which sit outside the pool and come in various power options. These garden pool heaters are great for pump circulated pools like the Bestway and Intex pools.
Electric heaters need a power source so you will more than likely need to run an extension lead to the heater.
Using an electric heater may not be an option if there is no electric supply.
Garden pool covers are great for keeping bugs and leaves out of the pool. As the cover heats up it can also warm the water and reduce evaporation so you will not have to keep topping your pool up.
It really comes down to personal preference whether you opt for a solar heater or an electric heater, but both options will help to raise the temperature of the water to a more comfortable dip.
---
I hope this list of the best pool heaters was helpful.
If you think I have left any out that should be included or have a suggestion for a future article, let me know in the comments below.
Nicola
Swimming Gear For Kids Buying Guide